What We Can Expect from the New Ms. Marvel Series?
Trailer dropped today, and I have some predictions!
Ms. Marvel series coming out on June 8th!
Today, (as I'm currently writing this on March 15th, I mean), we were blessed with a longer and more detailed trailer of a new Marvel Disney+ show that I'm personally excited about! That show is Ms. Marvel, and it premieres on June 8th. Even though we were given less then two minutes of preview footage, I've watched the trailer several times and have began to form some predictions. So here's what we might need to expect:
1. Events from Morbius, Dr. Strange: Multiverse of Madness, and other Disney+ shows may come into play-
Marvel the short series, Moon Knight on March 30th, the long awaited Morbius on April 1st, and the second installment of Dr. Strange on May 6th. It's safe to say that whatever events transpire may come into play in the series. This could be a character recalling events, easter eggs hidden in the backdrop, or even other characters making an appearance on screen!
We already know of Marvel's plan to create the next generation of Avengers, aka The Young Avengers, with appearances from Wanda's twins, Billy and Tommy (aka Wiccan and Speed) in WandaVision, Elijah Bradley (aka Patriot) from Falcon and the Winter Soldier, and Kate Bishop from Hawkeye. Not to mention, America Chavez is confirmed to be appearing in the upcoming Dr. Strange movie! Maybe we'll get to see some of these characters again in this series.
2. 's geeky teenage personality is still intact-
In the first seconds of the trailer, we see spacing off and doodling in a notebook. The drawings are adorable, to say the least, and you can't dismiss the little "Ant Man vs Man Ant" doodle towards the bottom. She also has notes on when assignments are due and a date for driving lessons. In the next shot, we see her visiting with what I believe to a school counselor. The scenes have a fun comic book vibe to it with speech bubbles and sound effects included.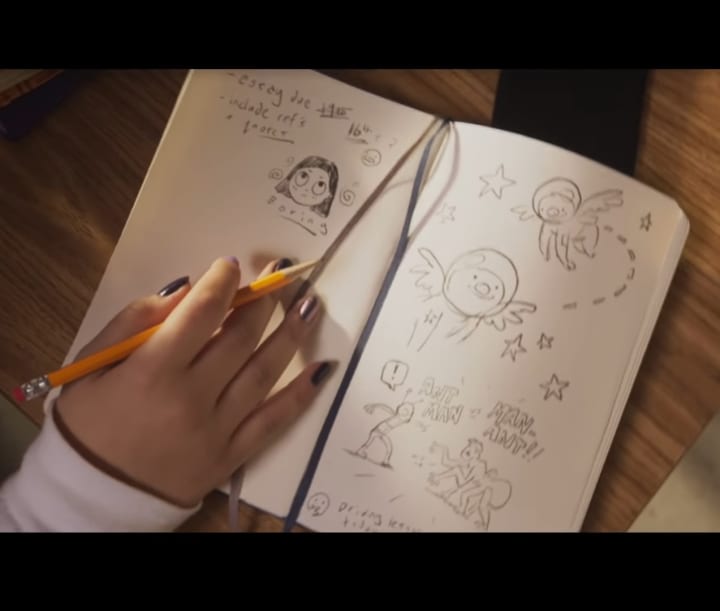 A voice follows, mispronouncing 's name and pointing out her Avengers T-shirt. We get an image of the girl, a red haired girl with devil horns drawn on her head. A bully. Then we see fawning over a boy she finds attractive, complete with heart doodles and 100s.
Yes, she's our typical teenager, juggling school, friends, bullies, and boys. We can imagine her family life will come into play based on the other shots we get of her mother and father later on, and at a mosque.
It looks like we'll actress Iman will be portraying our dorky, yet courageous Captain Marvel fan how she acts in the comic books.
3. Her powers are different from the comic books-
Later, we cut to a scene of going through some in an attic. There, she finds a bracelet that appears to be old. When she puts it on, her eyes turn purple.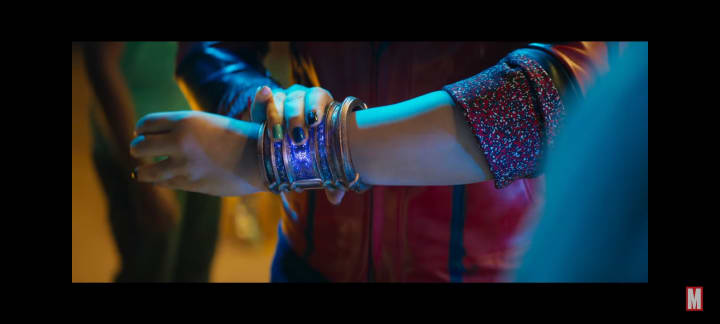 Later, we see her use the bracelet to produce purplish pink constructs that look like cosmic energy. When her friend, Bruno, asks her how it feels, she says, "Cosmic". From the images we see, we can begin to theorize that has obtained some form of control over cosmic energy through the bracelet.
This is different from her comic book origin. After leaving a party, is exposed to mist, which is how she gained the ability to manipulate the size of her body.
a lot of controversy over the change in her powers, but personally, I'll wait to make my judgment after watching the show.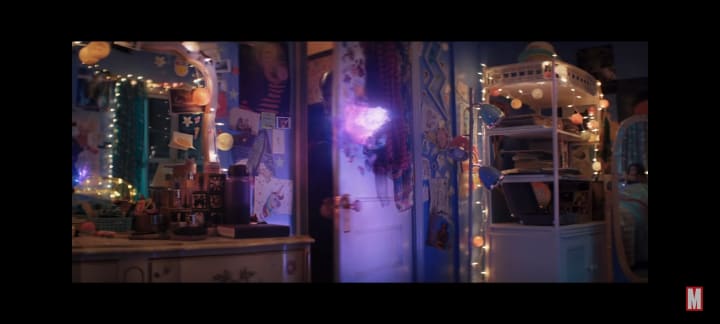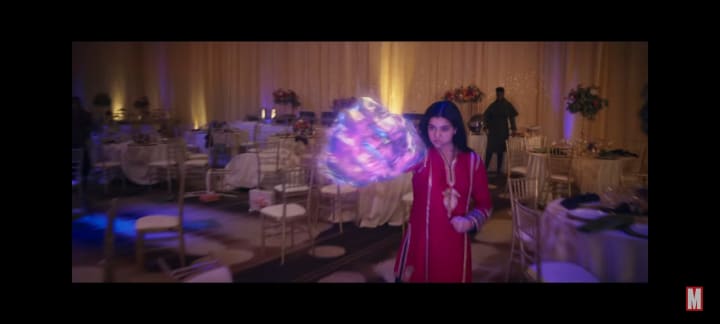 However, we notice that Kamala in the next scene is creating a giant hand. This could be a nod to her original powers in the comic books.
4. The plot of the series might be hinted in the trailer's song-
We've all heard The Weekend's son, Blinding Lights, but what significance does it have on the trailer? If there's one thing I've learned about the MCU, it's that they don't string random together without a purpose, and that includes something as minuscule as the song for the trailer.
To prove my point, in 2015's Avengers: Age of , the trailer song was a techno remix of "I've Got No Strings" from the movie, . This song later ties in to the movie when makes a remark about puppets and strings, even later singing a haunting version of the song.
The trailer plays an upbeat remix of the popular song that is both lively and a little ominous. The lyrics, ", I'm blinded by the lights," could imply that is blind to the ramifications of what it's like to be a superhero. How her actions not affect her, but everyone she knows. She is in a fantasy land, wishing to live out the life she dreams of. This could be how the big of the show causes conflict, possibly taking advantage of 's inexperience and naivety. We can hope that unlike the song, the series has a happy ending.
I know I'm excited for the show to premiere in June, and look to hearing other people's opinions on what's to come! What are some you may be hoping for in this series? What are some you hope will translate over from the comics? Feel free to let me know in the comments!
About the Creator
M.N is a mother, cosplayer, nerd, and writer for CBR. She loves Marvel Comics and creating fiction. She hopes to inspire others with her stories and success.
Check out her work on CBR!
https://www.cbr.com/author/megan-negus/
Reader insights
Be the first to share your insights about this piece.
Add your insights