What to watch this September 2020! Netflix and Amazon Prime!
#BestOfStreaming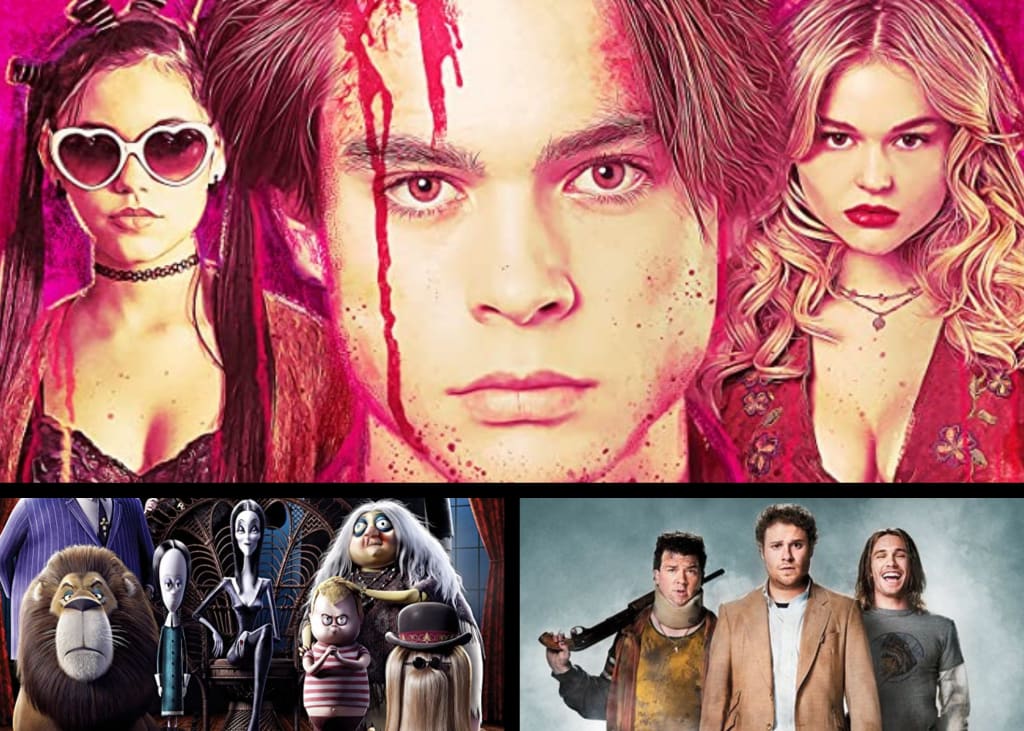 I have 3 streaming services, yet I always find myself struggling for new content to watch. Which is why I took a little peek into what is coming this month, September 2020 and made a little list of what to watch with mostly new ... but a couple just great recommendations!! This list is 10 recommendation from two popular streaming services Netflix and Amazon Prime. This article was originally going to include a coupe of titles from Disney+, however after Disney announced their new paywall for Mulan ... the two titles were removed in order to keep this list more user friendly. I hope you find that you need. Happy Streaming!
Netflix Recommendations

Pineapple Express
"A process server and his marijuana dealer wind up on the run from hitmen and a corrupt police officer after he witnesses his dealer's boss murder a competitor while trying to serve papers on him." - IMDb
Pineapple Express is a fan favorite. It scored a 73% audience score on Rotten Rotten Tomatoes ... but only managed to score a 6.9 on IMDb.
The Muppets
"A Muppet fanatic with some help from his 2 human compatriots must regroup the Muppet gang to stop an avaricious oil mogul from taking down one of their precious life-longing treasures." - IMDb
A classic ready to be watched again is back on Netflix!
The Babysitter: Killer Queen — New Netflix Film
"Two years after Cole survived a satanic blood cult, he's living another nightmare: high school. And the demons from his past? Still making his life hell." - IMDb
A surprise sequel to the Netflix Original movie The Babysitter.
Away — Netflix Original
"An American astronaut struggles with leaving her husband and daughter behind to embark on a dangerous mission with an international space crew." - IMDb
Comedians in Cars Getting Coffee
"Jerry Seinfeld is joined by friends for a cup of coffee and a drive in a classic car, sharing stories all along the way" - IMDb
This cute little show has got some impressive reating. It scored an 8.1/10 on IMDb and 90% of google users like it.
Amazon Prime Recommendations

Jexi
"A comedy about what can happen when you love your phone more than anything else in your life." - IMDb
The reviews for this movie are a bit harsh ... it only got a 6.1/10 on IMDb. However, don't let this scare you away. I promise you that this is a hilarious comedy featuring the amazing Adam Devine. I would also like to point out that the audience score is a 71% on Rotten Tomatoes.
The Boys: Season 2
"A group of vigilantes set out to take down corrupt superheroes who abuse their superpowers." -IMDb
The boys has an impressive rating of 8.7 on IMDb. Not to mention the even more impressive ratings on Rotten Tomatoes with a 90% Audience Score and a 90% Critic Score.
Dino Dana The Movie (2020) - For Kids
"Follow Dana Jain, a feisty 10-year-old 'paleontologist in training' who eats, sleeps and breathes dinos, as she tries to solve dino experiment 901-where are all the kid dinos?" - IMDb
Need something to keep the kids busy? Here is an all new kids movie.
Bob's Burgers
"Bob Belcher, along with his wife and 3 children, try to run their last hope of holding the family together, which is running Bob's dream restaurant." -IMDb
Bob's Burgers continues to get amazing scores. Still standing strong with an 8.1/10 on IMDb, an 88% audience score and a 91% critic score on Rotten Tomatoes.
The Addams Family (2019)
"The eccentrically macabre family moves to a bland suburb where Wednesday Addams' friendship with the daughter of a hostile and conformist local reality show host exacerbates conflict between the families" -IMDb
Available to stream Sept 22nd.

I hope this article helped you find your new show on Netflix. If you loved what you read than check out my other articles here on Vocal. If you really loved what you read send a 1 time tip, the support will make sure that more articles like this are coming your way!
Work Cited
Editors, Vulture. "New on Netflix: September 2020." Vulture, Vulture, 31 Aug. 2020, www.vulture.com/article/new-on-netflix-movies-shows-originals.html.
Kilkenny, Katie. "Amazon Prime's New Releases Coming in September 2020." The Hollywood Reporter, 4 Sept. 2020, www.hollywoodreporter.com/lists/amazon-prime-september-2020-new-releases-movies-tv.
"Prime Video." Welcome to Prime Video, www.primevideo.com/.
"Ratings and Reviews for New Movies and TV Shows.", IMDb.com, www.imdb.com/.
Rotten Tomatoes: Movies | TV Shows | Movie Trailers ... https://www.rottentomatoes.com/.
"See What's next." Netflix, www.netflix.com/.