What to not NOT Watch This Evening
Think Ocean's Eleven but with a Bigger Haul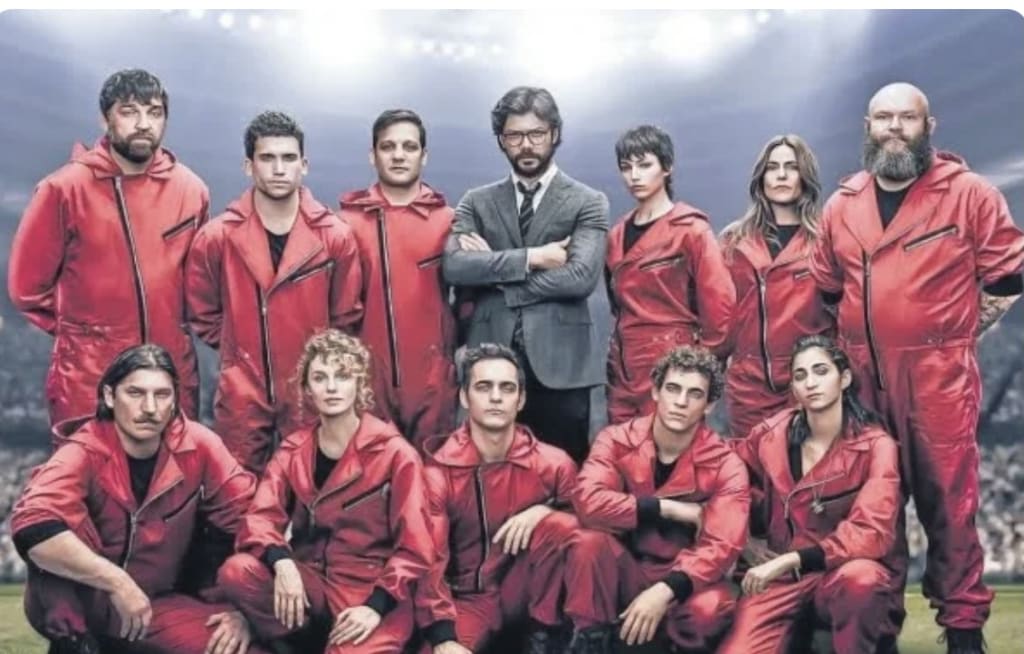 Photo credit: https://www.google.com/amp/s/www.newindianexpress.com/entertainment/review/2020/apr/04/money-heist-season-4-review-a-lukewarm-attempt-to-live-up-to-exalted-standards-2125404.amp
Who doesn't love a good heist movie? For the more seasoned viewers, remember when Ocean's Eleven debuted almost 20 years ago in December of 2001? The cast alone draws the attention of a large fan-base: George Clooney, Brad Pitt, Don Cheadle, Matt Damon, Andy Garcia, Julia Roberts... the list goes on. There has to be at least one actor in this movie that is an idol to almost every person on the planet born before 1990. Tie in the unrealistic, yet suspenseful plot of scheming to rob from two of Las Vegas's most well-know casinos and you've got yourself a few hours of un-regrettable, good old-fashioned fun.
Flash-forward to 2017, status-post 2 more movie releases in the Ocean's Eleven franchise (with another on the way in 2018!), when Netflix became savvy to the idea that plots with big-time robberies are a recipe for success in the movie-making business. So why not try it with a series?
Welcome to the world Money Heist! This show has everything and more than Ocean's Eleven can offer (with the exception of an unknown cast, but hey, that just adds to the allure). The series originally aired on a Spanish channel before Netflix acquired the rights and began streaming the show in late 2017, with voiceover dubbing in English. Some people are put off by the words not matching up with the actors' mouth movements (the only negative feedback I've heard from friends I've recommended Money Heist to), but once you get past that little hook-up, you'll end up calling out sick from work in order to get through all episodes in one sitting. The suspense is more intense than watching The Next 3 Days (another great movie, but we won't get into that here).
A man who calls himself the Professor recruits 8 people to assist him in carrying out his plan to rob the Royal Mint of Spain...by locking themselves inside with hostages while they PRINT THEIR OWN MONEY! What's to ensue is an action-packed, methodically thought-out dangerous plan, perfectly orchestrated step-by-step. This Professor has thought of every. single. detail. It's like he's a prophet the way he has a plan for every barrier they may possibly encounter. Premeditated. As the show progresses, the backstories on each character comes into fruition. The 8 chosen ones each end up playing at your heartstrings as you get to know them. Even the one you hate at first (you'll know which one that is if you watch it), you will cry for. Heck, you'll feel something for every single one of them. You will find yourself rooting for their success regardless of the fact that you know what they are doing is wrong and super illegal. Even the community cheers them on eventually, as the Professor knows how to portray themselves as heroes against the evil Mint. It's interesting how seeing things from the perspective of the "bad guys" doesn't make them seem that bad after all.
The music accompanying each scene only adds to the heightened senses viewers will certainly be feeling as they watch, even denying themselves a bathroom break in hopes of waiting for a reprieve from the suspense...a reprieve that will never come. Hence, no break for the viewer. You will find yourself googling songs, and downloading them for your listening pleasure later in life once you power though the series. Oh! Btw, there are 4 seasons of this masterpiece, so be prepared to ignore your children (or send the kids to grandmas for a loooong weekend), get zero sleep, and lose track of time while you binge-watch Money Heist unapologetically.
So. If Ocean's Eleven, then Money Heist.
tv
About the author
Reader insights
Be the first to share your insights about this piece.
Add your insights