What is Bugging Me About Bridgerton
The series lack of racial context is on purpose but leaves me struggling to accept the story at face value.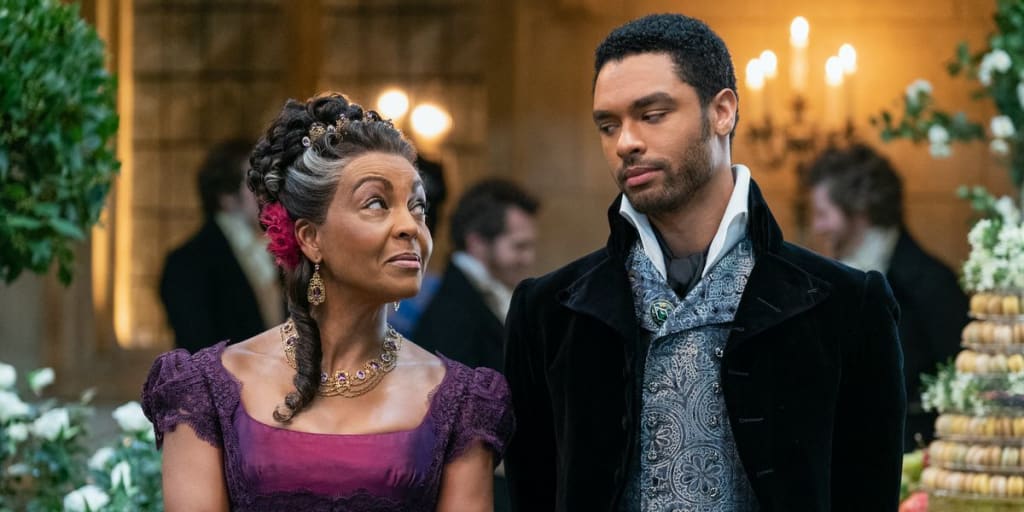 I love Shonda Rhimes.
Let me put that as the foundation. I love Shonda. Period.
Ok, now that has been established: Bridgerton presents very oddly to me as a show.
I know Shonda doesn't cast based on race. Even in one of my Shonda favorites, the infamous "Scandal" series starring Kerry Washington, Kerry's character Olivia Pope didn't mention her Blackness, her lover's whiteness, or really any other racial discussions until later in the series. She writes stories where racial context isn't important and has very little if any influence on the stories being told.
I feel as if her ability to do this makes her a skilled writer and storyteller, however, there are some stories where race can and should be addressed even if you don't want to make it a central theme, in my opinion, "Bridgerton" is one of those times.
The series is based in 1813 England during the debutante social season. Title character Daphne Bridgerton and her bayang are named the "incomparable of the season", basically the most eligible bachelorette. During her debut, we see the ladies being presented to what is a fairer skinned but obviously Black woman playing the role of Queen Charlotte, which is historically accurate and relevant because the real-life Queen Charlotte descended from the Black branch of the Portuguese royal house. Her Blackness isn't acknowledged, which is fine, she plays a supporting role. However, I thought because we had an accurate depiction of Charlotte, it meant we were acknowledging Blackness and Black figures in aristocracies but that NEVER HAPPENS.
Also, please note: I don't think we have to discuss race in every series, at every moment, however, the absence of acknowledgment, when it played such an important role in the time period, feels awkward to me.
For example, the neighboring family of the Bridgertons, the Featheringtons, have a cousin come live with them. The cousin Marina has grown up on a farm and Mrs. Featherington makes a comment that she may not fit in with society because of her less than cultured upbringing, as she will be coming to with the other Featherington girls on the social circuit. Marina arrives at the house and in walks an obvious mixed-race Black woman. All the Featherington girls gasp, assumingly because she's Black and they are white, meaning their uncle had a relationship with a Black woman, but the youngest Featherington girl says "She's beautiful". They were shocked….because of her "beauty"….but not because she is Black. Ok? I guess?
That's what I mean by the awkwardness of race never being discussed. I gasped along with the Feartheringtons because I just KNEW they were not expecting a Black cousin. But her being Black isn't an issue, it isn't even acknowledged. They are stressed because she is pretty and they are worried about how that will impact their pool of eligible men.
There is also Simon, Duke of Hastings that takes up a "relationship" (not trying to give out too many spoilers) with Daphne. Simon is Black, his father, the elder Duke of Hastings is Black, as is his self-appointed godmother Lady Danbury. Simon went to Oxford with Daphne's eldest brother. He is the well educated sole heir to the elder Duke, well-traveled and handsome. Upon his return to their community, he is one of the most sought after bachelors on the social scene regardless of his lack of interest in marriage. His Blackness and the Blackness of Lady Danbury again is never acknowledged. They just have all this access, titles, and wealth and no one mentions they are Black, at all. The story just continues. I keep waiting for the moment where say anything and nothing is ever mentioned.
And this is possibly just me. I like history, specifically Black history. I know what was going on for the average Black person in early 1800's Europe so maybe the issue is I can't unsee race and the lack of racial context even though I am generally enjoying the story because I love a good historical messy drama with rich people.
I feel like I would connect better with the story if it was at least framed around the Black characters being gens de colour libre (free people of color). It is very rarely acknowledged that there were free Black people in the United States and Europe well before the civil war and the abolition of slavery and a considerable amount of them had wealth even titles and would have been invited to the same elite social events and moving in the same social circles as the characters on the show.
I have also heard there are stirrings of people on the internet who are also arguing that the depiction of the characters isn't historically accurate, implying all the Black characters should be slaves. In my opinion that gives more reason for my argument that the Black characters should be acknowledged as free people of color. Not just for storyline understanding, but for the importance that we remind the world we were not just enslaved.
Generally, I like the show. I will rewatch with a mind that isn't demanding racial context. I want to discuss this more and I am open to hearing people's feedback on not acknowledging race. Feel free to comment or reach out on twitter: @shortcourtney .