What Is Actually Going On Between Ned Nwoko and Chika Ike.
Fasten your seatbelts.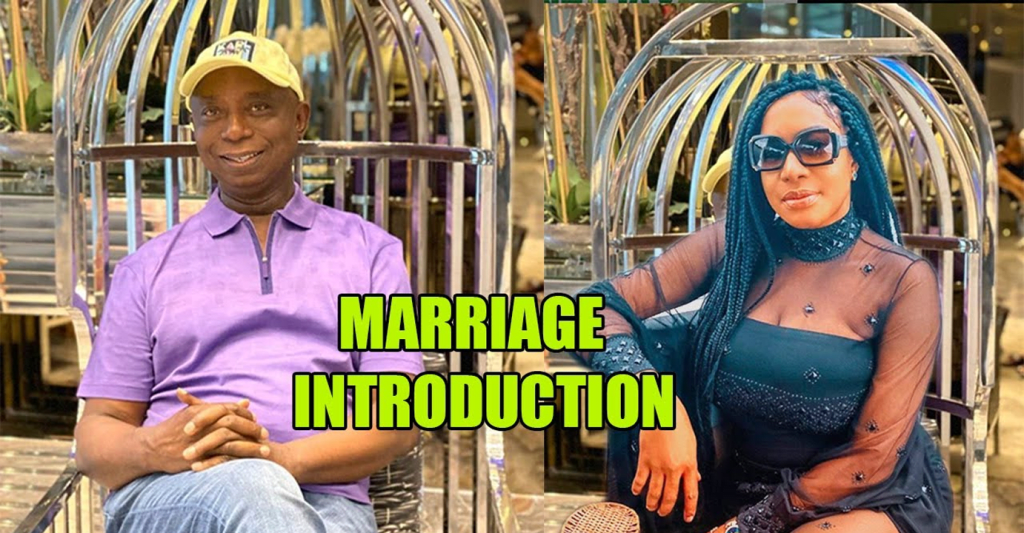 Fasten your seatbelts.
This is a story that starts sooo many years ago, and has once again had a resurgence.
Over the last couple of days, there have been a lot of new stories about Chika Ike and Ned Nwoko. There are rumors and stories about weddings, engagements, people are saying that Ned is kicking Regina Daniels out of his house for Chika's sake, others are saying that Regina's mother is cursing Chika Ike…there have been so many stories going around.
But what is the truth and what is actually going on? I'm going to tell you. This story starts all the way back from 8 years ago.
Are you ready to dive in? Then let's go!
**Before reading on, please make sure to like and follow my Facebook page so you don't miss out on any new and interesting lists, articles, and stories that I post every single day. I have a really fun page. If you like my page, you will have fun too. So what's stopping you? Like my page and let's have fun together!
Between Ned Nwoko, Chika Ike, and Annie Idibia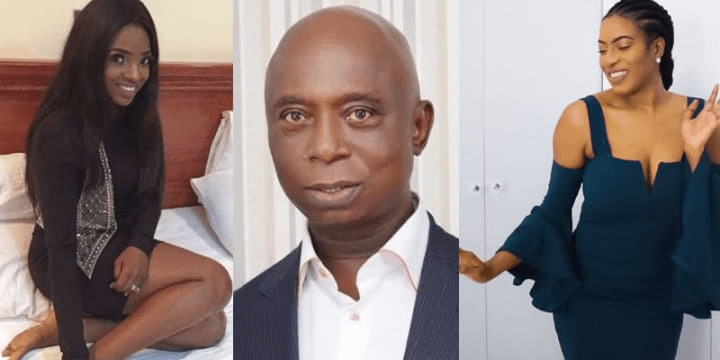 All the way back in 2011, 2012, there were reports that Ned Nwoko allegedly caused Chika Ike and Annie Idibia to have a falling out.
This story dates all the way back to about 8 years ago and was reportedly first seen on Ladun Liadi's blog. I have gone scraping and digging for you and I have found an excerpt from the original article. It is poorly worded and I would have edited it for you guys but I want you to read it exactly as it was written 8 years ago.
Here's the excerpt:
As you read this report, fast rising actress Annie Macaulay and the rave of the moment (courtesy of her fancy nancy store) actress Chika Ike are in cold war. According to a source, the actresses have been good friends, until Annie introduced Chika to Prince Ned Nwoko who is a London trained international lawyer.

It was however gathered that, things went fine between the lawyer and Chika, with the actress getting a N16 million naira 'tear rubber' (brand new) Range Rover Sport from the relationship. And long before her friends could say the actress has arrived, she declared her Fancy Nancy store opened still courtesy of Prince Ned.

Annie who was however shocked about all these, a source said asked for her own share of what she got from the lawyer, but Chika turned her down insisting she worked hard for it.

The source also informed that, Prince Ned is angry about people crediting the Senate President, Senator David Mark as the one behind the actress new lifestyle, instead of him.

"The two friends have gone their separate ways and Annie is still so much bitter with her one time friend," the source concluded.
This report was posted 8 years ago before anybody really knew who Ned Nwoko was.
Shortly after that first report of Annie Idibia and Chika Ike fighting over Ned Nwoko came out, another blogger by the name of Gistmerchant took to Instagram to share stories about Chika and Ned.
Chika and Ned - Another Story
This next story came out about a year ago. This is what a popular blogger GistMerchant came out to say about what they knew about Ned and Chika:
Do you know that it was Ned that was sponsoring Chika through all those her trips, purchases, tv show? He has a political ambition and needs to gain popularity but hooking up with chika hoping to gain popularity failed as Chika wasn't ready to show him to the public. Now he linked himself with Regina who wanted to also hide him but he refused and planted his camera people everywhere making sure their pictures were leaked and sent to the blog creating a media frenzy. Regina and her mum planned to chop and clean mouth.

You are welcome
So now at this point, we have these two stories that span YEARS alleging something between Chika Ike and Ned Nwoko.
But why are they in the news again today?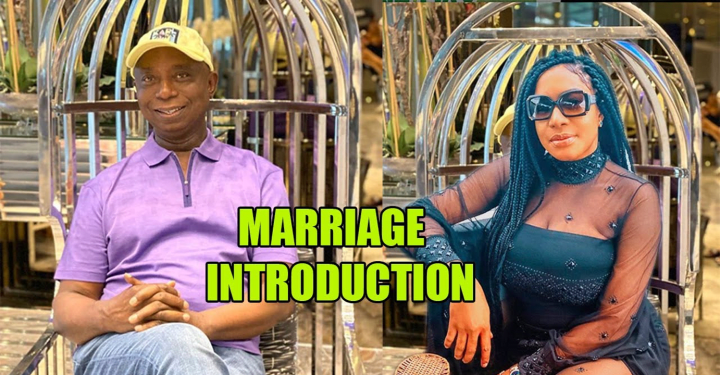 Well, some days ago, videos and screenshots started going around of what looks to be a snapshot from one of Rita Daniels (Regina Daniels' mother) Instagram videos.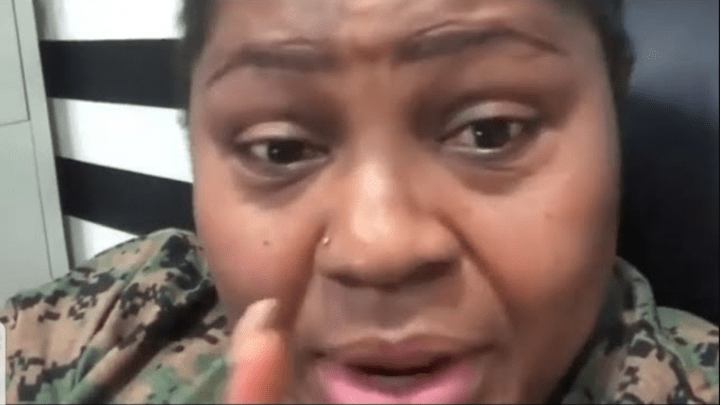 Various Youtubers titled these videos names such as "Ned Nwoke Set To Marry Chika Ike As 7 Wife As Regina Daniels Is In Trouble" and "Viral Video of Regina Daniels mother accusing Chika Ike of seperating her daughter's marriage."
Many people then upon looking at these headlines simply believed that they were true and that Rita Daniels was in fact calling out Chika Ike.
However, it turns out that the video is actually just a regular Instagram video of Rita Daniels singing a song she composed into the camera. Nothing more. Nothing dramatic.
Rita Daniels then took to Instagram to address the claims of all these allegations. She posted the picture below with the caption: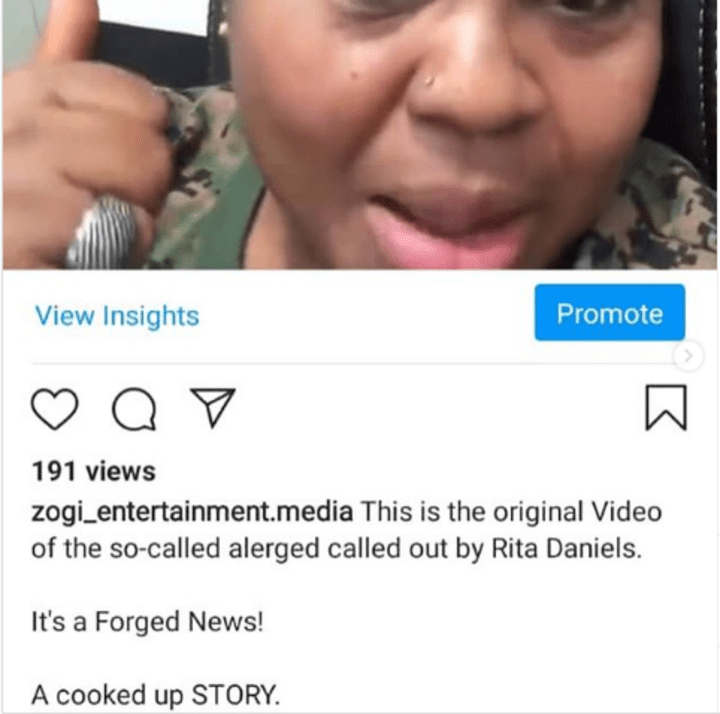 May God equip us with wisdom knowledge, understanding and common sense of reasoning with the way we judge people. Let God be my judge and judge those that judge me wrongly.... Happy Sunday fam. God bless you all.❤️❤️❤️
Chika Ike also got questioned about the whole bruhaha and took to Instagram to also issue a response on her Instagram story by responding to a fan's question: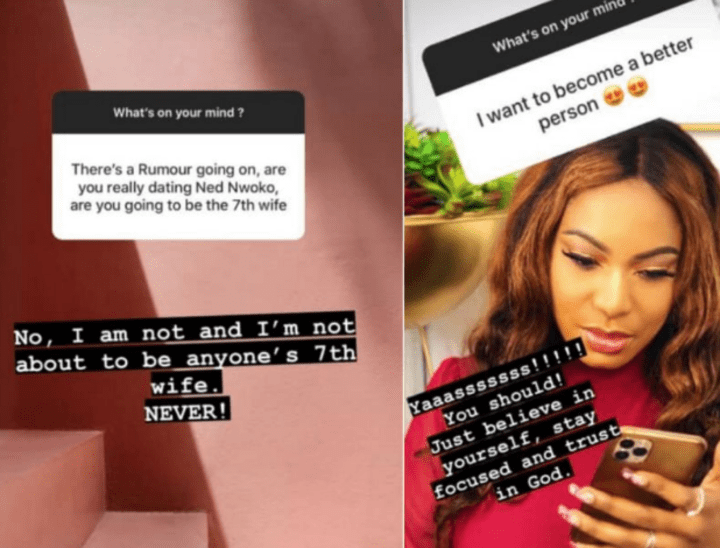 While clearly something has happened in the past between Chika Ike and Ned Nwoko, there is no proof that the two are still seeing themselves today and all of these stories and rumors going around are simply that – rumors and stories made by Youtubers who took a screenshot of a video and slapped a headline on it.
Now you know what is actually going on with all this Ned Nwoko, Chika Ike, and Rita Daniels drama.
You're welcome!
P.S: There's a lot of fake news out there as you can see from this story alone. Why not follow me and be sure that every single story you read from me is fact-checked and from the horses mouth.
That's All.
**Don't forget to like my page:
I'm sure you've loved reading this piece. To make sure you keep having fun and don't miss out on any fun in the future, be sure to like and follow my Facebook page above. It's a really fun page and you're really going to love it. So what's stopping you? Like it!
To catch up other content you might have missed, click here.
Until next time, have a wonderful rest of your day!