What I Appreciate About Netflix's 'Sex Education'
There's plenty to love about the new comedy-drama show.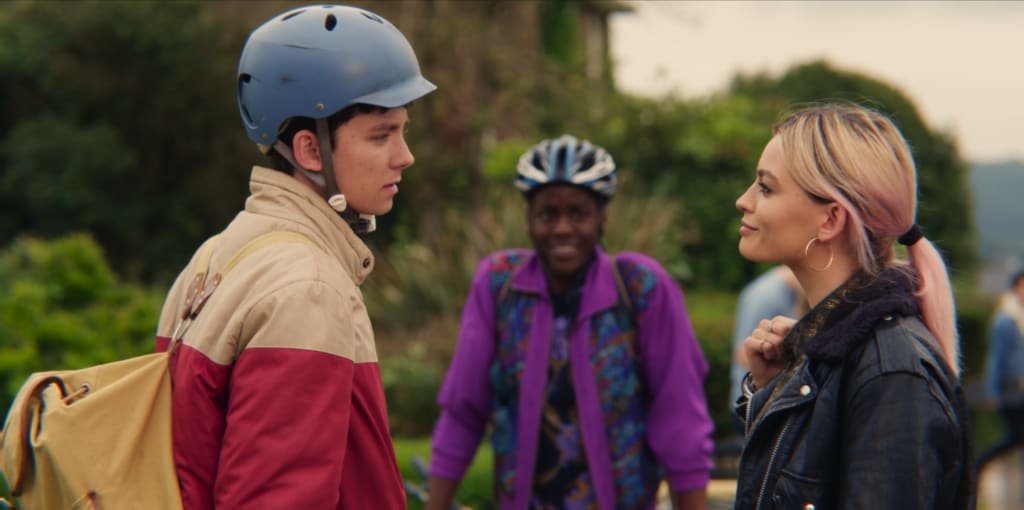 Netflix
I'm going to be perfectly honest and say the main reason I decided to try out Sex Education is because Gillian Anderson is in it, and I highly doubt I'm alone in this. That being said, I ended up loving it for so much more than that, and it's those reasons that I want to talk about.
I think the most surprising thing about Sex Education is that it offers more than you might expect going into it. I mean, the plot description on IMDb is:
"A teenage boy with a sex therapist mother teams up with a high school classmate to set up an underground sex therapy clinic at school."
Which is as basic as it gets and doesn't even begin to touch on half of the things that happen or the matters that are explored.
The main thing that really stood out to me was Otis (Asa Butterfield) and his relationship with sex and masturbation. I can't remember the last time I watched a teen show that explored the idea of a 16-year-old (regardless of gender identity) having not had sex and/or being scared or unsure about it. There's a good chance that he will be experiencing both of those things in a future season or at least edging closer, but for now, it was nice to see a teen show whose protagonist feels the way that Otis does. There's a lot to unpack with him and why he feels this way but there was something really comforting about seeing Otis go through this journey of thinking there was something wrong with him only to find out there's not.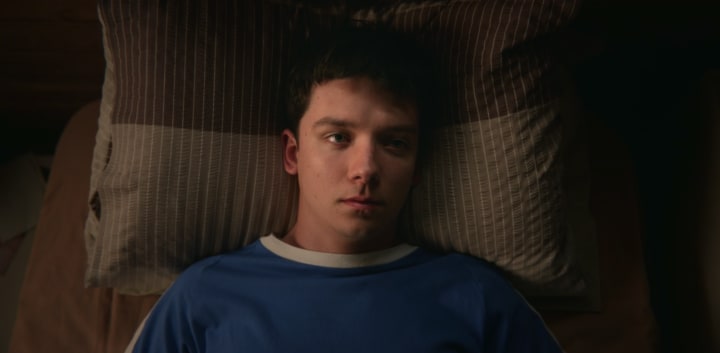 Even if he does end up having sex or becoming more comfortable with sexual and/or intimate relationships, it seems like the show may take its time. The writers could have very easily written it in that Otis magically got over his fears and has sex by the end of season one but they don't do this. He makes some pretty big steps but he has by no means unpacked everything that he's feeling and he definitely hasn't learned deal with them.
Something else to admire about Otis and the writing of the show is how open he is. He is a very thoughtful boy who has a lot of great advice to offer. He's also not held down by societal expectations. He seems very sure of his identity and is openly supportive of his best friend Eric's (Ncuti Gatwa) interests. Despite normally dressing in quite a simple way, it doesn't stop Otis from dressing up in a skirt, wig, and makeup to celebrate Eric's birthday, especially despite the fact, the outfit is a lot louder than he's normally used to. There's no sense of toxic or fragile masculinity when it comes to Otis.
There's also that incredibly touching (and hilarious) moment where Otis and Eric dance together at the school dance and they don't even bat an eyelash at everyone watching them. Otis is very clearly comfortable with who he is and how he is around other people. It's really only when it comes to being behind his peers, sexual encounters, and being repulsed at the idea of touching himself that Otis is hesitant.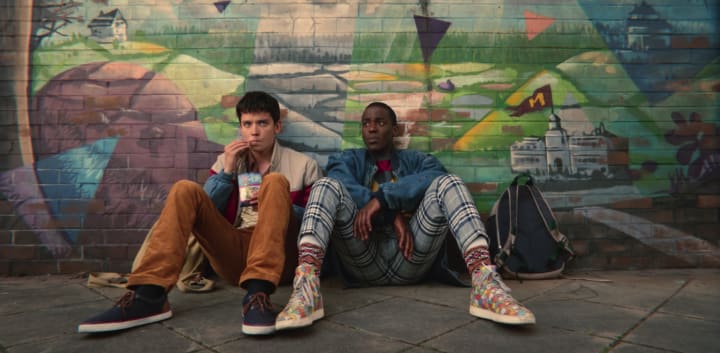 When it comes to being yourself and standing out the show also explores these things through Eric. He is from a very religious family and often dresses up in feminine clothing, makeup, and wigs. His father seems to have known for a long time, and while he doesn't yell at Eric, he also doesn't encourage it. Something I particularly loved about Eric's story is that he is very proud of who he is and isn't afraid to show it. There is, of course, a horrible encounter that makes Eric hide who he truly is and try to blend in a little more but the best part is how he realises that either way he may get hurt so he might as well do what can make him happy, even if only for a little bit. Seeing him get all dressed up for the school dance and proudly walk into the hall was such an amazing sight, especially knowing that he finally got to have a proper talk with his dad about who he truly is.
Each character had something to bring to the table. Maeve (Emma Mackey) is from a family where her father left, her mother is an addict, and her brother isn't doing much better. She's incredibly smart but no one will take her seriously and she goes from being completely guarded to opening up to various people. There's Lily Iglehart (Tanya Reynolds) who is determined to lose her virginity and it leads to some revelations that she feels like she might be left behind if she doesn't have sex before graduation.
The show touches on so many things like that. Jackson Marchetti (Kedar Williams-Stirling) is seen as popular and perfect but he reveals he suffers from pretty severe anxiety which leads to panic attacks and daily accounts of throwing up. Adam Groff (Connor Swindells) has to deal with feeling unloved and lonely thanks to his father's rejection which leads to him acting out more and making mistake after mistake. I could go on and on. Even Jean (Gillian Anderson) has things to deal with like allowing herself to enter a relationship after her husband cheated on her and left.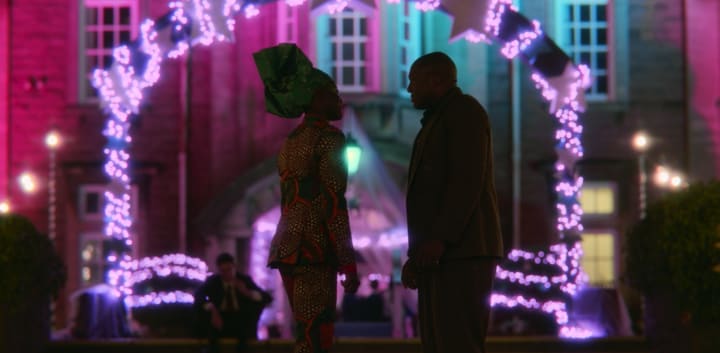 There is something for everyone in Sex Education and that's what I appreciate. It's an oddly reassuring tv series because despite it seeming like there's a definitive structure to how someone should be and when they should be ready for all of these milestones, it ends up reminding you that everyone is different. Each person has a different experience and there's no checklist or ticking clock. In fact, some of those "milestones" don't apply to certain people. It's going to be a little more reassuring for teenagers who might feel like they're behind their peers or they're not normal because they haven't experienced certain things or don't want to experience them. It's going to be good for those teenagers who are in the LGBTQ+ community or just have trouble being themselves in whatever way that is.
Even as an adult I can confirm that it's reassuring to know there's a show like this out there in the world. I would have loved to see something like this when I was 16. The best thing about Sex Education is that it covers a lot of different sides. While they show it's okay to not want sex or to still be a virgin they also show people having protective and consensual sex. So long as its legal, consensual, and no one gets hurt then no one thing is more correct than the other. It's all about you and what you want. It also dives deeper and looks at relationships, identity, and not just surviving life but also enjoying it.
This is by far one of the best Netflix original shows I've seen and I will be genuinely shocked if they don't renew it for a second season considering how good it is and all of the positive feedback it has received so far. I love the constant mix of contrasting things. For example, it's set in present day (definitely after 2008, most likely close to 2018), but there's the aesthetic of the 70s/80s. It's also set in England but there's a lot of American things throughout like some of the comedy, kids throwing American footballs around, and some conventions that are mostly seen in the States and not over here in the UK. It definitely has the capability to continue to be entertaining and there's still so much left to explore.
There's plenty to appreciate and, even if it was for Gillian Anderson, I'm glad I gave this series a chance.