What Else Is There To Watch?
There are many movies to watch, but sometimes those genres need a little specification.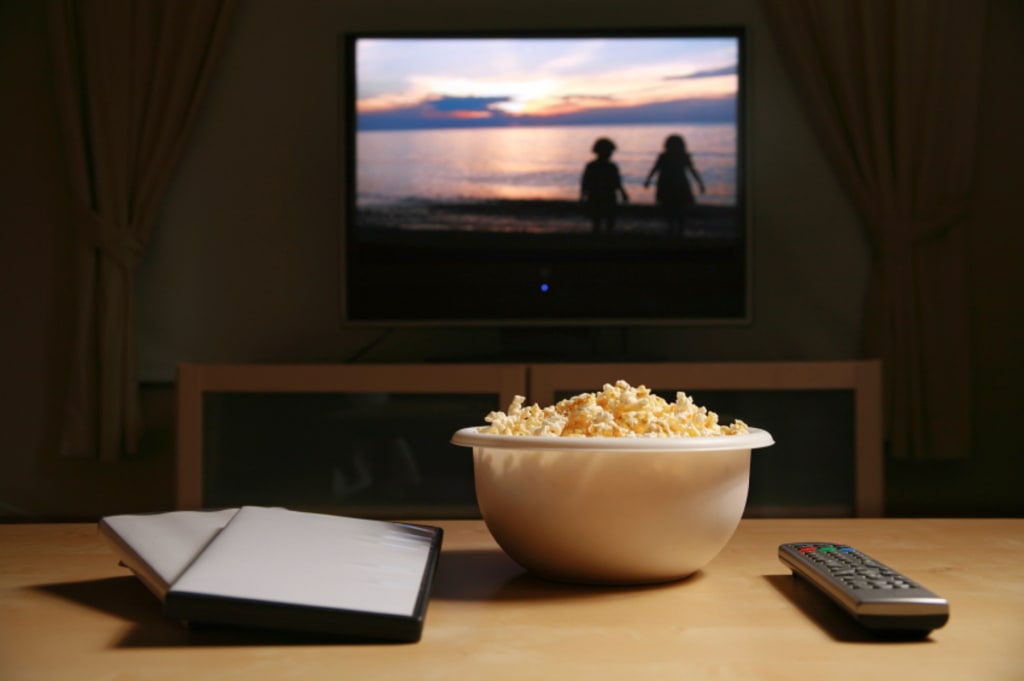 The way I see it for the world of cinema, you can choose how you want to be entertained, you choose how you want the film to effect you
But finding they film in the cesspool of genres where the cinema isn't categorized, that makes it tough to make the gamble. You might feel the same as I do that the genres needed to be more specific.
Its just endless scrolling with your family or your partner, believe me I've been there, done that too many times. I got tired of the same genres, so I made my own
You might find some familiar titles on here that'll jog your memory that you wanted to watch it. You may have seen the title and thought, "I'm gonna watch it". But the genres aren't very specific to find that something to watch. I made something like that and I call it "the movie menu"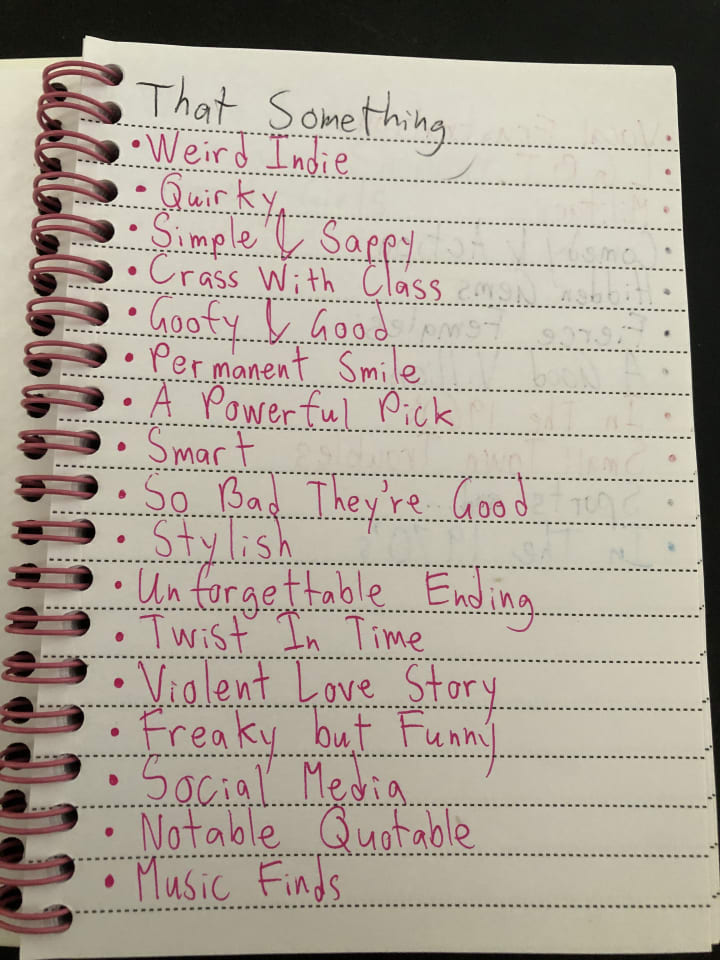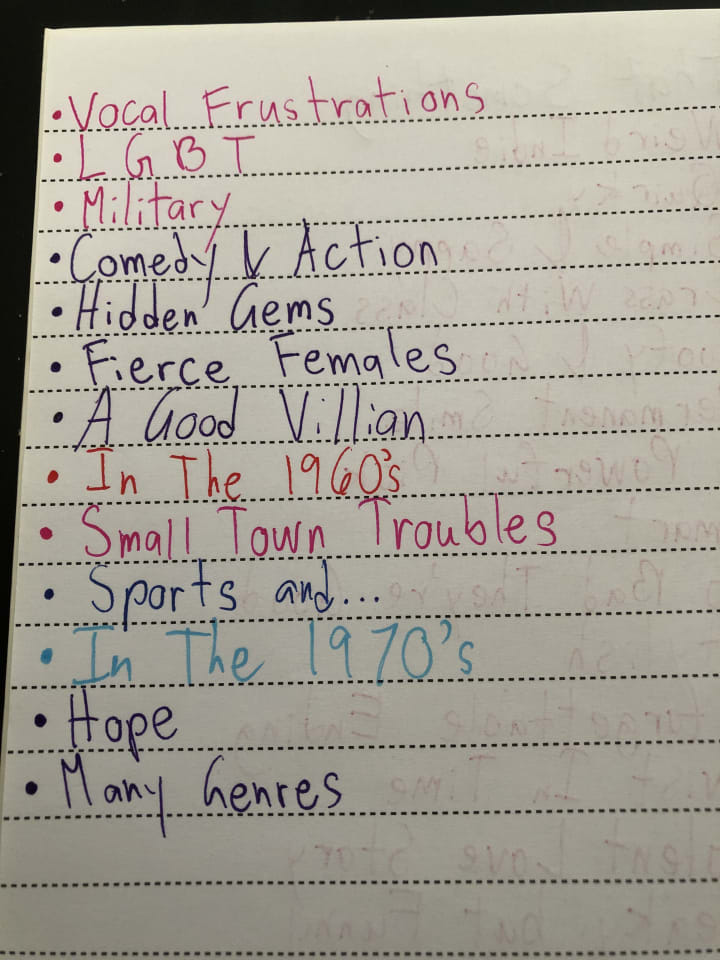 My friends know me as the selector for movies, but when my chance comes up I tend to draw a blank, and thus, I made the movie menu. So when my friends come over, they look at the selections, go to the one selection that intrigues them and we have found our movie.
Let me take you through a new list of genres, couple things to address before you see my cinema genre list that will give you some ideas for what to watch.
There are some movie titles I used for multiple genres, for two reasons,
1. most of the titles came from my shelf to be shared for how it fits into a genre, and because movies have endless possibilities for how you can be entertained.
2. I found that some of these movies had more than what they were made to be originally viewed as.
You don't have to see this list as something only for the cinema lovers, it's a wide plethora of anything that would be interesting to you. This was just a fun list to make to broaden the ideas for what can be watched.
It's up to you how you see this list and if the title of the movie within my genres appeals to you, like I said, you choose how you want to be entertained.
Before I send you onto this list, there is one more thing to address. Most of these films will have a side synopsis next to it just to explain why it is a part of this list. Most of these films, I can't explain because it just needs to be watched. The rest is up to you to know why it's listed in the genre.
Weird Indie
Personal Shopper (The movie that had people taking Kristen Stewart seriously)
Tragedy Girls (It's a brilliant film that is self-aware about social media that has to be weird for the commentary to work)
V/H/S (Who knew a movie around a VHS tape would actually be good, trust me on it, I was skeptic but now here I am talking about it)
Quirky
The Replacements (Every one of the players is so oddly unique, you'll never forget them)
Ghostbusters
The Birdcage (Robin Williams and Nathan Lane at their quirkiest)
To Wong Foo, Thanks for everything, Julie Newmar (Quirky Drag Queens, nuff' said)
Simple and Sappy
Before We Go
Frankie and Johnny
Ghost
Pretty In Pink
Steel Magnolias
Crass with Class
Hot Fuzz
Inglorious Basterds
Kingsman: The Secret Service
Boondocks Saints
The Last Boy Scout
Django Unchained
Goodfellas
Once Upon A Time In Hollywood
Gangs Of New York
Reservoir Dogs
The Wolf of Wall Street
Die Hard
Goofy and Good
Real Genius (These geniuses are real, and the goofy shenanigans are a brilliant plan)
Back to School (Rodney Dangerfield going to college, that's the best way to explain in, I can't say any more about this goofy gem)
Overboard
The Blues Brothers
Crocodile Dundee
Overboard
Tootsie
Critters
Permanent Smile
Field of Dreams (Mark my words, you'll be smiling the first time you watch this film, and the fiftieth time you'll watch this film)
Pretty Woman
Cinderella Man
Fried Green Tomatoes
Mrs.Doubtfire
Scent of a Woman
Dirty Dancing
Little Miss Sunshine
Good Will Hunting
Parenthood (The spot-on depiction of what it means to be a family)
The American President
A Powerful Pick
Backdraft
Cinderella Man
Spirited Away
Erin Brockovich
Good Will Hunting
The Iron Giant
The Lion King
The Shawshank Redemption
Ghost
The American President
The Sixth Sense
Smart Concepts
In the line of fire (A brilliant cat and mouse game between a secret service agent and an assassin)
Mr. Brooks
Hostiles (A raw concept about the Americans and Indians)
Frequency
Tragedy girls
Pulp fiction
Spy game
Speed
The silence of the lambs
Crimson Tide
Extremely wicked, shockingly evil, and vile
Die Hard
So bad they're good
Roadhouse (To today's standards, it's laughably bad, but you'll be laughing and that's the point)
Reindeer Games
The Stepford wives (2004)
Con Air
Cobra
Lethal Eviction
Space jam
Mars attacks!
Stylish
Pretty Woman
To Wong Foo, Thanks For Everything, Julie Newmar
Pretty In Pink
The Great Gatsby (2013)
Heathers
Marie Antoinette
Once upon a time in Hollywood
Unforgettable ending
Primal fear
Se7en
Identity (You'll find out why the title is called Identity)
Us
The Perfection
Fried Green Tomatoes
Shutter Island
Twist in Time
Once upon a time in Hollywood (What would it have been like if Sharon Tate lived)
Watchmen
Who framed Roger Rabbit
In the line of fire
Field of dreams
Violent Love Story
Vincent N Roxxy
True Romance
The Bodyguard
Natural Born Killers
Freaky But Funny
Venom
Beetlejuice
Tremors
Corpse Bride
Critters
Social Media
Tragedy Girls
Notable Quotable
The Breakfast Club (You won't be forgetting this movie)
Top Gun
The Shawshank Redemption
Forrest Gump
Field Of Dreams
Music Finds
Flashdance
Top Gun
The Blues Brothers
Reservoir Dogs
Philadelphia
Real Genius
Once Upon A Time In Hollywood
Scooby Doo on Zombie Island (In Scooby Doo's fifty year run has always had great music, this direct to DVD movie has the greatest)
Empire Records
Dirty Dancing
The Devil's Rejects
Roadhouse
The Bodyguard
Ferngully: The Last Rainforest
Cobra
Critters
Vocal Frustrations (Or Movies To Just Yell At)
Final Destination 3
Boondock Saints 2
Sliver
LGBT
Philadelphia (A risky film about the awareness of AIDS and the impact on gay people)
Rift (A horror film with a gay couple, that's the best way to describe it)
Carol
The Birdcage
To Wong Foo, thanks for everything, Julie Newmar
Water Lilies
Kate's Addiction
Military
Crimson Tide
A Few Good Men
Good Morning Vietnam
Top Gun
Heartbreak Ridge
First Blood
Comedy and Action
American Ultra
Lethal Weapon
Central Intelligence
Tango and Cash
The Last Boy Scout
Spy
Hot Fuzz
Hidden Gems
Quigly Down Under
The Long Kiss Goodnignt
Frankie and Johnny
Real Genius
The Last Boy Scout
Awakenings
Thunderheart
Spy Game
Fire In The Sky (A true story about an alien abduction)
Fierce Females
Mulan
Maleficent
Die Hard With A Vengeance
The Heat
First Wives Club
Spy
The Long Kiss Goodnight
A Good Villain
The Hitcher (1986)
In The Line Of Fire
Inglorious Basterds
Sleeping Beauty
The Incredibles
Primal Fear
Gangs of New York
The Silence of The Lambs
Blade Runner
No County For Old Men
In the 1960s
Once upon a time in Hollywood
The bridges of Madison county
Jackie
Awakenings
Frequency
The Doors
In The 1970s
Boogie Nights
Lords Of Dogtown
Fire In The Sky
The Conjuring
Small Town Troubles
Roadhouse
Walking tall
Thunderheart
Fried Green Tomatoes
Fire In The Sky
Sports and…
Field Of Dreams (fantasy)
The Last Boy Scout (action)
Hope
The Replacements
Field Of Dreams
Last Holiday
Many Genres
Ghost (It's more than just a romantic movie)
Mulan (Disney's first war film with a healthy amount of drama and humor)
This creation of the sub genres of the sub genres will continue, I do plan on making a TV show version of this list. I hope that this list has helped out that tedious search for something interesting to watch or finally giving a chance to that one movie you debated on before you saw it categorized differently. As the timeless saying goes, it's all about perspective. I hope that my perspective of the idea to see beyond the original intent of the movie's purpose to see something else like I have.
Some of these films on this list I have created commentary articles for on my Vocal page. After you've done some watching of some of these films, you might be surprised to find one, two or ten articles about the movie you just watched.
About the Creator
What's something interesting you always wanted to know?
Instagram: parrishpassages
tiktok: themysticalspacewitch
My book Inglorious Ink is now available on Amazon!
Reader insights
Be the first to share your insights about this piece.
Add your insights