What Does Colton Haynes' Return to the Arrowverse Mean for the Team and the City?
The archer left Star City with Thea Queen.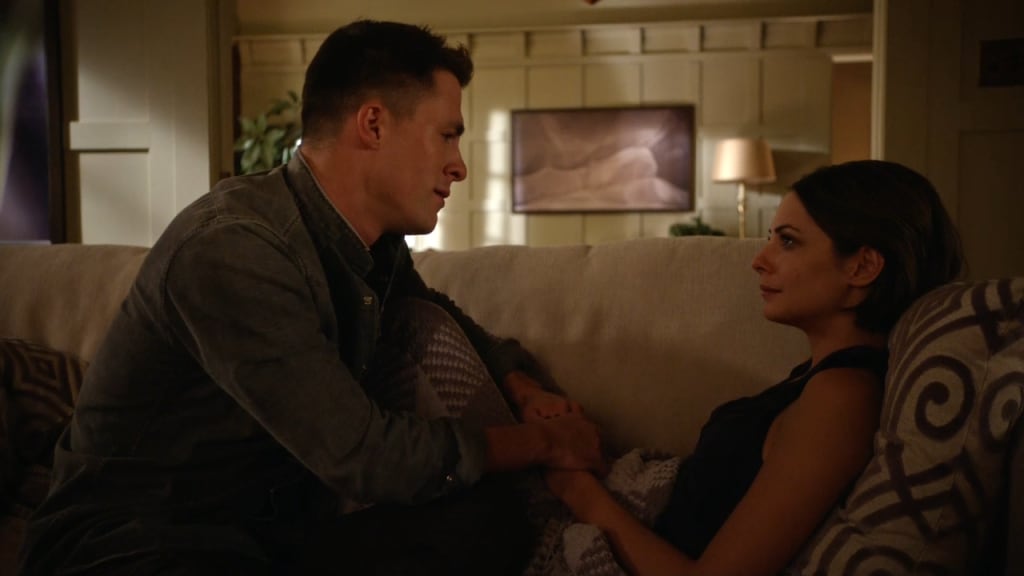 When we last saw Roy Harper (played by Colton Haynes), he was leaving Star City alongside the love of his life, Thea Queen. Thea felt called to leave town along with Nyssa Al Ghul to help find the lost Lazarus Pits. Roy undertook her mission so he could be with her, and the pair left for their own version of happily ever after.
Now, however, Roy will be returning to Season 7 of Arrow as a series regular. That has fans asking: What does this mean for Roy and Thea? Is it possible we'll catch another glimpse of Thea in the future? Or does this mean there is no more Roy and Thea. If former series regular Willa Holland (Thea) has decided not to return to the series, it stands to reason the couple will, most likely, break up again.
And the next big question is: What does his return mean for Team Arrow? Is he coming back to pick up the slack now that Oliver's in prison? Or maybe he doesn't come back as a hero after all.
Arrow star Stephen Amell, when he spoke to CBR.com teased that fans could never guess just exactly what Roy will be doing when he returns to Star City.
" I could give you an hour to guess, to pontificate as to what he's going to be doing, and none of you would get it. It's amazing."
This opens up a lot of possibilities. Like maybe the Roy coming back is not the Roy we know and love. Remember in Season 3 when Roy became the Green Arrow so he could get arrested and Oliver could go free? Roy told Oliver that it was his chance to save Oliver's life.
And after everything that Oliver has done for Roy, the way he helped change his life, I cannot imagine Roy Harper standing by while Oliver is behind bars. So it is possible that Roy will return, not as Arsenal, but as a different vigilante set on making the people who put Oliver behind bars pay.
Even Colton Haynes, when he spoke to ComicBook at San Diego Comic Con said that Roy is not the same person.
"You guys have no idea what's happening with Roy Harper. It's a crazy storyline, I can say. It's nothing like he's been before. It's going to shock [so many people]. I'm shocked right now. It's going to shock a lot of people. Roy's not the same person. I can't say much, but we're returning back to our roots on the show. Not the characters, but the show — We're going back to how we were a couple of seasons ago. But it's going to just be so good."
Oliver Queen started his mission in Starling City as a vigilante. That is one of the main roots of the show. He was angry at the injustices and determined to put things right once he was rescued off the island. Over the years, he has become more focused on keeping the city safe without any ulterior motives.
Roy Harper was originally an angry youth with a penchant for petty crimes. After the Green Arrow saved his life, he idolized the archer, and once he realized Oliver wore the mask, Roy saw him as a hero. It's clear from the way they interact that Roy still looks up to Oliver and would do anything to help him.
By the time he returns, Roy will have spent several months with Nyssa and Thea, undoubtedly, doing some extra training as I can't imagine Nyssa goes a day without working off her temper. So Roy's going to be in the right shape to return to Star City with a good dose of anger at Oliver's situation. It's possible, he'll even be angry at Team Arrow for allowing this to happen. Let's just hope he puts most of the blame on Team B instead of the original Team Arrow.
tv
About the author
I'm an avid writer and reader. I've had over 53 novels published and over 2,000 articles. Here I review movies, TV series/episodes, books, and write about entertainment. www.rachelcarrington.com
Reader insights
Be the first to share your insights about this piece.
Add your insights