What are These Skills Required for a SharePoint Developer in 2022?
SharePoint is now a powerful business tool. A SharePoint developer can help your business grow. SharePoint has become a very popular platform, and many developers offer dedicated services to businesses. So how do you find the best SharePoint developers?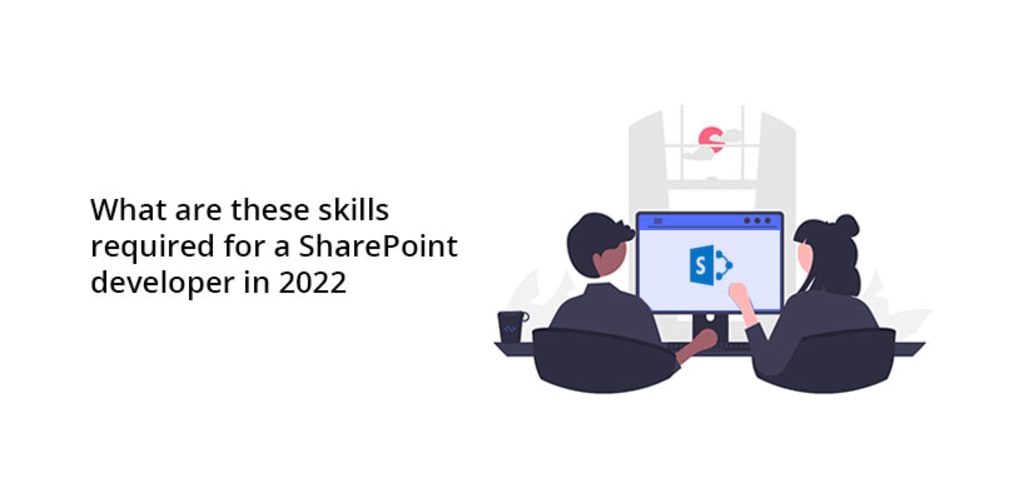 SharePoint developers must be able to master a variety of aspects. To be considered an expert in a particular programming language, the first requirement is to have a solid grasp of it.
A SharePoint Developer is someone who has a variety of technical skills. SharePoint developers need to be proficient in multiple technological skills and able to work with many software programs. SharePoint is complex and intricate software. This is why it is important to evaluate their ability to handle pressure. For example, they are responsible for backing up files and maintaining websites.
Must Have Skills of SharePoint Developers in 2022
You should not pay exorbitant fees if you're looking for SharePoint developers. You bring a wealth of experience and knowledge to your company when hiring a SharePoint developer. Their skills are not limited. SharePoint developers need to keep up with technology's changing needs and learn new skills.
Out of the Box Tools Available to a SharePoint Developer
This skill is essential above all others. Interviewing a brilliant.NET developer can make you look like a pro. However, they may not have worked in SharePoint. You would regret hiring them. SharePoint development is a complex beast. Even someone with top-notch skills in each area will struggle to understand SharePoint when trying to tackle your project.
Find someone to talk SharePoint with you, and show experience using these Windows-specific tools.
SharePoint developers must have the ability to create webpages, forms, workflows, and other features out of the box. Developers must be able to work with Business Connectivity Services.
SharePoint Object Model (OM)
SharePoint Designer
Visio
InfoPath
Visual Studio
PowerShell
Testing and Debugging Skills
For years, I've been creating sites and systems in SharePoint. But unfortunately, I still run into bugs from time to time.
This is especially important for SharePoint developers, as the platform can sometimes be finicky.
You can ask questions about:
What were the problems he encountered while using SharePoint before?
What tools and workflow does he use to deal with bugs
It is important to ensure that the developer can fix the problem and not just the symptoms.
You will be able to use this skill in the future, especially for security concerns.
Communication and Collaboration Skills
This is crucial because the developer will need communication with clients and other team members.
SharePoint development is a collaborative process. Therefore, you need to ensure that SharePoint developers can work together.
You can ask questions about:
How they deal with difficult clients
They are a team player or not
Their work experience with remote teams
You may have to think about developers from different parts of the world because of COVID.
You should also check applicants' communication and collaboration skills and their interactions with others.
Taking User Experience into Account Skills in SharePoint Development
Is it possible to provide a complete solution for a client without understanding their needs and expectations? One of the most valuable SharePoint development skills is trying to understand your clients' needs. It's not smart to start implementing something behind closed doors.
This leaves little to no room for the end-user expectations and how they will use it. You'll destroy everything if you don't fully understand what the end-user wants. Developers also use SharePoint Designer to create SharePoint websites that provide a pleasant user experience. Prioritize the user experience and supply only what is necessary rather than unanticipated!
Able to Develop Web-Parts
SharePoint developers are expected to have the unique ability to create web parts that meet end users' requirements. As a result, many web elements are part of SharePoint web libraries. They also play an important role in SharePoint Web Pages.
SharePoint's core features allow you to create, edit and modify web pages easily as a user. This makes it possible to master the basics. However, to create unique web parts to solve a specific problem, you must know net programming.
Web Designing Skills
These additional requirements are expected, but developers don't need to be trained. These requirements are part of the job. Like web designers, SharePoint developers can also create extranet portals and corporate intranets. It is intended to create a central platform that allows internal and external stakeholders to communicate and collaborate efficiently.
Solid knowledge of web design is essential for those who want to create a SharePoint site. SharePoint developers should be able to create SharePoint websites quickly.
Exceptional Collaborative Skills
SharePoint developers can still be useful even if they are not the most technically skilled. This is due to their ability to work well within a team. This is especially true in SharePoint development, which is highly collaborative.
We have had the pleasure of working with developers who, while not the most skilled members of their team, are some of the most valuable because they are positive and approachable. It is crucial to hire SharePoint developer willing to help others and contribute to the team. You should make sure they are proficient in using Microsoft Teams to communicate and collaborate.
Databases and Documentation Expertise
If you're looking for a SharePoint developer to work with, consider that they will need to handle data and documentation.
SharePoint developers need to have a basic understanding of databases due to the hype around big data and machine learning and because most application data are still stored within databases.
Document files and data must be stored properly after the project is complete. Therefore, it is important that they are correctly categorized and primed to make them easy to retrieve when necessary.
Knowledge of Programming Languages and Framework
This is crucial because SharePoint compatibility will require that the developer can write code.
This is where you verify the applicant's knowledge (usually college degrees in computer science).
.NET: This is the foundation of SharePoint. Any custom development that requires to take place in this environment will require knowledge of the.NET syntax.
JavaScript: A SharePoint developer who is well-versed in Javascript, its libraries and frameworks can't fail. Javascript is extremely useful for scripts that simplify complex tasks or customize processes.
C#: It is a "general-purpose, multiparadigm programming language" that runs on the. NET. SharePoint developers should understand all features, syntax, variables, strings, and operatives.
CSS and HTML are two languages needed to create features that users can interact with while using web applications. These languages directly impact the design and user experience of the product. This then influences how it will be perceived and received. The SharePoint developer must have more than HTML and CSS skills.
The Key Takeaway
These are the things you need to remember when hiring SharePoint developers. You might also be wondering where to find developers. There are many ways to hire SharePoint developers. For example, you can hire SharePoint developers through platforms such as Toptal and LinkedIn.
You can also hire developers through a SharePoint development company. This is a great way to hire developers because you don't have to wait for the right developers.
industry
About the author
Kuldeep Kundal Founder at Developers.Dev which is an Custom development company. Mr. Kuldeep Kundal has expertise in Marketing, People Management, Internal Administration and Research & Development.
Reader insights
Be the first to share your insights about this piece.
Add your insights