Webtoon at Conventions: Part 1
Merchandise, freebies, photo booths, signings, panels, and more!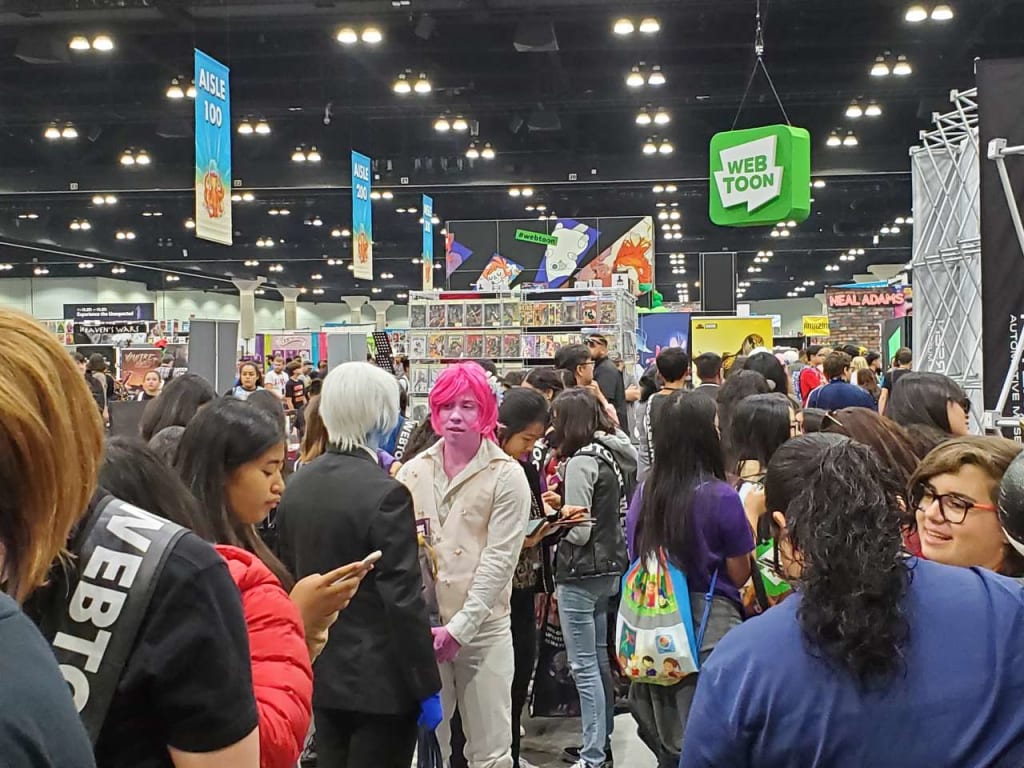 (Webtoon content & setup is subject to change per location and convention season)
Line Webtoon is coming to a comic con near you! When visiting their booth you'll meet creators, collect signed prints, buy exclusive merch, attend panels, and freak out over all things webtoon.
Preparing to visit the Webtoon booth for the first time, you realize you have no idea what to expect. What is the cost of the merchandise? Are the signed prints free? How long are the lines? Is attending a panel worth it? Get first-hand insight into the Webtoon booth and all it has to offer.
For specific info about Creator Signings and Panels check out "Webtoon at Conventions: Part 2!"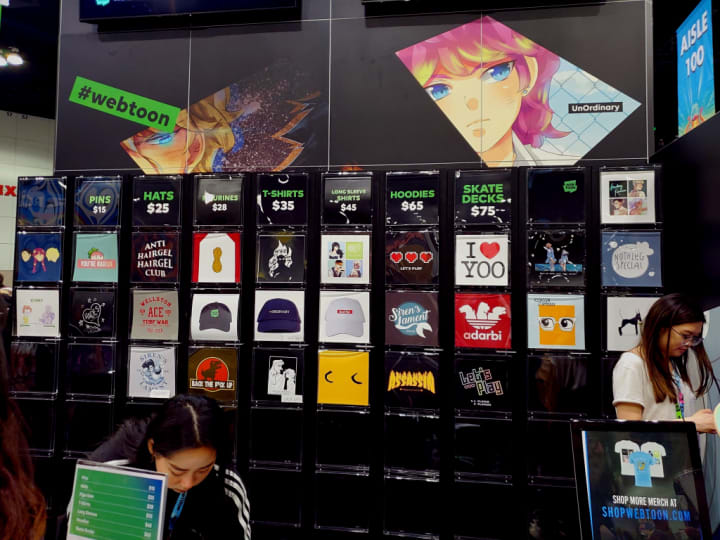 Merchandise
Webtoon offers pins, hats, figurines, t-shirts, long sleeve shirts, hoodies, and skate decks for sale at their booth. The prices of webtoon merchandise range from $15 to $75 an item, not including tax.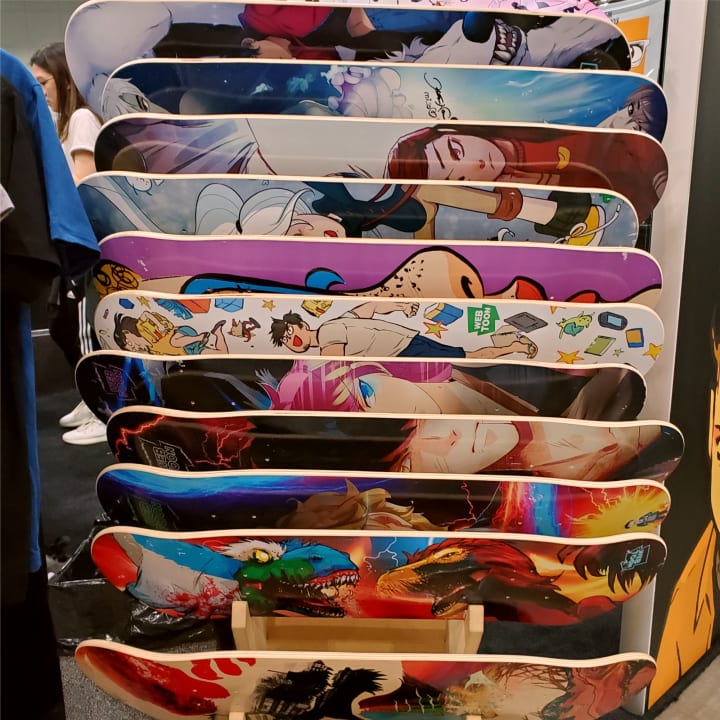 Along with flat prices, Webtoon also offers deals allowing you to mix and match different merch for a discounted price.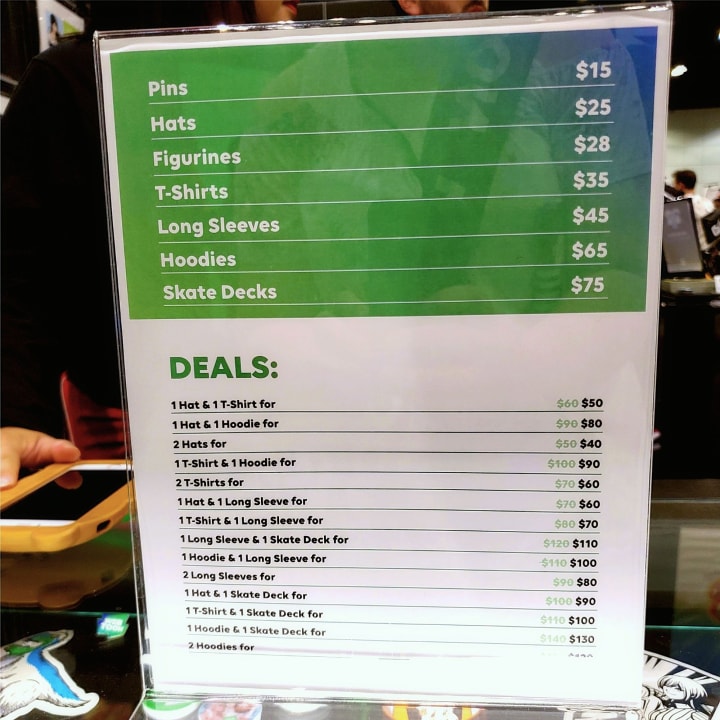 Most merch offered at the booth is exclusive only to conventions and cannot be found on the Webtoon Shop.
Freebies
Don't worry if you are short on funds because Webtoon gives out freebies! Webtoon freebies include but are not limited to tote bags, pop sockets, postcards, signed posters, etc. Freebies are distributed throughout the day, either at random or at specific times. But don't wait too long to grab them because they are limited and on a first-come basis.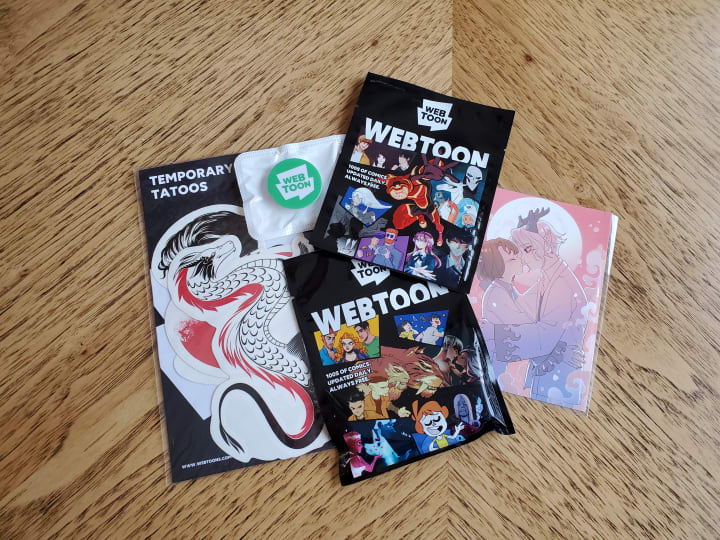 Scheduled freebies are given out during the listed Bag Giveaway and Blind Bag Giveaway. For the Bag Giveaway you are given a very large Webtoon tote bag, that will nearly take you out in the process when walking around the convention floor. You can find the tote bags in the front lobby of the convention and at the Webtoon booth (unless stated otherwise).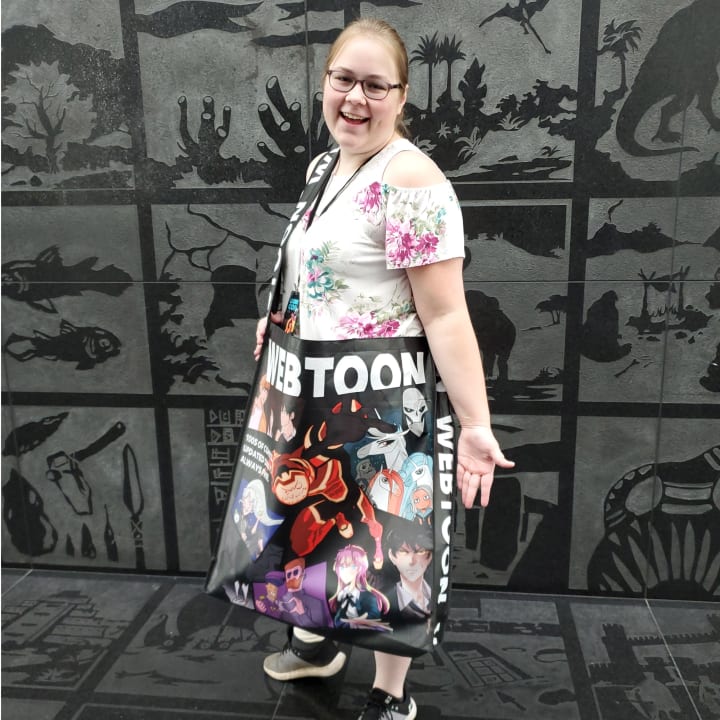 For the Blind Bag Giveaway you are given a number of goodies in the form of stickers, temporary tattoos, wrist bands, etc. You can get these freebies near the line where creators were greeting fans and signing prints (unless stated otherwise). Get in line early to guarantee your shot of grabbing some free merch.
Photo Booths
Take some memorable photos at webtoon themed photo booths! Don't worry if you aren't good at taking photos because a Webtoon staff member will be there to assist you.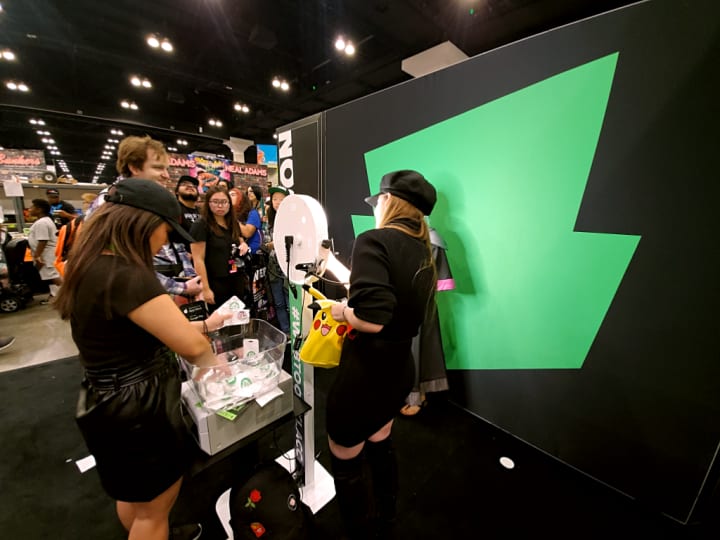 One photo booth gave you the opportunity to pose with your favorite webtoon characters with the help of a green screen. You were given the option to pose with backgrounds from I Love Yoo, Lore Olympus, Freaking Romance, Winter Moon, etc.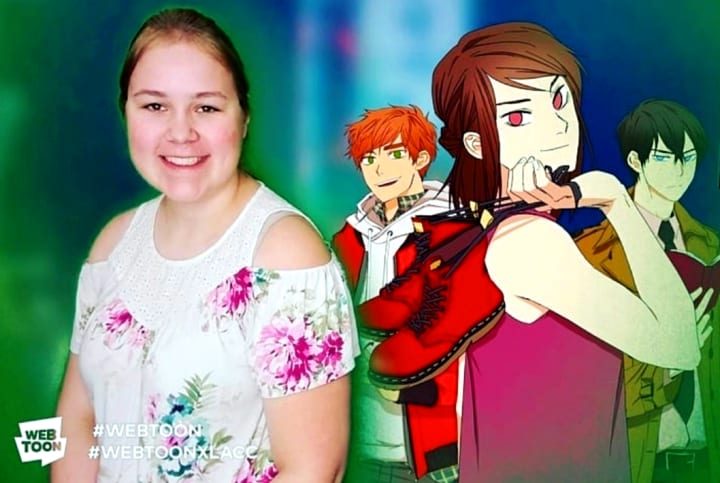 The second photo booth offered you the chance to take a picture with the webtoon logo while being surrounded by green balloons, chairs, and carpet.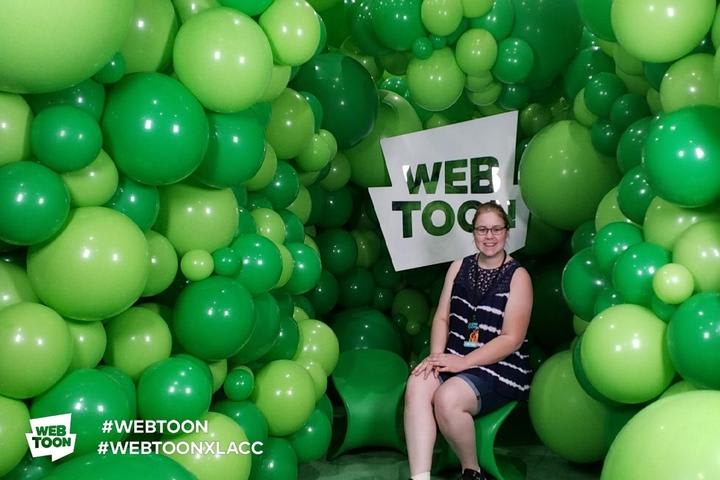 After you had your pictures taken you were given the option to have your photo printed, emailed, or sent to your social media account. If you shared your picture on social media under their designated hashtag --> #webtoonxlacc, you were given a pop socket freebie, depending on what they had in stock.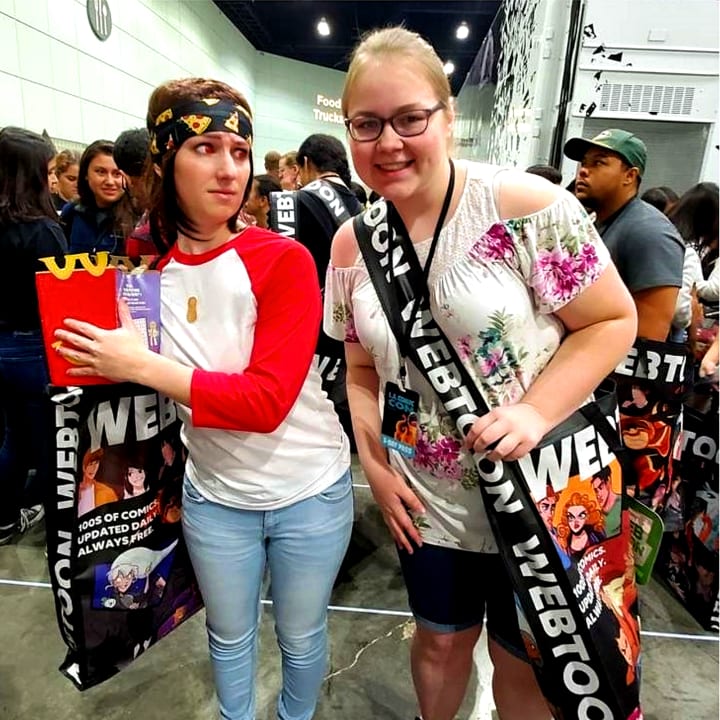 Cosplayers
There were quite a number of webtoon themed cosplayers wandering around the webtoon booth and convention floor. Many people cosplayed as the colorful characters from Lore Olympus, as well as webtoons from both Original and Canvas stories.
Cosplays ranged from the most basic of designs to the most complex of designs. Some cosplays were made last-minute while others were prepared months in advance. No matter your skill level, don't be afraid to show off your love for a specific webtoon by dressing the part.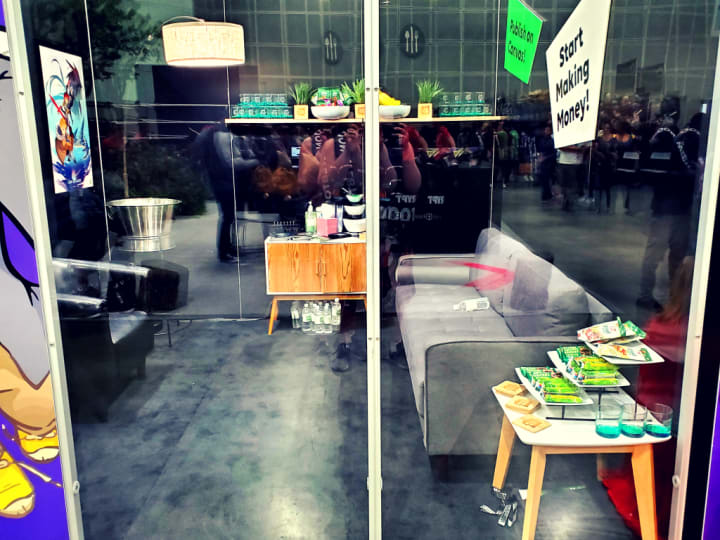 Creator Chill Room
Want to know where the creators hang out when not signing autographs, meeting fans, or exploring the con floor? There is a hidden little room that you can look into with a couch, snacks, and drinks for the creators to enjoy, while they wait to be summoned to the signing table. If you know what a creator looks like prior to a convention, you might be able to identify them lingering around the Webtoon booth conversing with staff, other creators, and fans.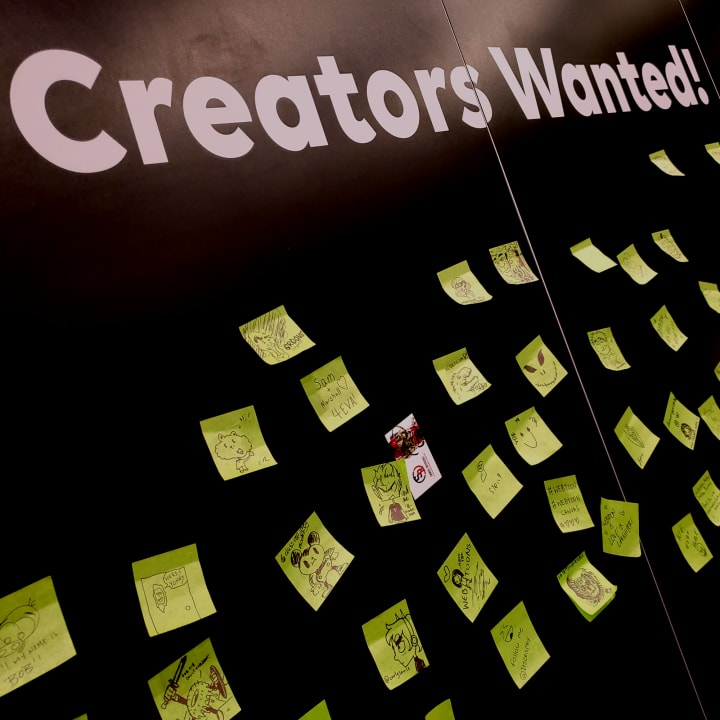 Creators Wanted Wall
Are you a creator of art, writing, or music? Leave your mark on the Creators Wall by writing, drawing, or signing a sticky note to place on the wall. Come back towards the end of the convention and the wall will be completely covered in aspiring creators sticky notes.
Webtoon is seeking out new talent to display their creations for the world to see. Take advantage of flyers, videos, and panels offered by Webtoon to enhance your skills as a creator. Know you aren't alone in your dream to have your skills appreciated by hundreds, thousands, or millions of readers!
Talking with Fellow Fans
When browsing the webtoon booth or waiting in line for a signing and/or panel, don't be afraid to strike up a conversation with fellow fans around you. Ask them where they are from, how long they are going to attend the convention, and compare notes on your favorite webtoons. Geek out together about creators, story plots, characters, and theories. If you both use the same form of social media, follow each other online. You might just leave the convention having made a new friend.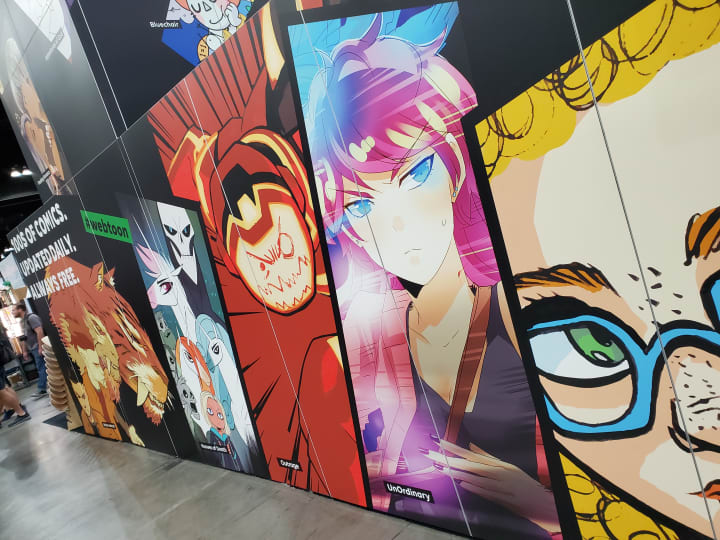 Visiting Webtoon at a comic convention is something every fan needs to experience! Buy some limited edition merch, while also taking advantage of freebie giveaways. Pose for photos in one of the two photo booths and converse with fellow fans. Don't forget to grab some flyers to help jump-start publishing on Canvas.
Always remember to keep supporting your favorite creators and read the amazing content they provide for free.
Have further questions or want to discuss webtoon related topics? Reach out to me by email or Instagram!
Email - [email protected] Instagram - fandomscribe
▼
More Webtoon Reads

▼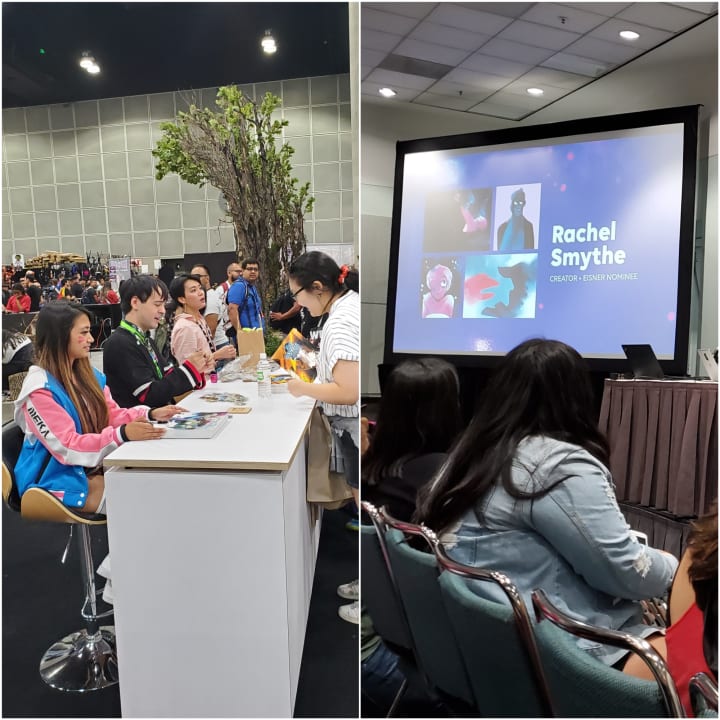 For specific info about Creator Signings and Panels, check out "Webtoon at Conventions: Part 2"!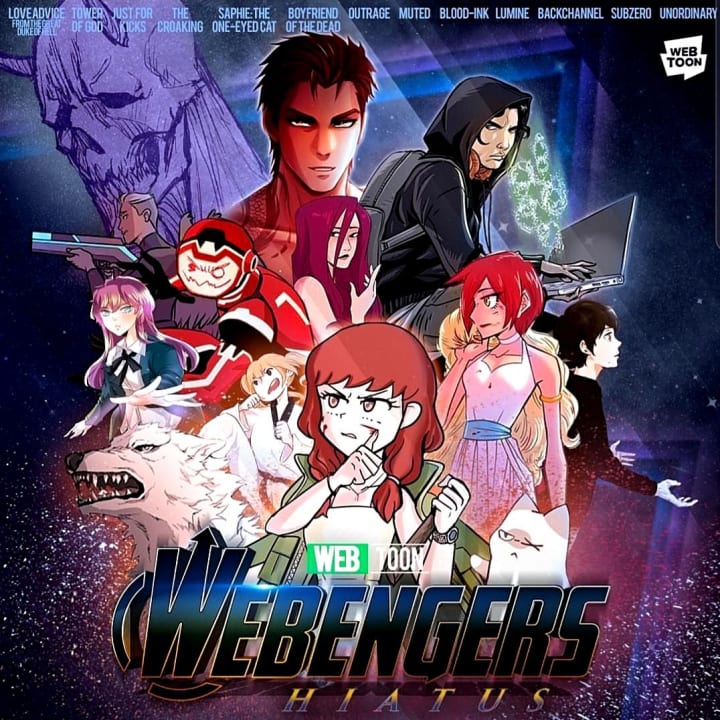 Read "Webtoon Hiatus Boredom Busters" for 25 ways to kill your boredom while waiting for a webtoon hiatus to end!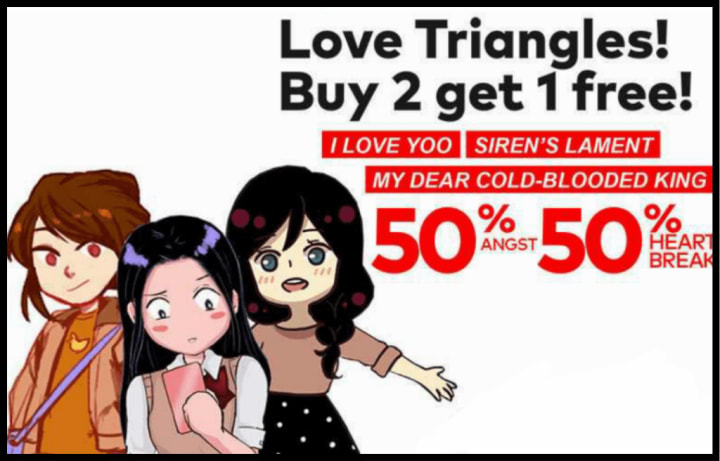 Read "Top 3 Romance/Drama Webtoons" for beautiful art, lovable characters, hot love interests, and LOL moments!
conventions
A geeky chick who loves to scribe about webtoons, anime, miraculous ladybug, and other fandoms
Email - [email protected]
Instagram - fandomscribe
Receive stories by Fandom Scribe in

your feed