We Have a Ghost Movie Review: A Fun But Flawed Horror Comedy
We Have a Ghost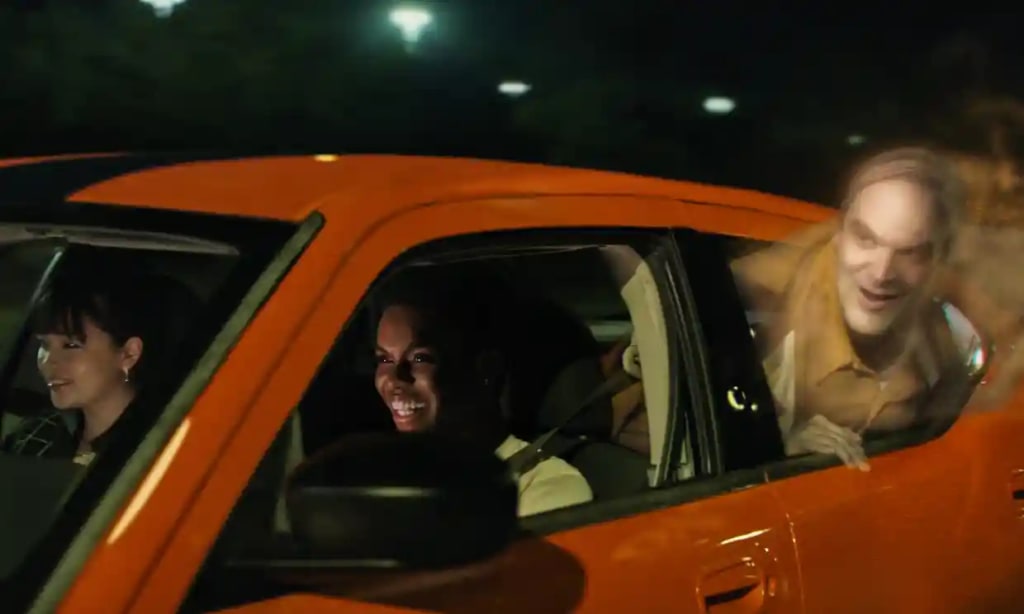 Image Credit : Netflix
The Director Christopher Landon has quickly made a name with horror films that eschew the cynicism of the genre's more pretentious offerings. Movies like "Happy Death Day," "Happy Death Day 2U," and "Freaky" may not be perfect, but they are undeniably fun. Landon's latest film, "We Have a Ghost," is no exception. While it has its flaws, it is an enjoyable diversion that horror fans are sure to appreciate.
Plot Summary:
Based on a short story by Geoff Manaugh called "Ernest," "We Have a Ghost" follows the Presley family as they move into a fixer-upper in Chicago. Father Frank is struggling to make ends meet and maintain a relationship with his increasingly-distant son Kevin. Almost immediately after their arrival, Kevin discovers a trapped soul named Ernest in the attic. Ernest has been scaring away inhabitants since the '70s, but Kevin doesn't get scared. He films Ernest with his phone, and suddenly the ghost goes viral.
Concept:
Imagine if there was an actual ghost all over TikTok and YouTube. What would happen? This is the rich concept that "We Have a Ghost" presents, but unfortunately, it doesn't do enough with it. Instead of exploring the idea of what proof of the afterlife would mean, the film shifts its focus to a paranormal scientist named Dr. Leslie Monroe and her CIA boss Arnold Schipley. The movie becomes a chase/road movie in its midsection as Ernest, Kevin, and their scene-stealing neighbor Joy try to escape the armed guards and get to the bottom of why Ernest hasn't fully moved on to the next plane of existence.
Acting:
David Harbour gives an effective performance as Ernest, and Jahi Di'Allo Winston shines as Kevin. Winston, who was also great in "Charm City Kings" and "Everything Sucks!," feels like a future star. Tig Notaro is enjoyable as Dr. Leslie Monroe, and Steve Coulter is suitably menacing as Arnold Schipley. Jennifer Coolidge also makes a memorable cameo.
Writing and Direction:
While Landon's direction is solid, his writing isn't as sharp as it could be. The movie goes on too long and features multiple endings, and it repeats themes and images instead of building on the film's interesting ideas. The lack of urgency in the final act is a particular problem, and it could have used more of the contagious joy that Landon brought to his previous films.
Shifting Focus and Lack of Exploration:
While the concept of a ghost going viral on social media is rich with potential, Landon doesn't do nearly enough with it. Instead, "We Have a Ghost" shifts too much focus to a paranormal scientist named Dr. Leslie Monroe (Tig Notaro) and her CIA boss Arnold Schipley (Steve Coulter), turning the film into a chase/road movie in its midsection. The lack of exploration of what proof of the afterlife would mean is disappointing, and the film's final act repeats ideas and ends more than once, lacking the urgency that would make viewers put their phones down for good.
Effective Performances and Decent Diversion:
Despite its flaws, "We Have a Ghost" is still a decent diversion. Harbour is effective in a performance that could have been all exaggerated mugging to compensate for zero dialogue, and Winston feels like a future star with his confident and natural acting at a young age. There's enough to like here in the two of them to keep teens and their parents from checking social media too often while it plays. Landon's attempts to recall films from the past are mildly interesting, but the lack of emotional connection to the central friendship and a lurch into Hitchcockian thriller territory leave the film falling short of his previous works.
Final Thought:
"We Have a Ghost" may not be a perfect horror comedy, but it is a fun one. Fans of the genre will appreciate its quirks and enjoy the performances, especially those of Harbour and Winston. While it may not be as tight or memorable as Landon's previous efforts, it is still a solid distraction that is worth checking out.
Reader insights
Be the first to share your insights about this piece.
Add your insights