Violet Evergarden
Anime Review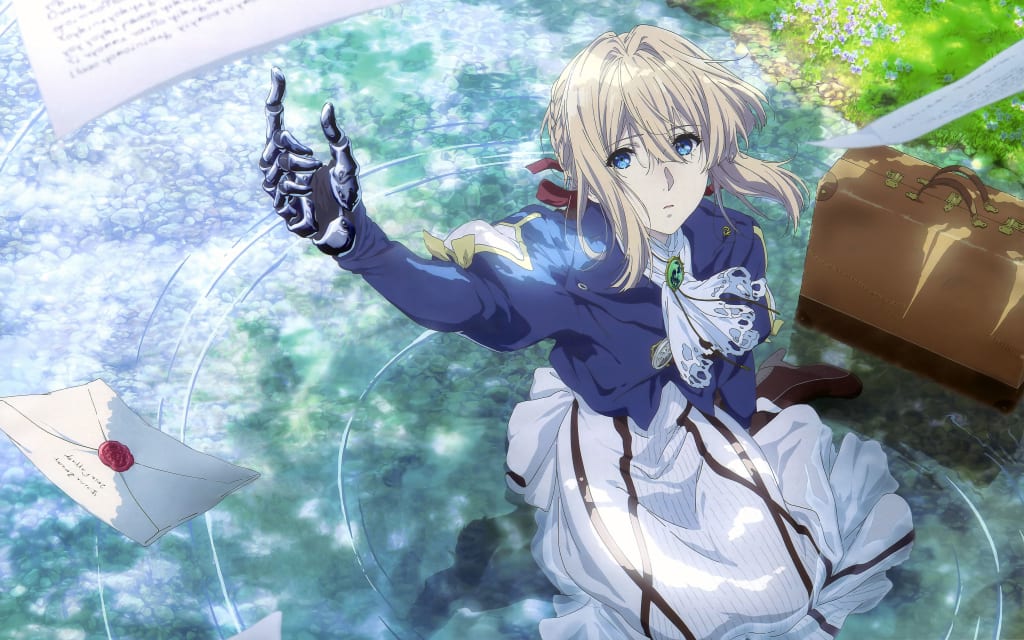 I started watching this anime because of a clip I saw on Pinterest. It was so beautiful that it gave me the chills and I had to see what this anime was about. Knowing nothing about this anime I searched it up and started watching.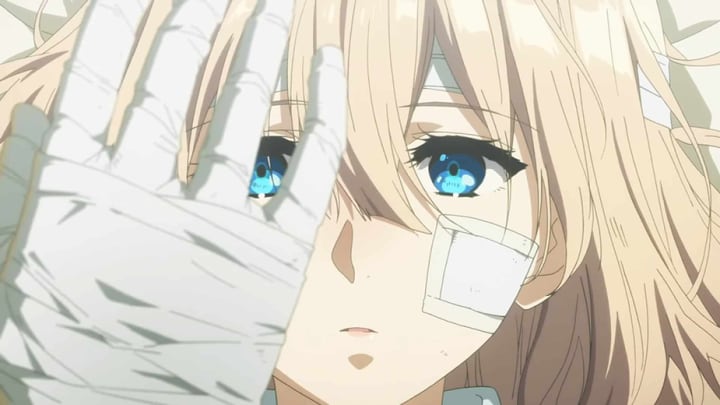 Storyline: After four long years of conflict, The Great War has finally come to an end. Caught up in the bloodshed was Violet Evergarden, a young girl raised to be a deadly weapon on the battlefield. Hospitalized and maimed in a bloody skirmish during the War's final leg, she was left with only words from the person she held dearest, but no understanding of their meaning. Recovering from her wounds, Violet starts a new life working at CH Postal Services. There, she witnesses by pure chance the work of an "Auto Memory Doll", amanuenses that transcribe people's thoughts and feelings into words on paper. Moved by the notion, Violet begins work as an Auto Memory Doll, a trade that will take her on an adventure, one that will reshape the lives of her clients and hopefully lead to self-discovery.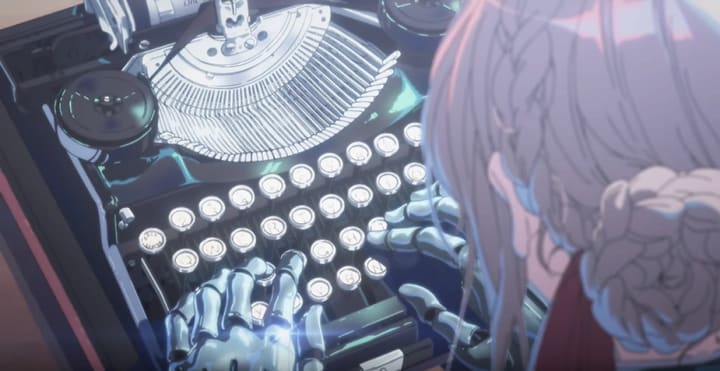 Episode 1 ended and I was lost, But I was intrigued enough to see how the story will unfold. It is a creative story, with a beautiful journey following a pure desire from Violet to learn what love is. I couldn't imagine being trained as a weapon my whole life and then being thrown into the real world and trying to figure out emotions through a new job. She is so pure with her genuine curiosity while writing letters as a doll.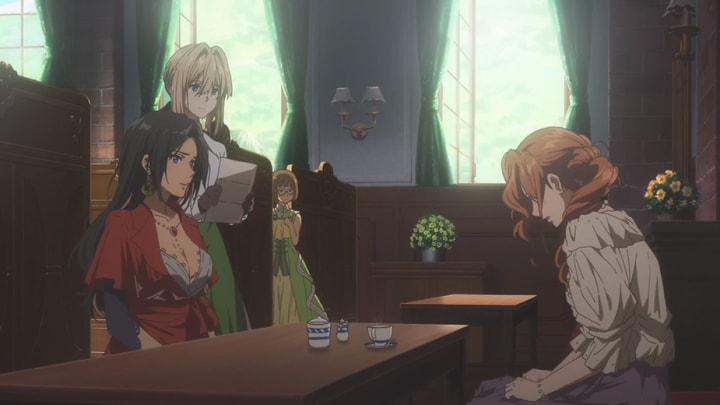 Each of the episodes was its own individual story but followed a character development story arc. I enjoyed watching Violet's efforts to learn and grow, as well as her coworkers being patient and understanding of her starting a new life as a doll. The characters were very basic but the interaction made each episode emotional.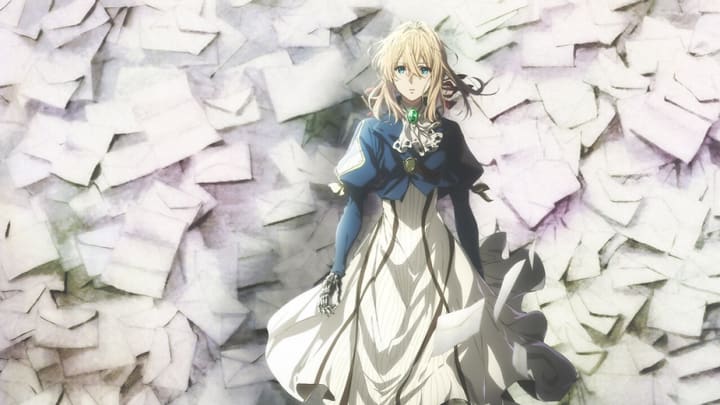 Season 1 - 13 episodes
Each episode was very unique, As you follow Violet's job requests writing completely different letters for different clients. As a doll, she goes to her clients and sees a beautiful world she missed while fighting in the war. She is missing both arms but doesn't allow her disability to stop her from completing the letters that are requested. The only reason she knows how to read and write is because of her Major. He took pity on her being a child at war and took her under his wing. Their close relationship developed into love, Which was short-lived as Major Gilbert was killed in combat. Violet is a weapon of war, can she navigate through learning how to be a woman, what emotions mean, and how to become an auto memory doll? While processing the grief of her love.
Personally, episode 7 made me cry and has one of the most beautiful animations I have ever seen.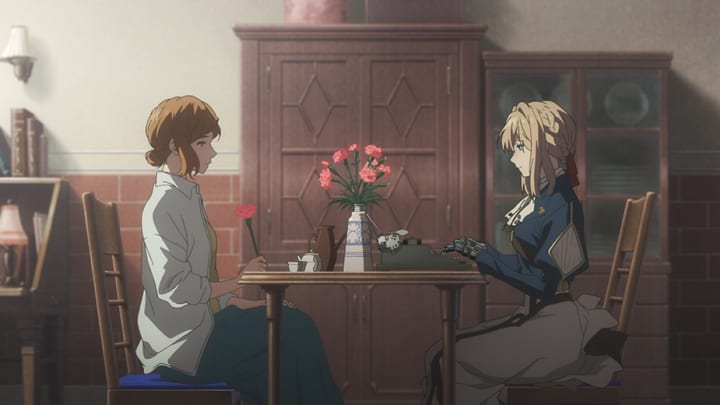 Special Episode
I am not sure why this is a special and not another episode in season 1. This episode is a story that takes place in the months between the fourth and fifth episodes. Violet answers the request of a certain songstress. It is a completely different request than what Violet knows to write. Writing a song isn't like writing a letter, but violet takes on this challenge.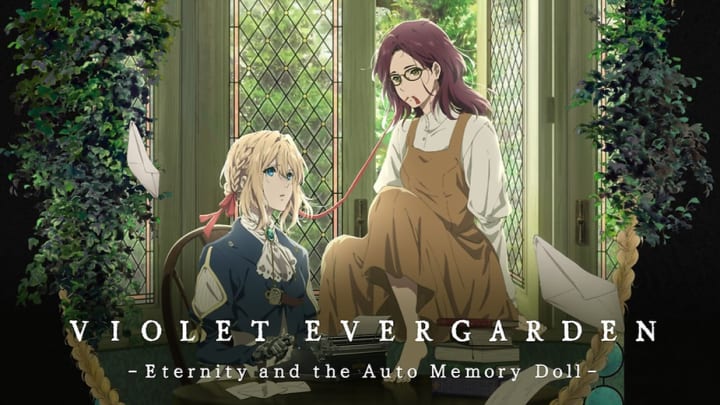 Violet Evergarden: Eternity and the Auto Memory Doll - Movie
This is the first of two movies. Violet Evergarden, a former soldier who returned from war, comes to teach at a women's academy and changes a young girl's life. This was a request for her company more than a request for her writing ability. I thought this movie was very slow. I watched it on 1.5X speed just because the way they spoke was slow. It was different from the series but I didn't think it needed to be turned into a movie. It could have been turned into another episode. It does show Violet's character as she develops compassion and friendship. If you enjoyed the series you may or may not enjoy this movie.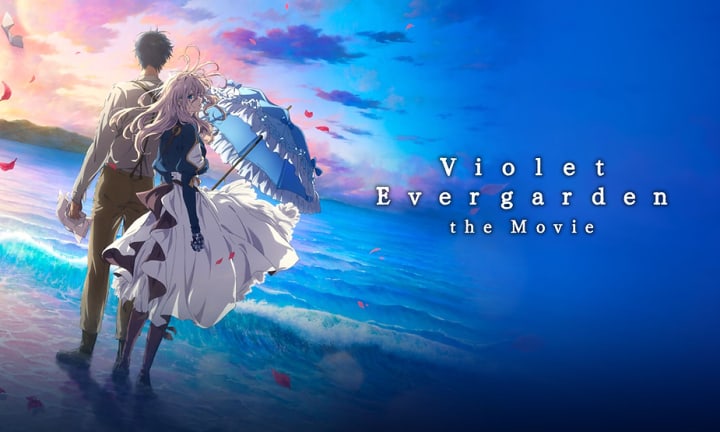 Violet Evergarden: The Movie
After the aftermath of a war, a young girl who was used as a 'tool' for war learned to live. With the scars of burns, she goes back to her past to feel the true feelings of the Major, "I love you."
This was a beautiful movie. We follow a young girl whose grandmother passed away. Going through her grandmother's things she finds a series of letters. In episode 10 Violet gets a request from a dying woman to write letters for her daughter. So after she passes her daughter would receive a letter each birthday for the next 50 years. The daughter is the grandmother of this young girl. She gets curious about the auto memory doll that wrote these letters to her grandmother and what happened to her. She goes on a journey to see what happened to Violet Evergarden. We get teleported from the present to the past as we follow Violet and her finding a curious letter that might mean her love is still alive.
This is another slow movie, I watched it at 1.5X speed just because they talked slow not because it was boring.
The ending of this movie is a perfect conclusion to Violet's journey to discover what love means. You will cry.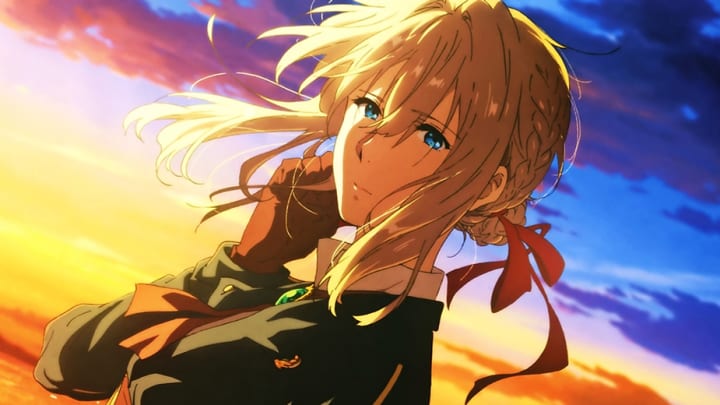 RATINGS:
IMDB:
My Review: The animation is out of this world. I had no idea animation like this was even possible. I have never seen a story like this, the thought of being trained to be a killing machine and then thrown into the real world with no real understanding of what it means to be human is terrifying. The character is so beautifully written, and her desire to want to understand emotion by writing out others' emotions in letters is extremely unique.
The only things I didn't like were the first movie and the very slow dialogue.
I can see why this is an award-winning, highly rated anime both from critics and the audience.

What were your thoughts on Violet Evergarden?
After reading this will you give it a watch?
Let me know in the comments below
Have an anime you want me to review? Leave a request below or in the Review Forum!
CLICK HERE - ANIMETIPZ
Thank you for reading!