Villainess Review: Sarah Davis (Picture Perfect Mysteries)
A scorned and vengeful madwoman looks to complete her murderous revenge in the opening installment of this short lived Hallmark mystery film series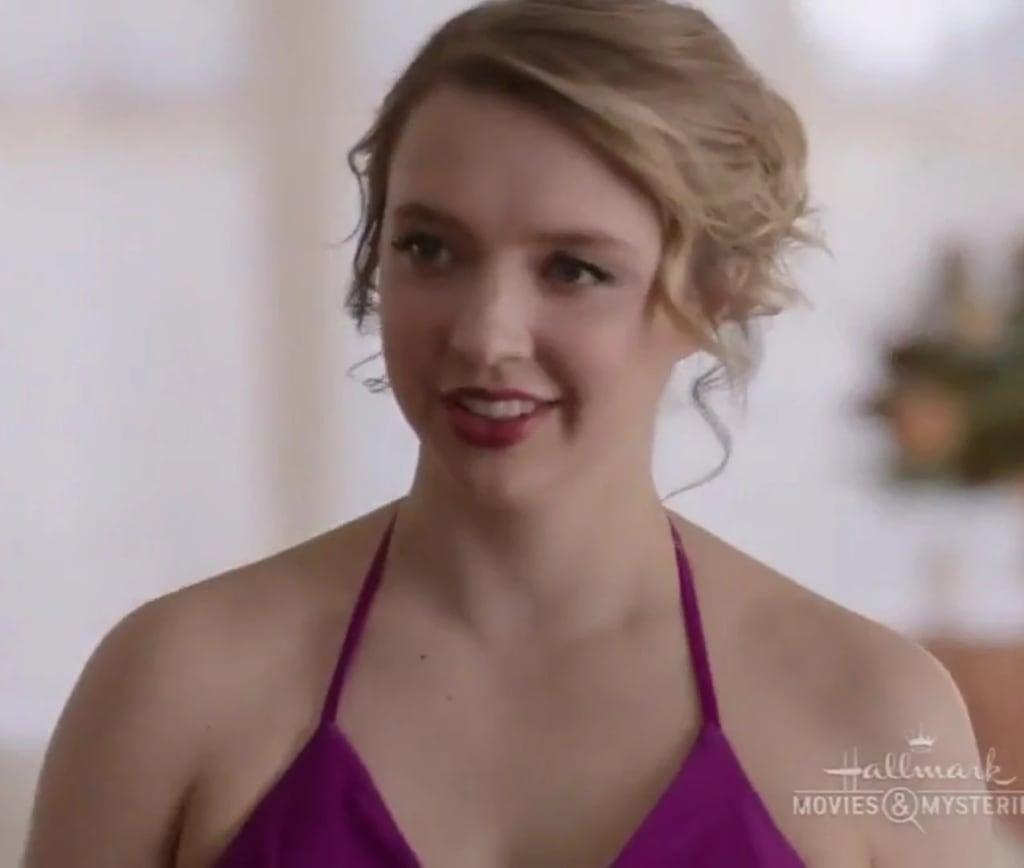 Pippa Mackie as Sarah Davis
It really kills me that a lot of Hallmark's mystery film series are kaput, and one series I really enjoyed was Picture Perfect Mysteries. The main reason was because the central stars are married in real life; the leading lady was Alexa PenaVega, who played main protagonist Allie Adams, a professional photographer, while the lead detective, Sam Acosta, was played by Alexa's real-life husband, Carlos PenaVega. Also, I've been a fan of Alexa since the Spy Kids films, so that definitely played a role as well.
The series kicked off with "Newlywed and Dead," which saw Allie perform her duties at the wedding of Kevin Davis and Jenna Cole, while also dealing with the usual obstacles: being rushed for time, getting things right, and troublesome family members; the main one being Kevin's sister, Sarah Davis, who lashed out at Allie, as Sarah once dated Allie's brother, Greg. Against all odds, the wedding went through, and Allie managed to capture amazing photos during the wedding and the first dance. All went well...until Kevin was suddenly shot.
What was a happy occasion turned into a moment of tragedy that led to suspicion. Most of it was aimed towards Greg, as he used to date Jenna. Sarah wasted no time pointing the finger at Greg, and the same went for Kevin's parents. Sam's encounter with Sarah saw him on the receiving end of Sarah's complaints about Jenna, claiming that she was marrying Kevin for his wealth. Unfortunately, that sentiment was shared by quite a few people in Kevin's life, including his own father.
Greg was taken into custody after a gun matching the description of the weapon was found in his home, though he was quickly cleared. As for Jenna, Allie sent her to her family cabin to ease things, while Sarah appeared to have calmed down from her grief and bitterness, as she apologized to Allie when the photos were delivered. Sarah also voiced her desire to apologize to Jenna, with Allie informing Sarah about Jenna's whereabouts. After Sarah left, Allie spotted a card from May's Flowers, which she recognized as the same shop that Greg bought flowers from.
Angry that her brother kept something from her, Allie confronted Greg, who revealed that the flowers were for Sarah, as he briefly dated Sarah after he and Jenna ended things. That relationship was short-lived, and according to Greg, Sarah didn't take it too well. While Sarah appeared to Jenna at the cabin, Allie (now armed with the new information) inspected the photos from that dance, and after a close look, she realized that the true target was Jenna, and the shooter was Sarah.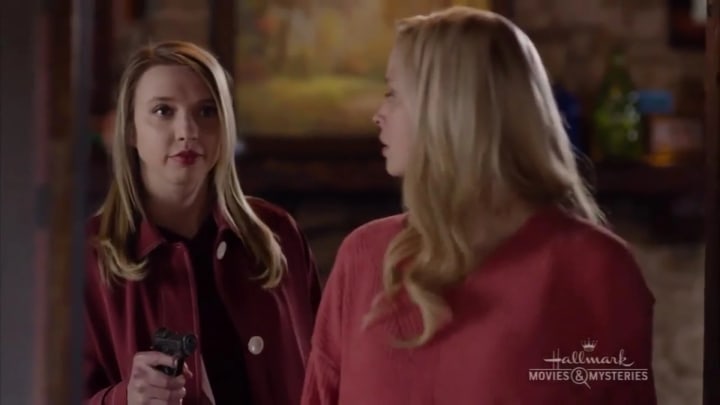 Allie went to the cabin to warn Jenna, but she was suddenly encountered by a gun-wielding Sarah, who forced Allie to enter the cabin. Everything was revealed afterwards: Sarah's anger over the breakup was due to the fact that Greg was still in love with Jenna, leading to the deranged woman to plot Jenna's murder at the wedding. She planned to kill Jenna during her dance with Kevin, but Jenna was dipped, causing Sarah's shot to kill her own brother instead. Sarah feigned remorse to get Jenna's location, and once she got it, the villainess planned to fulfill her scorned revenge by killing her sister-in-law. Sarah's villainess rant saw her lash out at both Greg and Jenna, denouncing them as liars while accusing Jenna of killing Kevin, despite the fact that Sarah pulled the trigger.
By the way, I just want to say this: Lindsay Maxwell played Jenna Cole-Davis in this film. I knew Jenna wouldn't be villainous, and when I watched this film, I was elated to see Lindsay Maxwell playing a heroic character after seeing her being evil on Lifetime (twice). Anyway, Sarah's diatribe was interrupted by the appearances of Sam and partner Nick Carlin, and the distraction allowed Allie to swing a fireplace poker at Sarah, leading to a brawl that ended with Sarah disarmed and later arrested once the detectives entered.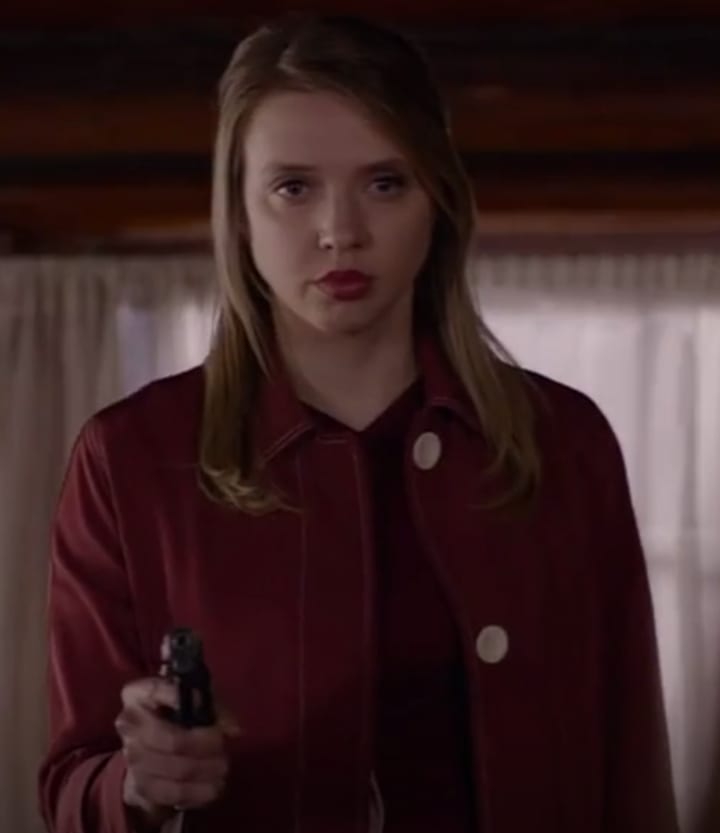 Picture Perfect Mysteries: Newlywed and Dead aired on Hallmark Movies & Mysteries on June 16, 2019, and featured Pippa Mackie as maniacal villainess Sarah Davis. I absolutely loved this villainess; she's one of my favorite HM&M villainesses of all time. Sarah Davis was insane from the get-go, and we see that in full form when she's unveiled as her own brother's killer. Sarah was so consumed with scorn, bitterness, and insanity, that she was willing to do whatever it took to kill Jenna, even at the cost at her own brother's life. I absolutely don't buy Sarah's sorrow over losing her brother, because a good part of me thinks that part of Sarah may have seen Kevin's unintended murder as an "acceptable loss." The fact that she uses her own role in her brother's death to justify blaming and attempting to kill Jenna pretty much clinches it.
As for Pippa Mackie, she was so deliciously awesome as Sarah. She acted out Sarah's emotions very well, especially her unhinged scorn during Sarah's reveal in the climax. This wasn't Mackie's first HM&M appearance; a month prior to this film's airdate, Mackie appeared in Chronicle Mysteries: Vines That Bind, and she has also appeared in Murder, She Baked and Garage Sale Mysteries. Mackie also guest-starred in episodes of Supernatural, Lucifer, The Man in the High Castle, and Van Helsing.
If you like this story and review, click the heart and the subscribe button, and feel free to comment below! Tips and pledges would be greatly appreciated, but only if you want to do so!
Check out Sarah Davis' profile on Villainous Beauties Wiki!
Reader insights
Be the first to share your insights about this piece.
Add your insights