Villainess Review: Mrs. Mitchelssen (The Rookie)
A bizarre murder investigation's twists and turns result in the unveiling of a greedy villainess in this Season Five episode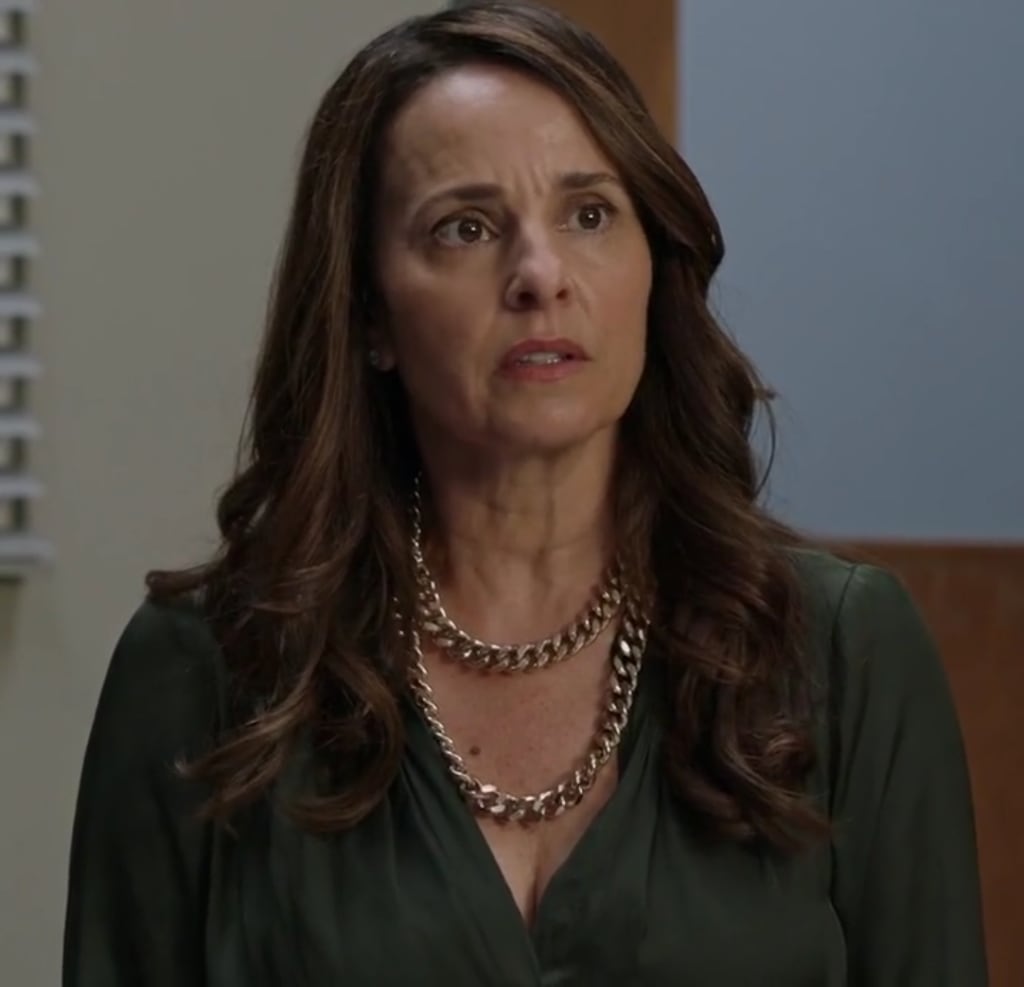 Jacqueline Obradors as Mrs. Mitchelssen
You know, the MLB postseason has kept me busy with stories centering on baseball, but the World Series is over, the champion's been crowned, and now, I can get back to the usual Villainess Reviews, beginning with the latest episode of The Rookie. The episode, "Crossfire," had three separate stories (as episodes of The Rookie usually do), but it's John Nolan's story that is the subject. Nolan and Celina Juarez witness an apparent murder; a blonde woman shooting a man in his car before running off. Nolan tracks the woman to her trailer, and orders her to drop her gun before being taken into custody. As for the deceased, Celina informed Nolan that he was dead before the shooting, as he had been stabbed. Interesting.
So the blonde (whose name is never revealed) informed Nolan and Celina that she had a past with her "victim." The deceased was Dr. Alvin Mitchelssen, a pharmacist who had prescribed opioids to the blonde's father...continuously. She pleaded with Alvin to stop, but to no avail, and reporting Alvin ended up fruitless as well. The blonde's father died as a result, and she planned to kill Alvin out of revenge, even informing the pair that she would gladly go to prison for the rest of her life. Nolan and Celina did inform the woman that Alvin was already dead before she shot him, and instead, she would be charged with much lesser crimes.
So that part was solved, but Alvin's killer was still out there. Nolan and Celina spoke to Alvin's wife (whose first name isn't revealed), who expressed shock over her husband's death--as well as what killed him. Mrs. Mitchelssen figured that her husband's heart gave out, as Alvin had heart problems, and she urged the pair to find her husband's killer. The investigation ended up seeing Nolan and Celina back at Alvin's pharmacy, where someone was loading up drugs and taking them out of the building. A confrontation followed, as well as the discovery of fake prescription slips, and an eventual arrest. Turns out, the guy was a member of a gang known as the Rolling Seventies, and their leader, Callis Caputo, stabbed Alvin.
Caputo gets captured, but afterwards, Nolan gets a call that changes everything. It was the coroner who called, and as Nolan informed Celina, neither the shooting nor the stabbing killed Alvin--he was actually poisoned. The pair later visited Mrs. Mitchelssen at her home, and it was there that the "grieving widow" was revealed as her husband's killer. As Nolan revealed, Mrs. Mitchelssen used one of her husband's illegal scripts to purchase the drug she used to stop Alvin's heart, with video evidence of the villainess committing her murderous deed being in the pharmacy's security cameras. After denying it at first. Mrs. Mitchelssen boldly confessed, adding that she felt she deserved Alvin's insurance money, while lashing out at Alvin for facing jail time for his actions. Ironic, because the greedy villainess now faced jail time herself, as she was arrested and placed in cuffs.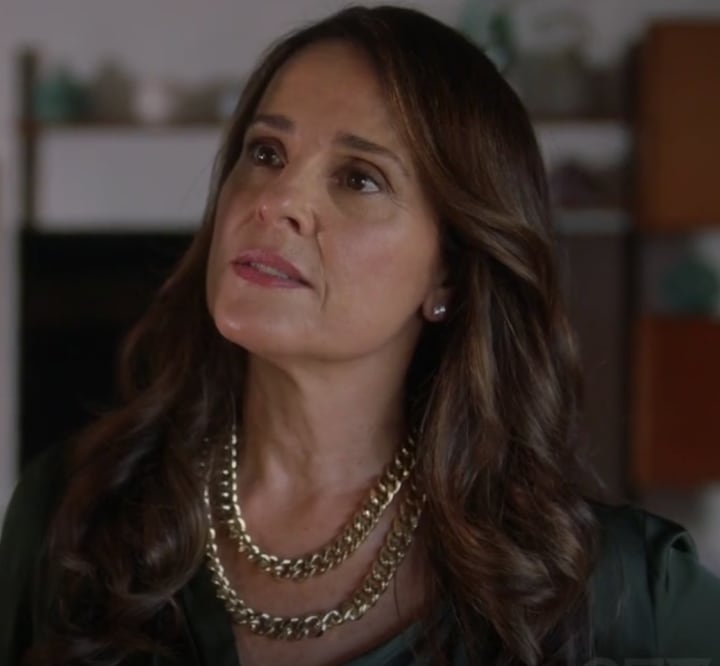 "Crossfire" was the seventh episode of The Rookie's fifth season, and aired on ABC on November 6, 2022. Jacqueline Obradors appeared in the episode as the evil Mrs. Mitchelssen, and once I saw Obradors appear, I was hoping she'd be a villainess, and she didn't disappoint. Mrs. Mitchelssen was your typical opportunistic and greedy murderess, with the added bonus of her knowledge of her husband's own criminal activity. While greed definitely served as Mrs. Mitchelssen's motive for killing Alvin, one has to believe that she was covering her backside as well, as she possibly could have faced going down as an accessory to Alvin's own crimes--like I said, she knew. Obradors, unsurprisingly, was golden in this episode; she acted out her character's "grieving widow" act very well, and she was just brilliant when she revealed her murderous actions in the final moments.
This isn't Jacqueline Obradors' first time playing a villainess; in fact, this isn't her first villainous role in an Alexi Hawley/Nathan Fillion series! During the eighth and final season of Castle, Obradors appeared as Allison Hyde, the Attorney General turned evil and murderous criminal conspirator. NCIS fans know Obradors as drug queen Paloma Reynosa, and she also played another villainess, Alexa Lee, on Lucifer. Obradors is best known for playing detective Rita Ortiz for four seasons on NYPD Blue, and regarding films, she appeared in Six Days, Seven Nights and Deuce Bigalow: Male Gigolo.
If you like this story and review, click the heart and the subscribe button, and feel free to comment below! Tips and pledges would be greatly appreciated, but only if you want to do so!
Check out Mrs. Mitchelssen's profile on Villainous Beauties Wiki!
About the Creator
Born on March 18, 1985. I am an avid fan of sports and wrestling, and I've been a fan of female villains since the age of eight. Also love movies--especially comedy and horror--and among my favorite TV shows are The Simpsons and Family Guy
Reader insights
Be the first to share your insights about this piece.
Add your insights