Villainess Review: Margaret Olson (Blue Bloods)
In this first season episode of Blue Bloods, what started out as a visit to New York City ended in a murder that was masterminded by a conniving villainess.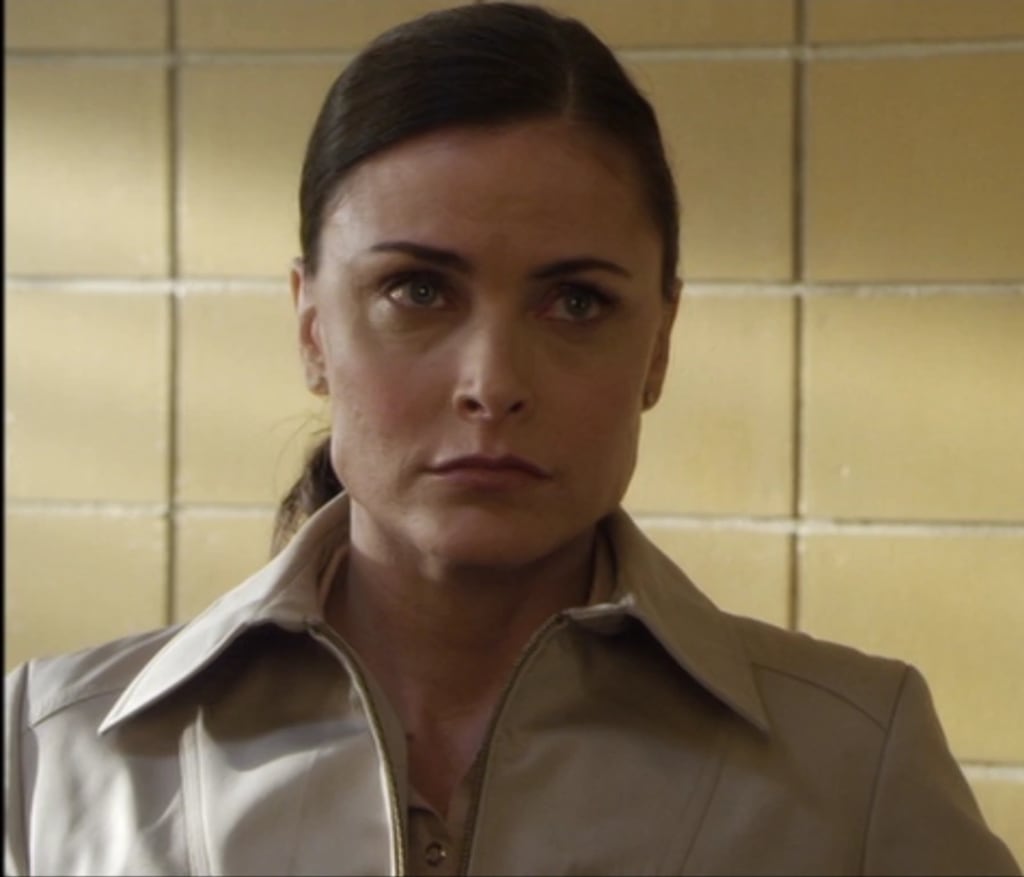 Tara Westwood as Margaret Olson
The Blue Bloods episode, "All That Glitters," began with Margaret and Lance Olson dining in a lavish restaurant before Lance left to light up a cigarette. It was at that moment that Lance was shot by an unknown mugger, much to the horror of Margaret, who was shown being interviewed by detectives Danny Reagan and Jackie Curatola. Margaret spoke fondly of Lance (who was hospitalized after the shooting), adding that he was immensely generous while revealing that she and Lance were tourists visiting from Iowa. The case takes a tragic turn, as Lance died in the hospital, making it a murder case.
Margaret identified a Haitian immigrant named Pierre as the killer, doing so during a police lineup. However, things aren't wrapped up in a neat little bow so quickly, as the detectives met Margaret again when it revealed that she was having an affair with Carl Perry, Lance's business partner--with phone records uncovering conversations between the two illicit lovers. Margaret admitted to the affair with Carl, claiming that she felt lonely due to Lance being at work all the time, but suddenly, she began portraying Carl as a man who was obsessed with Margaret, and that was all Danny and Jackie needed to interrogate Carl, as he was suspected of killing Lance.
After interrogating Carl, Danny and Jackie spoke to Margaret and informed her that Carl did kill Lance, but later provided an added reveal that he did so under the orders of Margaret herself. The detectives set the scene: Margaret developed a desire to remain with Carl and live off Lance's money, so she enlisted her lover to kill her husband, with Carl committing the shooting that led to Lance's slow death. Margaret identified Pierre to cover her tracks, and then attempted to pin everything on Carl so she wouldn't have to share Lance's money with him. After Margaret responded with denial, Danny played her phone message to Carl, where she boasts about their plan working and receiving sympathy as the "grieving widow," and after realizing that she had been exposed, the villainess screamed for a lawyer. Game, set, and match.
"All That Glitters" aired on April 29, 2011 (10 years ago today), and was the antepenultimate episode from the show's inaugural season. I started binge watching this show about three years ago and after seeing this episode, I left really loving Margaret Olson, who was played by Canadian actress Tara Westwood. In actuality, Margaret actually stands as my all time favorite Blue Bloods villainess; she was scheming, conniving, and fiendish, and she masked it all with her act as the grieving widow, which saw Westwood give a terrific performance in her early scenes of the episode. Because of the show being a typical procedural crime drama, we don't really see Margaret's evil personality until that climactic villainous reveal, but when it does come to light, Westwood plays it very well, truly portraying Margaret as a villainess who had been exposed for her crimes and furious over being defeated, with her demanding screams for a lawyer truly showing her villainous demeanor.
Regarding Tara Westwood's acting career, she has made numerous TV appearances on shows such as Law & Order: Criminal Intent, CSI: Miami, Ugly Betty, and Bull. As for villainous roles, Westwood followed up her Blue Bloods appearance with a guest role on Unforgettable as villainous businesswoman Lisa Hexler in 2016, and played villainess Gwendolyn Ingram in a 2019 episode of The CW's Two Sentence Horror Stories. In film, Westwood recently appeared in the 2020 remake of The Grudge as Fiona Landers.
Click here to check out Margaret Olson's profile on Villainous Beauties Wiki!
Reader insights
Be the first to share your insights about this piece.
Add your insights