Villainess Review: Laura Washington (Arrow)
A scientist's transformation into a maniacal supervillainess serves as a memorable minor angle of the Arrowverse's first mega-crossover event
Erica Luttrell as Laura Washington
The Arrowverse is dying...and it sucks. With the latest announcement regarding the cancellation of Stargirl (its third season will be its last), that only leaves Superman & Lois as the remaining tie to everything Arrowverse. The news of Stargirl's cancellation comes several months after The CW unceremoniously ended Batwoman and Legends of Tomorrow, while The Flash will get a true finale, as the upcoming ninth season will be a farewell year. The Arrowverse has been part of The CW since 2012, and I immensely loved what I call the "Core Four" shows; the first four shows of the TV universe: Arrow, The Flash, Supergirl, and Legends of Tomorrow.
Among the many things I loved about the Arrowverse was the crossovers. Arrow and Flash had two-show events before, but the crossovers became juicier once more shows got involved. The first annual mega-crossover was "Invasion!," centering on the Dominators' hostile arrival on Earth. It was on Arrow that business picked up, with most of Team Arrow trapped in the Dominators' alternate world, leaving the rest of the group to try to get them out.
After realizing that more advanced technology was needed, a quest was made to acquire a regulator, and that's where our very intriging side story comes in. Van Horn Industries had a regulator that they had perfected, but there was just one tiny problem: someone stole it. The thief was revealed as Laura Washington, a scientist who started stealing various amounts of high level technology (including the regulator) in a quest to become a super-powered villainess. The group's search for Laura led them to a factory, where Wild Dog decided to antagonize The Flash and Supergirl with his views against superpowers before walking off and being struck by a bolt of electricity.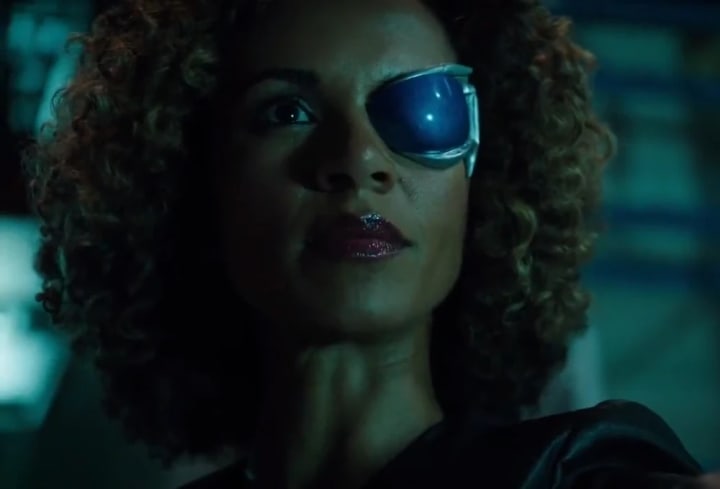 Sure enough, the attack came from Laura, now in her full heel persona as Cyberwoman. True to her villainous form, Laura taunts Wild Dog and boasts about her thefts, while continuing to display her power by firing more shots at Wild Dog. The one-sided battle could have ended with terrible results for Wild Dog, if it wasn't for The Flash making an entrance and fighting Laura before Supergirl provided assistance. The pair of supers successfully took down Laura, which allowed the group to retrieve the regulator, while a humbled Wild Dog thanked Flash and Supergirl for saving him.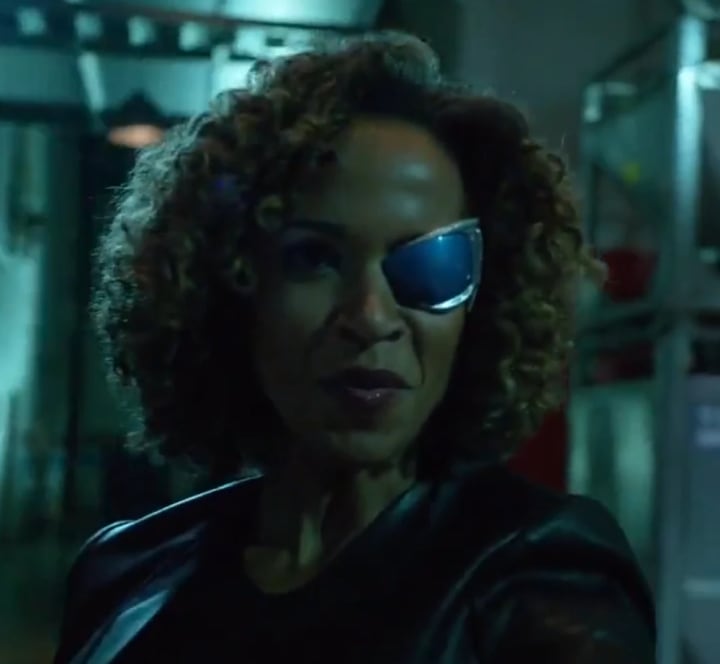 The "Invasion!" crossover aired for four straight nights on The CW; airing between November 28 and December 1, 2016. Arrow's portion was the eighth episode of their fifth season and aired on November 30, 2016, and the episode briefly featured Erica Luttrell as the evil Laura Washington, aka Cyberwoman. Luttrell's appearance in the episode may have been brief, but it was definitely memorable and amazing to watch and relive. Laura Washington was quite a chaotic supervillainess; she was a scientist who willingly went to the dark side and became a power-hungry thief, with the clear indication that Laura's heel turn was solely motivated by power and her desire to wield it. I loved everything about Laura Washington; her look, her ruthless nature, and her attitude have made her one of my favorite one-shot villainesses from the Arrowverse, all in spite of her brief appearance. Luttrell's performance was amazing. She truly acted out Laura's heel persona to perfection, especially in Laura's interaction with Wild Dog.
Erica Luttrell has a lot of voice over roles in her career, most notably as the voice of Keesha Franklin on The Magic School Bus, and as the voice of Princess Candy on Disney's Dave the Barbarian. Regarding live action work, Luttrell has appeared in episodes of Private Practice, SEAL Team, and 9-1-1 (among many other shows).
If you like this story and review, click the heart and the subscribe button, and feel free to comment below! Tips and pledges would be greatly appreciated, but only if you want to do so!
Check out Laura Washington's profile on Villainous Beauties Wiki!
About the Creator
Born on March 18, 1985. I am an avid fan of sports and wrestling, and I've been a fan of female villains since the age of eight. Also love movies--especially comedy and horror--and among my favorite TV shows are The Simpsons and Family Guy
Reader insights
Be the first to share your insights about this piece.
Add your insights