Villainess Review: Jackie and Allie Armstrong (The Plot to Kill My Mother)
A woman raised in witness protection discovers danger is very close by in this 2023 Lifetime film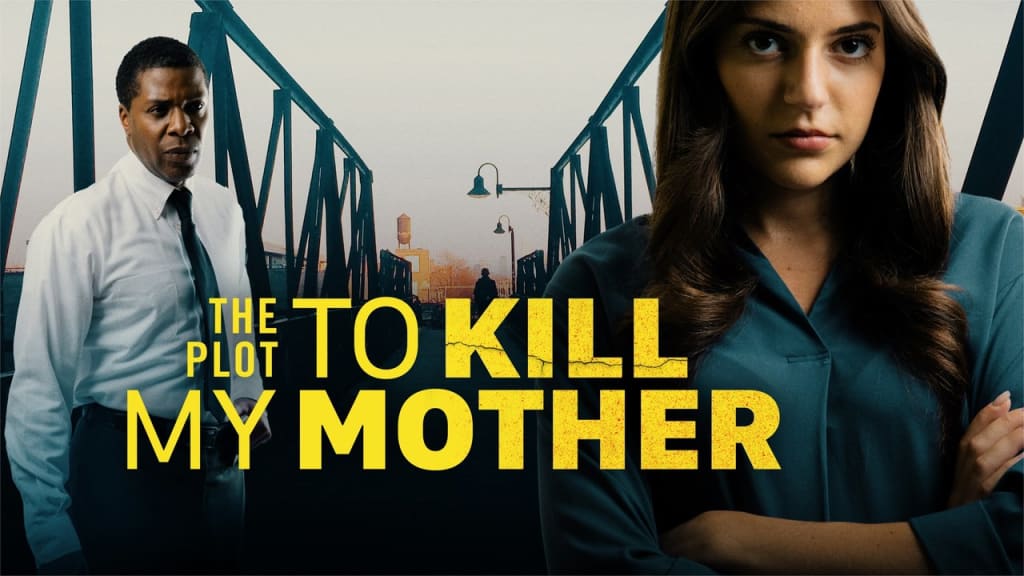 What a treat! As this year's Divisional Playoff came to a close, Lifetime came through with their latest thriller, The Plot to Kill My Mother, which starts with a young woman, Teresa Russo, ending up in Witness Protection after surviving an attack from her lover, Lorenzo Bruno. Not only does she have to uproot her life, she has to uproot her baby daughter's as well, meaning that all she would ever know is the new life that Teresa had to live in for her own safety. 21 years pass, and the now-grown Elena Russo, is informed by Teresa that she had to go visit her ailing mother back at her hometown, though all that does is draw questions from Elena--questions that Teresa couldn't answer.
Teresa is advised against returning to her hometown, but she does, and sadly, it doesn't end well for Teresa, as she is suddenly strangled to death inside her car. Elena is later visited by agent Grant Carter, who was in charge of protecting Teresa, and he gives Elena the bad news, while revealing that her mother was in Witness Protection. Elena, after learning a few facts about her mother, as well as her father's past criminal activities, decides to look into her mother's murder, and her mission includes going to her mother's former hometown and visiting a woman named Jacqueline Armstrong, who was Teresa's BFF.
Jackie welcomed Elena with open arms, but that ends up being the only positive, as she is relentlessly stalked and pursued by a mysterious culprit. After learning about Lorenzo's business, Elena decided to get herself hired as a mailroom worker to get close to her father, and it's at the corporation that she encountered Allie, a barista who wished Elena luck in her job quest. It's a successful one, but when the opportunity presented itself (in the form of a face-to-face), Elena listened as Lorenzo told his story of how he got to this point, before finally exploding: revealing herself as Lorenzo's daughter and accusing him of killing Teresa before running off.
Lorenzo was baffled by the outburst, but afterwards, Elena is followed by a mysterious driver, who speeds up after she runs away. The car comes to a stop, and the villainous pursuer is revealed as none other than Allie, who raised her gun and attempted to kill Elena, only for Carter to arrive and shoot Allie (non-fatally). As a result of Allie's heel turn, Elena's on the receiving end of a bit of an "I told you so" from Carter, in regards to being trusting, but they still want to trap Lorenzo, with the belief that he and Allie were in cahoots. The plan: Elena dons a wire and is placed in Jackie's house, with the end result seeing Lorenzo lured there to get a confession. However, there's one snag: something happened to Lorenzo, and he's hospitalized, resulting in Carter driving off. Elena voiced her disappointment over Lorenzo not appearing, with Jackie stating that all Lorenzo brought was chaos. She later responded to Elena's disagreement with a claim that she and Lorenzo really knew each other...before Teresa (in Jackie's mind) ruined everything.
Jackie snatches the wire from Elena, who begins to feel woozy, with Jackie revealing that she drugged Elena. It's followed by a villainess rant that sees Jackie reveal that she and Lorenzo were in a relationship, and she accused Teresa of stealing him away from her. Jackie adds that she gave Lorenzo everything: love, loyalty, and even a daughter, who she revealed as...wait for it...Allie. That wasn't all when it came to the revelations, as Jackie informed Elena that she killed Teresa, and had sent Allie to kill Lorenzo (who survived). Carter ended up learning about Jackie's role when she found an angry text from the scorned villainess, which stated that Lorenzo could now end up with Teresa in death. Elena managed to fight off Jackie and leave her for dead, but once Elena entered her car, she ended up dealing with Jackie again, as she actually leapt on her moving car. Jackie hung on to the hood, until Elena hit the brakes, with Jackie landing on her head a second time, this time being fatal. Carter confirmed Jackie's death, and at that moment, Allie arrived and cried over the loss of her mother, and afterwards, she was arrested by Carter.
A beautiful ending follows with Elena officially reuniting with not only Lorenzo, but Sofia as well, as she meets her maternal granddaughter for the very first time. A terrific film overall, and now, the best part of the film--the villainesses:
Allie Armstrong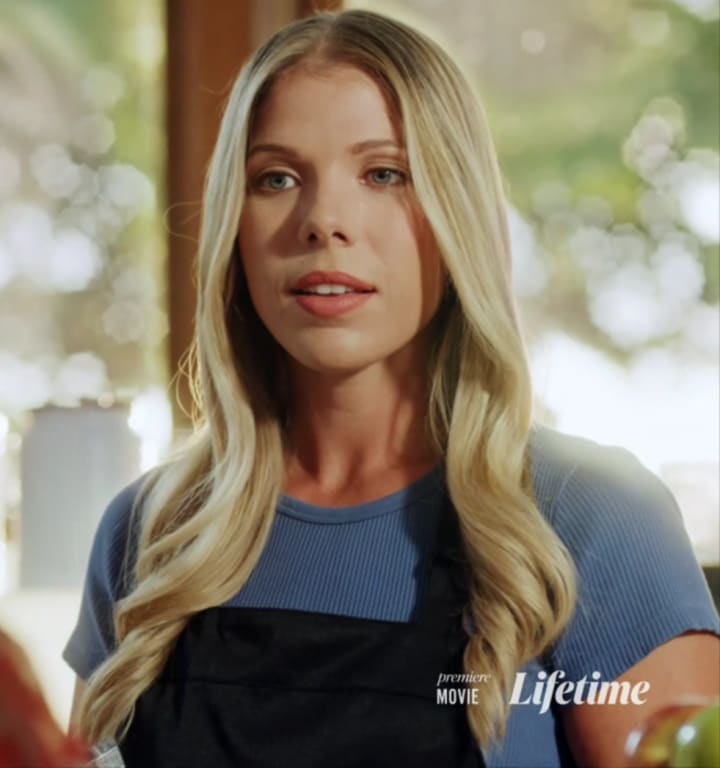 The Plot to Kill My Mother aired on Lifetime on January 22, 2023, and part of the cast included Samantha Brown as the film's surprise villainess, Allie Armstrong. This is Brown's second Lifetime film, and she's two-for-two when it comes to evildoing, as she played main villainess Claire Matthews in 2021's Revenge Delivered. The second time, though, was quite the charm, as when we first see Allie, she's quite charming and cordial to Elena; a personality we see in three separate scenes. As the saying goes, "Beware the nice ones," and I did suspect that Allie was up to something. Lo and behold, we get this: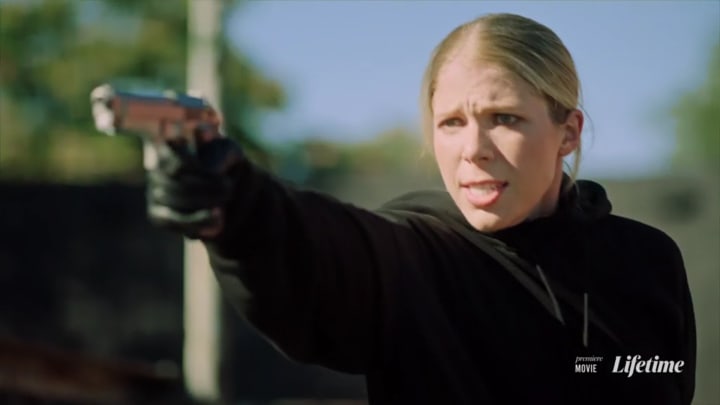 I absolutely beamed when Allie turned heel, especially because she was so gracious enough to don the "hoodie of evil" and a pair of sinister black gloves during her villainous pursuit of Elena. The reveal showed that Allie was a very ruthless villainess, as she relentlessly stalked and went after her half-sister up until her official unveiling. As we know, Allie's evil actions were under the orders of her vengeful mother, but even so, she was every bit as driven and deranged as Jackie was. There was one thing I did notice: when Allie was arrested, she gave a bit of a nod to her half-sister, and if I had to guess, it may have been a bit of respect or remorse, but again, that's just a guess. Brown acted out Allie's sweet nature to Elena very well, but she truly shined when it came to Allie's heel turn, as we see Brown portray Allie as a relentless villainess hellbent on completing her mission. I hope that we see more of Samantha Brown on Lifetime; she delivered in both of her films, and can do so again in future movies.
Check out Allie Armstrong's profile on Villainous Beauties Wiki!
Jackie Armstrong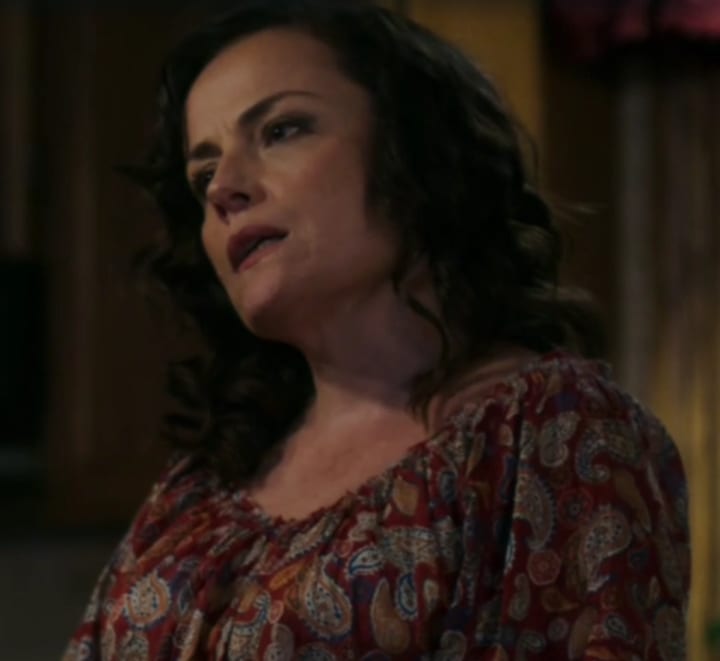 Though my suspicion of Allie was shaky, I had Jackie Armstrong pegged from the moment she popped up. Arwen Humphreys appeared in this film as the evil Jackie Armstrong, and she was so deliciously deranged, demented, and scorned as all hell. Let's look at her villainous scorecard. Jackie carried 21 years of pent-up anger and resentment towards Teresa and Lorenzo, and she had been badmouthing the latter to Allie in all that time. When Teresa returned to town, Jackie used that opportunity to enact a murderous revenge; killing Teresa and attempting to eliminate both Lorenzo and Elena, enlisting Allie to carry out her twisted vendetta. Jackie covered up her insane demeanor with a welcoming act to Elena, but she really let it all out in spades during the climax. Jackie put all of the letters in "scorn," and all of the letters in "psycho" as well.
Humphreys' portrayal of Jackie was delicious. While she acted very kind and welcoming to Elena, her best moment was the climax, as we see Humphreys totally let loose when it comes to Jackie's insanity. This was an amazing performance overall from Arwen Humphreys, who can currently be seen in her native Canada as Margaret Brackenreid on the long running series, Murdoch Mysteries.
Check out Jackie Armstrong's profile on Villainous Beauties Wiki!
If you like this story and review, click the heart and the subscribe button, and feel free to comment below! Tips and pledges would be greatly appreciated, but only if you want to do so!
About the Creator
Born on March 18, 1985. I am an avid fan of sports and wrestling, and I've been a fan of female villains since the age of eight. Also love movies--especially comedy and horror--and among my favorite TV shows are The Simpsons and Family Guy
Reader insights
Nice work
Very well written. Keep up the good work!
Top insights
Compelling and original writing

Creative use of language & vocab

Easy to read and follow

Well-structured & engaging content

On-point and relevant

Writing reflected the title & theme
Add your insights