Villainess Review: Gillian Granger and Lucia Walters (Revenge Best Served Chilled)
A pair of scheming and dangerous villainesses plague a woman's quest to become a sommelier in this 2022 Lifetime film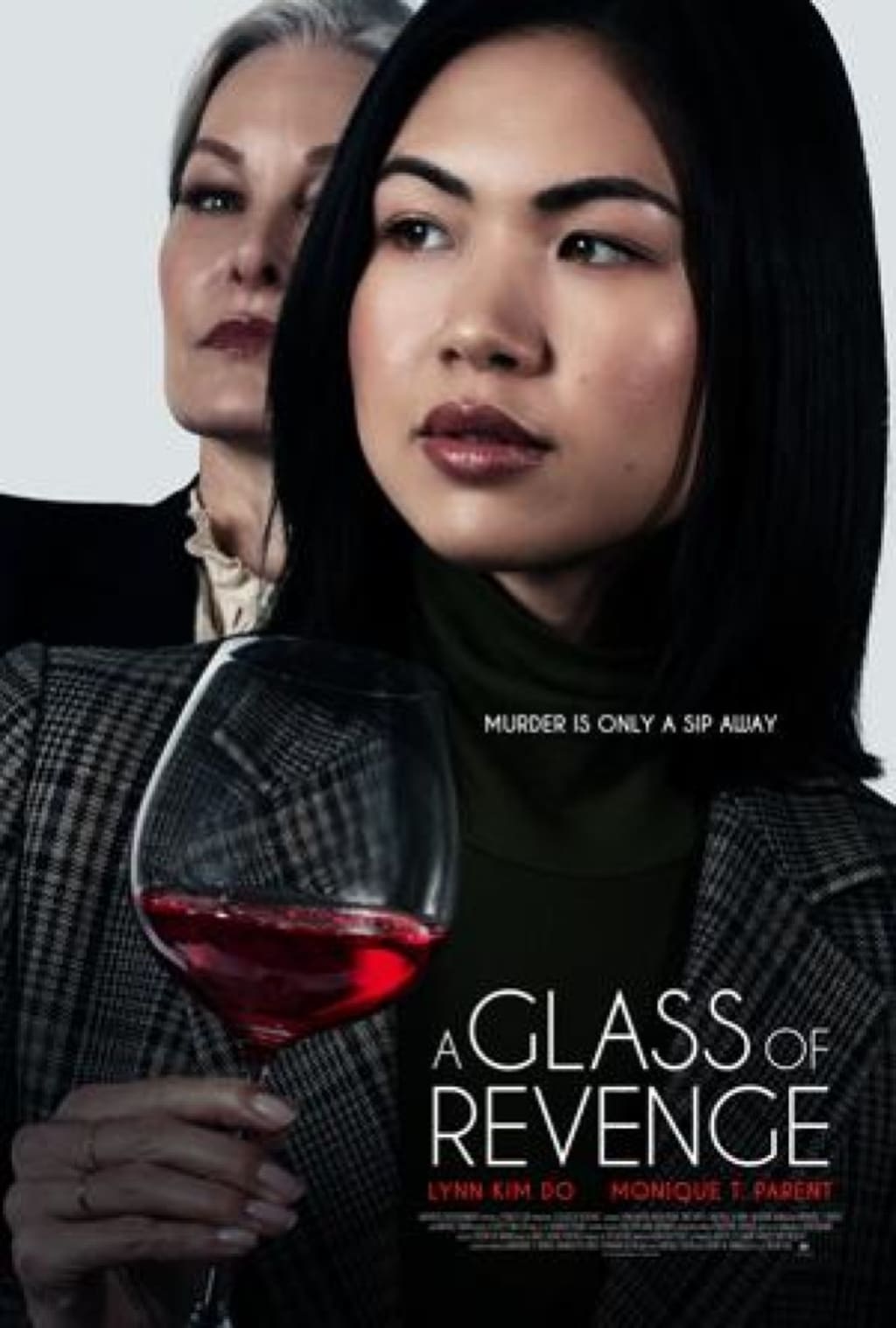 Movie poster for Revenge Best Served Chilled (under the original title, A Glass of Revenge)
While I was enjoying the evening's triumvirate of Game 7s in the opening round of the Stanley Cup Playoffs, I was also enjoying this Lifetime film, Revenge Best Served Chilled, which was originally titled, A Glass of Revenge. The film centered on Emily Nguyen, a blogger who co-owns a restaurant, Lilla's (named after her late mother) with her father, though she had dreams of becoming a sommelier. Emily's application to join the American Wine Academy ends up accepted, and she is invited by the academy's vice president, Gillian Granger, who did so directly at Lilla's.
Emily arrives and sees a bevy of other contestants, and befriends two of them: Lucia Walters and Clayton--the latter being a fan of Emily's blogs. She also makes a grand impression, but afterwards, mishaps began to befall Emily: she ends up slightly drugged, and she gets sealed in one of the wine tanks. Emily quickly suspects two other contestants, Kristen and Chad, the latter of whom ends up disqualified, but even so, a dark presence still appears to hover over the competition, as Kristen is later attacked.
By this point, Emily adopts what this wrestling fan calls the "Stone Cold" method: DTA (Don't Trust Anybody). This even includes Lucia, who had been her closest friend in the competition, though Emily suspects her of something when she catches Lucia in her room. On the final moments of the contest, the contestants are tasked with serving the perfect wine for the academy's president, Victor, and during this task, Emily is encountered by Chad, who admitted that while he and Kristen were behind the smaller incidents, the bigger ones were committed by someone much more sinister. Before Chad can finish, he's bludgeoned to death, and later on, we see Gillian in the wine cellar getting the perfect wine--all while Kristen is tied up!
The bottle is later served to Victor by Lucia, and at this moment, it's revealed that she and Gillian are in cahoots. Emily was definitely right not to trust Lucia, who revealed that she caused Emily's allergy by placing a down pillow in her room, and she had been conspiring with Gillian in her attacks towards Kristen and Chad, with Gillian helping Lucia win the competition as payment. After catching Emily, Gillian reveals the rest of the truth: Lilla was believed to be killed in a car accident, but in actuality, Lilla was killed by Gillian, with the murder occurring after Lilla discovered that Victor won the competition (which Lilla was also in) by cheating. After seeing that Lilla's daughter won the right to compete, Gillian committed the attacks in an attempt to frame Emily, doing so fearing that Emily would find out what really happened to her mother, with Gillian revealing that Lucia would back up her version of the events.
Emily takes down Gillian and headed to the cellar to rescue Kristen, only to be confronted by Victor and later Gillian. Gillian lashed out at Victor for not killing Lilla himself, and ended up accidentally killing Victor in her attempt to kill Emily. Her last attempt to pursue Emily ended when she was knocked out by Kristen, and as for Lucia, the ambitious villainess was shown in handcuffs scowling at Emily, as she was arrested for her complicity.
And now, the villainesses: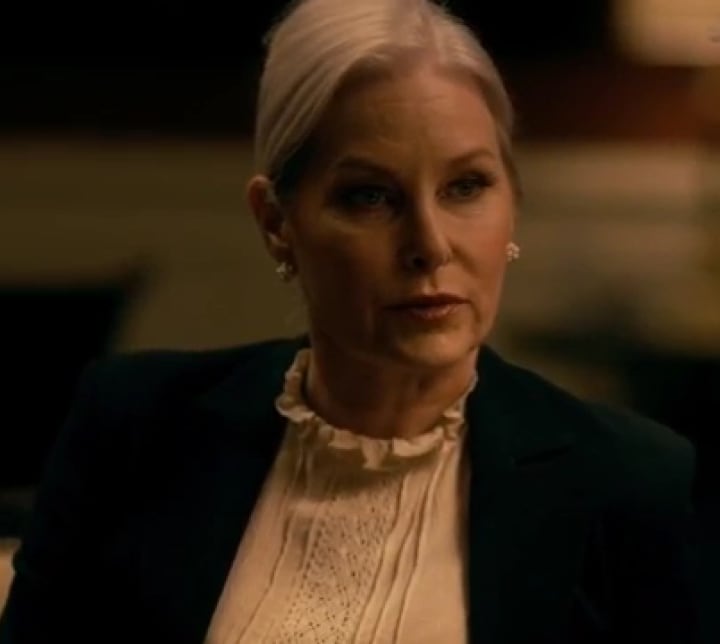 Gillian Granger: Revenge Best Served Chilled aired on Lifetime on May 15, 2022, and featured Monique Parent as the film's main villainess, Gillian Granger. Earlier this year, Monique Parent appeared in another Lifetime film, Killer Ambition, and I remember seeing the trailer to that film and beaming when I saw that Parent was in this, because I've heard of her for a long time and I'm a big fan. The film that made me a fan of Parent was Vicious Kiss, which came out in 1995, and featured Parent as a deranged villainess who was obsessed with a young married man because he resembled her late husband. That film remains etched in my memory, and I loved Parent's character and performance, hence why I was on Cloud Nine when I saw that she was doing Lifetime films. It's also why I expected Parent to be a villainess in Killer Ambition, because she's done the whole "evil" thing before and is good at it, but while she wasn't villainous in that film, she would be in this one.
Gillian Granger was immensely ruthless, vicious, and bloodthirsty, and all of those traits were wrapped up in a big elitist package. All of that made Gillian quite an amazing villainess, and regarding Parent, this was a brilliant performance. When the mask of haughtiness is removed, we see Parent shoot and score while acting out Gillian's crazed demeanor in the climax. I would really love it if Parent appears in more Lifetime films; I just know she'll show out very well.
Check out Gillian Granger's profile on Villainous Beauties Wiki!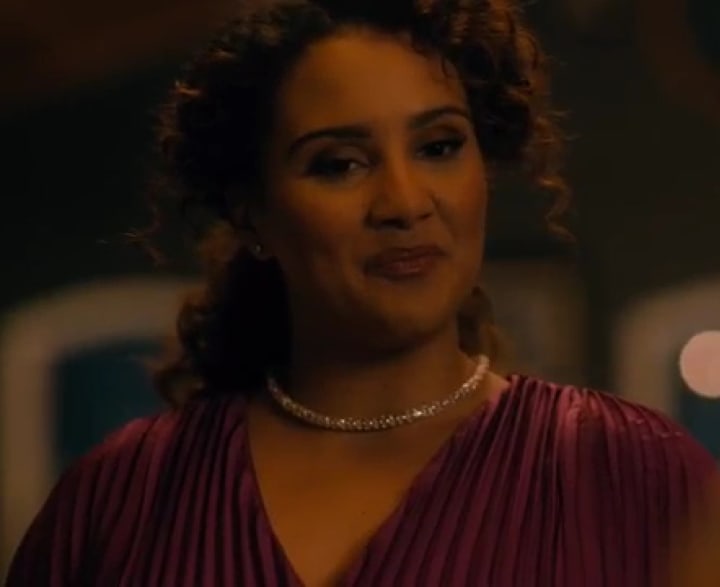 Lucia Walters: The film also delivered a surprise hidden villainess in the form of Lucia Walters, who was played by Navji Dixon in her TV film debut. Lucia was introduced as someone who was the most friendly to Emily from jump street, but in Lifetime movies that involve competitions, those are usually the ones who turn out to be villainous. I absolutely loved Lucia's heel turn in the climax, as it showed that under that genial demeanor, Lucia was a devious villainess who was willing to abandon her morality to get what she wanted. It wasn't just her plan with the pillow. Lucia was willing to cover up Gillian's attacks and her murderous actions in exchange for being part of the academy, and while I was hoping to see more of a confrontation between Emily and Lucia (which most likely would have seen Lucia explain her motive for her heel turn in fantastic fashion), that quick scene where Lucia scowls at Emily as she's being arrested definitely showed how evil she was
Navji Dixon's performance as Lucia Walters was terrific. She acted out Lucia's friendly nature to Emily very well, and she gave great expressions in the moments leading to (and following) her ultimate reveal as a villainess and conspirator. Dixon's another one who should do more Lifetime films; I think she would do well in a protagonist role, though I wouldn't mind another heel role from Dixon as well.
Check out Lucia Walters' profile on Villainous Beauties Wiki!
If you like this story and review, click the heart, click the subscribe button for more of my stories, and feel free to comment below! Tips and pledges would be greatly appreciated, but only if you want to do so!
review
About the author
Born on March 18, 1985. I am an avid fan of sports and wrestling, and I've been a fan of female villains since the age of eight. Also love movies--especially comedy and horror--and among my favorite TV shows are The Simpsons and Family Guy
Reader insights
Outstanding
Excellent work. Looking forward to reading more!
Top insights
Excellent storytelling

Original narrative & well developed characters

Eye opening

Niche topic & fresh perspectives

On-point and relevant

Writing reflected the title & theme
Add your insights