Villainess Review: Fran Hendrix (Hardcastle and McCormick)
Hardcastle's former basketball teammate finds his quest for justice plagued by (among others) his own wife in this third season episode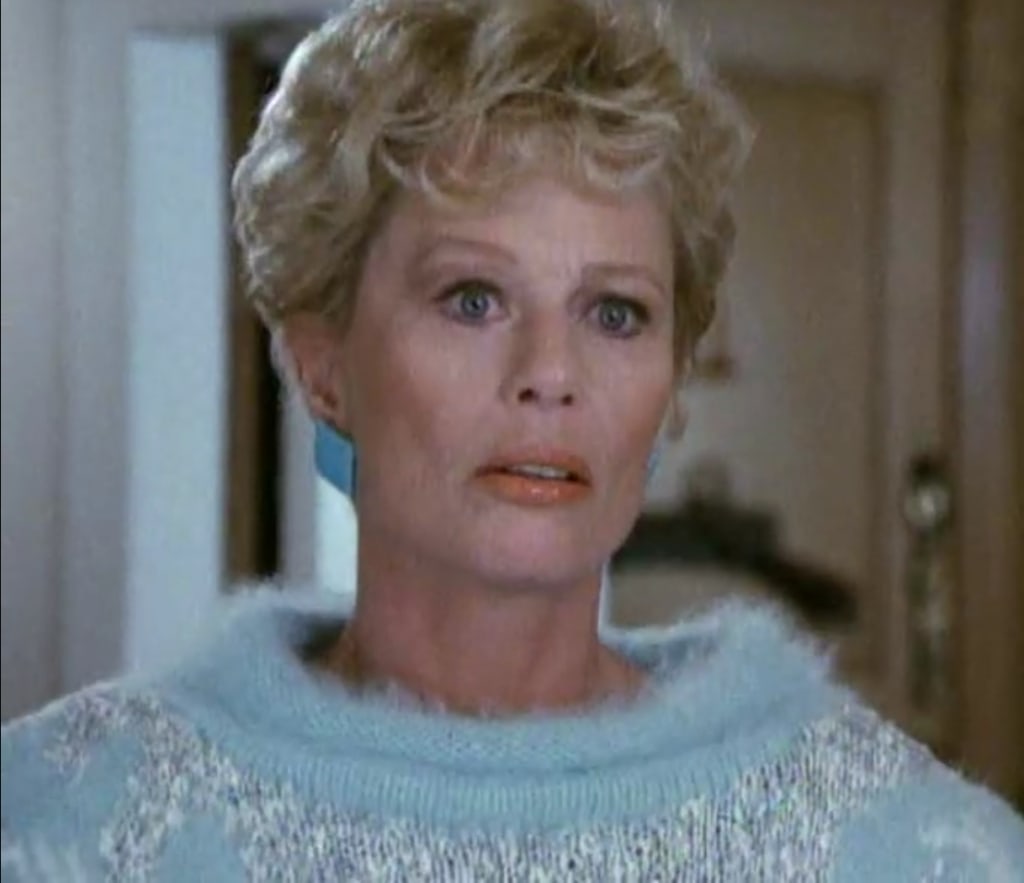 Abby Dalton as Fran Hendrix
A week after Decades aired a weekend marathon of Remington Steele as part of their weekend binge, the network did the same for the underrated 1980s series, Hardcastle and McCormick. I had heard of this show, but (until that weekend) I had never seen a single episode or even knew who starred in the series. The show starred the late Brian Keith (of Family Affair fame) as Milton C. Hardcastle, a retired judge whose last case centered on car thief Mark "Skid" McCormick, played by Daniel Hugh Kelly (who would later play Macaulay Culkin's father in one of my favorite films, The Good Son). So how did they end up permanently linked together? The pair struck that saw McCormick serve as Hardcastle's agent (on a conditional parole) after they worked together to capture the very person who killed McCormick's best friend.
Two more things I learned about this series. One, this was one of the many brainchildren of the late, great Stephen J. Cannell, who also gave us The A-Team, Hunter, and 21 Jump Street (among other shows). Secondly, the series only lasted three seasons, airing between 1983 and 1986. Like a lot of these action-packed crime series, Hardcastle and McCormick had its share of memorable villainesses, and even though I've only seen a small handful of episodes from that weekend's binge, I truly think the best one was in the episode, "Round Up the Old Gang."
As Hardcastle and McCormick are gathering their things for a garage sale, the former finds a basketball trophy, and after cleaning it up, he realizes that it's not his. The owner of the trophy is his former college teammate, Teddy Hendrix, who now works as a coach and does commercials, though he found himself accosted by a pair of men in his office. After failing to contact Teddy in his office, Hardcastle and McCormick visit Teddy's home, where they are greeted by Fran Hendrix, Teddy's wife. Fran is happy to see Hardcastle after all these years, but the happiness is short-lived, as Fran began to voice her worries about Teddy, claiming that he had changed drastically and had been having problems with a commercial he was set to film.
Teddy contacted Fran, and afterwards, he returned home and took out his gun, as he was planning to deal with the main reason for his problems: Roy Barlow. As Teddy would later confess to Hardcastle, he had been part of a numbers-fixing operation led by Barlow, making the admission before confessing to throwing the championship game for gamblers, with Teddy revealing that he was going to take down Barlow and his entire operation. The two men who attacked Teddy were Barlow's henchmen, Farrell and Jensen, who attempted to kill Teddy later in the episode, and while Hardcastle revealed the details of Teddy's quest, he was contacted by Fran, who claimed that she was afraid for her life after learning that Teddy was in to something much deeper than she had figured.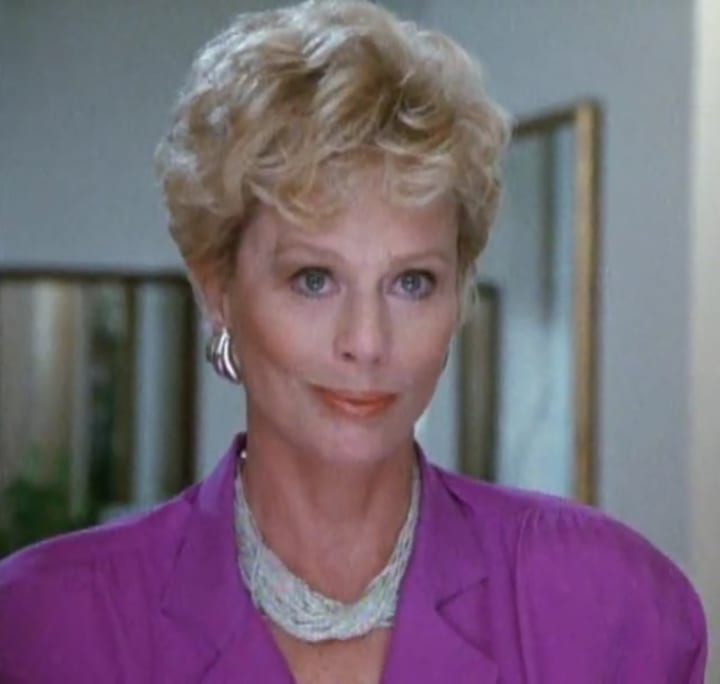 Hardcastle arrived at Fran's house in a rush, but as we would see, it was exactly what Fran was looking for, as Barlow came from behind and knocked out Hardcastle, while Fran gave a sinister smile over her evil handiwork. So Fran was in cahoots with Barlow; she had known about Teddy's forced collusion and didn't want to lose it all due to Teddy's plans to turn over Barlow--she made this perfectly clear in her response to Hardcastle's admonishment. Fran later worked with Barlow to lure Teddy into their trap, but as they would find out, Teddy would arrive with not only McCormick, but also with a pair of his ex-teammates. The group took down the faction, after which Teddy stared daggers into Barlow, as well as Fran. So the operation is kaput, and Fran is arrested, but when it came to Teddy, he was left completely astounded over the realization that the woman he was married to for 30 years was nothing more than a cold and calculating villainess.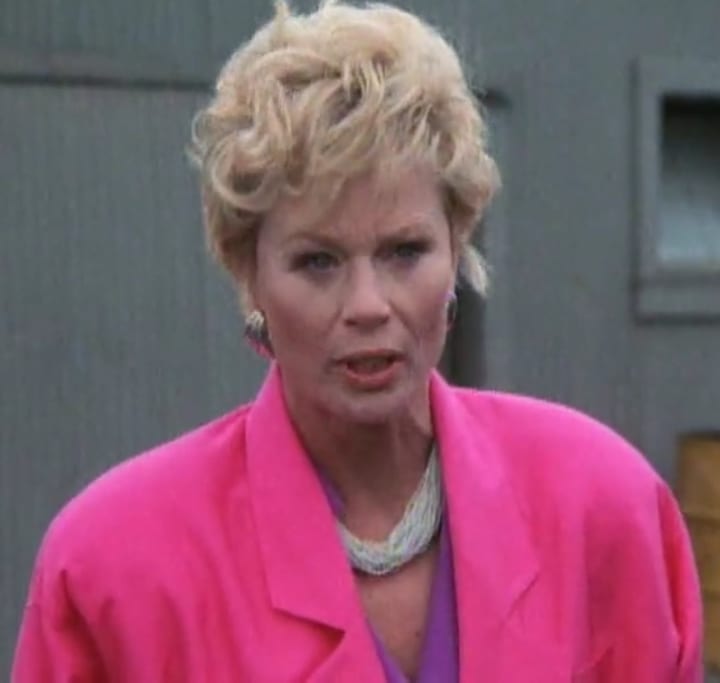 "Round Up the Old Gang" was the 17th episode of Hardcastle and McCormick's third and final season, and aired on February 17, 1986. The episode's hidden villainess, Fran Hendrix, was played by the late Abby Dalton, and again, Fran is definitely the series' best villainess. I'm confident that if I do watch every episode, I doubt I'll see a villainess better than Fran Hendrix. Fran was conniving, greedy, and absolutely immoral, to the point where she would willingly go along with abduction and (potentially) murder if it meant she could get what she wanted. I watched bits of this during the weekend binge, but I do remember Fran's heel turn very vividly; her evil smile that unmasked her true villainous demeanor. Abby Dalton's performance was stunning; she acted out Fran's feigned concern very well, but she truly shined when it came to Fran's self-serving attitude and as her true evil colors came out. There's a reason for that.
Abby Dalton, who sadly passed away on November 23, 2020, has done many roles in her career and has also appeared on several game shows. However, she is best remembered for playing Julia Cumson, the daughter of evil matriarch Angela Channing on the long-running primetime soap, Falcon Crest. Originally introduced as a quiet and non-violent person who was at odds with her mother, Julia turned heel during the end of the second season, when she was revealed as a crazed murderess. Dalton's appearance in this episode came near the end of her run on Falcon Crest, so she entered this one-shot role coming off playing quite a memorable recurring villainess.
If you like this story and review, click the heart, and click the subscribe button for more of my stories! Tips and pledges would be greatly appreciated, as they help support my writing, but only if you want to do so!
Check out Fran Hendrix's profile on Villainous Beauties Wiki!
tv
About the author
Born on March 18, 1985. I am an avid fan of sports and wrestling, and I've been a fan of female villains since the age of eight. Also love movies--especially comedy and horror--and among my favorite TV shows are The Simpsons and Family Guy
Reader insights
Be the first to share your insights about this piece.
Add your insights