Villainess Review: Eve Michaels (The Threat Next Door)
A mother and her daughter find themselves threatened by an unhinged villainess in this 2023 Tubi film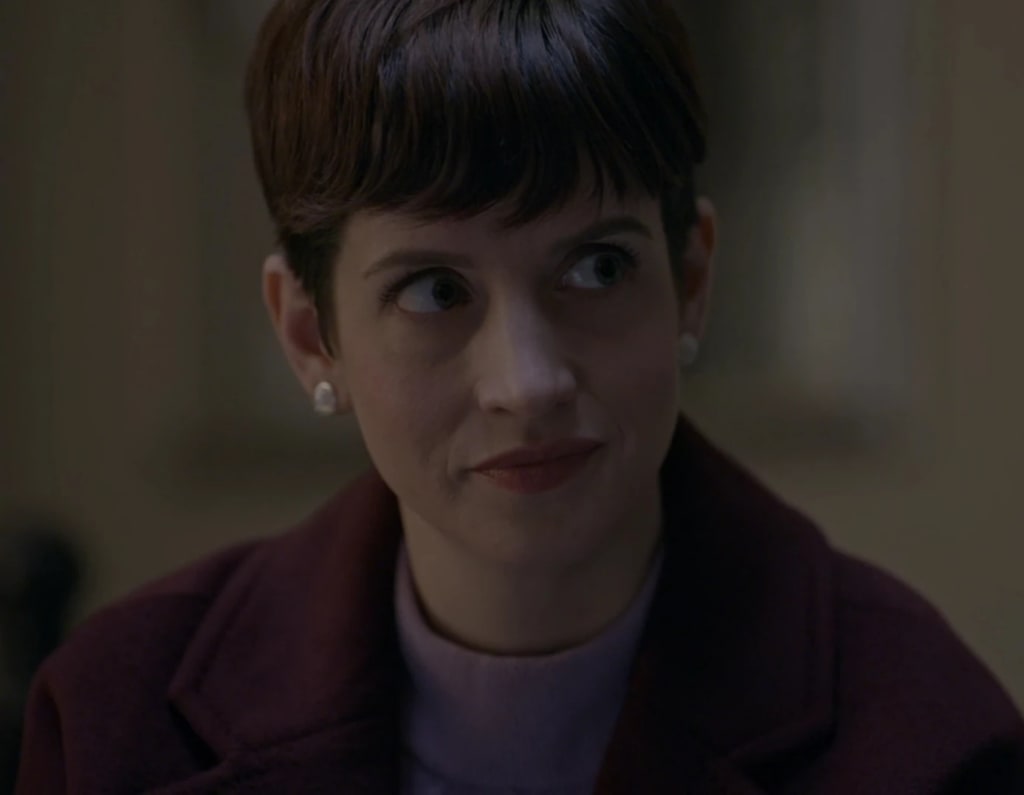 Kimberly-Sue Murray as Eve Michaels
Tubi strikes gold yet again, and they did so under my nose. I've spent the last few months looking at the upcoming Tubi Originals release list, but I didn't see this film listed, The Threat Next Door. I didn't even know about it until hours before writing this review, but I definitely watched, and it was quite amazing. Before I start getting ahead of myself, let's set the stage in a proper manner.
The film centers on Mary Hargreaves, who worked as a nurse on the night that a young girl is hospitalized after an accident; a hospitalization that, unfortunately, ends tragically for the patient. Fast forward a year later, and Mary is living on her own with her daughter, Daphne, while dealing with her marriage to her husband, James Hargreaves, being estranged due to James being arrested for DUI, as well as a confrontation revealing that James was getting lawyers involved. In addition, Daphne's schooling was suffering to the point where she faced having to repeat the fourth grade, though Mary was planning on helping with Daphne's schooling.
The mother-daughter study session was interrupted by the appearance of their neighbor, Eve Michaels, who handed Mary's food delivery to her before offering to help Daphne with her studies. A slight improvement and a quick bond later, and Mary suddenly has a sitter in the form of Eve, who quickly takes to Daphne while later encountering James and telling him to stay away from them. The encounter is later followed by a rock being thrown through Mary's window, leading to police getting involved, as well as both Eve and Natalie (the latter being Mary's friend and co-worker) rushing to Mary's side.
Suspicion was directed toward James, mainly by Eve, who suddenly voiced her believe that Natalie was undermining her opinions. The next day saw Daphne prepare her big presentation, with Mary being set on attending, but there was a problem...her work project was suddenly kaput. Gone. So Mary was held up at work, while Eve attended the presentation, and afterwards, Mary asked Eve if she had somehow messed with her laptop. Eve stated that she and Daphne used it for the presentation, though she claimed that she left Daphne alone with the laptop afterwards. Though Eve took responsibility for Daphne, Mary used this as an epiphany of sorts to spend more time with Daphne, while informing Eve that her services would not be needed.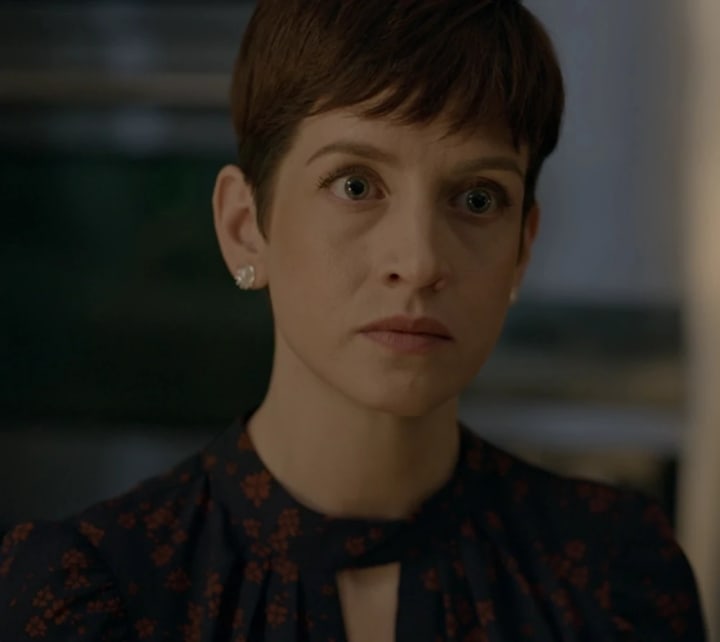 Based on this photo, Eve clearly took that news well...to the point where Mary was being visited by CPS, while an encounter between James and Natalie saw the former warn the latter about Eve. Mary's meeting with CPS saw her reveal the main details of the death of the young girl, who was named Chloe Collingwood, and later on, Mary suddenly noticed that Daphne was missing. The film doesn't waste time after this, as within a minute, it's revealed that Eve took Daphne to her house, and she was shown watching Mary panic before she was visited by Natalie, who exposed Eve's many deceptions. For one, her landlord never heard of an Eve Michaels, and secondly, while she was set to teach at the town's school, that school never heard of her either. Natalie's confrontation was interrupted by Daphne calling for Eve, who later bludgeoned Natalie with a lamp before strangling her to death with the cord!
After James joins Mary, the couple called the police due to Mary's suspicion that Eve took Daphne, and a search of Eve's house only saw Natalie's phone discovered, and it was recording. Unfortunately, there wasn't much to go on, and as for Eve, she was on the road with Daphne. The couple paid a visit to a man with some sort of connection to Eve, and after they were invited into his apartment, we received an introduction.
The man was Brian Collingwood, Chloe's father, and to no surprise, Eve was his wife and Chloe's mother. Brian was consoled by Mary on that night, which saw a mix-up of medications result in Chloe's death. Brian didn't blame Mary, but Eve went from blaming herself to blaming Mary, and (according to Brian) started making very dark statements. Afterwards, Detective Green contacted Mary regarding the rest of the recording, which revealed that Eve mentioned a cottage of hers. Sure enough, that's where Eve and Daphne were, as the madwoman was braiding Daphne's hair before planning to cut it. During this point, Eve referred to Daphne as "Chloe," which allowed Daphne to see how unhinged Eve truly was.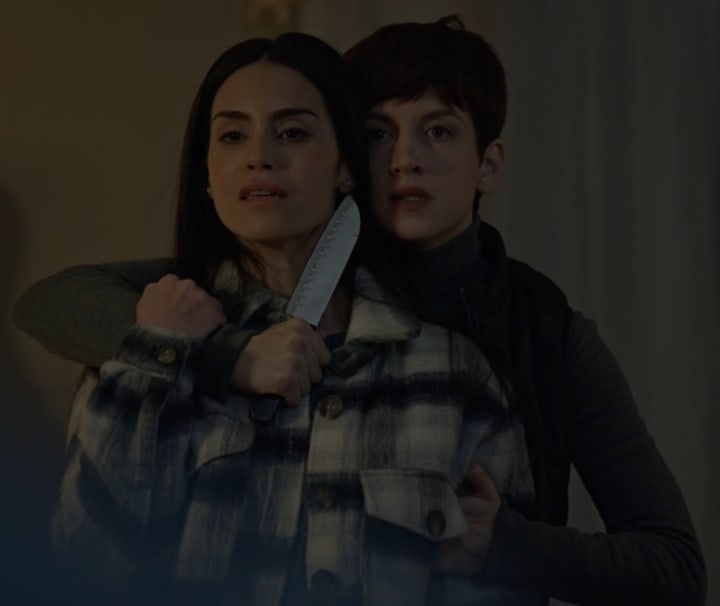 Daphne escaped and was pursued by Eve, who found her in a shed and threatened her before hearing James and Mary driving up. The couple's search in the cottage saw them accosted by a knife-wielding Eve, who told Mary that she wasn't going to take her daughter from her again. While the women fought, James' search saw him discover that Mary had a lot of info on all three Hargreaves family members, but while re-entering the scene to see Eve holding Mary at knifepoint, James held up his file and revealed quite an interesting tidbit: Eve drugged James on the night of his DUI. That caused the arrest, though Eve dismissed his abilities as a father and claimed that Daphne was her daughter, while refusing to give up Daphne's whereabouts.
Mary managed to escape, with Eve pursuing her after slashing James' right leg. The women fought near the shed, where Mary's attempt to rescue Daphne was thwarted by Eve, who responded to the revelation that Eve was driving on that fateful night--as well as Mary's assurance that Eve wasn't to blame--with verbal lashing and accusations towards Mary. Regarding Daphne, Eve informed Mary that "if (she) can't have (Daphne), no one will," stating that she would punish Mary just as Mary (in her twisted mind) had punished her a year prior. Even Mary's successful attempt to free Daphne didn't deter Eve, as she rose back up after she was tossed aside and vowed to not only abduct Daphne again, but to kill her as well, and that led to Mary knocking out Eve with a plank. Mary found James badly bleeding, but still alive, and as for Eve, she was handcuffed and arrested.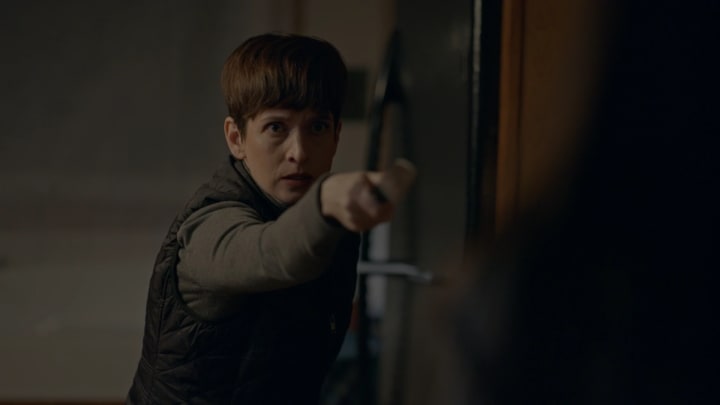 The Threat Next Door was released on Tubi on March 17, 2023, and this amazing film featured Kimberly-Sue Murray as the maniacal Eve Michaels. All I have to say about Eve Michaels: WOW! I beamed and drank in every moment of Eve's villainy, and the reason was simple: a few years back, Kimberly-Sue Murray appeared as Elle Lloyd in the Lifetime film, Psycho Ex-Girlfriend, and while that film really did the trick as far as portraying Elle as the main villainess, an eleventh hour reveal showed that she wasn't as evil as advertised, and an even more unhinged villainess was pulling the strings. I have seen Murray in a number of projects since then, including another Lifetime film, My Father's Other Family, however, this film finally sees Murray show her full capabilities in playing a deranged villainess. Eve's whole demeanor was the whole definition of the words from The O'Jays' hit song, Backstabbers; she smiled in Mary's face, all the while, she wanted Daphne to take Chloe's place.
We see hints of Eve's insanity late in the first half, but when it all comes flooding out, it's an absolute masterpiece. The full second half of the film exposes Eve as a psychotic, vengeful, and bloodthirsty maniac, and let me tell you, I enjoyed all of it. Murray's performance was immensely masterful; she portrayed Eve's genial personality very well, but when it came to Eve's villainous demeanor, Murray executed a perfect swan dive into that persona and never looked back. It was absolutely delicious; Eve Michaels was an absolutely epic villainess, and we have Kimberly-Sue Murray to thank for this role and performance. This is why Lifetime has been calling her.
If you like this story and review, click the heart and the subscribe button, and feel free to comment below! Tips and pledges would be greatly appreciated, but only if you want to do so!
Check out Eve Michaels' profile on Villainous Beauties Wiki!
Reader insights
Outstanding
Excellent work. Looking forward to reading more!
Top insights
Compelling and original writing

Creative use of language & vocab

Easy to read and follow

Well-structured & engaging content

Excellent storytelling

Original narrative & well developed characters
Expert insights and opinions

Arguments were carefully researched and presented

Eye opening

Niche topic & fresh perspectives

Heartfelt and relatable

The story invoked strong personal emotions

Masterful proofreading

Zero grammar & spelling mistakes

On-point and relevant

Writing reflected the title & theme
Add your insights