Villainess Review: Cynthia Walker (Exploited)
A college professor's villainous persona is among many things unveiled in this wild and raunchy 2022 thriller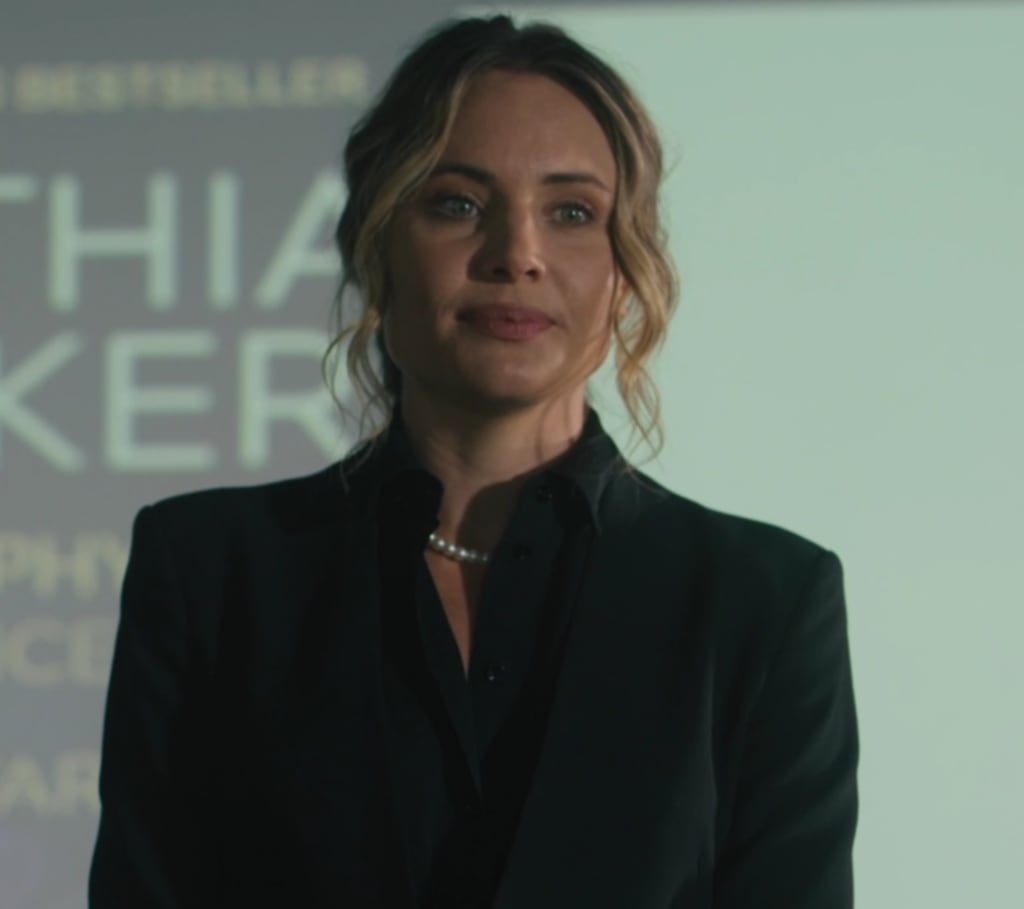 Leah Pipes as Cynthia Walker
So I was combing Redbox and decided to watch a film on their On Demand list; something I hadn't done in a while. After combing through a number of trailers, my film of choice was Exploited, and this was quite a movie that I picked out. The film centers on main protagonist Brian and his first day in college, but the beginning of his freshman year sees in the center of the world of webcam, voyeurism, dark secrets, sex, drugs, rock and roll, and yes, even murder.
Well, maybe not drugs and rock and roll, but you see what I'm getting at.
Brian discovers that the previous owner of his issued laptop engaged in the webcam activities, with the salacious videos even popping up during his first day in his physics class, which is taught by Cynthia Walker. Dr. Walker is not only a renowned educator, but she's also a best-selling author. Just ask her, she'll gladly tell you. I couldn't help but love it when she informed her students that "physics also helps run Instagram"; clearly a shot at the social media centered-climate.
As the film progresses, we see a masked culprit targeting various people at the school, and the same culprit apparently killed another student, Caleb, though it's revealed that he's still alive. Even so, the games continue on, Jeremy set up to be seduced by Brian (who is established as having feelings for him) and a revelation that Jeremy was assaulted by Caleb, with the added twist that it was part of a rape-fantasy scenario that also featured our renowned teacher, Cynthia Walker, who was also revealed as a webcam model in the film. The masked assailant later attacks Janelle, another student, with a taser, and in the climax, Brian, Jeremy, and Lexi receive video of Janelle being held captive at Dr. Walker's home, leading to the trio heading their to rescue Janelle.
While Jeremy's dealing with the masked attacker, Brian and Lexi rescue Janelle, only to encounter a shotgun-wielding Walker, who smirks over Jeremy being attacked before recognizing the group as the ones who found out about her videos. In an instant, Walker shoots Janelle to death and goes after the other two, knocking out Brian before setting her twisted sights on Lexi. However, Walker's gun is out of ammo, but it doesn't stop the villainess from attempting to kill Lexi with her bare hands. At that moment, Tommy (Lexi's boyfriend) saves Lexi and kills Walker, and Caleb is shot by Brian, but in one last twist, Tommy's revealed as the masked man, as he had also been having an affair with Cynthia and had been pulling the strings regarding Cynthia and Caleb in a twisted form of blackmail and (possible) payback. Wow.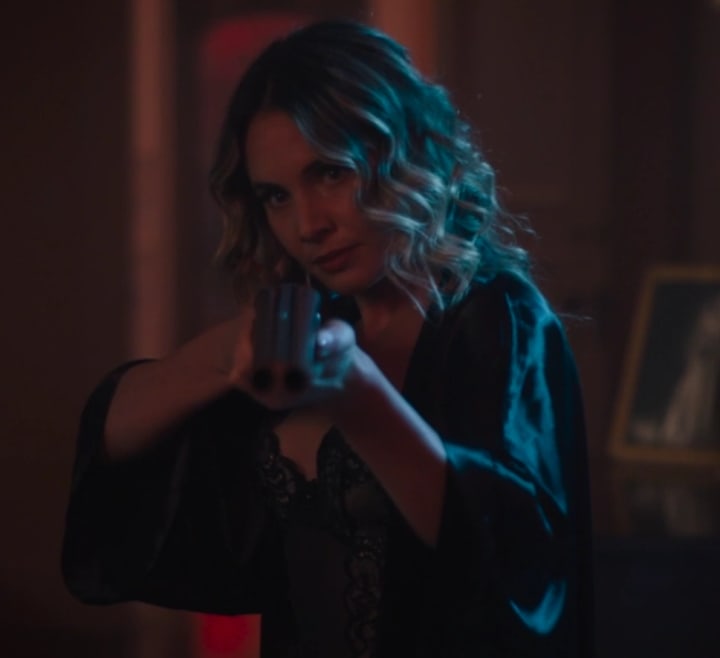 Exploited was quite an amazing film, and it delivered with a very awesome villainess in the form of Cynthia Walker, played by Leah Pipes. I'll be honest, while I figured Walker would be evil, I was really disappointed that she wasn't the masked figure, because it would have been quite epic. Despite this, Walker was still an amazing villainess; how she went to simply esteemed and (a bit) pompous to a shotgun-wielding maniac (in lingerie, no less) was just beautiful! I've seen a lot of Leah Pipes' work before, so I know how great of an actress she is. In regards to Exploited, Pipes' performance as Cynthia Walker was terrific; she acted out her character's arrogance very well, and she shined when it came to Walker's murderous personality in the climax.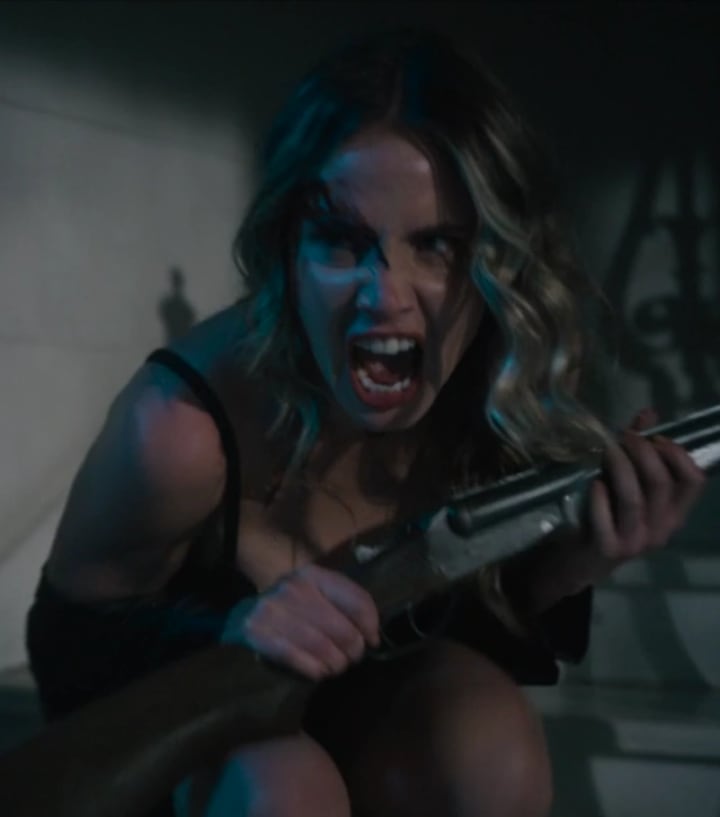 I really have to talk about this capture; after knocking out Brian, Walker gives this really crazed scream before she runs after Lexi, and I just couldn't help but adore that shriek and be amused by it. It tells me two things--one about the character, and one about the actress. About the character, it shows how deranged Walker was, not just in her quest, but overall. She had covered up her scandalous persona with an aura of prestige and haughtiness, and she did not want that part of her exposed. About the actress, that brief moment tells me that Leah Pipes really enjoyed playing this wicked role. Leah Pipes played villainess Fiona Callahan on the Charmed reboot, and she excelled in that role as well! I think Pipes loves being the villainess, and from what I've seen, she's quite good at it! Pipes is also known for playing Camille O'Connell on The Originals, and she had a memorable appearance on 9-1-1 as flight attendant Molly.
If you like this story and review, click the heart, and click the subscribe button for more of my stories! Tips and pledges would be greatly appreciated, as they help support my writing, but only if you want to do so!
Check out Cynthia Walker's profile on Villainous Beauties Wiki!
review
About the author
Born on March 18, 1985. I am an avid fan of sports and wrestling, and I've been a fan of female villains since the age of eight. Also love movies--especially comedy and horror--and among my favorite TV shows are The Simpsons and Family Guy
Reader insights
Be the first to share your insights about this piece.
Add your insights