Villainess Review: Bridget (Mighty Med)
Mighty Med's second and final season delivered with one mother of a big bad villainess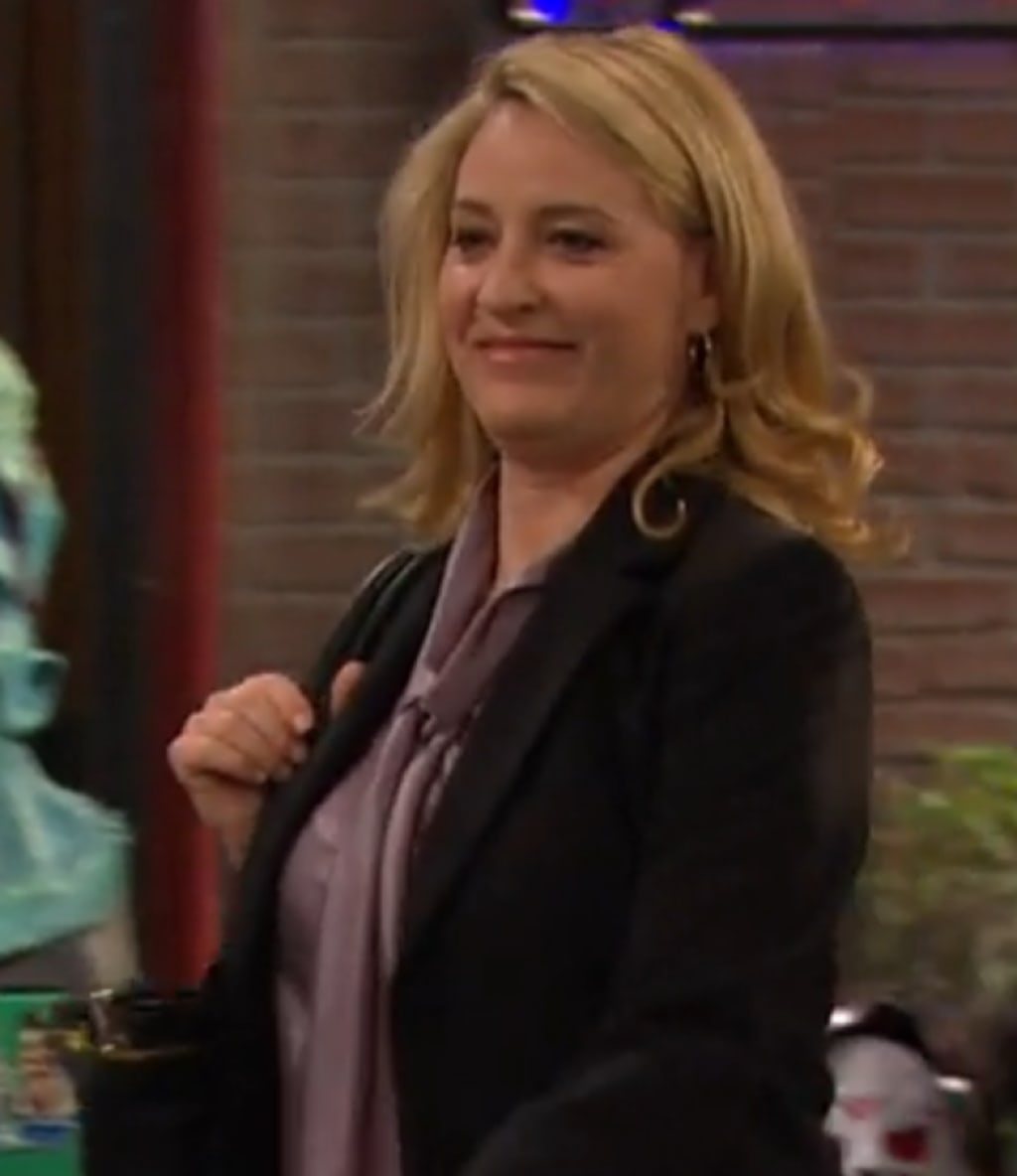 Jamie Denbo as Bridget
Happy Mother's Day, all! This day--rather, this weekend, is designated to celebrate mothers. After all, they gave birth to us, they give us tender loving care, they nurture us, and they give us wonderful sage advice. However, none of that applies to the mother who is the subject of this review. I learned about Mighty Med several years ago; I knew it was one of Disney's many live-action superhero shows, but I wouldn't learn about the show's connection to Lab Rats until I finally binge-watched the show on Disney+. I had my central reason for checking out this show, which only lasted two seasons, and here it is.
The show centered on teenage friends Kaz and Oliver, who ended up working at the titular Mighty Med, which is a hospital for superheroes. The profession resulted in the duo becoming friends with superheroine Skylar Storm, who Oliver had a crush on. Skylar turned heel at the very end of the first season, and the first half of the second season had the pair dealing with an evil Skylar and her villainous machinations. The duo managed to bring Skylar back to the side of good, but they had something else to deal with: the appearance of Oliver's mother.
Oliver's mother, Bridget, first appeared in episode 2.13, "The Key to Being a Hero," and within about 60 seconds, her personality's established. She's quite controlling, she's a bit of a workaholic, and she's not too fond of Kaz. To the best of Kaz and Oliver's knowledge, Bridget knows nothing about supers, or the pair's work with Mighty Med. That could end up changing, as the episode saw Bridget reveal that she was in a relationship, and her new beau was none other than Mighty Med's head doctor, Horace Diaz. Even crazier: they're engaged!
So in the immortal words of George Costanza, "Worlds are colliding!" That's not all. Turns out, Kaz and Oliver had to deal with a sinister villain only known as Mr. Terror, who was after Oliver's alter-ego, Quimby Fletcher. Under the name, Oliver had been creating comic books based on dreams he had involving an all-powerful artifact known as the Arcturion. All the while, the episode, "Thanks for the Memory Drives," saw Bridget, Oliver, Horace, and Alan Diaz (Horace's nephew) clothes-shopping for the wedding. Mr. Terror's plans to capture Quimby kept falling short, but as the villain was letting the henchmen have it, the phone rings.
Here's where the proverbial cat is out of the bag:
So the final scene reveals that Mr. Terror is none other than "Mommy Dearest" herself, Bridget. She removed her mask to answer her phone, revealing that Oliver was calling. So that was the tip of the iceberg, and the overall finale, "The Mother of All Villains," actually saw the wedding set to take place, but the last moments of Part 1 actually saw Oliver find out that his own mother was a diabolical villainess. A confrontation between mother and son saw the former reveal everything, beginning with her longtime knowledge of supers. While working in an office, Bridget discovered that her boss was Argento, a supervillain who was searching for the Arcturion, and was later threatening Oliver after learning about Bridget's knowledge of his identity. Bridget killed Argento to protect Oliver, but soon afterwards, Bridget turned heel and took over Argento's operation, becoming Mr. Terror and planning to get the Arcturion.
Bridget claimed that she wanted to make the world safe for Oliver, but that was a total crock. Once she placed her hands on the object, the effects killed her, but she ended up revived by Horace, as he had that power, but at that time, he could only use it one more time. Bridget's revived, but as it turned out, even dying was part of her evil plan. As the maniacal villainess revealed, Bridget dated Horace knowing about his power, and knowing that touching the Arcturion would kill her. She also figured that Horace would revive her, and once he did, Bridget used the Arcturion's power to take down superheroes Optimo and Hapax (the latter being Alan's father) before swooping off to wreak more havoc. Bridget repeated her claim that her evil actions were for Oliver, who clearly saw that her mother was simply evil and power-hungry. The villainess flew away to cause more havoc, but the first episode of Lab Rats: Elite Force (the Lab Rats/Mighty Med crossover spinoff) revealed that Bridget was captured and arrested.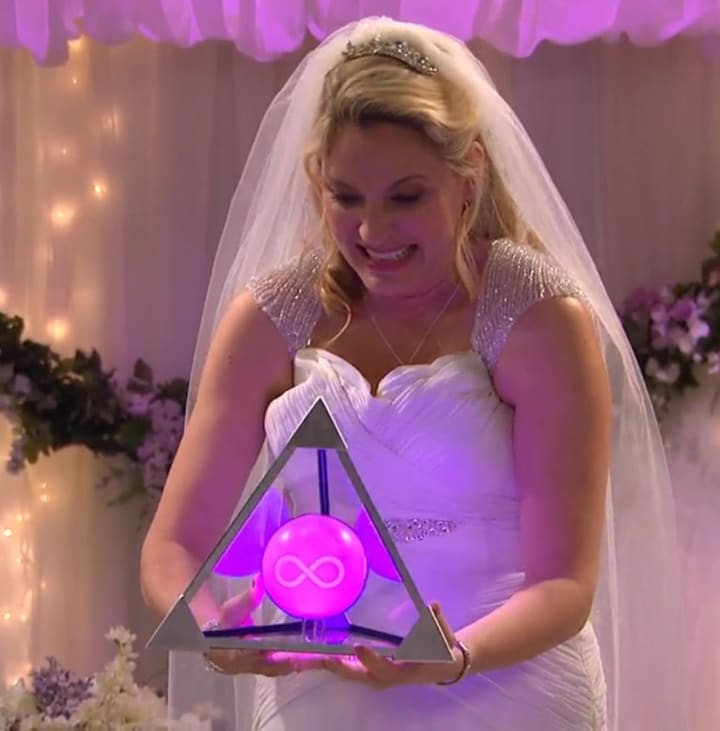 This was the scene I stumbled onto long before I started binge-watching the show, and it was the main reason why I watched. Bridget appeared in three episodes during Mighty Med's second and final season, and she was portrayed brilliantly by Jamie Denbo. I'm serious, if I hadn't already known that Bridget was a maniacal supervillainess before binge-watching, I probably would have seen it coming based on the character's demeanor in her introduction in "The Key to Being a Hero." Bridget's heel turn at the end of "Thanks for the Memory Drives" was just amazing; even in her villainous disguise, she acts all motherly (or close to it) to Oliver during her phone conversation, but after it all comes out in the finale, we see Bridget as her most maniacal, her most deranged, and her most diabolical. Her scenes in the finale stayed with me up until I started binging the show, and I absolutely loved rewatching evil Bridget in action!
Jamie Denbo's performance was absolutely beautiful! She acted out Bridget's controlling demeanor very well, as well as her character's reveal, but when it came to Bridget's insane villainy in the finale, it was immensely operatic! Denbo has worked mostly in comedy, appearing in comedic films such as Spy and The Heat, and she has appeared in episodes of How I Met Your Mother, Sam & Cat, Mike and Molly, Orange is the New Black, and Kevin Can F**k Himself.
If you like this story and review, click the heart, and click the subscribe button for more of my stories! Tips and pledges would be greatly appreciated, but only if you want to do so!
Check out Bridget's profile on Villainous Beauties Wiki!
Reader insights
Be the first to share your insights about this piece.
Add your insights