Villainess Review: Blair Dennison (Deadly Debutante)
The debutante ball is the main focus of the machinations of a scheming villainess in this 2021 Lifetime film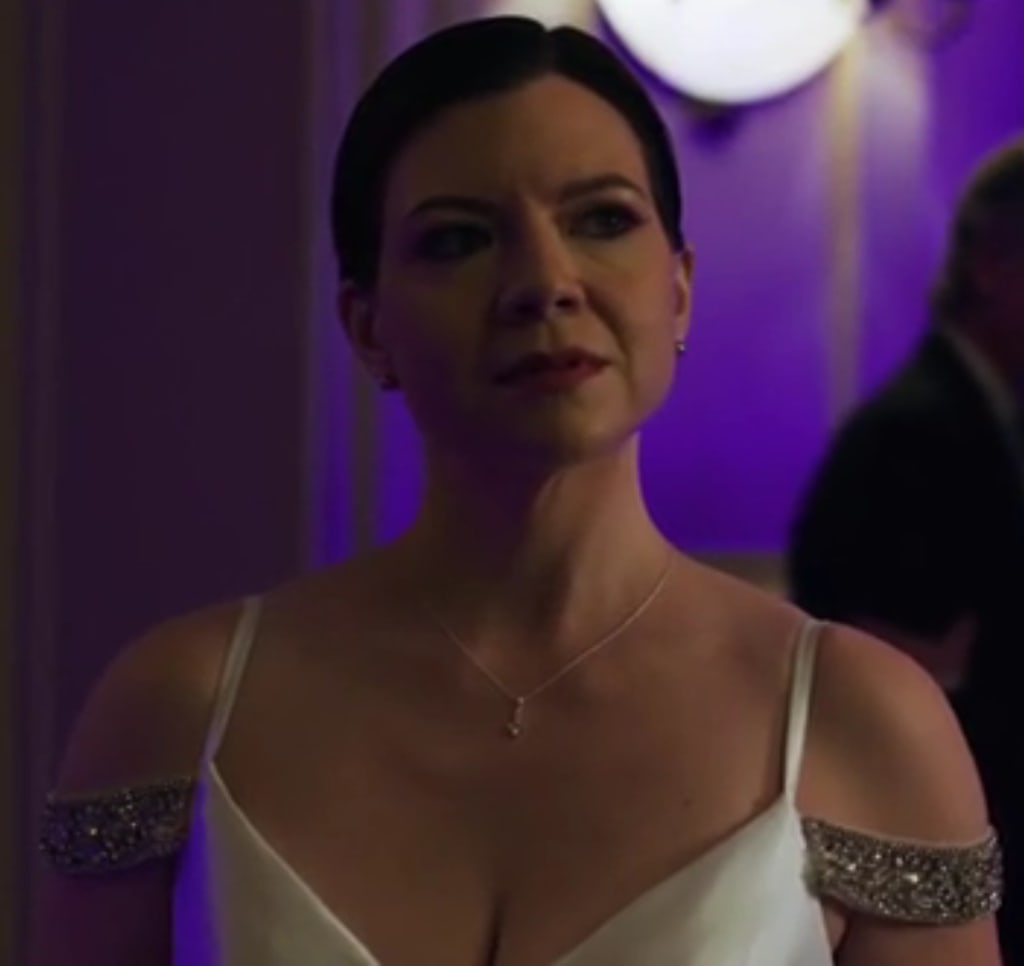 Angela Baumgardner as Blair Dennison
Lifetime delivers once again with this film, billed as Deadly Debutante, but credited under the longer title, Deadly Debutantes: A Night to Die For. The film centers around the Debutante Ball, and the two main participants: Anna Phillips and Sophia Martinez. For Anna, becoming a debutante is expected; she comes from a very well-off family, plus her mother, Diana Phillips, won her Debutante Ball. As the film also shows, there is heavy pressure on both Diana and Howard Phillips for Anna to succeed, and it was definitely getting to her.
On the other side, there's Sophia. Not-so-privileged, has been in a single parent household since the passing her mother a year prior, but Sophia is in because the big prize is a college scholarship. Sophia has support from not only her father, Frank Martinez, but her and Anna's teacher, Blair Dennison, in her goal. However, Anna sees Sophia as an obstacle, and she knows that Sophia has certain things in her favor in the ball.
We also see a number of bad things start to befall Anna, beginning with not one, but two acts of vandalism against her. The message is clear: someone wants Anna out of the ball, but who is it? Anna gets in trouble and is on the receiving end of scolding from her parents as well as Blair for turning in an essay that was written by someone else, leading to Anna offering her expensive coat to her friend, Mia, in exchange for her essay. But after accepting the coat, Mia ends up attacked, with Anna believing that it was a case of mistaken identity, and she was the true target.
Anna suspects Sophia isn't as innocent and nice as she seems, and confronts her in a private meeting, with Sophia denying the claims. After Anna is on the receiving end of slanderous rumors, she accuses Sophia again, leading to a heated confrontation that was stopped by Blair. Anna decides to dig up any information on Sophia, and learns that she had an application for college already set up--with plans for a scholarship to pay for her education, learning this after she was nearly run down by an oncoming car in her quest.
Meanwhile, Blair presented Sophia with an elegant gown for the ball, and as both girls prepare, we see a pair of gloved hands take out a gun. Oh man! The ball takes place, and we see Frank being informed by Mickey (who was in charge of the ball) about not only the aforementioned application, but that someone paid to have Sophia entered in the ball. Frank sees the college application, mainly his signature, but insisted that he didn't sign it, adding that Blair handled everything. Upon seeing Blair, Frank approached her and attempted to get answers, only to be knocked out by Blair, who stated that Frank "wasn't going to ruin her plans."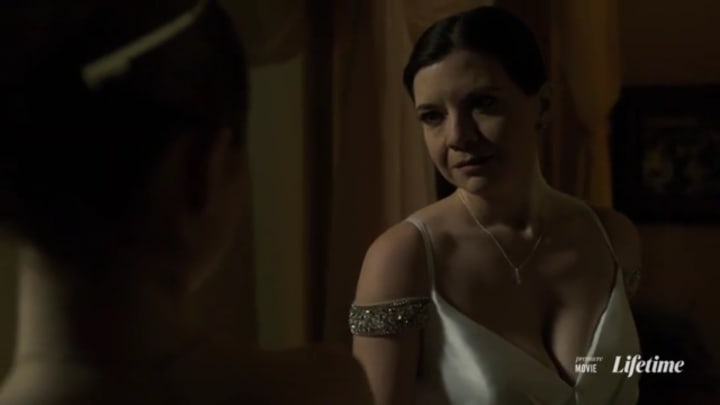 Blair's plans apparently included Anna, as she held Anna at gunpoint and took her out of the building, where everything was revealed. So as it turned out, the kindly Miss Blair Dennison was the scheming villainess behind everything that occurred, but what was her motive? Blair blamed everything on one person, Diana Phillips, who was once known as Diana Benson. She mentioned earlier that she went to school with Diana, but she later revealed that she and Diana were rivals in their Debutante Ball years prior. Blair expected to win; her grandmother and her mother each won theirs, but to her dismay, Diana ended up winning. The bitter villainess claimed that Diana's father bought off the judges, and revealed that she entered Sophia in the contest so she could take the prize she felt she deserved, doing so to hurt Diana.
In addition, Blair had been behind the vandalism, the attack on Mia, and the attempts to kill Anna, while also setting up the application for Sophia. Blair was set on shooting Anna, only to shoot Anna's ex-boyfriend, Kenny, who arrived to save Anna. Even so, the vengeful villainess remained bent on killing Anna and setting up everything as a murder-suicide, only for Diana to appear and knock out her former rival. Kenny survived, and Blair ended up in handcuffs, while voicing her satisfaction over the fact that Anna still lost, only for Anna to state that she and Sophia both won in the end.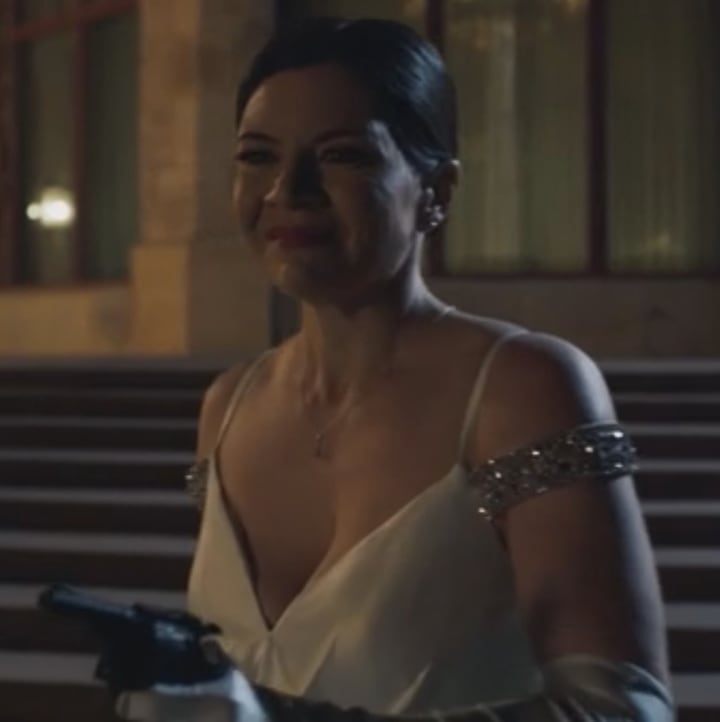 Deadly Debutante aired on Lifetime on September 25, 2021, and it was quite a twisted rollercoaster. The synopsis suggested that Anna was the villainess, the early stages of the film teased that Sophia might be evil, but as it turned out, the true villainess was Blair Dennison, played wonderfully by Angela Baumgardner. About halfway through this, I thought, "What if Anna's truly innocent and someone else is behind this?" I had sensed Blair was evil by then; she appeared to be quite close with Sophia, to the point of borderline obsession. I was so elated when Blair turned heel on Frank Martinez, because it gave us a villainess that I truly, truly loved! Blair was vengeful, she was deranged, and she was flat out twisted. Baumgardner played out Blair's kindness to Sophia very well, as well as her whole act as the genial teacher, but once Blair's true evil and vengeful colors emerged, we get to see Baumgardner act out Blair's bitterness and her insanity to absolute perfection. It was very delicious!
Angela Baumgardner is a stage actress who is just getting her feet wet in the world of TV and films. Deadly Debutante is her second Lifetime film; she appeared earlier this year in Sorority Sister Killer, and she is set to appear in another Lifetime-esque film, A Baby at Any Cost. This film is Baumgardner's first time playing a Lifetime villainess, and as great as this was, let's hope it's not her last time.
If you like this story and review, feel free to click the heart below! If you really love this story and review, feel free to leave a tip, but only if you want to do so!
Click here for Blair Dennison's profile on Villainous Beauties Wiki!
movie
About the author
Born on March 18, 1985. I am an avid fan of sports and wrestling, and I've been a fan of female villains since the age of eight. Also love movies--especially comedy and horror--and among my favorite TV shows are The Simpsons and Family Guy
Reader insights
Be the first to share your insights about this piece.
Add your insights