Villainess Review: Alex Roth (The Equalizer)
In this Season Three episode, a widowed mother and her daughter are the centerpiece of a twisted madwoman's delusional goals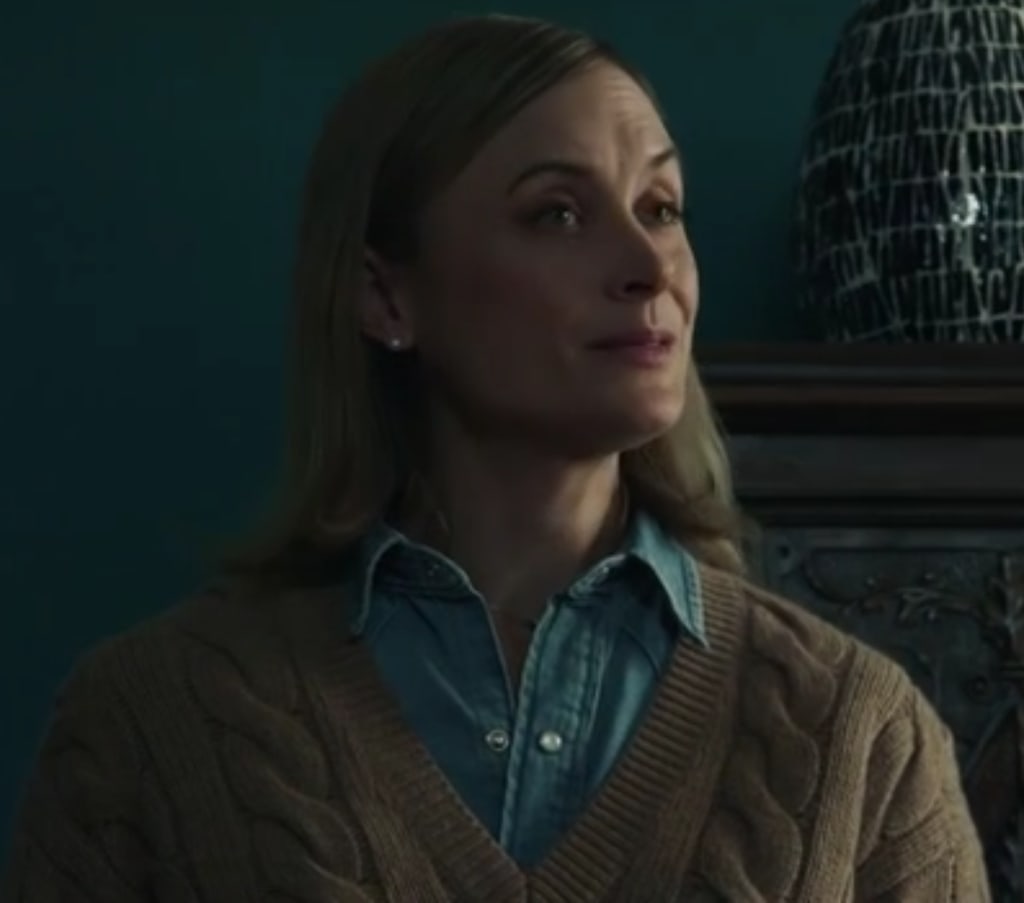 Rebecca Brooksher as Alex Roth
On the same evening that I intently watched a pivotal Game Four of the American League Division Series between the New York Yankees and the Cleveland Guardians, as well as hope that the Yankees would get the needed victory to force Game Five (the Yankees did just that, by the way), I was treated to this very interesting episode of The Equalizer, which was shown to be titled, "Gaslight," but also had the alternate title, "Better Off Dead."
So in the episode, Robyn McCall took on quite an interesting case: a widowed mother, Evelyn Weber, informed Robyn that her deceased husband is haunting her. Of course, Robyn quickly believes that Evelyn is being gaslit, but nevertheless, she visited Evelyn's home and ended up meeting her young daughter, Kaylee, as well as Evelyn's sister, Alex Roth. Regarding the deceased husband, Richard Weber, it was revealed that he died tragically in a cabin fire several months prior to the events, and as for a suspect in the scheme, Alex mentioned Astrid Lindholm, who worked as an au pair for Kaylee until she was suddenly fired under accusations of stealing from Evelyn.
Encountering Astrid saw the former au pair voice her anger over being fired over false accusations, and she stated that even before being ousted, the job was hell for her, as Evelyn and Richard were always arguing. A return to the house saw Robyn fight off an intruder, who was revealed as Kevin Weber, Richard's brother, who appeared to retrieve a ring that belonged to Richard. That's not all he did; he would later accuse Evelyn of killing Richard, adding that Evelyn's family had a history of mental illness, and that going to that cabin was Evelyn's idea. It was also uncovered that the family was drowning in debt; Richard wasted countless amounts of money on bad business deals, and an insurance policy was discovered as well.
Robyn returned to the house after getting a call from Alex about Kaylee and Evelyn, only to find the latter knocked out. After Evelyn is revived, she is visited by Child Protective Services, and afterwards, the group learns that the Xanax that Evelyn was taken was actually swapped out for a different medication. As if that wasn't enough, we see someone near the house, leading to a pursuit that ended with a surprising reveal: the figure was revealed as Richard Weber...who's supposed to be dead.
So it turns out Richard faked his death to help Evelyn and Kaylee financially, and he had been making surreptitious visits to the house to see his daughter. Evelyn appeared after her husband's interrogation, gave him a well-deserved slap, but later voiced her relief over seeing her husband alive. So that piece of the puzzle is filled, but there's still something else, according to Robyn. It was clear that torturing Evelyn was not the goal; rather, it was to separate Evelyn and Kaylee, and that led to Harry Keshegian looking in to the family trust. As it turned out, in the event that Evelyn's incapacitated, Alex receives custody of Kaylee, and regarding the medication swap, the pills Evelyn inadvertently took were xylazine, which cures anxiety in horses. Kevin mentioned mental illness in Evelyn's family, but it may have skipped Evelyn and went right to Alex.
Meanwhile, we see the sisters discuss Richard, and it's followed by Alex looking quite crazed and walking near a set of knives, and the result: Evelyn's on the floor in a puddle of blood, but clinging to life. With Harry's help, Robyn found Alex and Kaylee seated at a bench close to the town limits, with the former still possessing the knife she used to stab her sister. It's at this point that everything's revealed: Richard and Alex actually dated in high school, but after that relationship ended, Richard dated Evelyn, with Alex accusing her sister of stealing him from her. Regarding their bad marriage, Alex basically accused Evelyn of making Richard unhappy, while claiming that Richard stayed out of pity up until his "death." However, seeing Richard led Alex to the delusional conclusion that Richard faked his death to get away from Evelyn.
With that in mind, Alex enacted her evil scheme to get her sister out of the way: the medication swap, calling CPS, even stabbing her sister. Robyn promised the insane madwoman that Richard was on the way, but once the police arrived, Alex attempted to attack Robyn with the knife. Much like other things in her twisted scheme, that didn't go well for Alex.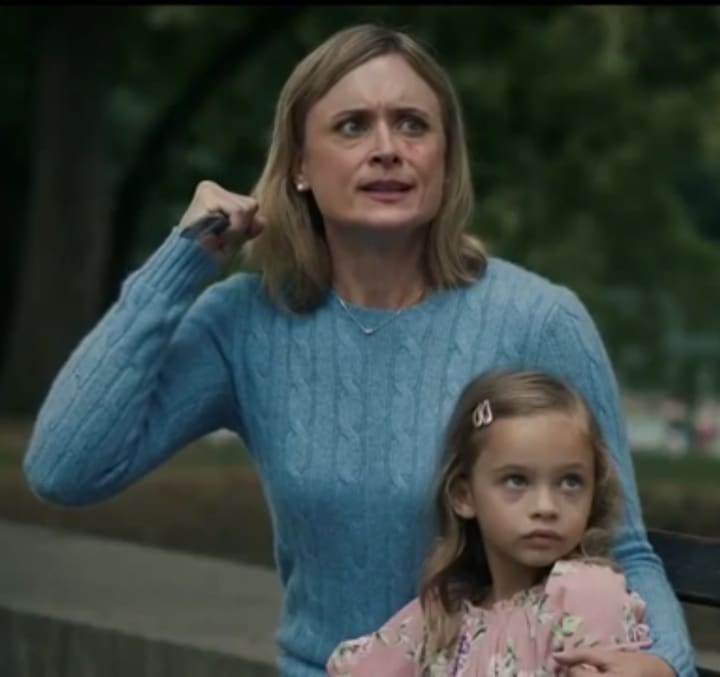 "Gaslight"/"Better Off Dead" was the third episode of The Equalizer's third season, and aired on CBS on October 16, 2022. The episode's main villainess, Alex Roth, was played by Rebecca Brooksher, and she was quite a deliciously fiendish madwoman. You know, for a show that boasts a very small collection of one-shot villainesses, the few that show up are quite memorable and amazing. Alex Roth was no exception; she's the type that one often sees on Lifetime. Alex was an insane sister and aunt who harbored not only jealousy, but restrained hatred towards her sister, mainly because of Evelyn's marriage to her former beau, as well as a desire to have her own child. Her introduction saw her mask her psychotic personality, but the gloves were off in the climax, as well as her confession and her attempt to attack Robyn. Brooksher's performance was very stellar, especially when it came to acting out Alex's madness in the climax. Her acting serves as the main reason why Alex Roth is quite a memorable villainess.
Rebecca Brooksher currently recurs on FBI: Most Wanted as Claire Scott, the sister of Dylan McDermott's lead character, Remy Scott. She has also appeared in episodes of Elementary, The Good Wife, The Sinner, and The Blacklist.
If you like this story, click the heart, and click the subscribe button for more of my stories! Tips and pledges would be immensely appreciated, but only if you want to do so!
Check out Alex Roth's profile on Villainous Beauties Wiki!
About the Creator
Born on March 18, 1985. I am an avid fan of sports and wrestling, and I've been a fan of female villains since the age of eight. Also love movies--especially comedy and horror--and among my favorite TV shows are The Simpsons and Family Guy
Reader insights
Be the first to share your insights about this piece.
Add your insights