'Venom': Film Review
Does Contain Spoilers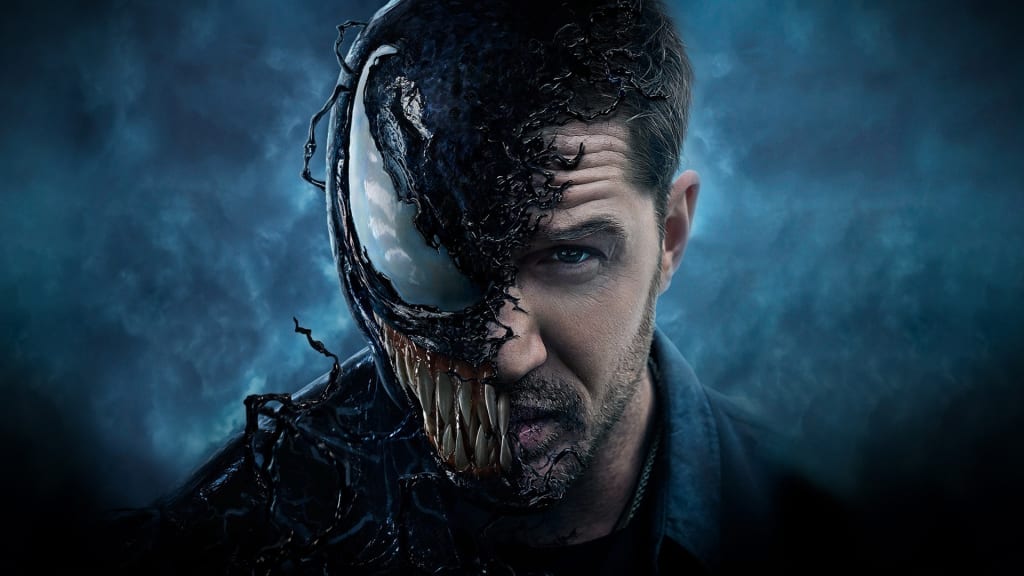 So the new Marvel film came out called Venom and as a Marvel fan I couldn't wait to see this movie. I went and saw it with my friends and here is what I thought:
Most Marvel fans, if you have read the comics, will be quite familiar with Venom in the Spider-Man universe of Marvel. The original story is that Venom was a symbiote that Peter Parker found as a cool black suit. He then "wore" Venom thinking it was cool until he realised it had a mind of its own. The two later split but Venom, now a creature of his own, kept some of Spider-Man's abilities. Now we all know having watched the film that Spider-Man isn't in the movie or mentioned but someone else is; I will get to that later.
I like Marvel because it makes its films different from the books but the books are still the fundamentals and building blocks of the Marvel cinematic universe. The fact that Spider-Man wasn't in it had me at an early disappointment without even seeing the movie, but the film made it up to an extent by giving Venom this personality that the whole cinema found funny, though with Marvel being full of superhero clichés had Venom later change his tune in order to save the world.
The high, intense action scenes were brilliant and very fast-paced, making the film seem quite short but allowing Venom to be this bad guy that has cool abilities and is an absolute daredevil. To break away from this you had two very similar characters, Eddie Brock and Venom, who added their own humour to make things interesting and actually as spectors for us to align with the narrative. Making the characters similar in terms of characteristics helps the audience to align with the idea that the symbiote and the host have to be a pretty close match for things to work well and this dynamic duo did just that. The film didn't focus too much on the romance side which was good and didn't draw attention away from the main plot, though Michelle Williams, who played Anne Weying, did remind me of Gwyneth Paltrow as Pepper Potts in the Iron Man series.
Now if you were paying attention or stayed for the post credits scene, Eddie meets with a serial killer. Now it's not said who it is but the last scene is key to knowing who the guy is. The guy says "when I get out, there is going to be carnage." That line specifically ties in with another symbiote called Carnage who is Venom's offspring in the comics and it bonds with a serial killer called Cletus Kasady, who I believe is the serial killer in this movie. This could potentially see us with another Venom film featuring Carnage who is a much stronger symbiote than Venom and its bond with Kasady is stronger than Brock and Venom, making him a formidable foe.
Some people think that Spider-Man is dead but I do have a theory that may coincide with Spider-Man's whereabouts. If we cast our minds back to Infinity War, we can remember that Spider-Man was one of the people to disintegrate, I say disintegrate and not dead because I think that these characters may actually be in another universe which is maybe why Spider-Man isn't in Venom, therefore this puts Venom in the post Infinity War part 1 sort of time frame.
I did really enjoy this film. The major thing that was bad was that there was no inclusion of Spider-Man to put it somewhere in the Marvel universe, but it is a great look into a sole character.