Velvet-lined Vintage
A tailored tale of triumph!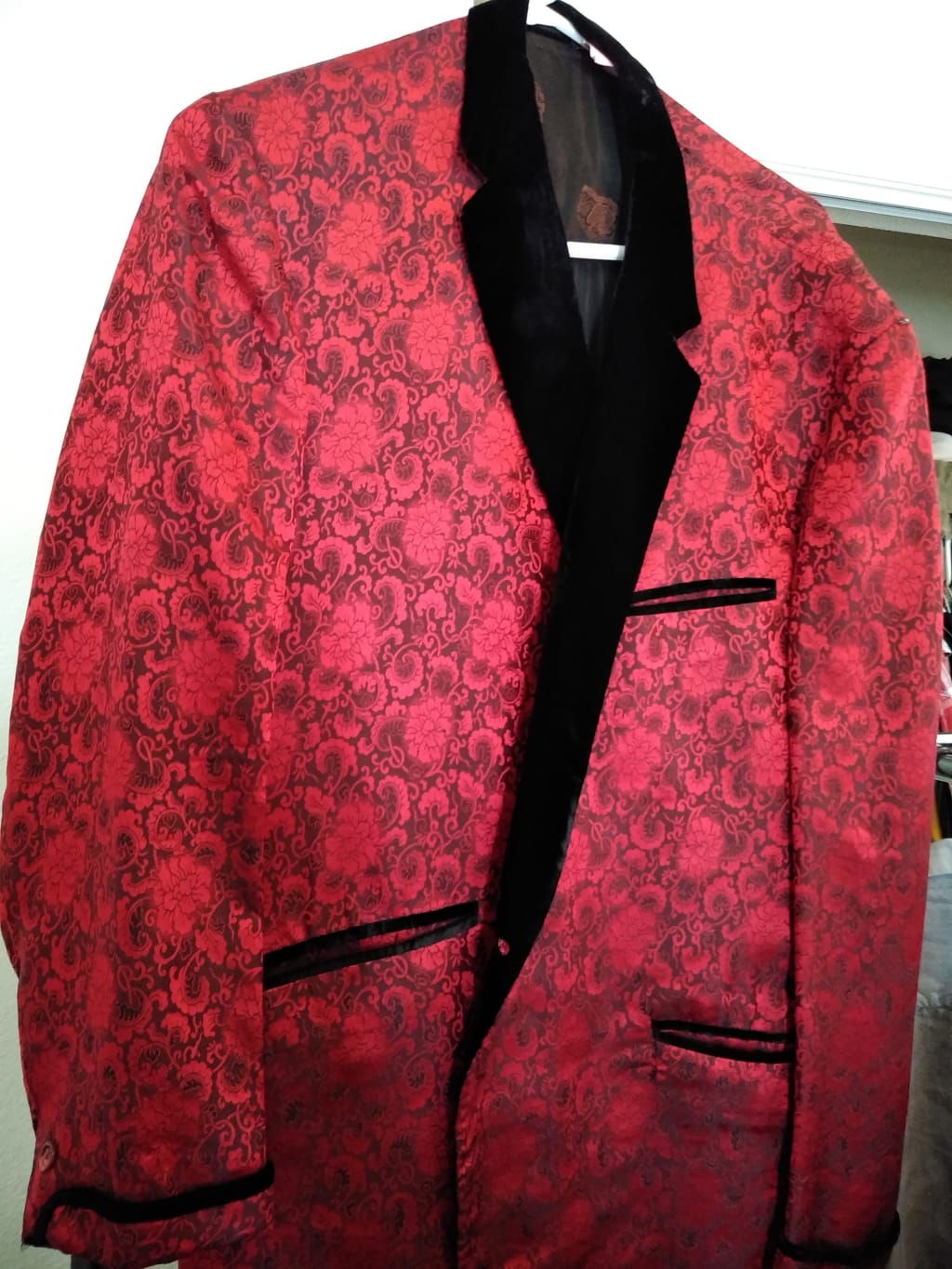 THE jacket. He's so dapper!
A few years ago, a touring Broadway company was bringing The Phantom of the Opera through my city. I bought tickets to take my best friend (and a small group of our compatriots) to the show for his birthday and planned a somewhat elaborate evening out for the lot of us. The tickets were a surprise, and I wanted to do something a little more elaborate to reveal that surprise than just tell him I was taking him, so I delved into my craft supplies and wrote him an invitation to the show from "The Phantom" using parchment paper and blood-red India ink with a dip-nib pen to make it look as authentic and ominous as possible, and sealed it with a red wax seal to make it official. I went out and found a distressed-looking book safe, which would act as the delivery service for the letter, to add a little extra panache.
After all this effort, I was still dissatisfied with the gift (from a physical perspective, I knew the show experience and evening out were going to be fun, but I wanted the initial presentation of the gift to get him excited to go), and I didn't know what more I could do to jazz it up, but I had plenty of time before his birthday so I let the idea rest for a while and went about my business.
A couple of weeks went by, and a friend invited me out for a day of thrift shopping, just to see what treasures there were to discover. I combed through and picked out some old books and movies, and then offhandedly started wandering through their clothing section. At the back wall, behind all the hanging racks, stood an old wardrobe with a sign labeled "vintage items- handle with care". I love history and theatre and costuming, and I'm always fascinated by the stories behind the fashions of different eras, so I was instantly drawn to this old hutch and its contents. I started leafing through old dresses and shirts from times gone by, when suddenly there it was- an absolutely gorgeous, pristine red silk smoking jacket with black velvet detailing made for a tall, broad-shouldered man. I checked the price tag and almost had to sit down for a moment. It was only three dollars. Without hesitation, I grabbed it and made my way through checkout, certain my luck could not be so good and they'd tell me it was mislabeled and really cost $300 rather than $3, but no such setback came to pass, and I was free and clear with my amazing find in tow. This was the missing piece of the puzzle.
I gave my friend his gift, by which he was genuinely delighted. The jacket was a little roomy on him; not enough that it looked oversized or clownish, but we discussed the possibility of getting it tailored, and in doing so, started examining the jacket, and discovered that the original tailor label was still in it, including the date it was made and who it was made for! It was hand-tailored in Hong Kong in 1968, and after a little research, we found that it was probably worth somewhere between $80-$400. To date, this is still my most triumphant bargain hunter moment, and a photo of my bestie in his jacket on the night we attended that show adorns my cell phone home screen.