Upcoming Gadgets 2022
Best Gadgets Coming Soon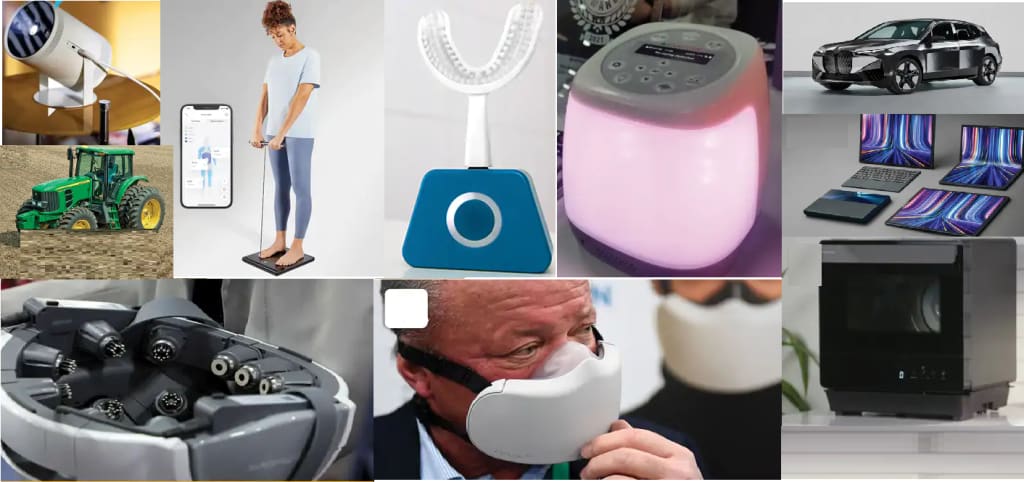 In 2022, a battery-powered, transparent, and rollable TV will be released, allowing you to enjoy entertainment even while you're not at home.
There is a lot going on in the smart TV industry. TV has traveled from black and white TV, color TV, HD TV to smart TV. Now find out what will change in TV beyond that.This year's TV innovations include battery-powered televisions, 8K televisions, transparent televisions, and holographic televisions.. Let's take a look at the new TV technology.
Battery TV
Plugging on to watch TV is a necessary task. Imagine what it would be like to have a built-in battery in a TV? Many smart TVs will be launched in 2022 which will be equipped with batteries. Once charged, you can watch TV all day long, whether it is light or not, you can watch your favorite videos and webseries with full enjoyment.
Will be watching 8K TV
In 2022, the focus of most smart TV brands will be 8K resolution. 2022 saw no significant reduction in its prices. The size of the smart TV will change a lot, the screen size will get bigger. As the screen size increases, so does the brightness level of the screen.
Transparent TV and holographics TV
2022 will see a growing trend in holographic and transparent TV. We have seen many patents for transparent TV in 2021. Many brands like LG and Samsung are also working on it.
Rollable TV
In 2022 we will also see the trend of Rollable TVs growing rapidly as LG has launched its own R Series TV in 2021 which is an excellent example of Rollable TV. Brands like Samsung and Xiaomi are also working on this trend and many patents have also come up in which there is talk of rollable TV.
The world's largest electric show showcased 10 unique gadgets, featuring a helmet showing the state of mind and a color-changing car like a tick in 10 minutes.
The Consumer Electronics Show (CES 2022) in Las Vegas, USA has come to an end. The 3 day long event featured amazing gadgets and technology. A color-changing car like Kachinda was introduced at the event. So high-tech masks that kill bacteria were also introduced. Along with this came a number of unique products, including a fully autonomous tractor, a 7-in-1 homechef compact oven. Let's learn about all these in detail one by one ...
Withings, a company known for its Connected Health Tech products, announced a body scan plan. The device is designed to monitor body composition and heart rate using a smart scale attached to a handle, which includes sensors and electrodes for the analyst. Nutritional sleep, exercise and stress data can be retrieved after connecting the device to the app. This product will be launched after June 2022.
Y-brush
The Y-brush has been made by the French company Fastesh in 3 years. This has been approved after several in vitro and clinical trials. The brush features 35,000 nylon bristles, built on nylonmade technology. The special thing about this brush is that it does deep cleaning in just 10 seconds. It has a rechargeable battery. It is made in two different sizes for children and adults. It has 3 vibration modes for better cleaning of teeth.
Newborn Sleep Ttrainer Based on Artificial Intelligence (AI)
First Ascent, a Japanese startup, has released a newborn sleep trainer based on artificial intelligence (AI).This will tell you if your child is hungry, sleepy, angry, bored or uncomfortable. A display is provided on this device, in which different activities of the child are tracked. For example, how long did the child sleep or how long did he stay angry? The device is also provided with music and lights, which serve as entertainment for the child.
John Deere
Popular tractor brand John Deere has announced a fully autonomous tractor at the event. This 8R tractor is equipped with many new advanced technologies. This is being prepared especially for farmers. With its help more production can be done. This tractor will work for many different machines. However, this will be launched by next year. The company has not yet commented on the price.
However, companies are increasing the size of the oven. But during CES, Panasonic unveiled its 7-in-1 homechef compact oven. It can steam, connection back, air fry, ferment, sterilize and much more. "Panasonic toaster ovens performed well in our previous testing," noted Nicole Papentoniu, Panasonic's director of kitchen appliances. So we are ready to launch it to evaluate it. It will be launched by April 2022. It will cost 500 (approximately Rs. 37,000).
AIRXOM
Face masks have become the most important during covid. With this in mind, Aircom has launched a high-tech mask. These masks are equipped with active filters to kill germs, viruses, bacteria. It is much thicker than a surgical mask, so no viruses or bacteria can enter. It will be launched in the next few days. Frank Glazle, co-founder of the company, said that this is a good device to fight covid. It can cost up to 40 340 (approximately Rs. 25,318).
iSyncWave
Korean company Medisink launched its new product iSyncWave at the event. This is a kind of portable brain scanner. It was designed as a helmet equipped with EEG sensor. Which is powered by Artificial Intelligence (AI) Deep Learning Algorithm. It reveals the state of mind in 10 minutes.
Samsung Electronics
Samsung Electronics has announced the launch of a new portable screen and entertainment device freestyle. Freestyle is a projector, smart speaker and ambient lighting device. It is lightweight and portable. It weighs only 830 grams. This allows you to easily convert any space into a picture screen, just like the scenes in Hollywood sci-fi movies. This allows videos to be viewed on a table, floor, wall, or ceiling.
Reader insights
Be the first to share your insights about this piece.
Add your insights