Twin Peaks: What Might We See In Season 3?
Just a selection, of mostly playful, thoughts on what may happen.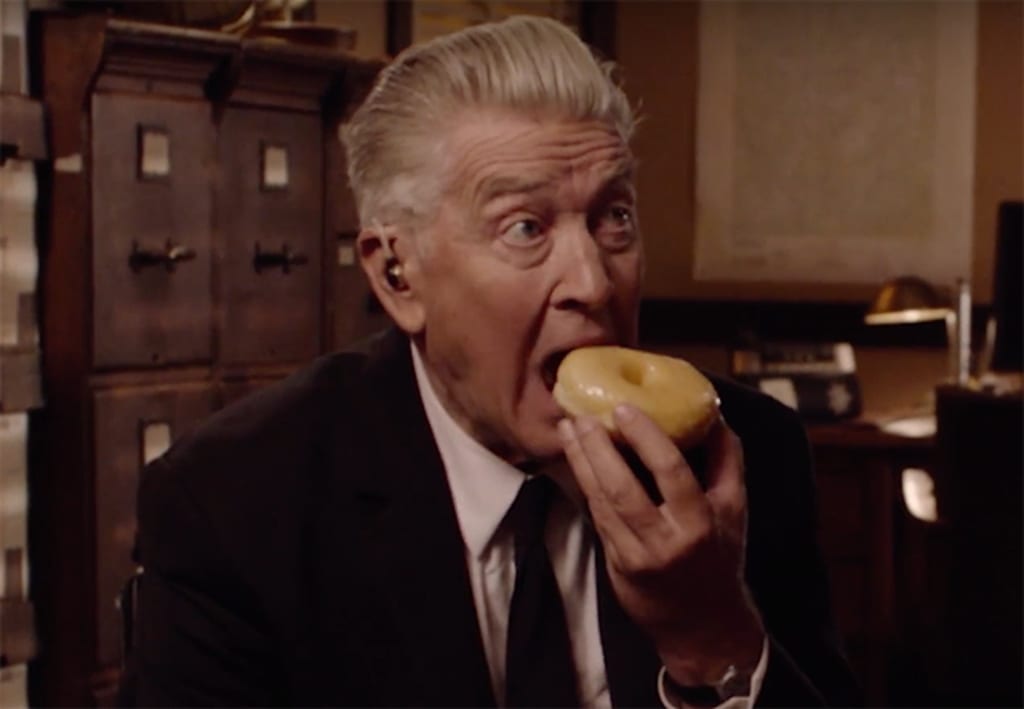 David Lynch, as Gordon Cole, eating a doughnut
Ostensibly it seems like a futile idea to try and predict what might happen in the new season of Twin Peaks; Lynch's works have gotten ever more oblique and incomprehensible, in presentation and narrative, with age, and for a guy who's debut film was Eraserhead that is saying an awful lot. But even still, I know that many Peaks fans such as myself, in the 26 year gap between seasons, will have found it almost irresistible to ponder on what may happen come May 21st. So to that end, here are some of the possibilities that I have considered.
CooperBOB will be an active serial killer, and an even more powerful entity...
If Cooper has been possessed by BOB during the entire 26 year gap, then it seems possible he will have maintained himself by murdering, as he has done previously. The suggestion that BOB 'feeds' off suffering could also mean that the more he does, the more powerful he becomes. Whether he has been missing in America, or still active, and abusing his position as an FBI Agent to do this, in another interesting question.
...And Audrey Horne will end up one of his victims...
Lynch has a tendency for cruel, gut-punching plot twists; look no further that the traumatic way Laura's killer was revealed mid season two, or equally, the utter bleakness of season two finale. If CooperBOB is killing, then who would make a more heartbreaking victim than Audrey? Fans longed to see the mutual attraction in their friendship become more first time around, and what crueler way could there be to subvert those hopes and expectations? For the record, I hope this doesn't happen as I adore Audrey.
...But Good Coop will try and warn his FBI buddies, a'la Phillip Jeffries.
I'm know I'm one of a whole lot of fans who have thought long and hard on the meaning of Phillip Jeffries scene in Fire Walk With Me; I've read and heard many great theories over the years. Fitting best with the above would be that Jeffries 'good self', like Coop, is trapped in the Black Lodge and he somehow found a way to temporarily cross back to the physical world, long enough to deliver a (seriously cryptic) warning to his fellow FBI men.
If Good Coop is indeed still trapped, then maybe he will find a way to get a message to his FBI buddies too - could it even been Coop appearing to them that prompts Gordon Cole's startled sounding "Albert!" in the trailer??
MIKE will have merged back with The Man From Another Place, into one being.
Of the notable names absent from the absurd 217 strong cast list released in 2016, Michael J Anderson was one of the most significant. Anderson played The Man From Another Place, the red suited, bizarre speaking, snappy-dancing dwarf from the Red Room; first seen in a dream of Agent Coopers, it was later heavily suggested ("one and the same") he had a close link with MIKE (played magnetically by Al Strobel, who will be returning), another supernatural/mystical being.
There has been suggestion some cast members remain unrevealed but an unpleasant public falling out between Anderson and Lynch (instigated by Anderson) makes is appear unlikely we will see The Man From Another Place again. Perhaps an explanation for his absence could be that he and MIKE have become one again, and MIKE a stronger force for it. Whatever happens, here's hoping that Al Strobel is a major presence in the revival.
Laura Dern will be playing Sandy Williams from Blue Velvet...
There has already been fair old bit of speculation Laura Dern's role in Twin Peaks, theories ranging from FBI Agent Tamara Preston (first mentioned in The Secret History of Twin Peaks) to Cooper's long unseen assistant Diane. But Dern herself did give away one tidbit that could be a clue to her characters identity, when in conversation with Variety recently she said "Kyle and I had several scenes, particularly in the car, when we're talking about the robins. There's this very beautiful, hopeful poetry amidst this hellish world they've entered." Dern and MacLaughlan have chatted about the poetry of robins together before, opposite each other as Sandy Williams and Jeffrey Beaumont in Blue Velvet. Could this suggest that she is reprising her famous role, and that maybe she isn't the only one...
...And she won't be the only one playing a character from another Lynch work.
Another interesting thought I took from the revelation of the cast list was how many had collaborated with Lynch previously. Lynch is known for having regulars, usually in supporting role, but a few names jumped out for the major parts they played; Naomi Watts as Diane/Betty in Mulholland Drive, Balthazar Getty as Pete in Lost Highway and Laura Dern as Nikki/Susan in Inland Empire (and of course Blue Velvet). Maybe this could suggest that Lynch is making new Twin Peaks the grand link between all works, certainly those about America, and it will be the fullest representation of his thoughts and feelings on the American Dream/Nightmare? Or that maybe he just likes working with a group of actors that he trusts and has produced great work with previously? Or both...?
pop culture
tv
industry
About the author
Writer, confessed geek and pop culture enthusiast, loves film, TV and video games. Blogged and written for various websites on all the above.
Reader insights
Be the first to share your insights about this piece.
Add your insights