Twin Peaks: In Memoriam II
A further tribute to the cast members no longer with us.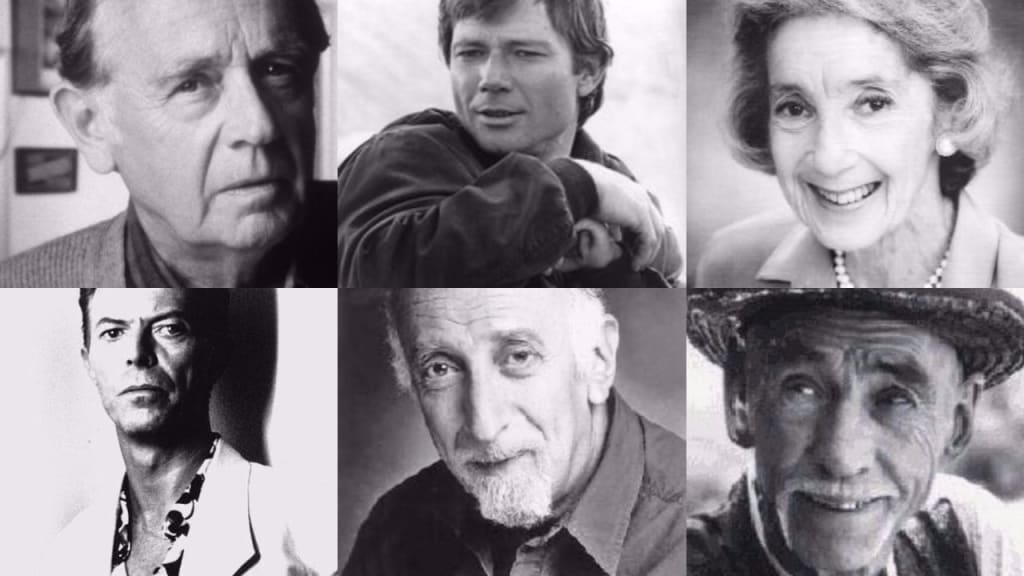 Left to right: (top) Warren Frost, Michael Parks, Frances Bay (bottom) David Bowie, Tony Jay, Hank Worden
Warren Frost (June 5th, 1925 to Feb 17th, 2017)
Born in Newburyport, Massachusetts, and raised in the Bronx and East Junction, Vermont, Frost joined the Navy at the tender age of 17 and served aboard the USS Borum during the Normandy landings in World War II. At 21, he enrolled to Middlebury College, Vermont, as an English major, where he would meet his true love and wife of 68 years Virginia Calhoun; they had 3 children, actress Lindsay Frost, writer Scott Frost and Twin Peaks writer/director and co-creator Mark Frost. He spent much of his early career behind the scenes in TV and theatre, including a three year run as floor director and stage manager for The Philco Playhouse, one of most respected dramatic shows of TV's Golden Age, working with legends including Sidney Lumet and John Frankenheimer. A move to Minneapolis saw Frost gain his Ph.D in Theatre Arts and begin a 20 year run of teaching at the University of Minnesota, and directing local productions (over 25) in the Twin Cities.
Whilst he worked occasionally in TV during this period, it wasn't until the late 80's that Frost's acting career would get a second wind, where he would take on his most memorable roles. In 1990, David Lynch and Mark Frost cast him Dr. Will Hayward in Twin Peaks; exuding a warm, fatherly air, Dr. Hayward is a bastion of wisdom and common sense, and a moral linchpin for the community. Appearing in almost all 30 of the original episodes, the kindly local doctor thoroughly endeared himself to viewers, even if his plot lines went a bit soapy by the end. The attention he received reinvigorated his TV career, with memorable post Peaks roles including Ben Matlock's childhood friend Billy Lewis in 16 episodes of Matlock, and Henry Ross, father of George Costanza's fiance Susan Ross in Seinfeld, alongside fellow Peaks actor Grace Zabriski; dozens of guest feature appearances would follow, in shows such as The Larry Sanders Show, TV miniseries The Stand, and L.A. Law. Frost retired from TV acting in 2000, but continued to write and star in one-man theatre productions. He came out of retirement to films scenes for the Twin Peaks revival, and sadly passed away earlier this year at the age of 91.
David Bowie (8th Jan, 1947 to 10th Jan, 2016)
Indisputably one of the most significant cultural icons of the 20th Century, David Bowie made a dramatic and influential impact on the arts, especially music and film, and social ideas around gender identity and sexuality during an amazing 50+ year career. Much work has already been written on his music, which I could not hope to sum up here, so I will instead focus on his acting. Born and raised in Brixton, South London, Bowie had an interest in acting and performing from a young age; contrary to some popular belief, Bowie's pursued his desire to act early, and it always ran parallel to the music. He studied under noted theatrical teacher and mime performer Lindsay Kemp, and was cast in her 1967 production of Pierrot in Turquoise. Bowie's breakthrough lead acting role was as Thomas Jerome Newton in Nicholas Roeg's 1976 philosophical sci-fi drama The Man Who Fell to Earth; his performance was acclaimed and the film has since become a cult classic. He'd receive further plaudits for his starring role in British-Japanese co-produced WWII drama Merry Christmas, Mr. Lawrence, alongside Japanese pop-culture idol Takeshi Kitano. The 1980's would provide Bowie with many more memorable parts, such John Blaylock in Tony Scott's erotic vampire flick The Hunger, Pontius Pilate in Scorsese's hugely controversial The Last Temptation of Christ, and possibly his most beloved, The Goblin King in Jim Henson's classic family fantasy Labyrinth.
In 1992 Bowie would appear as FBI Agent Phillip Jeffries in David Lynch's film prequel Twin Peaks: Fire Walk With Me; neither the movie or Bowie's performance were well received upon release (Bowie's accent is bad to be fair), but both have been reassessed over time. FWWM is now considered one of Lynch's best works, and Bowie's character Jeffries is a well-liked part of the Peaks mythology; his few scenes hint at the wider scope of Twin Peaks world and his part in it has been subject to much fan speculation. He would slow down acting considerably in the 90's but later parts included a hilarious cameo as himself in 2001 fashion comedy Zoolander, and playing Nikola Tesla in Chris Nolan's 2006 mystery thriller The Prestige. Bowie and Lynch has discussed a Phillip Jeffries cameo in the upcoming Twin Peaks revival but before anything could be filmed, Bowie tragically passed away, aged 69, from liver cancer in January 2016.
Michael Parks (Apr 24th, 1940 to May 9th, 2017)
With his weathered good looks and measured delivery, Michael Parks was a memorable, prolific character actor, who featured in over 100 films and TV shows, yet known primarily for later work with Kevin Smith, Robert Rodriguez and Quentin Tarantino. Born in Corona, California, Parks was a drifter throughout much of his teenage years; he got his first acting gig in 1958, and made bit part appearances in many 1960's TV favourites, such as Gunsmoke, Perry Mason and Alfred Hitchcock Presents. Early starring film roles in anti-establishment themed The Happening and Bus Riley's Back in Town lead to his casting as Jim Bronson in TV series Then Came Bronson; Parks plays a journalist, disillusioned with his life after the suicide of his best friend and a bust up with his editor, who becomes a Harley-driving pacifist drifter. Despite only lasting one series, Parks engaging performance and some iconic imagery helped Then Came Bronson enter the American pop-consciousness.
During the 70's and 80's Parks became stereotyped, acting almost exclusively as villains in a variety of westerns, war-films and bland action flicks, probably in part to his height and intimidating looks. Whilst always very watchable and never phoned in, there were few memorable roles; it wasn't until his casting as Jean Renault in Twin Peaks that his profile received a well deserved boost. Parks plays the French-Canadian gangster as charming, reasonable and ambitious, with a propensity for violence simmering beneath the surface; whilst only appearing in five episodes, the charismatic, menacing Renault is one of the highlights of season two. The 90's found him in demand with some of the era's most popular and successful directors; he famously recurred as Sheriff Earl McGraw in Robert Rodriguez's From Dusk Til Dawn, Quentin Tarantino's Kill Bill: Vol.1 and Tarantino/Rodriguez co-production Grindhouse (released internationally as Death Proof & Planet Terror). He also appeared in Kill Bill: Vol.2, in a separate role as Mexican pimp Esteban Vihaio, before becoming Kevin Smith's acting muse. Smith wrote the villainous roles in Red State and Tusk specifically for Parks, and while both films received mixed reviews overall, no-one disputed the quality of Parks engrossing performances. A dedicated and hardworking actor until the end (he was in three films last year alone), Parks passed away on May 9th 2017.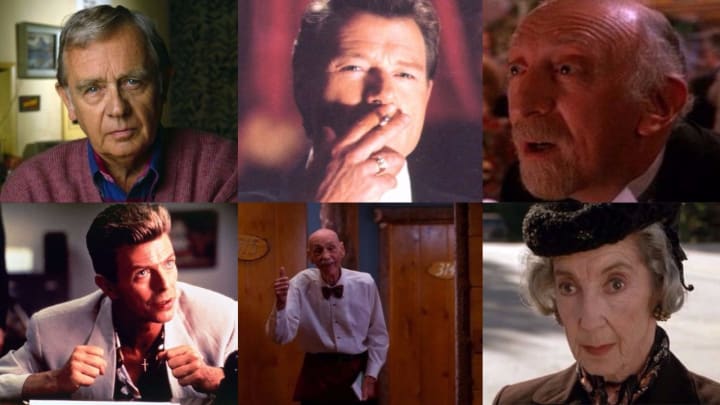 Tony Jay (Feb 2nd, 1933 to Aug 13th, 2006)
Born in London, England, Jay was a diverse talent who did a variety of stage, film, TV and voice-over work, and was known for his warm baritone. He started acting at the age of 30, beginning in TV and radio, and working in theatre for The Royal Shakespeare Company, in productions of Great Expectations and The Merchant of Venice. In 1975 he featured in Woody Allen's satire of Russian literature Love & Death. He moved to Los Angeles in 1986 and scored one of his best known roles as Professor Werner in 1988 box office smash Arnold Schwarzenegger comedy Twins. Jay appeared in guest roles in many of late 80's/early 90's biggest TV hits, such a Star Trek: The Next Generation, The Golden Girls and the hugely popular recurring character Nigel St.Clair in Lois & Clark: The New Adventures of Superman. In 1990 he was cast as local newspaper owner Dougie Milford in Twin Peaks; his infatuation with new bride Lana Budding and fractious relationship with brother and town Mayor Dwayne Milford were comedy gold. Only in three episodes of the original, his role was initially minimal before Mark Frost massively expanded upon Dougies' character and overall importance to the Peaks mythology in the book The Secret History of Twin Peaks.
Jay was also well regarded for his excellent voice-over work; highlights including Judge Claude Frollo in Disney's The Hunchback of Notre Dame, villain Mega-Byte in computer animated kids show ReBoot and the Elder God in various Legacy of Kain games. He continued to feature in guest TV roles in the 90's, including sit-com Night Court and Peaks-influenced kids show Eerie, Indiana, but eventually stepped back to focus more on voice-over work, amassing an impressive resume of video game, cartoon and narration work. Jay passed away from complications arising during surgery to remove lung cancer in August 2006; he is survived by his wife Martha and son Adam.
Frances Bay (Jan 23rd, 1919 to Sept 5th, 2011)
Starting her film and TV career relatively late, Bay nevertheless became well known and loved for playing the eccentric kindly grandmothers opposite some huge stars. Born Frances Evelyn Goffman in Alberta, Canada and raised in Manitoba, she performed in Canadian radio before WWII, hosting a show aimed at service members oversees, Everybody's Program. She married partner Charles Irwin Bay in 1946 and they moved to Cape Town, South Africa; they had a son Eli, whom Bay stayed home to raise - he tragically died at only 23 in 1970. She returned to the US in the 70's where she resumed her acting career, starting in minor parts in shows such as Kojak and Hart to Hart. Bays first film role was a small part in Goldie Hawn comedy Foul Play; the majority of her film career would be similar supporting parts, often in comedies. In 1986 she met David Lynch who cast as her as Jeffrey's Aunt Barbara, in a few scenes in Blue Velvet; Lynch would obviously enjoy the experience, and worked with her several more times, including a part as brothel madam in Wild at Heart.
Her most famous Lynch role though was probably as Mrs. Tremond/Chalfont, in both the series of Twin Peaks and the film, Fire Walk With Me; Lynch plays with her image as a kindly grandma, Mrs Tremond and her grandson being two of the creepiest characters, with probable links to the Black Lodge, their motives unknowable. In one famously unsettling scene, Donna visits the Tremond's, and witnesses first hand their seemingly supernatural abilities, making creamed corn appear and disappear at will. After Peaks, Bay continued to make both TV and film appearances, playing the grandmother of both Henry Winkler's character The Fonz in Happy Days, and later Adam Sandler's in silly golf comedy Happy Gilmore, and more feature guest appearances in 90's TV classics Seinfeld and The X-Files. She was involved in serious auto-accident in 2002 that resulted in her having one of her legs partially amputated. Ever spirited, she went to have further guest roles in Grey's Anatomy and sitcom The Middle, before sadly passing away from pneumonia in 2011, aged 92.
Hank Worden (Jul 23rd, 1901 to Dec 6th, 1992)
In an impressive 60+ year career, Hank Worden appeared in over 100 films and TV shows, many of them Westerns including 17 with John Wayne, and carved a legacy as one cinema's most prolific Western actors. Born in Rolfe, Iowa in 1901, Worden was raised on a ranch in Montana and became an excellent horse rider and handler. After attending Stanford University, Worden worked as a bronco rider on the rodeo circuit, before a bad fall injured his neck. Aside from severe pain which prevented him from continuing, Worden didn't find out the extent of his injuries until 20 years later when an x-ray revealed a broken neck. One of his earliest acting appearances was alongside another Western legend in the making, Tex Ritter, in a Broadway production of Green Grow the Lilacs, before his start in film, going on to be cast as an extra in Cecil B. DeMille's 1936 western The Plainsman. Worden was soon finding himself steady work, and became part of the John Ford Stock Company, being directed by the master in 12 of his films. During the 50's and 60's heyday of Western TV shows, Worden also found himself in demand, featuring in many episodes of The Lone Ranger, Bonanza and Hondo, among others.
Undoubtedly his most memorable role in this period was playing Mose Harper, the borderline unhinged buddy of John Wayne's Ethan Edwards, in legendary 1956 John Ford western The Searchers; even against it's superior cast, Worden's performance stands out as lively and engaging. His profile received a small but significant boost in the 90's when he appeared as the Elderly Bell-hop in Twin Peaks; Worden's expressions and timing were brilliant, his scene with Cooper from the season two opener a hilarious piece of absurdist comedy, and a great example of Peaks' narrative and tonal daring. His connection with The Giant makes him an essential part of Twin Peaks mythology and his perfect delivery of the simple line "I'm so sorry.." is heartbreaking in context. The renewed attention in Worden allowed him to host and co-produce Thank ya, thank ya kindly, a 1992 TV special retrospective on his career, featuring many greats of the genre as guests. Tragically widowed by his wife of 37 years Emma, in 1977, Worden died peacefully in his sleep in December 1992, aged 91; he was survived by his daughter Dawn Henry.
Rest in Peace: Michael Parks, Frances Bay, Hank Worden, David Bowie, Warren Frost, Frank Silva, Don S Davis, Miguel Ferrer, Jack Nance, Catherine E Coulson, Tony Jay, Dan O'Herlihy.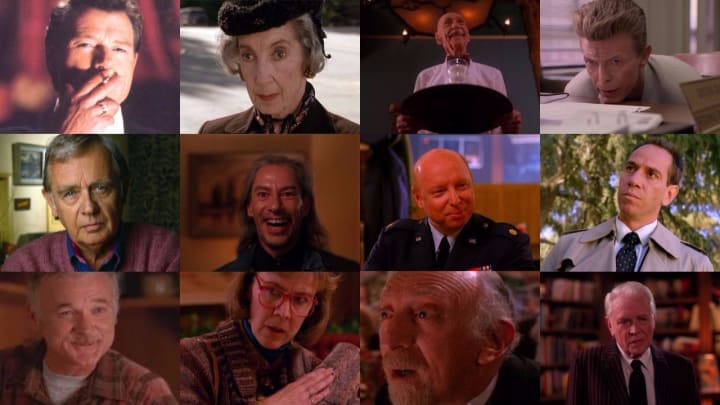 pop culture
tv
About the author
Writer, confessed geek and pop culture enthusiast, loves film, TV and video games. Blogged and written for various websites on all the above.
Reader insights
Be the first to share your insights about this piece.
Add your insights