'Twin Peaks' 2017: The Evolving Enigma of Judy
The Conceptual Life of This Elusive Character, and What New Revelations Might Tell Us
"You don't ever wanna know about that..."
As a show created from the essence of mystery, Twin Peaks has always driven its narrative with questions. From its original legendary promotional tag-line of "Who killed Laura Palmer?" to Season 2's dread & despair-filled final words "How's Annie?" and The Return's brain-melting closing line "What year is it?", Twin Peaks knows how to keep its viewers thinking and guessing. The Return in particular seemed to flourish on taking this concept to its logical extreme, its narrative posing an absurd amount of questions, almost to the point of self-parody, and leaving a huge number unanswered in the process. The fervent speculating, intuiting and theorising done by fans may well be Frost & Lynch's garmonbozia.
Post-finale, perhaps the most interesting to me is one that originated after Fire Walk With Me, but was first asked on screen in Part 15 by Mr C—"Who is Judy?" Ever since Phillip Jeffries appeared from thin air and told Cole, Coop, and Albert he was not going to talk about her, fans have been fascinated by the enigma of Judy. There is no indication from the theatrical cut of FWWM who Jeffries is talking about; the reference to her is one of many ostensible non-sequiturs that he spouts during an unsettling sequence. Significant speculation began after the shooting script for Fire Walk With Me appeared online in the 90s, and it revealed an unseen sequence where Jeffries arrived at a hotel in Buenos Aires in 1987 and asked whether a 'Miss Judy' has checked in yet—the desk clerk says a young woman was here and left a note. Jeffries then disappeared on the way to his room, before reappearing in the FBI office in 1989.
This seemed to cement Judy as a flesh and blood woman, but who she is and how she fit in was another matter. Bob Engels, writer and producer on the original series and FWWM, said in an interview that a potential third season would likely have involved a twin sister of Josie Packard, who would be a powerful organised crime figure. The connection seemed to go deeper when it was noted that Jeffries referenced visiting Judy's place in Seattle, and that Josie shared a link to this city—she takes a break there to lay low after she has shot Coop in the Season 1 finale, and it's possibly where she contacted her business associates. In the years between FWWM and The Return, this became the prominent rumor regarding Judy's identity. Further fuel was added to the fire during the buildup to the revival when Joan Chen, the actress who played Josie, wrote an open letter to David Lynch, essentially saying it was time for Judy to appear (which can be read here).
But, save from a brief flashback appearance in Part 17, Josie/Judy was nowhere to be seen in The Return. Piper Laurie, who played Catherine Martell, noted that she had discussed with Lynch a return for her character, but there was simply no significant story of hers to tell. It seems likely that Lynch also felt the same way about Josie. She was most closely connected with Harry and Catherine, who wouldn't be returning, and Pete and Andrew, both of whose characters, and sadly actors, had died. Perhaps at one time Judy really was intended to be the twin sister of Josie. A chapter on Phillip Jeffries from Mark Frost's The Final Dossier states he originally went to Buenos Aires to investigate a "shadowy organised crime ring" and identified a major figure within it, seemingly confirming this idea and tying it into the narrative. But it's clear from what we learned in Part 17, further embellished in The Final Dossier, that the plan had been radically altered.
"Who is Judy? Who is Judy!?"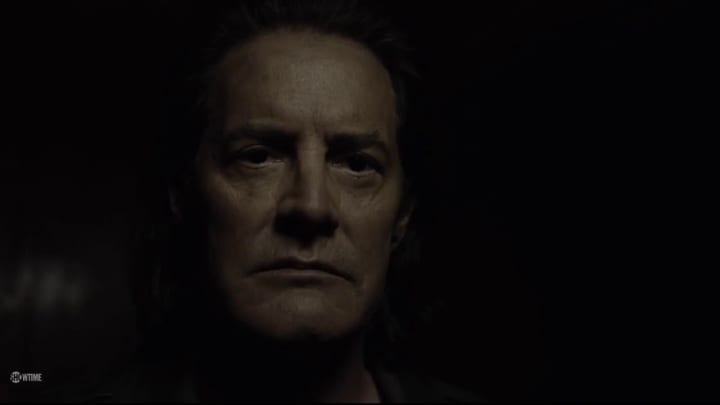 Frost & Lynch play the long game with this mystery in The Return; it isn't until Part 15 that Judy is even referenced in the narrative, and in their typical fashion, she is brought up during another major revelation—that Phillip Jeffries still exists, in some fashion, inside The Dutchmen's (which is likely part of The Black Lodge). When Mr C confronts Jeffries about his connection to Ray Monroe, the cagey phantom is slippery with his responses. When the Doppelganger brings up 'Judy', Jeffries won't be more forthcoming than, "You've already met Judy", much to Mr C's frustration. This is also one of the first times we get a sense of what Mr C's objective might be in The Return, but more on that later...
Judy is mentioned again in Part 17, but this time in a different context, in a conversation between the members of the Blue Rose Task Force. After the revelation of Tulpa Diane in the previous episode, Cole decides its time to share a major secret with Albert and Tammy—his pursuit of 'an extreme negative force' called Jowday, whose name evolved over time to become Judy. Cole states that Major Briggs had told him and Cooper that he'd discovered this entity, and, between them, they devised a plan to lead them to Judy. Shortly after, both Briggs and Cooper disappeared. Gordon also reveals that Phillip Jeffries was onto Judy at one point, and he disappeared, too. These details are embellished wonderfully in Frost's The Final Dossier; it's confirmed that his pursuit of Judy is why Jeffries is in Buenos Aires, and that he'd carved the name 'Joudy' into the wall in his hotel room. Tammy goes on to speculate that the name may refer to an ancient Sumerian entity, more generically known as an utukku; a wandering demon that feeds on souls, and on human suffering. They also come in male and female forms, the male known as Ba'al, and, if they ever forged a union, it would bring about the end of the world.
This sheds a whole new light on the concept of Judy, and what form it may have taken in The Return. Suddenly, the appearances of seemingly female demonic entities, such as the creature in the box in Part One and The Experiment in Part Eight, make more sense. But are these one and the same? Are they representations, manifestations of Judy, or are they its true form? And does Judy have a tangible form in the physical world, with a host of some kind? Thinking about the utukkus's male version Ba'al, and who he could represent in Twin Peaks, could shed some light on this.
"He is BOB, out for fun, wears a smile, everybody run!"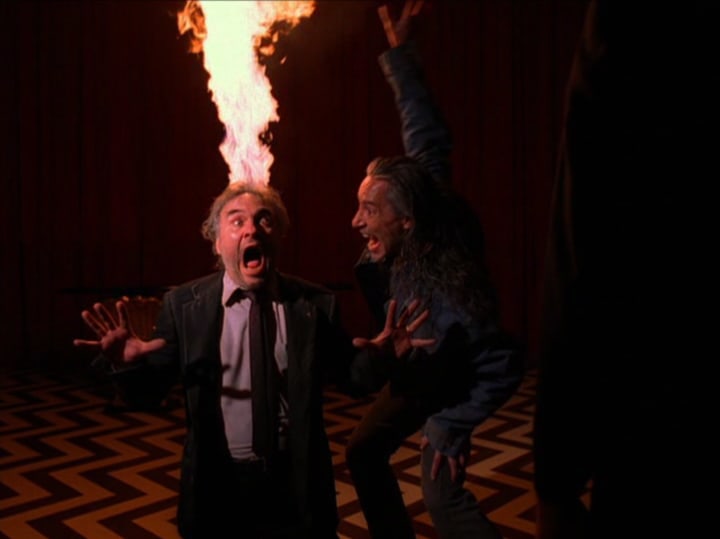 While it is not seen as a popular theory among fans, I personally cannot see Ba'al as anyone but BOB. The most striking clue is the very leading description of the utukku in The Final Dossier; Tammy says that they "ripped the souls from their victims," something we've literally seen BOB do (see above pic), and that they fed 'on human suffering', which is how BOB's creamed corn-looking sustenance 'garmonbozia' is described. Tammy also states that Ba'al went on to be known by other religious denominations as 'Beelzebub' (not a huge leap to BOB—consider the evolution of Jowday to Judy), sometimes referred to more generically as The Devil, a comparison to which has been drawn with BOB by many over the years.
Thinking of BOB as Ba'al gives us a clearer indication of why Mr C was looking for Judy, as a union between them would likely increase their power, and potential to cause pain and suffering, exponentially. But what of Part Eight, and the seeming 'birth' of BOB from The Experiment, itself probably Judy, I hear you say? Well, I have a thought on that, too. My theory is that for BOB and Judy to reach their power potential, their union has to be in the physical world, and in physical form. I believe the sequence we see in Part Eight is, in fact, their other dimensional forms mating, with the result being the frog-bug spores that would gestate in humans and create an ideal physical host for Judy.
This, along with other indicators from The Return and The Final Dossier, bring us closer to identifying the physical host of Judy, and what in turn that may mean for the narrative as a whole.
"It's a goddamn bad story, isn't it Hawk?"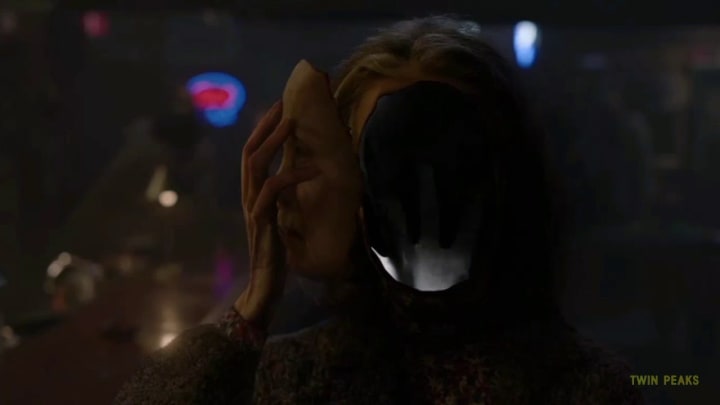 Even before The Return had ended and we'd have the extra info from The Final Dossier, there was one character that stood out by far as the strongest candidate for Judy—Sarah Palmer. Her arc is one of the saddest of all Twin Peaks residents; years spent trapped in a nightmarish domestic situation, in which her only daughter was sexually and psychologically abused by her demon-possessed husband, of which Sarah was pre-cognitively aware of on some level but felt unable to intervene in, led to her abusing alcohol and prescription drugs. Once the situation came to an awful head, resulting in the deaths of both Laura and Leland, Sarah's emotional pain and suffering increased further, along with her alcohol and drug dependency. Loss and loneliness led to greater isolation and depression, and, when we pick up Sarah's story in The Return, she is drinking and smoking heavily whilst impassively watching a gruesomely gory nature documentary.
Her first major scene, and sign that something is amiss, comes in Part 12; while stocking up on booze and cigarettes at her local convenience store, Sarah is overcome by a wave of psychic energy. She becomes scared, seemingly possessed, and starts ranting about unrelated events ("men are coming..." "something happened to me!"), as distorted Black Lodge noises can be heard. Scared and confused, she leaves the store in a panic. When Hawk comes to check on her later, he senses something is up and offers to help, in any way he can. Sarah, for her part, seems resigned to a terrible fate, saying, "It's a goddamn bad story, isn't it Hawk?" When we next see her in Part 14, things get freakier, still. Out at a bar one evening, Sarah takes a solitary position at the bar, but is soon accosted by a vile, misogynistic trucker, who makes lewd and then threatening remarks towards her. In a head spinning turn, Sarah faces up to the biker, literally, revealing a grinning black void behind her visage. Striking a blow for women everywhere that are faced with this shitty behaviour too often, the possessed Sarah lunges forward and bites the asshole's throat out. After feigning confusion and concern, Sarah blithely says to the suspicious bar-keep, "Sure is a mystery, huh?"
Her final appearance is probably her most confounding. Sarah is seen one last time in Part 17, shortly after Cooper has gone back to change history by preventing Laura's murder. As he takes her by the hand and leads her towards the White Lodge portal, she is suddenly and violently whisked away, much like in The Red Room earlier. It then cuts directly to a scene of Sarah in the Palmer household, shrieking like a wounded animal as she holds a framed photo of Laura. She throws it to the ground and stabs away manically, but times seems to warp and bend, the picture never breaking apart entirely. The interpretations of this vary wildly, but my personal feeling is that both Judy and BOB are aware Laura's essence was created by the White Lodge to combat and defend against them. When it looks like their victory of destroying her will be taken away by Coop, Judy (or some Lodge entity she is connected to) rips Laura from the main reality and into the "Odessa" reality, where Coop and Diane then go to find her.
Further, and perhaps even the strongest, evidence of Sarah as Judy's vessel appears in Chapter 18 of The Final Dossier. Research has led Tammy Preston to find details of the 1956 New Mexico incident from Part Eight, and that, at this time, Sarah (or Sarah Judith Novack Palmer, to give her full name) was about 12 years old and living with her family there, confirming that she was the young girl who swallows the frog bug, or 'Judy spore', and therefore in all likelihood, the current host to Judy.
But what does all this say about Twin Peaks story? How does it affect our understanding of what we've seen, why the events unfold the way they do, and what is motivating the main characters and their actions?
Laura is the one.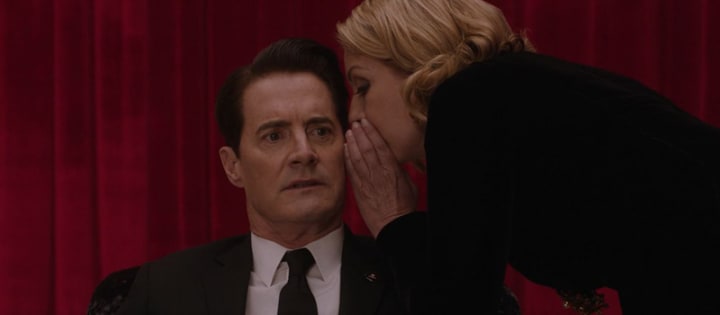 In a previous article, I wrote an extensive theory about the significance of Laura Palmer to the narrative of Twin Peaks: The Return. To summarise the theory briefly: Laura tells Cooper that her mother is Judy, and Cooper realises what he needs to do to defeat her—return Laura to life by preventing her murder, and then taking her to confront and defeat Judy, by healing Sarah with Laura's inner light. Like Judy and BOB, Laura needs a tangible form to use the extent of her power. The physical plane seems to be the only place extra-dimensional entities can effect each other this way. Cooper's "two birds" are Judy & BOB; the 'one stone' is likely Coop himself, intending to take them both out in one set of actions, one fell swoop. He doesn't quite succeed. Through the combined efforts of himself, Jeffries, Major Briggs, and The Fireman, BOB is kept away from Judy, the Doppelganger destroyed, and Laura is returned to life, but the Black Lodge keeps her away from Judy, and Laura, Cooper, and Diane all seem lost, maybe even trapped, in a tangent reality.
Much of what we've learned of BOB, Judy, and the fate of Laura Palmer since the finale supports this theory strongly for me. It helps explain Cooper's motivations in rescuing Laura, more convincingly than 'White Knight' syndrome. While this aspect of Coop's personality was the flaw that sealed his fate in the Season 2 finale, I feel that event is also exactly the reason he wouldn't let it happen again. Cooper's desire to save the troubled Annie Blackburn at any cost caused him to submit his will to Windom Earle when confronted by him in The Red Room. Without the strength, the willpower to be self-determined, Cooper was defeated by Earle and overcome by his shadow self. Self-determination was the reason for Laura's victory in Fire Walk With Me—when faced with BOB's will to possess her, Laura instead took the ring and made the choice to die, ascending into something more than herself, something with the power to heal and save others.
Cooper has had 25 years in The Red Room to contemplate his previous actions. After Laura has whispered to Coop about Judy and told him he can leave, The Arm questions Coop, "Do you remember your Doppelganger?", and the look on Coop's face tells you he couldn't possibly have forgotten. Laura isn't "a troubled girl that needs saving" in Cooper's eyes now—he realises what she is now capable of, and makes the choice to prevent her death, knowing only in life can she confront the evil of Judy. The devastation of the finale is not that Cooper has made a poor choice due his "ingrained impulse to save a troubled woman from herself" (as Tammy puts it), it's that he's made a sound, selfless decision, in attempt to save everyone from the dangerous threat of Ba'al & Joudy, and it's failed purely because the Black Lodge was able to outmanoeuvre him. Maybe they were able to because Cooper overstretched at what he was reaching to do, but I feel his motivations were sound this time.
"My father killed me."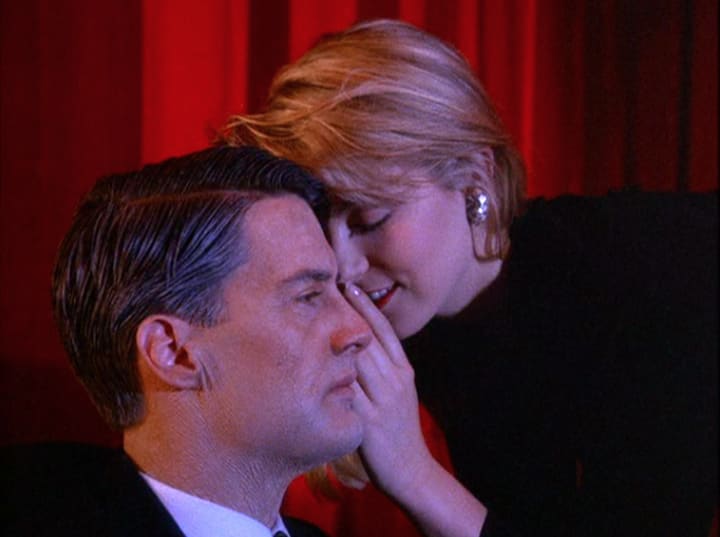 What I also enjoy about this theory overall is the sense of narrative symmetry it gives Twin Peaks. In the original series, the central mystery to who killed Laura Palmer is framed by a sequence in Episode Two, when Cooper dreams of Laura whispering the answer him, which we, of course don't hear, and in the morning he doesn't remember. It isn't until later that we find out she says, "My father killed me." The series spends much time focusing on Leland's grief, his pain and suffering in the aftermath of what has happened, seemingly possessed by it. It dictates virtually all his actions, those which aren't BOB's, who it's later revealed is possessing him in a much more literal fashion.
In The Return, the main plot is again framed by Laura whispering something in Cooper's ear we don't hear, except, this time, Cooper remembers what she said, probably "My mother is Judy," and it drives his every action up to the finale. Like Leland in the original, our time spent with Sarah in The Return focuses on her all-consuming grief, and the pain and suffering it causes her. Eventually, too, it's revealed that Sarah, like Leland, is possessed by an evil entity, although the revelation is more intuited than stated. In both series, the events happen because of Laura's will and self-determination. Cooper's arrival in Twin Peaks and the events around it happen because Laura made the choice to die than be possessed, and in The Return, Cooper only begins his journey to wholeness and mission to save the world because of the information Laura gives him, and her telling him he can leave now.
Laura's choice to die eventually leads to her father's freedom of possession by BOB. Could she have known, or sensed, somehow, that it would lead to Leland's death, an end to his emotional suffering, and even a chance for her to forgive him on the other side? It seems highly plausible that Laura would also want to end her mother's suffering through forgiveness, and saw a way to do it whilst saving Sarah's life, too. This, for me, says that, more than anything, Twin Peaks is a show about the Palmers, in the sense that everything the show is about is contained within them. Twin Peaks as a show about decaying American suburbia, and the emotional and mental anguish behind closed doors? The Palmers are the perfect example. Twin Peaks as a show about the damage and trauma caused by sexual abuse, and the "demons" inside created by the cycle of abuse? It's right there in the Palmers. Twin Peaks as a sci-fi fantasy show about an inter-dimensional struggle between the forces of good and evil? The Palmers, literally and metaphorically, are the physical and spiritual embodiments of those forces. And when David Lynch was considering a Twin Peaks revival, which family did he decide to catch up with first, recording a sit down discussion with them for The Missing Pieces? Oh yes—The Palmers.
In essence, Twin Peaks has always been about Laura, Leland, and Sarah. Sure, they're not always front and centre of the narrative, but it's the fate of their existence that drives everything, from Laura's murder first drawing us to the town, through the investigation into it and it's aftermath, and the long-term effects on Leland and Sarah. Emotionally, thematically, and mythologically, Twin Peaks is The Story of The Palmer Family.
About the Creator
Writer, confessed geek and pop culture enthusiast, loves film, TV and video games. Blogged and written for various websites on all the above.
Reader insights
Be the first to share your insights about this piece.
Add your insights