Treasure Island Review
Big Finish takes to the high seas in this adaptation of Robert Louis Stevenson's classic novel!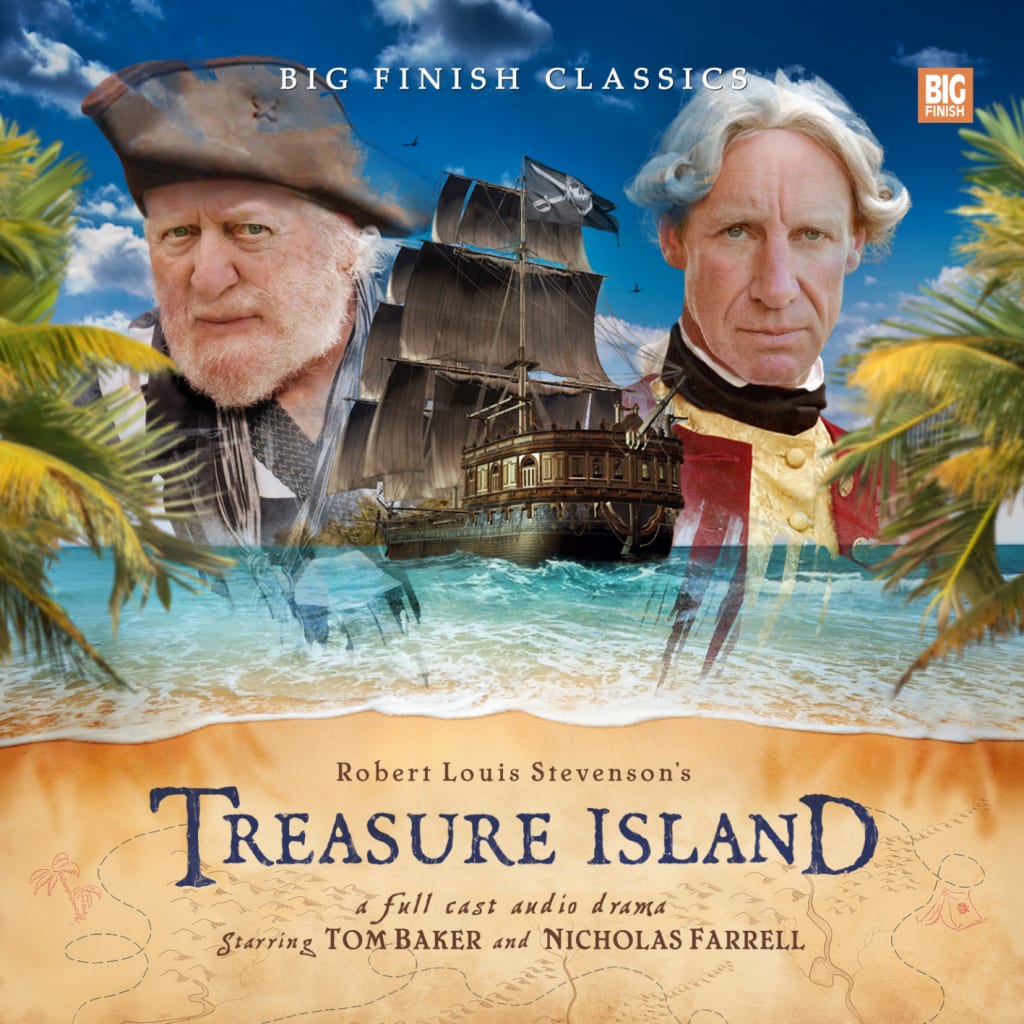 The CD cover for "Treasure Island", designed by Simon Holub.
For many people, Robert Louis Stevenson's "Treasure Island" is their first encounter with fictional pirates. It laid down the template for thousands of books, plays, radio dramas, TV shows, films and video games since, and has remained a perennial favourite with children and adults alike. So it was inevitable that, at some point, Big Finish Productions would attempt an adaptation for their Classics line. And, with Tom Baker in the notorious role of Long John Silver, it was inevitable that this was going to be a success. This is a fantastic production of the classic novel, sticking closely to the novel's roots as a ripping adventure yarn, with some fantastic performances from all involved, especially Baker as the treacherous pirate.
I shan't go into too much detail over the plot, because I think everyone has some kind of memory of it, whether it be conscious or not. But, to summaries briefly: when young Jim Hawkins finds a treasure map, he ends up setting sail in search of it with a bunch of motley crewmates: including the notorious pirate, Long John Silver... This new audio version sticks incredibly closely to the original novel, and, as such, this is very much the story you are expecting going in. Perhaps it's a little darker than most other adaptations (which I think have a tendency to slight glamorise the pirates, and water them down to make them nice and PG), but this fits with the original novel, and presents them as a genuine threat, as opposed to a number of extended jokes. It's easy to parody "Treasure Island": after all, it's something we all have experience of. But it is a lot harder to tell a straight adaptation without straying into cliché, and I think this adaptation manages it. It doesn't try to embellish the characters, or give them hugely deep backstories: it just gives them enough to tell the story and make you feel some kind of connection with the key players. The characters provide a lot of comedy: whether it be the eccentric Ben Gunn, or the bold and brash Squire Trelawney, and so when the darker moments come, they do hit that little bit harder. Its nice to have a Big Finish Classic that has a bit more comedy to it (between adaptations of the works of William Shakespeare, Gaston Leroux, Oscar Wilde and HG Wells, there isn't much room for comedy), but this release doesn't forget to strike the balance between the two to tell something really effective and really gripping, and all of this is down to the strength of the original novel, something which cannot be overstated in all of this.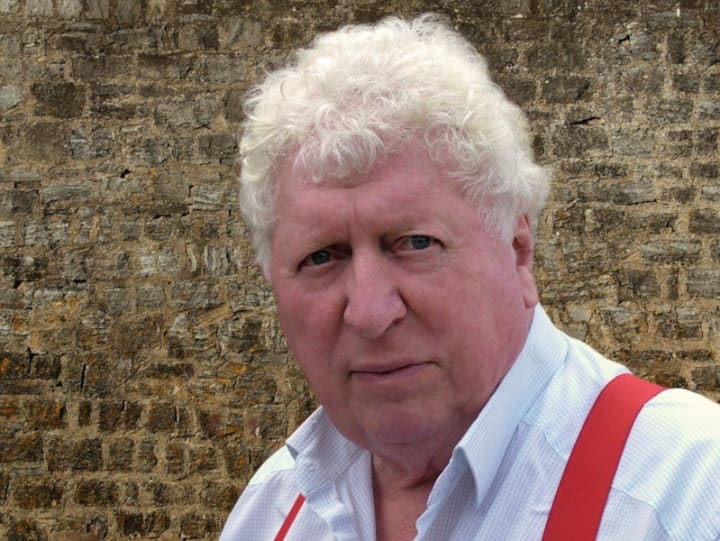 As I mentioned above, this is pretty much a straight adaptation of the novel, though Barnaby Edwards (who, as well as adapting this play for audio, directs as well) does add things to make it translate across to audio. One of the most notable things he adds is a framing sequence, involving Nicholas Farrell as the older Jim Hawkins, narrating the story to his son. This little trick helps to make it feel like we're having the story read to us, while making this conceit work as a dramatic device. It also helps that this story is being narrated by the brilliant Nicholas Farrell, who has such a warm, rich voice that is simply perfect for audio work. He invests the character of the older Jim Hawkins with a wonderful sense of pathos and wisdom, that contrasts well with Edward Holtom as the younger Jim. Holtom is wonderful: Barnaby Edwards made absolutely the right choice in casting him as our lead, as he fits the role of Jim like a glove. He's a wonderful leading actor, especially for someone so young, and he has a great technique on mic. Its a shame he appears to have quit acting in the years since this version of "Treasure Island" was released, because I think he has all the makings of a really strong leading man. His interplay with Tony Haygarth's Billy Bones, in particular, is a highlight of the first episode. While only appearing at the beginning of the play, he brings this mysterious old pirate to life with the right energy levels, and he brings some colour to the early scenes of the piece. The rest of the cast is a who's who of Big Finish regulars: Tony Millan, Gareth Armstrong, Nicholas' Pegg and Briggs, and Barnaby Edwards himself as Squire Trelawney, all of whom are experts at this medium, and know how to produce a great performance. But, without any shadow of a doubt, the standout is the legend that is (Sir) Tom Baker. He may not appear until a third of the way through the story, but, when he does appear, he commands the whole play right up until that final outrageous laugh. It's a marked contrast to his most famous role of the Fourth Doctor: he doesn't play Long John Silver like Doctor Who, instead bringing a whole range of different skills to the part. It's testament to his superb abilities as an actor that this doesn't jar in any way, and shows how just strong an actor he is, even away from the role that made him a global star.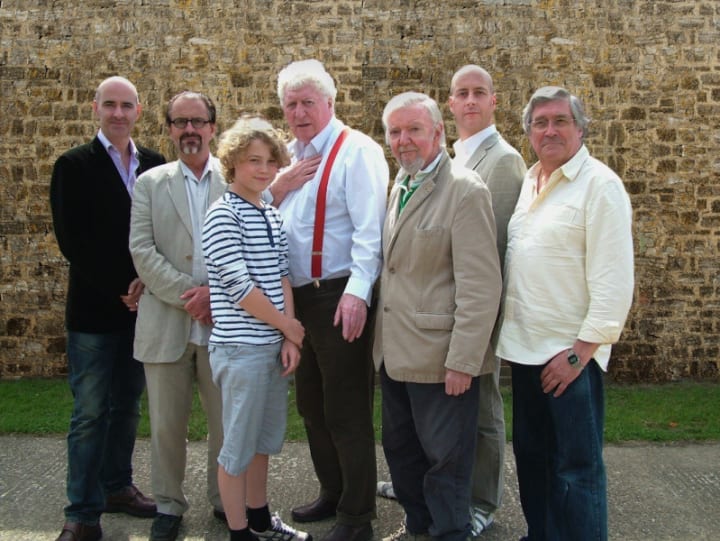 Finally, I'd like to commend the production on this release, which is, of course, of the high calibre we have come to expect from Big Finish Productions. Barnaby Edwards' direction is peerless: getting the absolute best performances out of his cast. He remains one of the best at Big Finish, because, not only can he assemble brilliant actors, but he knows how a production like this should sound, and how to make it sound utterly authentic to the period it hails from. This also extends to the music and sound design of Howard Carter, who brings this swashbuckling adventure to life with gusto and energy. There's a lot of soundscapes to bring to life in this adventure, and Carter captures each one precisely; from tropical islands to the windswept Cornish moors, he brings each one to life, and, in my opinion, it is some of the strongest sound design work in a Big Finish Production in the company's long history. His score for this release is equally fantastic, offering new spins on some classic pirate melodies, and adding an extra layer to the release. If you get the chance, I would recommend you listen to the music suite at the end of the behind-the-scenes extras on this disc, because it gives the listener a chance to enjoy the music in all its glory. Production wise, all the elements completely cohere to produce something truly special and wonderful, that deserves to be more widely recognised. For a company that produces top quality audio drama consistently, this is one of their absolutely finest productions.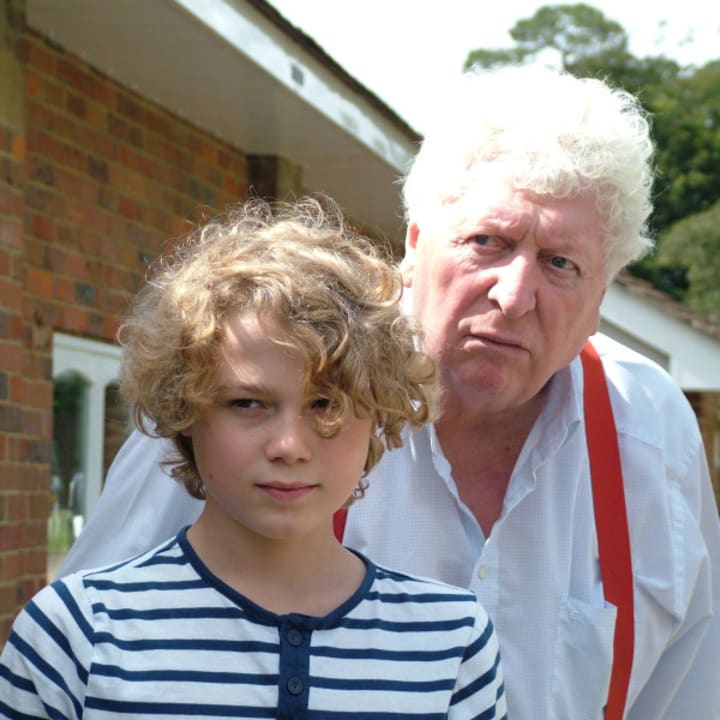 Overall, then, "Treasure Island" is a fantastic adaptation of a classic Stevenson novel. Sticking rigidly to the book helps this version to feel authentic to the original novel, and you feel immersed in the adventure thanks to pitch perfect performances and production work. While a lot of the Big Finish Classics can feel very dense due to their subject matter and the novels they adapt, this zips along with pace and energy, and feels very dynamic. I love "Treasure Island", and this version distills all that's great about the novel into two jam-packed hours. Pure perfection.
You can purchase "Treasure Island" as a digital download here: https://www.bigfinish.com/releases/v/treasure-island-838
All pictures copyright to Big Finish Productions. Thank you very much for reading.
review
About the author
25. Fan of Doctor Who, Blake's 7, The Prisoner and more old-fashioned TV. Reviewer, wannabe writer and general twit.
Reader insights
Be the first to share your insights about this piece.
Add your insights