'Toy Story 4' the Next Kid—A Non-Spoiler Review
A Sequel Worth Making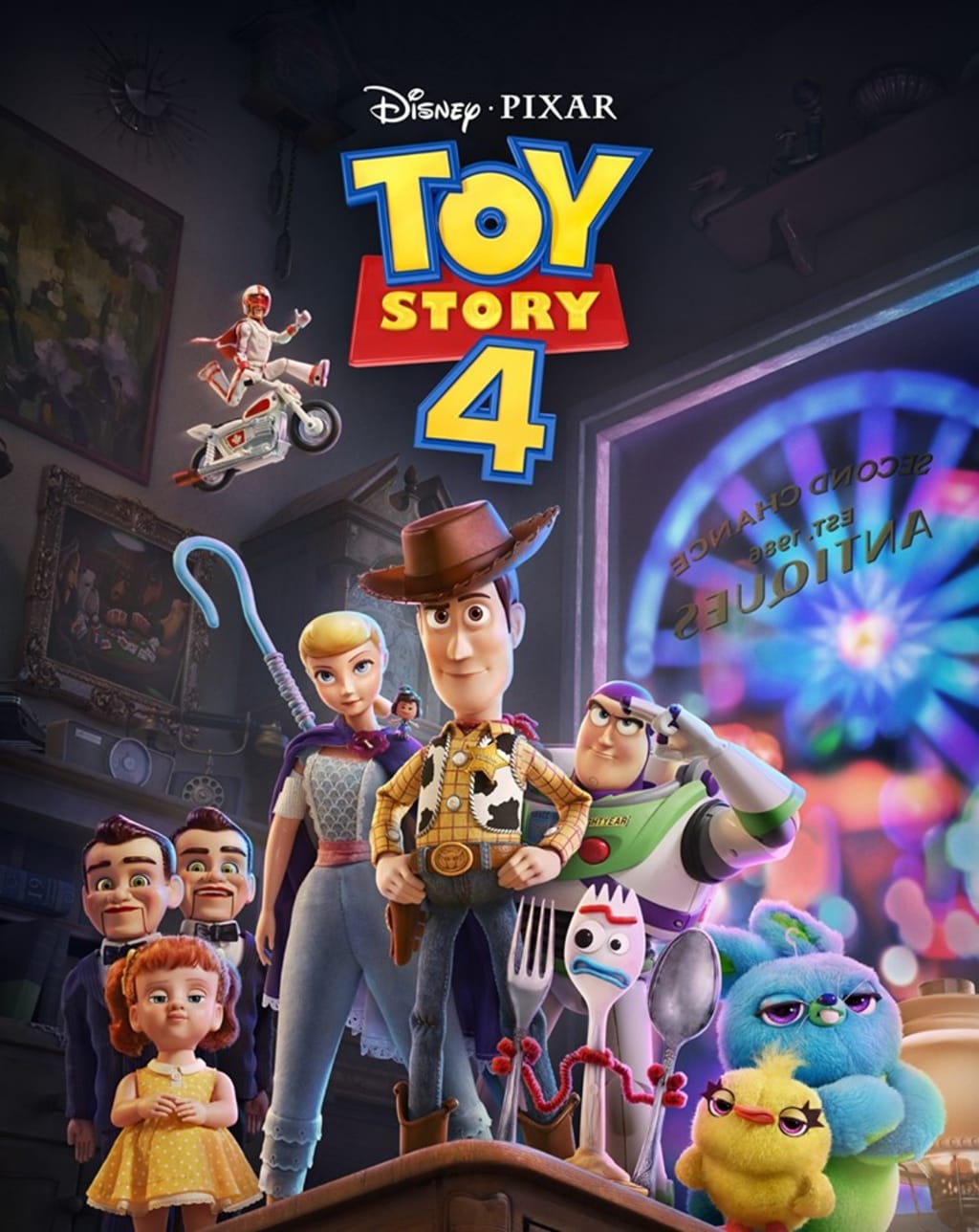 (Credit: Walt Disney Pictures / Pixar Animation Studios)
When it was officially announced four years ago that Toy Story 4 was in development, I was skeptical. Toy Story 3 felt like a perfect ending to the film series. We did get three shorts and two specials in the years that followed the release of Toy Story 3, and they were fun. But what more was there to tell that would warrant another film? Well now I can say that even though this movie did not feel as strong as Toy Story 3, it was a follow-up worth making. Here are my big takeaways from the movie, without any spoilers.
Bo Peep Feels More Real
I have said before in another article that Bo Peep has never been an interesting enough character to me, but that Toy Story 4 could change that. And it did. The movie provides closure that I did not even realize was needed. And it kind of enhances how I view the character's place in the world of the first couple of films. We see how she ends up where she is and how she has changed over the years. In the first film, her relationship with Woody felt inconsistent at times and lacked depth. In Toy Story 2, she has wise things to say, but the relationship angle is still kinda just there. In Toy Story 4, moreso than ever before, Bo Peep feels real. She has more personality. She is not just someone there to make someone else feel better. She has her own past struggles that inform the choices that she makes now. Her relationship with Woody feels very authentic here. They agree and disagree on certain things, leaving the audience wondering how this will play out by the end.
The Effects of Andy's Absence
Toy Story 3 closed the book pretty well on the toys' journey with Andy. Despite his absence from this film, we get to see Woody continue to deal with Andy being gone from his life. About a year or two after Toy Story 3, Woody is trying to figure out who he is without Andy. Bonnie plays with some of the toys, but not so much with Woody. Bonnie is a little kid, but it might rub people the wrong way how she does not really acknowledge Woody anymore, even after seeing Andy hesitate before giving Woody away, and asking Bonnie to take care of him. That scene feels different now, knowing how Bonnie ends up treating Woody. But Andy's line still rings true: "But the thing that makes Woody special is that he'll never give up on you, ever."
It is still in Woody's nature to keep the kid happy, which is why he makes watching Bonnie's new favorite toy Forky his number one priority (Forky himself can be grating at first, but I eventually warmed up to him). The audience gets to question whether he's doing this for Bonnie, for himself, or for both. Is he still the same character from the first movie? In some ways, yes. But he has grown in some regards. He feels like a parent trying to figure out who they are after their child has gone to college. And his attempts to remain relevant might also be perceived as a metaphor for the Toy Story movies themselves, trying to appease a new generation of kids. Throughout the movie, I kept thinking of a line from the beginning of the film, "It's time for the next kid." And maybe this is the time for a new Toy Story to entertain the next kids.
Buzz Feels A Bit... Off
For lack of a better term, Buzz feels a little... dumber. In previous films, he has had moments where he's done or said something silly. But it feels like he was dumbed down a bit to provide more laughs for the audience. This type of thing might be classified as Flanderization, and it can be detrimental for some characters. It feels as though Buzz is made to feel not so sure of himself to show that he does not quite have what it takes to be as good of a leader as Woody has been. While I would have liked for Buzz to have been more like he was in the other sequels, he still had heart and fulfilled a purpose in this film.
Some Characters Get Smaller Roles
To me, it feels like Andy's toys have less screentime. I got so used to all of them making various contributions in Toy Story 2 and 3 that this was a bit of a surprise. Even Bonnie's toys do not have that much screentime. All of these toys still have their roles to play, but it seems obvious that the creative team wanted to focus more on the Woody and Bo storyline, and give some newer toys their time in the spotlight. This is not necessarily a bad thing. As franchises continue, the stories evolve by featuring new characters. And I quite liked the parts that the new characters played. It is also worth mentioning that this change made me appreciate the shorts and specials even more, with Partysaurus Rex giving Rex the spotlight, and Toy Story That Time Forgot giving Trixie her own character arc (There's also a little reference to the Battlesaurs from the latter).
Verdict
Toy Story 4 shows that this franchise still has something to say. I will not get into the specifics yet, but a couple of moments toward the end of the movie had me tearing up. This movie made me feel, which is why I welcome it as an additional installment of this franchise. Plus, it doesn't hurt that the animation looks gorgeous. Scoring movies seems to be the thing to do in reviews, so here's my immediate reaction:
8.5/10—A really good movie that is worth seeing in the theater. So go see it and enjoy!