Top Amazon shows to watch during lockdown
All the binge worthy shows on Prime (moderate spoilers for some shows, and way to much discussion of the greatness of 'Community'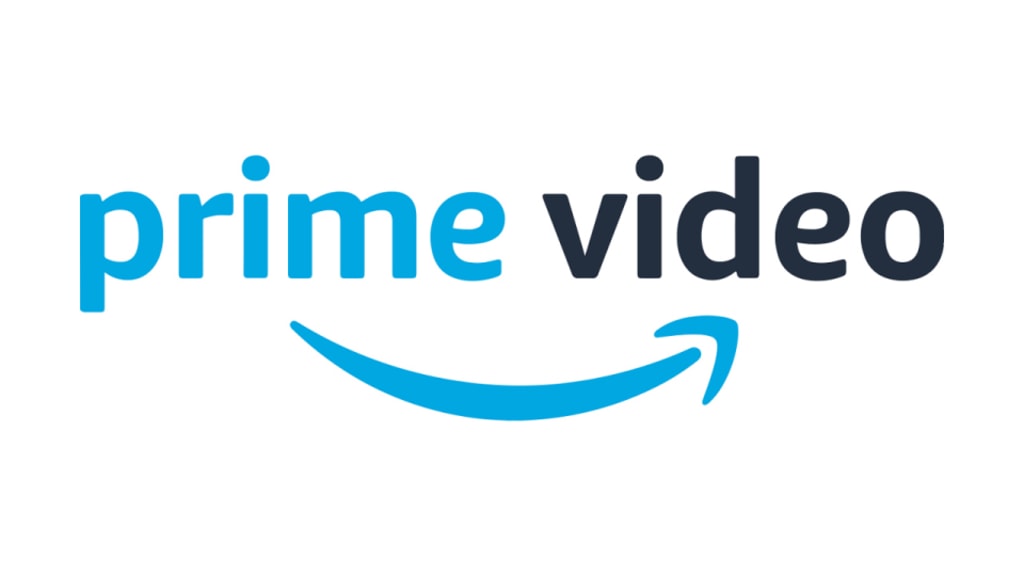 The Boys
Created by Garth Ennis & Eric Kripke
Starring Karl Urban, Jack Quaid, Anthony Starr, Erin Moriarty, Jesse T Usher, Laz Alonso, Chace Crawford, Tomer Capon, Karen Fukuhara & Elizabeth Shue.
Season 1 - 8 Episodes, Season 2 currently being edited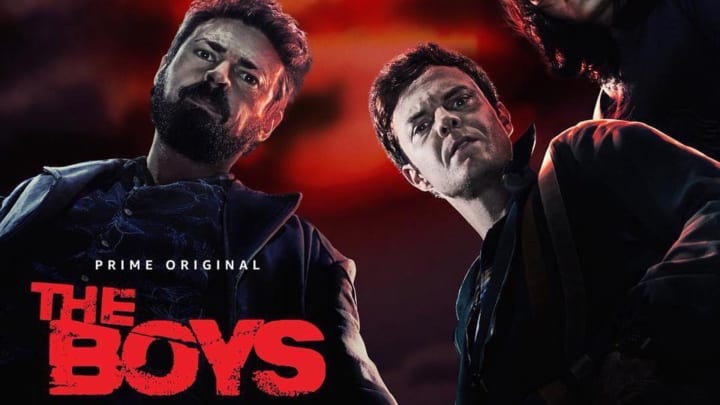 I've written extensively about 'The Boys' before, imagine if Superman was a coked up murderer behind closed doors but Mr America in front of the cameras? Imagine if superheroes were grown in a lab by the government and operated with immunity from collateral damage and outright murder. 'The Boys' follows Billy Butcher, a man determined to take down the largest superhero group 'The Seven' with a personal grudge against its leader 'Homelander'. Butcher recruits his own team to go after rogue superheroes and deliver his own brand of justice.
From 'Supernatural' creator Eric Kripke, 'The Boys' is the antitode to the PG 13 Marvel / DC superhero films, the show is massively explicit in its violence, sex and langaug, indeed Karl Urban must hold the record for the most C-bombs in a TV show! It never feels like a TV show with massive set pieces and action scenes with a largely unknown cast all delivering massively. Its hard to choose an MVP from season 1 with Karl Urbans 'Billy Butcher' chewing the scenery like a starving man, but it has to go to Anthony Star's terrifying 'Homelander' who is all charm and charisma mostly in public but as we see behind closed doors he is an unflinching deeply troubled psychopath.
The creators did a much better job of adapating the source material to the modern day (especially the 'me too' moments), than with Ennis's previous 'Preacher' adaptation. Here the changes to the original graphic novel actually improve on the source material and with many issues of the comic run to follow, there is a ton of material for future seasons. Indeed season 1's finale takes a massive diversion from the source material so it will be very interesting to see where the story is taken in Season 2.
Community
Created by Dan Harmon
Starring Joel McHale, Gillian Jacobs, Danny Pudi, Yvette Nicole Brown, Alison Brie, Donald Glover, Ken Jeong, Chevy Chase & Jim Rash
Six Seasons currently on Amazon Prime UK & Netflix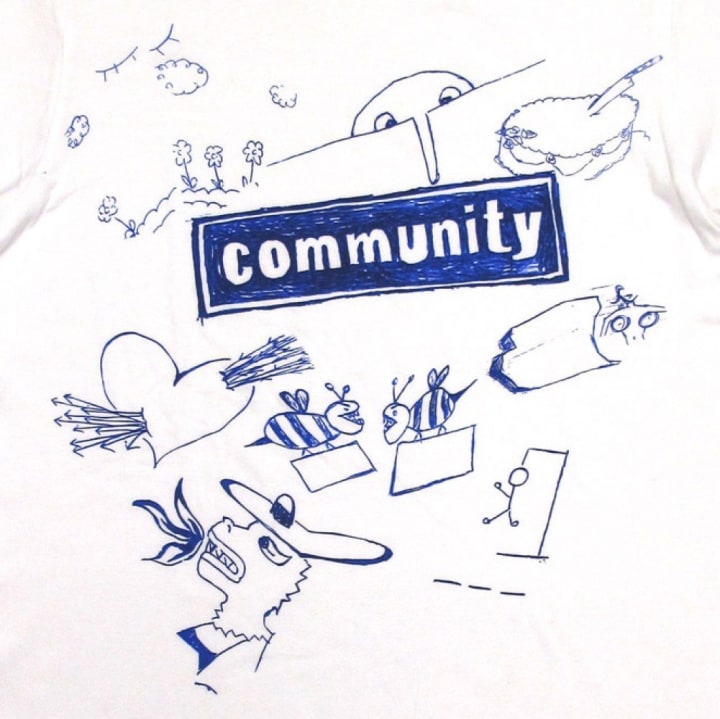 Community is one of my all time favourite sitcoms, I've rewatched it in its entirety at least five times and forced people to watch it metaphorically at gun point! Ths show was like 'Lost' in that the show makers told the network 'yeah we are making a regular sitcom' and as soon as it was on air and established they completely disassembled the sitcom format and came up with the most meta sitcom ever created.
Created by Dan Harmon pre Rick & Morty you can see the genesis of some of the ideas for that show in Community especially the alternate timelines episodes themselves a riff on when Star Trek did years ago. The talent behind the camera massviely helped the show with many of the best episodes directed by Joe & Anthony Russo of 'Civil War' & Infinity War', and it was their approach to getting cinematic quality on a budget and balancing a large ensemble cast that put them on Marvel's radar. Other noted directors were Justin Lin of many 'Fast & Furious' films and 'Star Trek:Beyond' & 'The IT Crowd's' Richard Ayoade.
The early episodes were slightly rough while the show found its feet, like most sitcoms it set up an early 'will they, won't they' relationship with two of the main characters Jeff (Joel Mchale) & Britta (Gillian Jacobs). If you had a check list of ages, ethnicities and religious backgrounds it looked like Community was trying to check all the boxes. However as the show developed it became quickly apparent that Community was its own beast, Harmon was happy to absolutely destroy all the tropes of the typical American sitcom with deeply textured characters who were much more than the stereotypes you see in the first few episodes.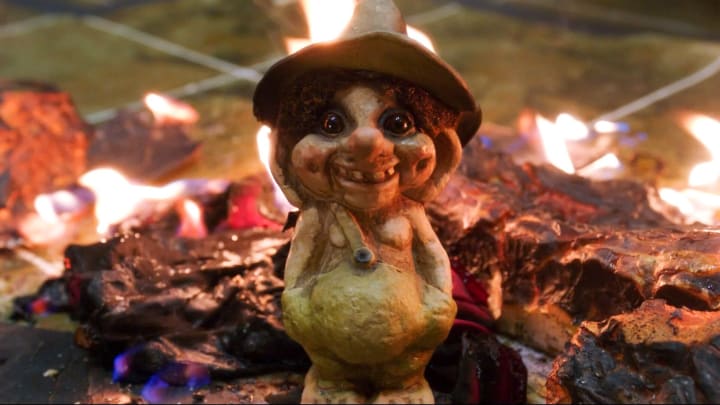 The established timeline of the show is that seasons 1-3 were brilliant, then creator Dan Harmon was fired from the show after clashing with his bosses, season 4 went ahead with new show runners and it was immediately clear that the show didn't work without Harmon steering the ship. Amongst fans it is known as the 'gas leak' season was they would ignore most of the events of season 4 in later seasons. Also it was around this time that 3 of the main cast members left the show with Chevy Chase, Donald Glover & Yvette Nicole Brown all leaving between seasons 3 & 4, Chase quit/was fired for clashing with Harmon and some alleged racist on set behaviour, Brown left to care fulltime for a sick family member and Glover left to start his own show (the critically acclaimed 'Atlanta') and further his rap career.
Harmon was then rehired after pressure from the cast on the studio and season 5 was widely acclaimed once again despite the major cast changes, and of couse after getting the show back on track NBC then cancelled it at the end of the season. Yahoo (remember them?) stepped in and comissioned a 6th series that would stream on its shortlived service Yahoo Screen, this was in the infancy of online streaming and despite another cast upheaval the future looked good for Community once again.
Which of course meant the show ended once again after season 6, this was allegedly due to in the increased fame much of the cast had gained and with their contracts being up there was speculation that Harmon didn't want to stand in the way of their future opportunities. Since then most of the cast have gone on to star in their own shows with Donald Glover (Atlanta), Gillain Jacobs (Love) & Alison Brie (G.L.O.W). Harmon has said that the shows fourth wall breaking mantra '6 seasons and a movie' still rings true and hopefully at some point in the future we will get the long awaited Community movie.
Halt & Catch Fire
Created by Christopher Cantwell & Christopher C Rogers
Starring Lee Pace, Scoot McNairy, Mackenzie Davis & Kerry Bishe
Seasons 1-4 currently on Amazon Prime. The show concluded in 2017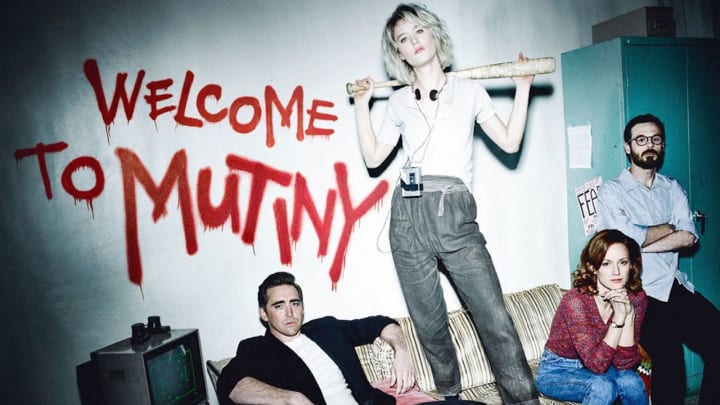 The story goes that AMC were looking for the next Mad Men and decided that this story of the devlopment of the home computing industy in the 1980's would be it, and I will freely admit that a tech heavy drama about old computers did not sound like it would hold my attention yet I've binged through most of the this shows 4 seasons in the last few weeks.
Season 1 starts with entrepenur Joe McMillan (Lee Pace) convincing low level computer engineer Gordon Clark (Scoot McNairy) to help him develop a new computer that will revolutionise the market. He also enlists the help of brilliant young programmer Cameron Howe (McKenzie Davis) and we also follow the plotline of Clark's disaffected wife Donna (Kerry Bishe).
As later seasons progressed the roles of Cameron & Donna were massively improved from their earlier season wife/girlfriend roles t and this greatly improved the narrative of the show with the female characters having their own storylines independent of Joe & Gordon. Season 2 & 3 would focus on Donna & Cameron launching their own company and season 4 would jump forward to dealing with the advent of the home internet.
Most of the actors were fairly unknown when the show began and although decent initial reviews the audience never really peaked past more than a million viewers, despite critics agreeing the quality of the show improved over the seasons the audience never did which is why the show end after season 4.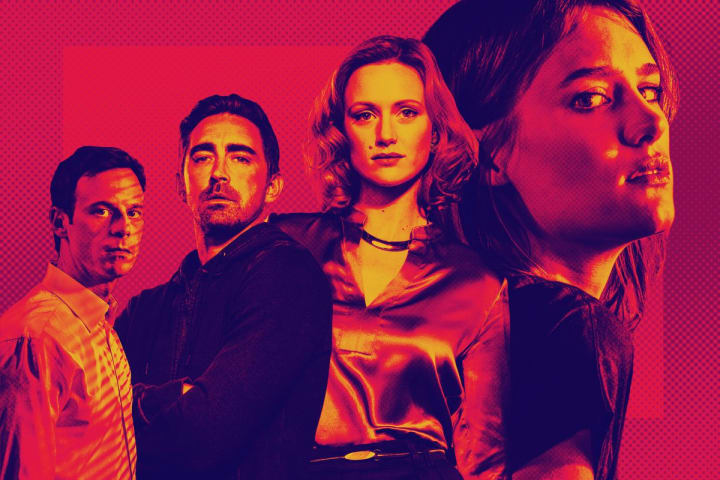 There were so many elements that made this show (which is esentially people talking about old tech in rooms) work though. Each of the four main characters had amazing arcs, Joe the consummate bullshitter channelling Patrick Bateman in the early seasons, a force of nature who will lie and cheat to get what he wants depsite having no technical skill. Gordon is a failed computer engineer who is stuck in mediocrity until Joe notices his skill and helps motivate/manipulate him into working together, as the seasons progress we see how the impact of more success affects Gordons family life and how that Joe is completely self destructive and always seems to self sabotage once he has achieved his goals.
Cameron begins as the punk programmer who is all anti authority and we see her struggle in her relationships with the other characters and her constant need to be in charge which causes her massive issues as her company gets bigger and she loses more control. Donna perhaps has the best character arc of anyone on the show, beginning in season 1 as the dutiful housewife whose only real storyline was to support her husbands endeavaours and almost have an affair with a co-worker. As season 2 started Donna works with Cameron at their start up company Mutiny and as we see there bond as two females in a male dominated industry goes through the wringer with Camerons insistence on doing things her way causing conflict with Donna's emergence as a successful businesswoman in her own right.
A special mention has to go out to the music editing in this show with most characters having their own genre of music, most obvious is Cameron with all her early 80's punk music such as The Clash, The Boys & Minor Threat. Oftentimes when Joe is onscreen it is early 80's electronica used, Bos the old Texan character has country music playing most of the time. Throughout the show the music choices are excellent and I highly recommend the 23 hour Spotify playlist that a fan has created. Also as a child of the 80s and a gamer myself it is great to see the birth of the games console industry and the production design attention to detail is amazing.
This is one show that should always be on those 'best shows you've never heard of' lists.
Star Trek:Picard
Created by Michael Chabon
Starring Patrick Stewart, Alison Pill, Isa Briones, Evan Evagora, Michelle Hurd, Santiago Cabrera & Harry Treadway.
Season 1 - 10 Episodes, Season 2 commisoned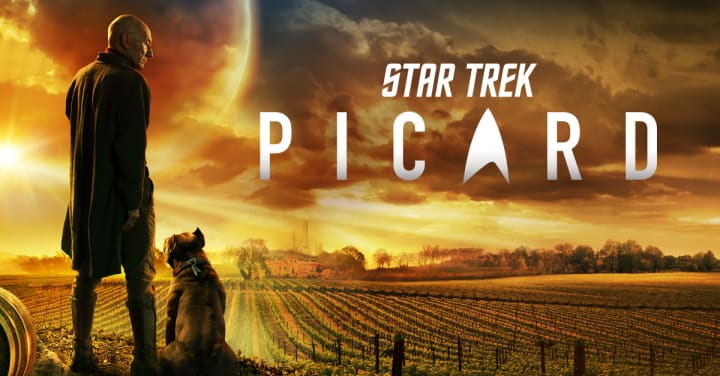 This show is a given if you are a fan of Star Trek and in particular The Next Generation, following from the events of the last TNG film 'Nemesis' (2002) and is set 20 years after the events of that film with Picard still dealing with the death of Data.
First of all this is an amazing show and you can see why Patrick Stewart was drawn back to play the role of Jean-Luc Picard after 18 years again. We learn that Picard was responsible for making a bad choice that led to him leaving Starfleet and that over the years he has become disillusioned with the Federation and he is quite happy living out his days on his family vineyard.
Without detailing the whole plot Picard has to help a young girl who may be connected to Data and a greater threat that once again the Federation has no interest in acknowledging, this leads to Picard putting together his own crew and asking some old friends for help.
This is easily the best looking Star Trek show ever made, with excellent cinematography and the right balance between the required action of a big sci fi show and the quieter more reflective moments as we see a man grapple with the mistakes of his past and the frailties of old age. For fans their are a ton of easter eggs from returning Star Trek universe characters as we get to see what has happened to their characters in the intervening years.
This is the most violent show in the Star Trek cannon with one episode's opening torture scene extremely visceral and with this being a streaming show no restrictions on langauge. I almost spat out my earl grey when Picard gets told to 'shut the fuck up Jean-Luc'.
There has been some controversy about how the season finale makes big changes to Picards character but there was very little chance they were going to end the show after one Season and kill Picard off if it proved to be successful.
Future Man
Created by Howard Overman, Kyle Hunter & Ariel Shaffir
Starrring Josh Hutcherson, Eliza Coupe & Derek Wilson
All 3 Seasons currently in Amazon Prime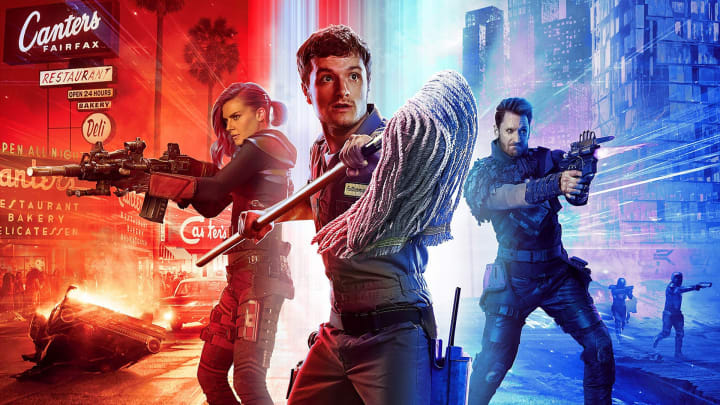 A janitor in a bio-tech lab Josh Flutterman (Hutcherson) is useless at everything in life except for his skill at a videogame Biotic Wars, when he becomes the first person to complete the game the games characters Tiger (Coupe) & Wolf (Wilson) appear and recruit Josh to travel through time with them to stop a real bio war that happens in the future. Of course to Tiger & Wolf the game is a recruiting tool and to Josh it's just a game, he is clearly not the fierce warrior leader they think he is.
This in turn leads to a show that is full of pop culuture nods to classics such as The Terminator films, Back To The Future & Bill & Teds Excellent Adventure. For the record before this film I could no stand Hutcherson as an actor, I'd only seem him be really crap (as a character and performance) in the Hunger Games films, however I think that innate crapness he had is exactly why he is perfect in this role. Sure he gets the occasional heroic moment but for the most part he is a bumbling idiot massively out of his depth.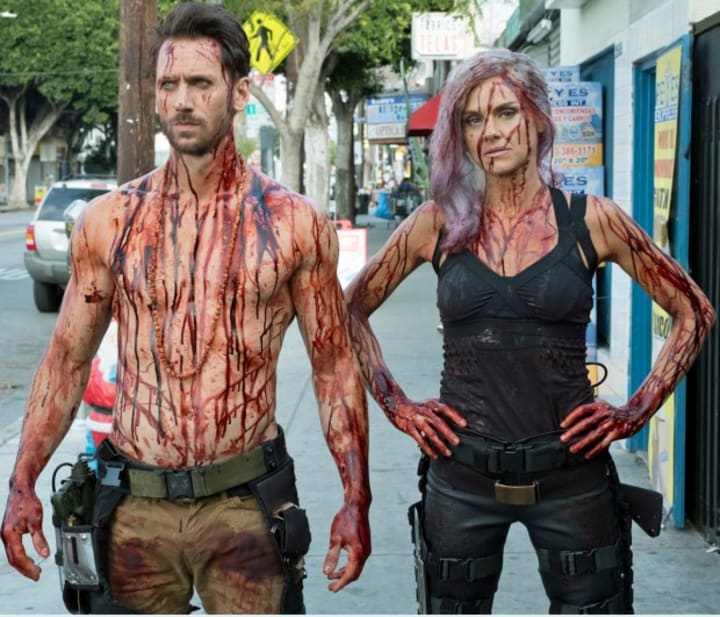 Season 1 blwos through trope after trope of the genre all while following its Terminator-esque plotline and its quite excellent, however season 2 and 3 don't live up to the highs of the first season even with the addition of Seth Rogen to the cast. What makes the show work is the great character work from Coupe & Wilson as Tiger & Wolf, an early first season highlight is Josh having to explain to Tiger why she can't kill babies! Wolf's 80's cocaine fueled celebrity cooking storylines really give Wilson a chance to flex his comic muscles.
The 2nd and 3rd seasons do not deliver like the first because the main storyline arcs are not as narratively propulsive the 'Biotic Wars' from season 1. Instead we get lost in alternate timelines which fundamentally changes what we liked about our main characters. Despite the failings of later seasons at its best it was still a brillaint entertaining if derivative show.
Vikings
Created by Michael Hirst
Starring Travis Fimmel, Kathyrn Winnick, Clive Standen, Gustaf Skarsgard, Alexander Ludwig, Georgia Hirst and many others
All six seasons on Amazon Prime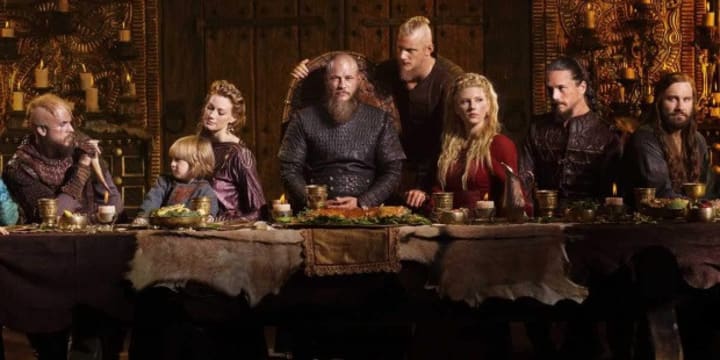 Vikings was the History Channels first ever scripted drama on a channel known only for documentaries till this point, filmed in Ireland its first season premiered in 2013. Initially derided by critics for its less than stellar acting and effects, it was largely seen by the media as a sub Game of Thrones rip off however it found its fanbase and was the History channels most succesful show of all time.
The first 4 seasons were inspired by the sagas of Viking Ragnar Lothbrok who rises from a simple farmer to a king of Scandanavia, as the shows succes grew so did its budget and the show really found its footing in seasons 2 and 3. Relying less on CGI and more on realsitic action scenes Vikings became a much better show, however it is advisable to not watch the show with someone who knows Norse history and legends as they can spoil the show!
Where the show was amazingly brave was with (Spoilers)
.
.
.
.
.
.
Season 4/5 where Ragnar met his destined fate and the series did a time jump and cast grown up versions of his children to carry on their stories. It was a big risk that paid off though with the psyhcotic performance of Alex Hogh Andersen as Ivar the Boneless. However for me personally the series is ending at the right time as so far the final season has not reached the levels of quality the earlier ones had, although we getting a sequel series 'Vikings:Valhalla' in development for Netflix.
The shows 6th and final season has jsut concluded its first part with the final ten episodes to come at a later point.
Braindead
Created by Robert & Michelle King
Starring Mary Elizabeth Winstead, Danny Pino, Aaron Trevit & Tony Shalhoub
Complete Season 1 on Amazon Prime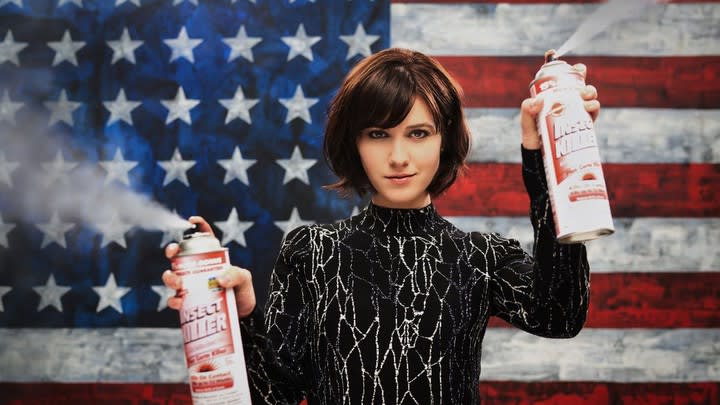 Braindead was a shortlived one season wonder that was cruelly cancelled before its time (2015) , if you can imagine a political comedt, drama, sci fi show, like a cross between The West Wing, Veep & Invasion of the Body Snatchers then this was the show for you.
Starring the always excellent Mary Elizabeth as Laurel Healy a documentary filmmaker who has to take a job working for her senator brother to fund her current documentary, she hates Washington and politics. As she gets more involved with the typical government deceptions she discovers an alien plot to take over Washington.
The irony is much of what has happened in the real world of politics in the last five years is crazier than what happened in the show and a Trump presidency was only a mere threat at that point. Tony Shalhoub steals every scene as Republican senator Red Wheatus who is one of the first politicians to be taken over by the aliens. The show should be praised for aiming high for something orignial and though it doesn't always get the tone right, to be fair it had a hard balancing act of mixing genres that normally would not mesh well anyway.
A special mention must go out to musician Jonathan Coulton who wrote and performed (from EP 2 onwards) a musical recap of the previous episode, these are amazingly entertaining, hilarious and fourth wall breaking at times. The first is below.
The showrunners had inintally conceived a four season arc with the aliens invading Wall Street next and dealing with finance, then Silicon Valley and the tech industry before ending up in Hollywood for its final season.
Mr Robot
Created by Sam Esmail
Starring Ramy Malek, Christian Slater, Charly Chaikin, Portia Doubleday, Grace Gummer, BD Wong & Martin Wallstrom

The show that made stars of Rami Malek and its creator Sam Esmail, Mr Robot is a techo- thriller initially about Elliot Alderson (Malek) a cyber security engineer who also has myriad of mental issues meaning from EP 1 he is an unreliable narrator for the story he is telling us. He begins to become a cyber vigilante and is recruited by a shadowy anarchist only known as Mr Robot to join of a team of hacktivists to target E (Evil) Corp one of the worlds biggest corporations.
David Finchers 'Fight Club' is a massive influence on this show thematically and narratively. Season 1 was widely critically acclaimed and it is a modern masterpiece of television, however for me season 2 didn't match its quality. It has happened many times in recent great genre shows that have an impressive first season, that the showrunners feel the need to spend most of the second season going back through events of the first season to almost say 'wow, look how clever we are'. This stalls the propulsive narrative of the earlier seasons and in some cases damages the great storytelling from the earlier season by explaining too much behind the mystery.
After a shaky (in my opinion) 2nd season, the show got back on track with its 3rd season with narrowing the focus on the show from the global to the more personal and concentrating on the elements that made the show great in the first place. If I'm vague on the plot. its because the show is sometimes not an easy watch, its a show that demands your attention and doesn't spoonfeed the viewer. The show has just concluded with its 4th and final season.
Heroes
Created by Tim Kring
Starring Santiago Cabrera, Jack Coleman, Tawny Cypress, Noah Gray-Cabey, Greg Grunberg, Ali Larter, Masi Oka, Hayden Panettiere, Adrian Pasdar, Milo Ventimiglia, David Anders, Kristen Bell, Robert Knepper & Zachary Quinto.
All 4 seasons currently on Prime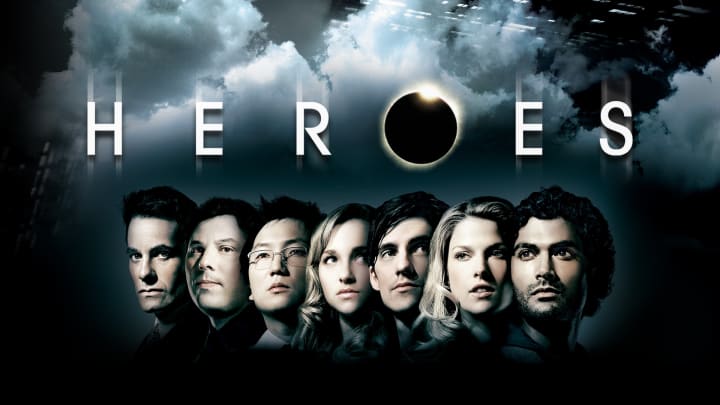 If ever a show was poised for greatness and then jumped the shark it was Heroes, a ratings juggernaut and massive critical success that was a show that had not captured the genre fans imaginations since Lost. Each episode generally focused on a new hero with emering powers each week and slowly built up our main villains and heroes into teams until a showdown in the finale. Standouts from season was Japanese comic book nerd Hiro Nakamura an office worker who gets the power to travel through time, Claire Bennett (Save the cheerleader save the world!) a teenager who is impervious to injury and her father Mr Bennett who covertly works for an evil organisation called 'The Company'
The biggest star from season 1 though was Zachary Quinto's character Sylar (Gabriel Gray) who is a superpowered serial killer that targets superpowered people then gains their powers by killing them. This sets up Sylar as the big bad for the season with the other characters teaming up to defeat him in the finale.
The show took a massive dive in quality and narrative coherence in season 2 as the inital plan had been to split the season into 3 chapters however he 2007-8 writers guild of America took its toll and the shows original plan was hastily changed. This meant new characters were introduced and suddnenly never seen again, and really bad writing was used to course correct the shows arc.
Also as per Tim Krings initial idea that the show would have a large revolving cast more new characters were introduced but the viewers began to drop as the fans wanted to see the stories from their favourite characters from season 1 continue not new stories and new (arugably, more poorly written) characters. This also meant bringing back Sylar (a fan favourite) but trying to redeem him and have him be on the heroes side, this led to more exploring of his backstory which further ruined his mystique as a character .
The 4th and final season introduced Prison Breaks Robert Knepper as Sameul Sullivan, a carnival leader who was the seasons main villian. I could go further into the plot, but I won't as by this point the ratings were even worse and yet the show still insisted in changing most of the cast each season. At this point the show was pretty terrible, it was hard to remember each week which character was good and which was evil, and then what powers each character had, there were more 'heel turns' than in professional wrestling and characters changed allegiance for the slightest, sometimes no reason whatsoever.
Somewhat surprisingly NBC ordered a Heroes reboot/sequel series 'Heroes Reborn' which aired in 2016, seven years after the orginal show was cancelled in 2009. Unfortunately despite the time to craft a good story for fans of the original and to right the wrongs of the final season,
The show was widely panned on its release with very low viewing figures and poor reviews. Tim Kring tried defending the show by saying that perhaps people didn't understand it was only to be a 13 episode miniseries and that fans seemed to be confused about when the show took place in the canon of the show.
After all that, if you have the time seek out Heroes season 1 as it was a brilliant show that had lots in common structurally with season 1 of Lost in giving each main character their own episode to explore their backstory, if your really bored watch season 2 and avoid the other seasons completely.
The Office (US Version)
Based on 'The Office' by Ricky Gervais & Stephen Merchant
Developed by Greg Daniels
Starring Stevel Carell, Rainn Wilson, John Krasinski, Jenner Fischerm BJ Novak, Melora Hardin, Angela Kinsey, Kate Flannery, Oscar Nunez, Phyllis Smith, Ed Helms, Mindy Kaling, Ellie Kemper, Zach Woods, Amy Ryan, James Spader & Catherine Tate.
9 seasons all on Amazon Prime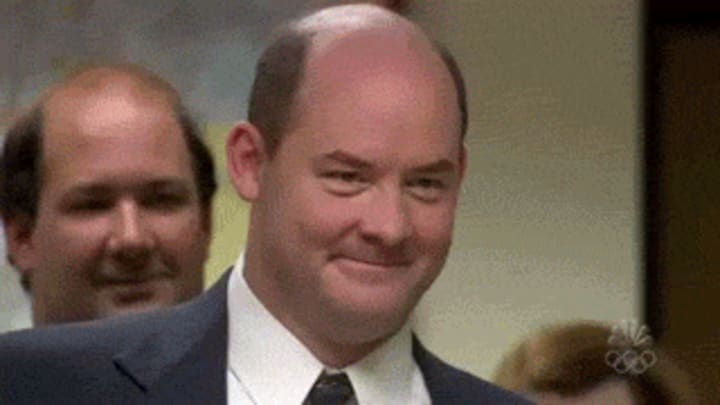 Once villifed in my native England for claiming that the US version of 'The Office' was better than the beloved original version, I think now many can agree I was right! The US version is the better show and thats in no small part to showrunner Greg Daniels, since the show ended Daniels has gone on to produce the amazing 'Parks & Recreation' originally planned as a spinoff show and has the upcoming Netflix show 'Spaceforce' once again teaming with Steve Carell.
Also a big part of my reasoning was the amount of episodes, the original version only had 14 epiosdes over 2 seasons and christmas specials, the US version ended its run with 201 episodes over 9 seasons. These added episodes meant every character got expanded backstory and over the years the show aired fans came to care for the characters, it also meant the US version rushed through pretty much all the UK storylines by the midpoint of its first season and once it was free to be its own creation and not narratively tied to the UK version the show arguably became one of the best sitcoms at the time.
Another reason was Steve Carells character of Micahel Scott although cringeworthy and embarrassing was much more likeable than Gervais's David Brent and Carell became the star of the show but unfortunately left the show after season 7 due a contract dispute with NBC. Allegedly the network thought the show was big enough to survive Carell's depature (and no doubt wages) and they did not renew his contract. The show ran for another two seasons with a mixed reception, ratings went down and the critics said the quality of the show was not what had been but many still agreed it was still better than many of its contemporaries at the same time.
Ed Helms had joined the cast in season 3 and other the seasons saw his role increase, also after the success of 'The Hangover' films, Helms became an eventual replacement for Carell's character as one of the new bosses. However over the years (due to various cicrumstances) we had many different interim bosses such as Will Ferrell's Deangelo Vickers, James Spaders Robert California, Catheine Tates Nellie Bertram before the final episode ends with Rainn Wilsons Dwight Schrute finally getting the big chair.
What made the show so great was that the characters matured and grew up as the years went on and we got to follow them on that journey. The Office easily ranks as one of the best sitcoms of all time...and yes it is better than the original.
Right, thanks for reading!
list
About the author
Reader insights
Be the first to share your insights about this piece.
Add your insights