Top 5 Movies in the State of Iowa
What are the best movies set in Iowa or where the state made a cameo?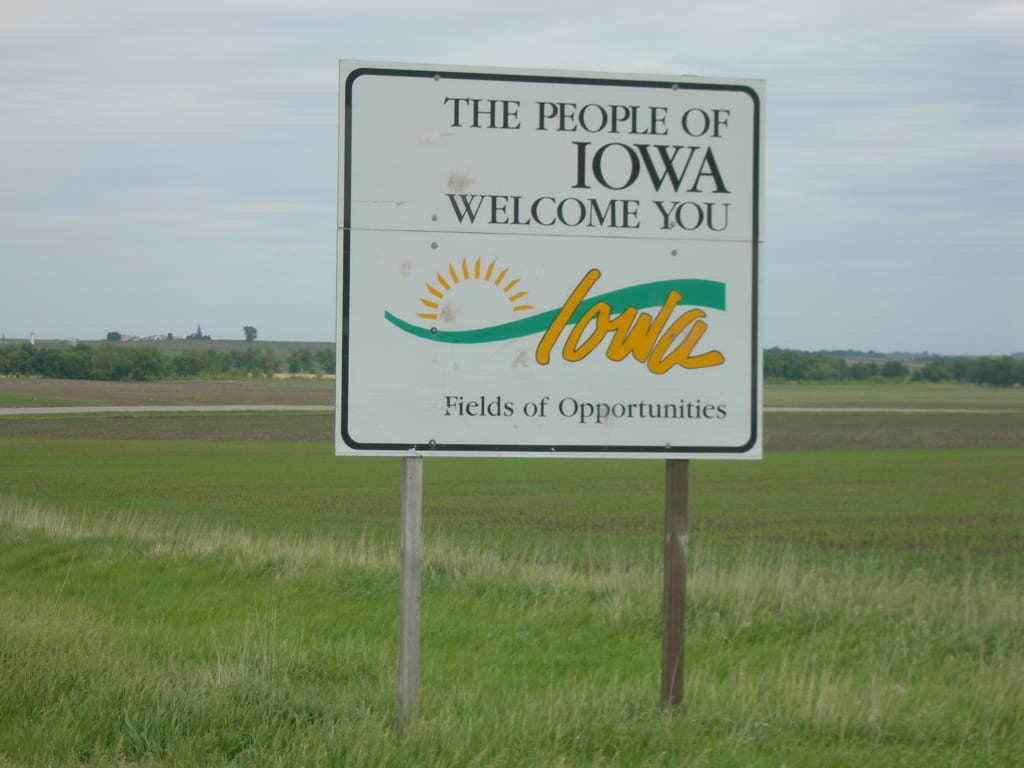 Being from Iowa, I am used to having my home state overlooked by Hollywood. Iowa is literally the center of so-called 'Fly-over Country.' It's a state many in Hollywood can't even locate on a map so, naturally, making movies in Iowa isn't a priority. That said, there have been dozens of feature films set in the state of Iowa and some of those movies are pretty good. Here is my Top 5 Countdowns of movies set in Iowa.
Before we move into the list, a brief caveat, not all of these movies are set fully in Iowa, they feature scenes in the state of Iowa and I'm counting that so I can talk about a couple of cool movies, if you want to be overly pedantic and obnoxious, go ahead, I couldn't stop if I wanted to. Movies that I decided not to feature on this list include Bonnie & Clyde which I know many people consider a classic, but I don't love it. Also Cedar Rapids starring Ed Helms a delightfully funny movie but not on this list. Star Trek, the modern, Chris Pine version starts with James T Kirk in his hometown of Riverside, Iowa. Good movie, not on this list. And, one that just missed making this list is the baseball drama Sugar set minutes from my former home in Davenport, Iowa. It was left off for reasons that will become clear when you read the #5 entry on this list. Sugar is a spiritual number 6 on this Top 5.
(Oh, and Green Book has a scene set in Iowa and won Best Picture, but I HATE Green Book, so there.)
5. 16 to Life - This is a very left field choice and also a very personal one. I saw 16 to Life on assignment from my radio job at the time and I met the writer-director of 16 to Life, Becky Smith who was incredibly charming and fun to chat with. Her likability translates into the movie which stars Hailee Hirsch as Kate, a precocious teenager living in Iowa and working at a malt Shoppe. Kate is thoughtful, funny, and whip smart and helps her co-workers and friends with their problems all while wrestling with her own insecurities over not having been kissed, a personal milestone she's eager to accomplish but too shy to be forward about. It's a sweet story and well told with a knack for the kind of quirky, small town detail you can't get in a typical Hollywood movie. The film was shot in McGregor, Iowa, a Mississippi River town near the Iowa/Wisconsin border.
4. Carol - Okay, the 2015 Academy Award nominated drama Carol starring Cate Blanchett and Rooney Mara is not set in the state of Iowa, per se. Rather, Carol has one important to the plot set piece in the state of Iowa. As Carol and her young lover, Therese, are on a road trip to escape from the prying eyes of Carol's soon to be ex-husband, they arrive and stay at a hotel in Waterloo, Iowa. Here they make love for the first time and in the morning Therese asks Carol what city they are in. Carol replies "Waterloo, isn't it awful?" This may or may not be Carol dragging Waterloo, Iowa, but most see a different meaning. For those unaware, Waterloo is also the name of a city in France where famed dictator Napoleon had a last stand. Waterloo thus became synonymous with making a last stand and with Carol battling her husband Harge, even as she is currently in retreat from that battle, Waterloo has a bitter irony in its name.
3. The Crazies - Back to movies actually set and taking place in the state of Iowa, Breck Eisner's The Crazies sets its scene in the fictional town of Ogden Marsh, Iowa. This version of The Crazies is remake of a 1973 George Romero movie which was set in a small town in Pennsylvania. Eisner specifically chose to set his version of The Crazies in Iowa because the bucolic setting provided a perfect backdrop and contrast to the zombie apocalypse. Normally when Iowa appears on a map of an outbreak in the movies, it's the last place to be overtaken by whatever apocalyptic event is occurring. It's nice to see Iowa go first in The Crazies and put up a good fight before being completely annihilated.
2. Kingpin - The Farrelly Brothers Kingpin, like The Crazies, uses Iowa as something symbolic of bucolic innocence. Only a handful of scenes are set in Iowa but, heroic bowler and star Roy Munson, played by Woody Harrelson, made the most of his time in Iowa, making a name for himself as the Iowa State Bowling Champion. Roy's innocent beginning as a small town farm boy to his debauched resurgence in the world of professional bowling as the manager of yet another backwoods innocent, Randy Quaid's Ishmael, is a terrific story and using Iowa's small-town reputation as a hub of Midwestern innocence and morality to underline that point is a terrific use of the state as symbolism. Kingpin is a wildly funny and raunchy comedy that is remembered fondly as one of the better comedies of the Farrelly Brothers checkered career.
1. Field of Dreams - You had to know that Field of Dreams was going to be number 1, didn't you? The state actually adopted a line from the movie as a motto, It's Not Heaven, it's Iowa. Kevin Costner's paean to the innocent pleasures of baseball and hippie mythology, is one of the best baseball movies of all time and one of the great father-son stories of all time, or at least one of the most memorable. The heart on it's sleeve drama of Field of Dreams epitomizes so much of how the state of Iowa, its citizens, like to view themselves, compassionate, imaginative, and filled with corn.
list
About the author
Hello, my name is Sean Patrick He/Him, and I am a film critic and podcast host for Everyone's a Critic Movie Review Podcast. I am a voting member of the Broadcast Film Critics Association, the group behind the annual Critics Choice Awards.
Reader insights
Be the first to share your insights about this piece.
Add your insights