Top 11 Hamilton Moments
The Most Memorable and meaningful lines to sing and rap to!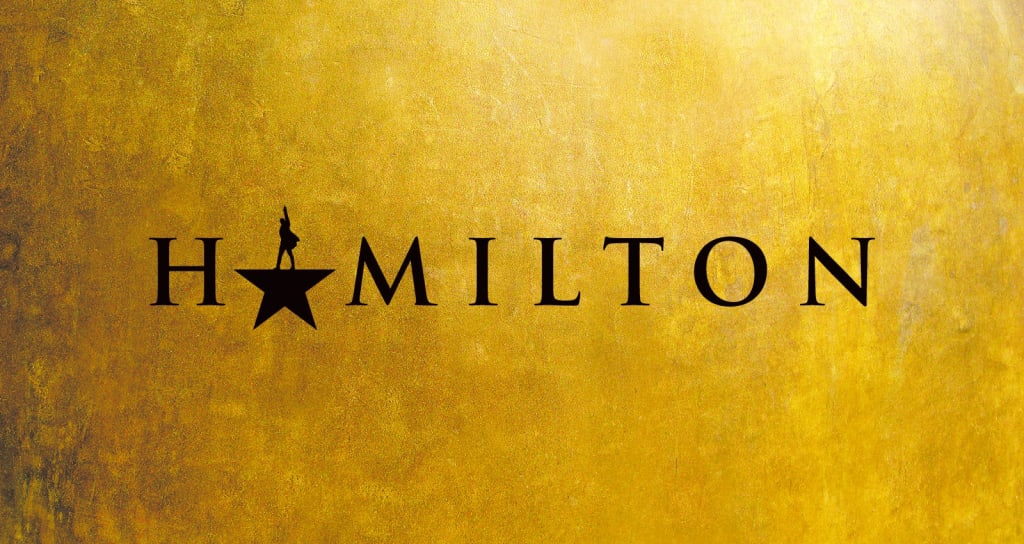 Courtesy of Denver Centre for Performing Arts
When Disney+ dropped earlier this year, people were exposed to such a plethora of new material that hadn't been accessible anywhere before. The best of which (in my opinion) was the Broadway recording of Lin-Manuel Miranda's phenomenal hit, Hamilton.
The story follows the eponymous Alexander Hamilton from his stark beginnings as a poverty stricken but determined and ambitious youngster to a man who 'rises up' into the aristocracy, before an early death at the hands of his friend turned enemy, Aaron Burr.
It took me a couple of months to fully get my head (and tongue) around the speed of the lyrics and here is the list of the top 11 meaningful parts of Hamilton (that are also the best to sing/rap along to)
11) King George isn't seen often in Hamilton, but when he is, he definitely makes an impact! Here he is talking about America's decision to keep changing the person in charge (because of course royalty doesn't do that)
They say, George Washington's yielding his power and stepping away.
Is that true? I wasn't aware that was something a person could do.
I'm perplexed, are they going to keep on replacing whoever's in charge?
If so, who's next? There's nobody else in their "country"who looms quite as large..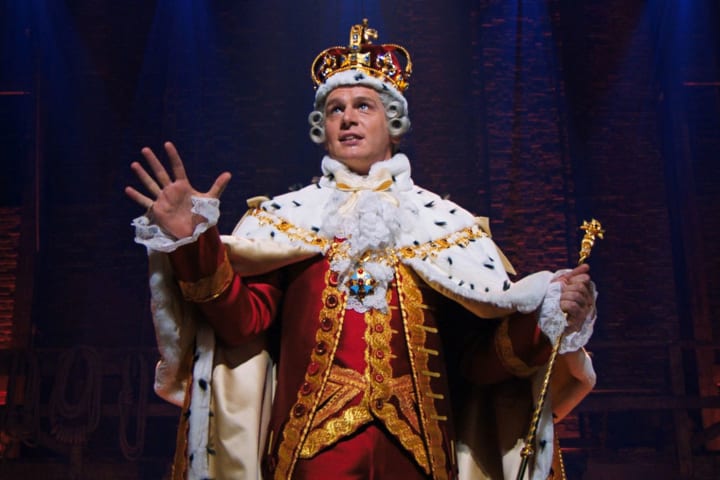 10) This first lyric is from one of only two solo songs sang by Eliza. This song shows the anguish and heartbreak of finding out the love of your life has not only cheated, but told the whole world about it, all because he wanted to clear his name.
I'm erasing myself from the narrative, let future historians wonder how Eliza reacted, when you broke her heart...
The world has no right to my heart, the world has no place in our bed, they don't get to know what I said, I'm burning the memories, burning the letters that might have redeemed you. You forfeit all rights to my heart, you forfeit the place in our bed, you sleep in your office instead, with only the memories of when you were mine! I hope that you burn.
9) Near the end of the musical, Aaron Burr comes to terms with his rash decision to challenge and kill Alexander, all because he couldn't see there was room for both of them in government and it shows you can co-exist and be civil to your enemies, rather than getting rid of them.
I survived, but I paid for it. Now I'm the villain in your history, I was too young and blind to see, I should've known, I should've known the world was wide enough for both Hamilton and me.
8) Eliza, who reinstates herself and closes the show, reflects on her choices and decides to become a voice in her own right, rather than in the shadow of her late husband. She not only collects and accumulates evidence of Alexander's life, but she also opens the first private orphanage in New York City, good going Eliza.
I put myself back in the narrative, I stop wasting time on tears,
I live another 50 years, It's not enough.
I interview every soldier who fought by your side, (She tells our story), I try to make sense of your thousands of pages of writings, you really do write like you're running out of time.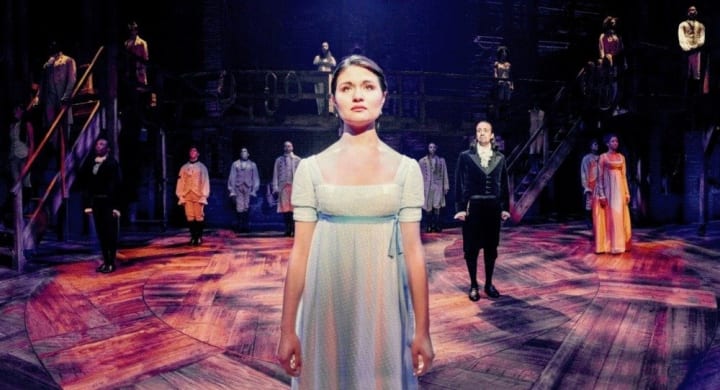 7) The next part could be the whole of 'Wait for It' as it is such a strong song full of reasons why Burr is the way he is. Especially this part about his heritage, makes you think why he wanted to do the right all the time.
My grandfather was a fire and brimstone preacher. (Preacher, Preacher, Preacher) But there are things that the Homilies and hymns won't teach ya. (Teach ya, Teach ya, Teach ya) My mother was a genius (Genius) My father commanded respect (Respect, Respect) When they died they left no instructions, just a legacy to protect.
6) Certainly not the last we'll see of Lafayette in this list. He has some of the best lines (and the quickest) in the whole musical. Without Lafayette rapping so fast, the whole musical would be an extra 2 hours long! Imagine that.
Ah oui oui, mon ami, je m'appelle Lafayette! The Lancelot of the revolutionary set! I came from afar just to say "Bonsoir!" Tell the king, "Casse-toi!" Who's the best? C'est moi!
5) These next two are from the same song (so technically there's 11 in this list)... but it needs to be done, as Lafayette is doing what he does best and kicking butt in this song.
Part 1) Yo, turns out we have a secret weapon. An immigrant, you know and love, who's unafraid to step in. He's constantly confusin', confoundin' the British henchmen. Ev'ryone give it up for America's favorite fighting Frenchman!
Part 2) I'm takin' this horse by the reins makin' Redcoats redder with bloodstains
Lafayette! And I'm never gonna stop until I make 'em drop and burn 'em up and scatter their remains, I'm Lafayette!
Watch me engagin' em! Escapin' em! Enragin' em!
I'm- Lafayette!
I go to France for more funds. Lafayette!
I come back with more guns and ships...
4) The opening lines of the musical creates intrigue as to who Alexander Hamilton is and where he started from. It gives the audience important clues into what will happen to our titular character in his life.
'How does a bastard, orphan, son of a whore and a Scotsman, dropped in the middle of a forgotten. Spot in the Caribbean by Providence, impoverished, in squalor. Grow up to be a hero and a scholar?'
3) The second half of 'Aaron Burr, Sir' could have made it into this list, however, the part where Laurens, Mulligan and Lafayette introduce themselves is just simply fantastic. We've already heard from Lafayette, so let's hear from the other two!
Showtime! Showtime! Yo! I'm John Laurens in the place to be! Two pints o' Sam Adams, but I'm workin' on three! Those redcoats don't want it with me, 'Cause I will pop chick-a pop these cops till I'm free!
Brrrah, brraaah! I am Hercules Mulligan, Up in it, lovin' it, yes I heard ya mother said "Come again?" (Ayy) Lock up ya daughters and horses, of course, it's hard to have intercourse over four sets of corsets (Wow) No more sex, pour me another brew, son! Let's raise a couple more... To the revolution!
2) One of my favourite songs (Satisfied) shows the inner conflict between Angelica's responsibility as her father's eldest child and her heart's ache to marry for love instead of money. Again, the whole song could be here, but I had to narrow it down to reason number one why she can't marry Alexander.
'Number one, I'm a girl in a world in which my only job is to marry rich, My father has no sons so I'm the one who has to social climb for one. So I'm the oldest and the wittiest and the gossip in New York City is insidious And Alexander is penniless. Ha! That doesn't mean I want him any less.'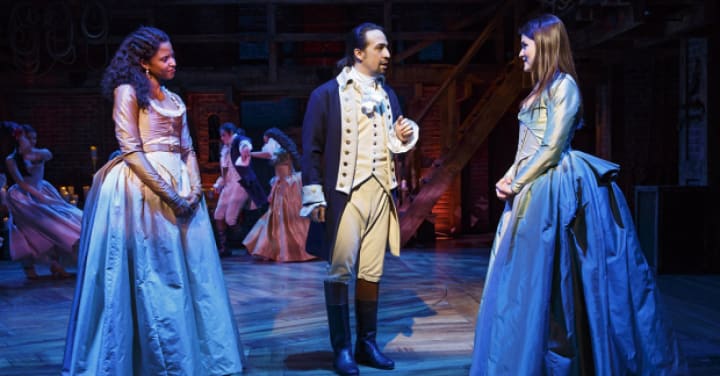 1) Not the most polite of lines of course, however, from 'Washington on Your Side' this line is the climax to the song (and sounds even better if you shout it) proving that the government can be changed, regardless of if Washington is on your side!
Southern motherf*cking Democratic-Republicans!'
Now please go and watch Hamilton and see how many more of your favourite moments you'd add to the list!

Freya Taylor
A proud Ravenclaw who happens to teach by day and who aspires to write, create and travel around the world. Lover of all things Harry Potter, The Lord of the Rings and ancient history (especially ancient Egypt).
See all posts by Freya Taylor →