Top 10 Celebrities with TERRIBLE Plastic Surgery
There are a lot of celebrities with terrible plastic surgery out there... how much money ended up going to waste?
They went under the knife and under the scrutiny of public opinion. Join WatchMojo.com as we count down our picks for the "Top 10 Celebrities with the Worst Plastic Surgery."
For this list, we're excluding celebrities that improved their look with surgery a la Renee Zellweger, and we're also excluding individuals like Jocelyn Wildenstein that are famous ONLY for their devastating procedures.
#10: Meg Ryan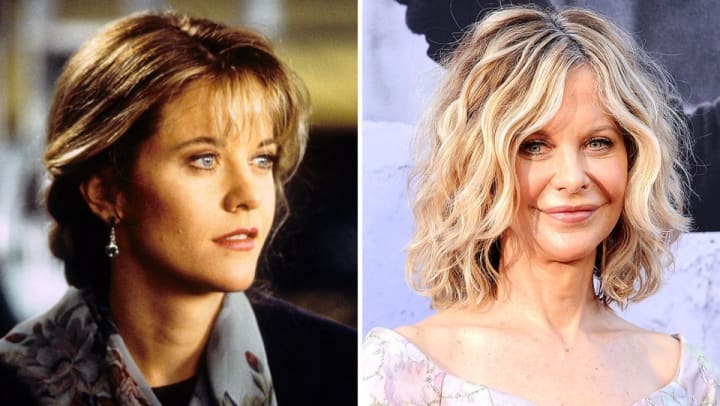 Once the sweet darling of 80s and 90s romcoms, Meg Ryan's appearance was given an overhaul sometime during the 2000s—mainly by puffing up her famously firm lips. Given the fact that Meg Ryan hasn't exactly been landing the most notable of roles these days; it begs the question why would she make herself look like one of the Real Housewives? She's an American sweetheart of cinema, but as we all know, Hollywood and fame can take a toll on starlets. Perhaps Meg IS content with her new look, BUT she forever changed that natural physical grace that we all came to love.
#9: Lara Flynn Boyle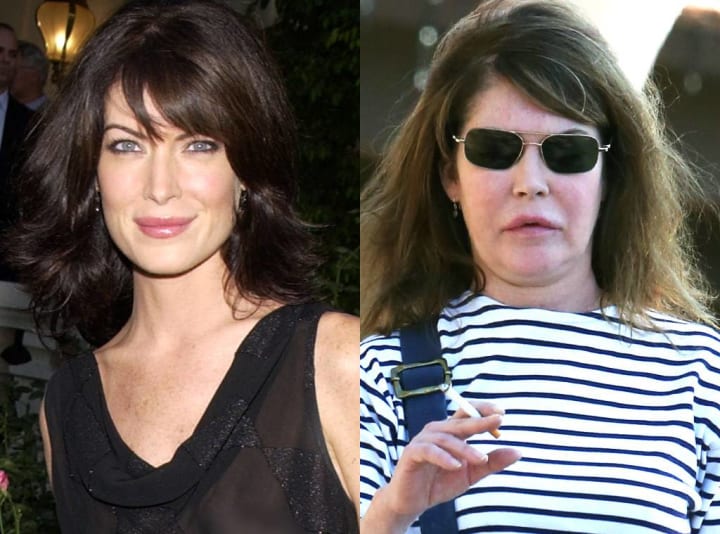 She made her film debut in 1988's Poltergeist III and soon after starred in David Lynch's Twin Peaks, but it was on ABC's ThePractice where Lara Flynn Boyle became a household name. However it's no stretch to say that she's become straight-up unrecognizable after all the work that's been put into her face. As with Meg Ryan, Lara's gone with a Real Housewife look that robs her of the uniqueness that made her a standout. Only the worst photos seem to float around the Internet, but it's proof as to how subpar plastic surgery can make a star totally unrecognizable.
#8: Tara Reid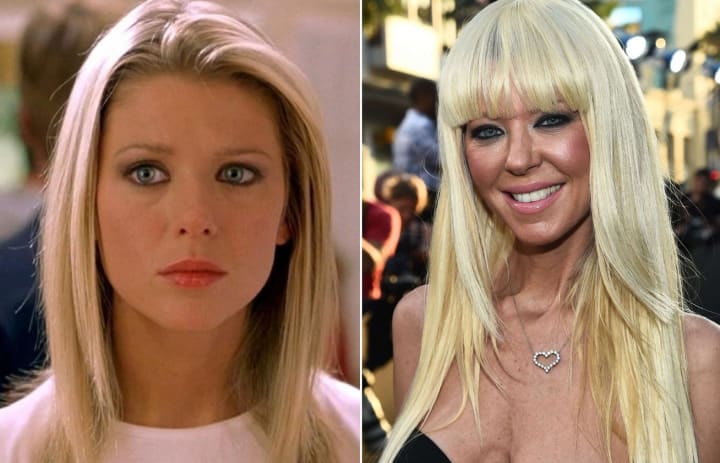 First arriving at fame through roles such as Bunny Lebowski in the Coen Brothers' cult classic and Vicky Lathum in American Pie, Tara Reid seemed to be going places in the late 90s. Then along came her plastic surgeon, The Big Botchjobski. It all began with the infamous nip slip, which revealed a tiny bit of work on Tara Reid's breasts, and she's actually been on record about her quest to level out her lopsided ta-tas. But then a tummy liposuction fail was followed by a "doughnut mastopexy" to try and Ctrl-Z the situations... Still, the cosmetic-cockups haven't fazed the good people behind the Sharknado series one bit!
#7: Mickey Rourke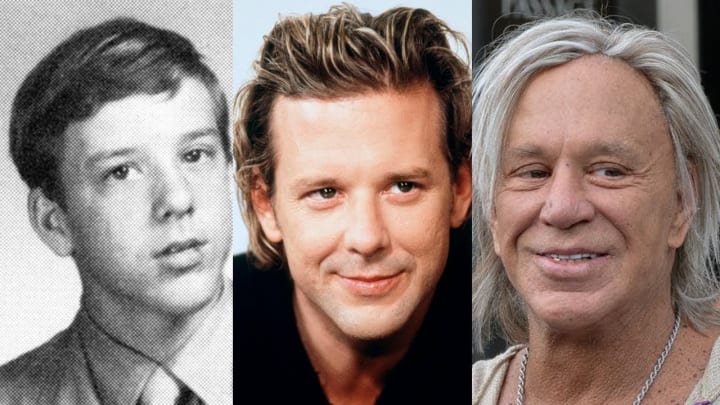 When you're the preeminent badboy of 80s cinema, just ride it out, man. Even then, it only took one look at Mickey Rourke to know that he hadn't exactly been left in his original packaging. A former boxer, it was never hard to accept Rourke as a tough guy, but surviving the biz has seemingly led him to believe he's still that young tough guy—even if nature and the calendar say otherwise. To that end, Rourke has chased an endless array of bizarre styles and a butt-ton of Botox in recent years. He may look haggard, but rugged? Not so much.
Courtney Cox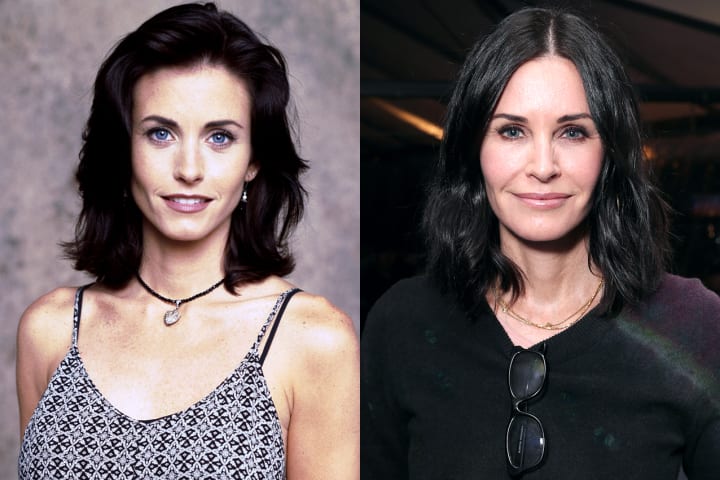 With all due respect to 90s-era Jennifer Aniston, one could make the argument that Monica Geller was the sexiest of the female Friends. Courteney Cox has managed to put together quite the impressive TV resume with her leading role on Cougar Town, but it seems that she's taken a real-life liking to the cougar look. Blessed with gorgeous blue eyes, Cox's Botox and surgery now distracts from her natural pearls while conveying more of a socialite façade rather than distinguished grace. She's got a new set of friends; they're just all cosmetic surgeons.
She used to roll with the Notorious B.I.G., and she provided an iconic MTV Music Video Award moment with the notorious T.I.T., but unfortunately this MC has become more known for her surgical wraps than her rhyming ones. Once a fresh-faced star with a gorgeous natural presence, Lil' Kim has juiced up her lips and face, making her completely unrecognizable to even her own fan base. Of course, it's not easy to stay relevant when the likes of Nicki Minaj come along, but Kim has seemingly fallen victim to the idea that perceived flaws can be fixed with loads and loads of facial sculpting.
#4: Carrot Top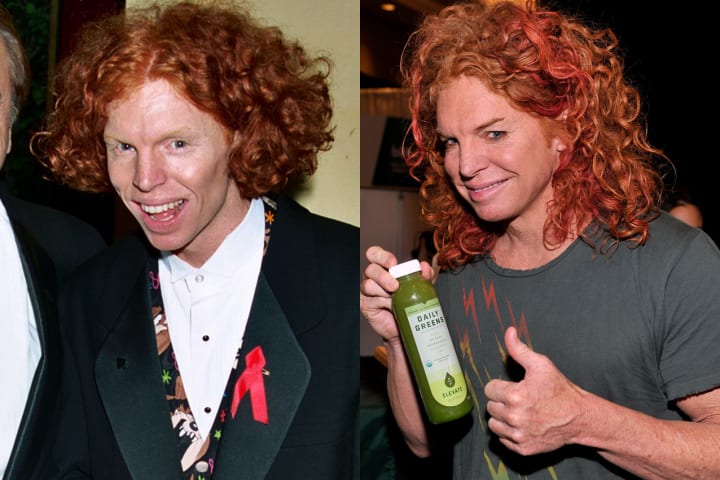 It's shocking just thinking about it, but Carrot Top DOES qualify as a celebrity. He's always been an easy target for jokes given his shtick and mop-like red hair, but, frankly speaking, the obvious plastic surgery doesn't quite help either. Born Scott Thompson, Carrot Top managed to secure a starring role in the 1998 film Chairman of the Board, and has since become a recognized name in the industry thanks to his prop routine and, let's face it, that mop-like red hair. However, it seems that clownish act has gone a little too far when you look at old Carrot Top and the slightly revised façade of today.
Anjelica Huston
Building on the legacy of her father John and granddad Walter, Anjelica Huston earned an Academy Award for her performance in Prizzi's Honor, and later stunned audiences with her sultry representation of Morticia Adams in 1991's The Addams Family. Buttt… time has more than slightly altered the visual vibe of Angelica Huston. Given that she sold her home for a cool 11 million in 2011, one wonders if she didn't invest in some facial reconstruction with the profits. It's her money to spend, but still, don't be too surprised if Anjelica shows up in another Wes Anderson flick.
#2: Donatella Versace
The sister of the late Gianni Versace, this Italian fashion icon took over family matters in the late 90s while taking on a new and "improved" design of her own. As time has progressed, the raw Calabrian beauty of Donatella Versace has transformed into a look that screams out "too much money." Only someone with a huge bank account would keep trying out new surgery procedures as if they're a brand new pair of shoes. We'll cut Donatella some slack, though, because after the original flub, you might as well double down.
Before we unveil our top pick, here are a few honorable mentions.
Melanie Griffith
Janice Dickinson
Sylvester Stallone
Pete Burns
Kenny Rogers
The King of Pop actually lived a good portion of his life with his natural born look. However, by the early 80s, his insecurities, public opinion and industry racism played a major factor in Michael Jackson's evolving and shocking look. Regardless of what you believe about Jackson the person, it's obvious that more was going on than just some skin treatment, as MJ's nose dwindled away until there was literally nothing left. As the most famous case of a filthy rich individual desperately trying to be comfortable in his or her own skin, Michael Jackson sadly set the bar for celebrity surgeries gone wrong.
Do you agree with our list? Which celebrity do you think has the worst plastic surgery? For more mind-blowing Top 10s published daily, be sure to subscribe to WatchMojo.com.