'To Kill a Mockingbird'
"All Rise"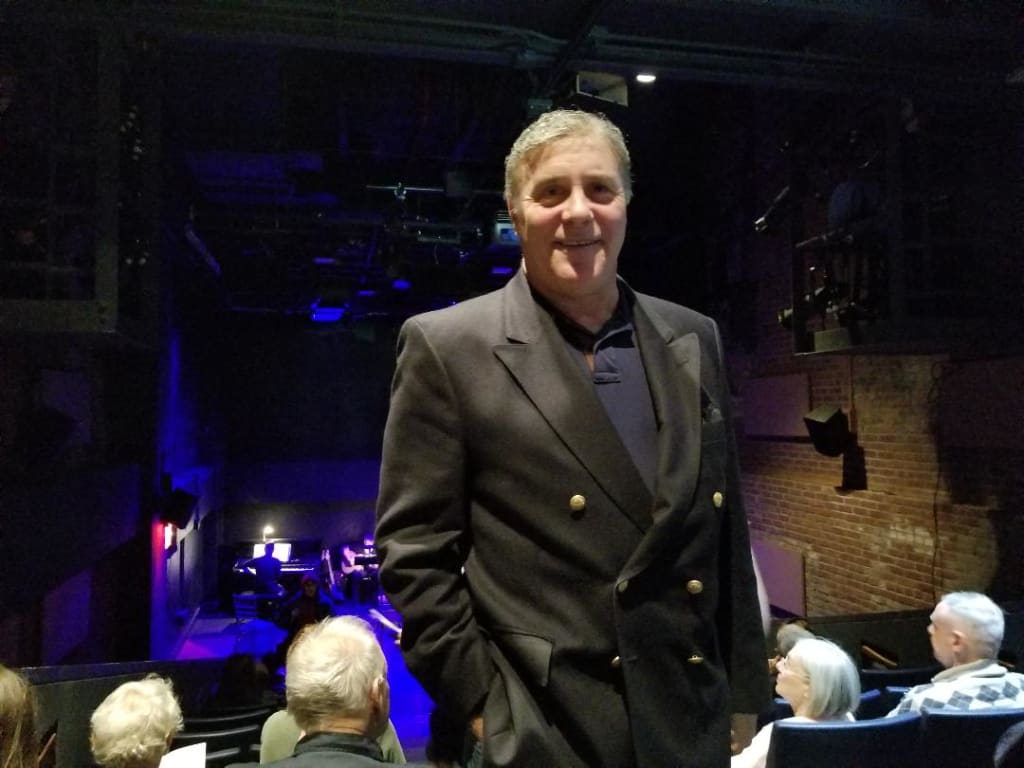 Robert Massimi.
Just when I thought The Ferryman would run away with every Tony Award for Best Play, Best Actor, Actress and every other thing, along comes To Kill a Mockingbird, Harper Lee's gem from back when. It is the story of a man, Tom Robinson, falsely accused of rape by a young white girl. Robinson, a black man in 1934 living in Maycomb, Alabama never had a prayer for being found innocent, not even with the brilliant Atticus Finch (Jeff Daniels), as his lawyer.
The play opens with a red brick wall with a door—the wall signifies segregation, the door in the wall also signifies that only certain people can go through it. The show has two musicians on both sides of the stage. These two musicians are more than that—they signify the deep South at that point in time. One is an acoustic guitarist, an instrument steeped in the deep South (Robert Johnson and the like) and a church organ, giving us religion and what is Godly—or what should be. We go to the Finch's front porch, again, the feel of the Deep South and their traditions. Miriam Buether's sets are riveting in this play, she brings out both the subconscious all the while capturing the period brilliantly. Ann Roth's costumes also give a segway into this well acted, well performed exquisite show.
Director Bartlett Sher and playwright Aaron Sorkin let us see what the Finch's must endure at a time when defending a Negro could get you killed. The plethora of humor throughout the evening masks the pain and displeasure behind what the nexus of the play is about and it helps the two hours and 45 minutes move along smoothly. Jeff Daniels gives us a confident (in his mind) Atticus Finch. Daniels also provides us with the uncertainty of what Atticus will do next. We never know fully what is in his mind and how he will defend the defenseless.
Sorkin delves from the original book a little. Atticus Finch does not drink or curse in the play. This was at the behest of Harper Lee's estate. In the book, Atticus was a hard drinking person who cursed throughout the book. With a few other minor changes as well; we see Calpurnia and Tom Robinson having a lot more say in the play, than in the book. Lee's estate wanted these two characters to have more freedom to move about with their thoughts.
Throughout the play, Sher lets us into the South at that particular time. Perhaps we do not understand these people until Atticus explains to us that it was The Civil War that made white people hate the blacks, that their loss and the blacks freedom added insult to the South's loss. Sher shows us that even when black people should be up in arms about what Tom Robinson is going through, they cannot show anger. The fact that the blacks have to sit in the balcony to watch the trial is common place at this period in time. Yet to the colored, they are still proud of their Southern roots and all the charms that it has—even if it means that they are second class citizens.
As a family, the Finch's are a block of granite. They had lost their mother years ago but Atticus, Scout and Jem are as close as anyone could be. The three banter about the stage and we feel like invited guests in their home—and their life. The play ebbs and flows from comedy, to tragedy but always has a great story behind it. We meet great characters along the way. The judge (Dakin Matthews) is extraordinary, as is Calpurnia. We are amused by Dill Harris and appalled by Bob Ewell and we feel sorry for Tom Robinson and Mayella Ewell.
As far as the acting goes, they are all sensational but the night belonged to Celia Keenan-Bolger. As Scout, who is nine-years-old in the book, the much older Bolger acts every bit the part of Scout, steadfast to the original Harper Lee book. Her movements, accent and performance will, or should, land her a Tony. Bolger was a standout in her role, tailor-made for Scout and she left nothing on the stage, she was magnificent.
Frederick Weller as Bob Ewell was also terrific as was Neal Huff as Link Deas. Huff's words of wisdom and his actions and beliefs was a buffer between the old South and the new South. Link was a man whom was also a victim of the Souths ways. He married a colored women who got sick. He tells the story of how she was not admitted into a local hospital and how she died on the way to a colored hospital. Weller was a scary, loose canon, explosive human being. Able to strike in seconds, Weller kept us on edge as he was a hard drinking, hard charging man especially in the face of being accused of something very heinous.
Sorkin gave us many different people and characters in Mockingbird. From Mr. Cunningham, a righteous person down deep but easily influenced, to Mrs. Henry Dubose, a person who loves to hate and on to Boo Riley a do-good who wants no recognition for his deeds. All these people tie the play in nicely to make this one of the best shows you will see all year. What audience members will like about this show is that the theme is not forceful but rather in some ways subtle. Upon what is a deep rife in the South, Sorkin gives us a great book and does not overtly accentuate the deep, depressing story line of Mockingbird. Instead, he chooses humor and just the right amount of despair and desperation in each and every character.
The director does a brilliant job in putting forth a vulnerable Atticus Finch. Daniels seems sure of himself . He wants to always do what is right and we see his vulnerability, his passionate side and his moral side. He tries to instill in his children the same gift that he has, which is stand up for yourself and do what is right thing regardless of the cost. At the end of both acts we hear Scout say, "All rise." What she is really saying is that we are our own judge and what we do and how we behave matters in this world.
review
I have been writing on theater since 1982. A graduate from Manhattan College B.S. A member of Alpha Sigma Lambda, which recognizes excellence in both English and Science. I have produced 12 shows on and off Broadway. I've seen over700 shows
Receive stories by robert massimi in

your feed