Titans Season Three
commentary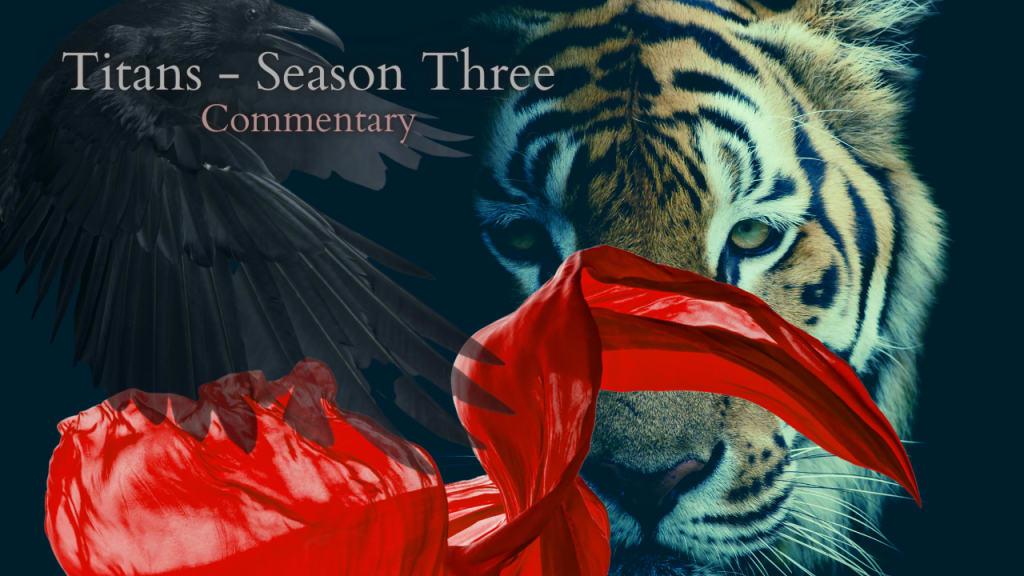 And WoW!
There are three episodes out in Season Three of Titans. But good heavens what a start to the season! I'm going to do my best not to give you any spoilers here, but if you haven't watched it yet, go watch it!
So far there has been a big baddie for each season. Looking back, none of them seem overwhelming, but I remember when I wasn't looking back and they very much seemed pretty overwhelming. It's all well and good to think about how easy something is when one has already done it.
This paragraph has spoilers for Season Two, so skip it if you don't want them. The paragraph that follows will do season one. If you don't want any spoilers, just skip the subject heading 'And then...'. So season two saw these guys take on Deadshot, not the same actor from Suicide Squad, but the same character. (Loki and Sylvie really did jump start that multiverse, did they not?) I would not want to fight Deadshot. Do you feel like fighting Deadshot? Still, that wasn't even what the season was about. It was much more about personal responsibility, dishonesty, fear, acceptance, being careful who we choose as our heroes, dealing with grief and trauma, and just you know being human. These superheroes are so very human. Even the one that turns into a tiger. He's not my favorite or anything.
Season One was much more of a hook season, promising more traditional superhero story lines and living up to it as well. The central character is Raven and the antagonist is her father. It's all very spooky and an enduring promise that this is not the Titans from Cartoon Network (as awesome as they were). I mean, in the CN Titans, Starfire did not incinerate gangsters by the roomful and Robin didn't beat pedophiles within an inch of their lives as an after work activity. They pick up Gar and he and Raven hit it off splendidly. I'm usually much more of a m/m shipper, but Gar and Raven are utterly splendid!
And then...
No, wait, let's stay with Gar. Is he not the most splendid character? He is so nice! If Hank is the icon of old masculine stereotypes and bravado, then Gar is what men can be when society doesn't teach them to be assholes when they're scared, or scared of being scared. He looks like he could be in a Jpop boy band, talks openly about his feelings in ways that still take the person he's talking to into consideration, keeps faith in people (even in Bruce Wayne), and if you torture him, he might turn into a tiger and eat you (Season One). He doesn't play as big a role in Season Three, but the composition of the story doesn't work without him. In a world filled with super egos and super powers he's the vanishing point where all lines converge. So in a way, without Gar, the rest of the story lines are just a jumble of 'not my monkeys, not my circus'.
Where all the monkeys and circus are, we will find Jason Todd. We all have problems. A lot of us have serious trauma. I have a background of serious trauma. If I had super powers and super tech, I'd probably be another Isaiah Bradley (Marvel, Disney+, Falcon and Winter Soldier). I'd be living in my house hoping the government doesn't find me, having my grand kid tell everyone I don't live there. Jason Todd is not Isaiah Bradley. He's more like a bag full of Every Flavor Beans (Harry Potter) than a Titan. His story line is like watching the origin story for a super villain, without knowing that's what's happening. It could have been like that for Anakin, if they hadn't started with him being a big baddie, you know? I'm not saying that's what's in the future for Jason, but goodness. Where Gar will strain his life to prevent harm, Jason drinks violence down like Asgardian mead and a liquid victory chaser.
The grand leader of this menagerie is Robin, Dick Grayson. When I was a boy, I identified with Robin (We're talking old here, Adam West and Burt Ward from the 1960's.) I'm not sure I'm grown up enough to take on the responsibility that Dick takes on in this series, but he makes it look so normal and almost easy. He grew into Nightwing. I feel a massive connection to his search for self, for his willingness to step outside of what he's focused on to help others and his guilt over things that could have gone better. It's a DC world. They can take fifty years of 'oh shit what have I done?' and shove it into a twenty year old character with the finesse of a fine French designer.
I love this show. It makes 2020 seem like Season One, and we'll get some coffee, some spiffy new taser sticks and just melee our way through. When we fuck up, we'll apologize and do better next time, if we can. It's not about perfect, it's about the little wins, to make the world better one victory at a time. It's not about having all the heartbeats in the universe, it's about cherishing the ones we have and making them count as much as we can.
Maybe I'll write a comparison between the 1960's Batman and the 2021 Batman. Either way, I very much recommend Titans!
Titans is on HBOMax and is a DC property.
About the Creator
I write a lot of lgbt+ stuff, lots of sci fi. My big story right now is The Moon's Permission.
I've been writing all my life. Every time I think I should do something else, I come back to words.
Reader insights
Be the first to share your insights about this piece.
Add your insights