Throwback Review: 'A Man Apart' 2003
Vin Diesel attempted to become a serious actor and action star in A Man Apart.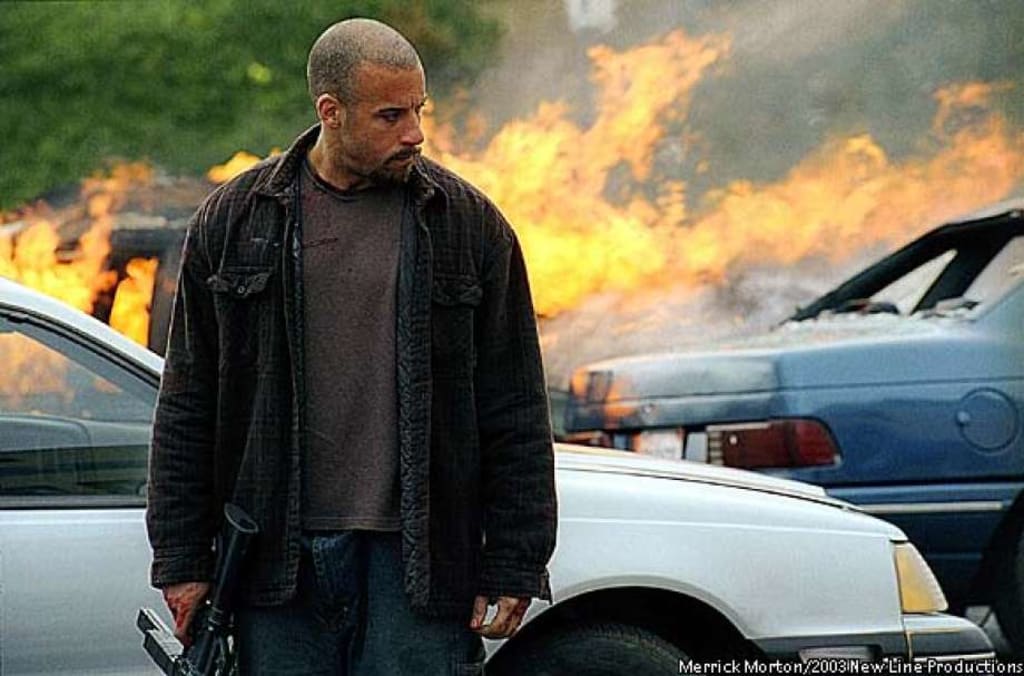 Vin Diesel long felt that Hollywood had pigeonholed him as an action star. With his muscular build and growling speech it's not surprising and his roles in The Fast & The Furious and XXX showed how well suited he was for the genre. Nevertheless, Vin Diesel always hoped to find roles that show he has as much range as brawn. The movie A Man Apart provided him the unique opportunity to combine acting and action. Unfortunately, a script about as deep as a puddle makes acting a challenge no matter how much range you have.
A Man Apart, released in 2001, stars Vin Diesel as Sean Vetter, a former gang member turned undercover DEA agent. With his crew of street-smart agents, including his best friend Demetrius (Larenz Tate), Vetter sets out to take down the leader of the world's biggest drug cartel. The kingpin of said cartel is Memo Lucero (Gino Silvo) and he's quite a difficult man to find.
Memo never sleeps in the same place twice but eventually Vetter and his crew do find Memo and after a bloody gun battle, they take him into custody. Then it's back to Vetter's beachfront home to celebrate. The celebration is short lived however as the cartels new leader, known only as Diablo, has put a hit out on Vetter. The assassins come to Vetter's home but they don't get Vetter, they get his wife Stacey (Jaqueline Obradors).
Now our by-the-numbers cop flick turns into a by-the-numbers revenge flick as Vetter works his way through a series of henchman, killing his way to the inevitable confrontation with Diablo. Unfortunately the finale is so low key it's laughable, one of the worst endings ever. For a big, dumb, loud, action movie to end with such a whimper is a total rip-off. Of course the premise of a cop hunting his wife/lover's killer is as much of a rip-off as there is.
By 2003 action movie cliches were becoming unavoidable in the action genre and so filmmakers began attempting to put a spin on their particular action movie. Movies like The Bourne Identity in 2002 had embraced new forms of hand to hand combat. Marvel Comics were beginning to be adapted to replace the action blockbusters of the past and low budget movies like The Transporter cleverly exploited rising star Jason Statham's bullet-headed charisma.
Thus, by the time that A Man Apart hit theaters with its gritty cop-revenge story, the movie felt out of time. Director F. Gary Gray and screenwriters Christian Gudegast and Paul Schuering brought nothing new to A Man Apart, relying entirely on Diesel's appeal as the star to carry the film. Gray does bring some stylishness to the film's look but without an appealing story, it's merely scenery.
A Man Apart had the dust of a couple years on the shelf at New Line when it was finally released in 2003. , the film began shooting in 2001 though it wasn't completed until late 2002 after Gray and Diesel's schedules opened up time to shoot a new ending. As bad as the reshot ending was, one can only wonder how bad the original ending of A Man Apart was.
So what does A Man Apart show of Vin Diesel the actor? Not much. There is very little dialogue and what is there is delivered in a monotone growl that communicates an actor simply waiting for the next special effect to distract from his boredom. The dead wife is supposed to provide Diesel with the opportunity to show the depth of the character's emotion, but what you get is mopey Diesel staring at the ocean, dull flashback, then more staring at the ocean.
I will admit this film had me fooled going in back in 2003. When I saw it on the big screen and it was on the release schedule for the first week of April 2003, I thought it would be the beginning of blockbuster season. With Diesel coming off the blockbuster XXX at the time, and a strong reaction to the trailer, which legitimately was good, I thought A Man Apart would be a huge hit. As it turned out the only hit in A Man Apart was the killer power ballad that made the trailer so memorable.
movie
Hello, my name is Sean Patrick He/Him, and I am a film critic and podcast host for Everyone's a Critic Movie Review Podcast. I am a voting member of the Broadcast Film Critics Association, the group behind the annual Critics Choice Awards.