Three classics
In about as many nights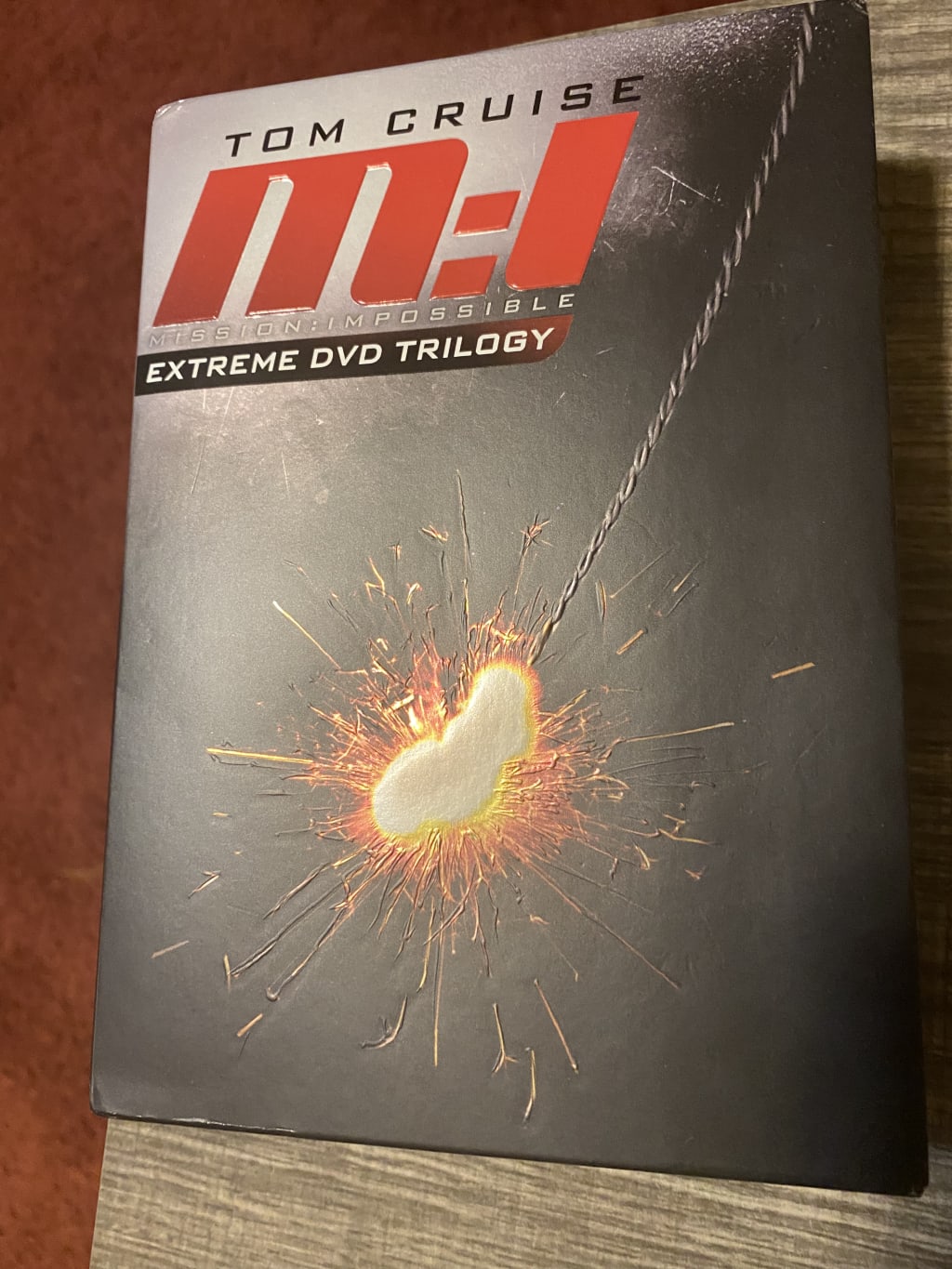 Random snapshot
20JUL2021; 0045, TUE
Well, it's another quiet night in, with yet another three-peat of timeless cinema checked off the to-do list. Suffice it to say that I'm most def grateful for my DVD player, as well as my super clutch streaming app subs (subscriptions).
I'm sitting in the dark, in my basement, with the heat and some fire a** Hip Hop relatively blasting. Prayerfully, the puppies upstairs remain resting, and no one calls/texts for last minute emergency favors; as I've arguably become accustomed to.
That's neither here nor there, tho. A few caveats before the cannon ball:
Only one of the phenomenal films from this random movie marathon was brand new to me; and that was 2000's MI2 (Mission Impossible Two); which was the very first one that I watched, FRI evening or so. The second feature flick was iRobot ('04), starring the living legend Will Smith.
The third and final one that I just finished was MI3 (Mission Impossible Three) from '06. For those who are living under a rock: The MI franchise is all but synonymous with Tom Cruise (or TC, as Kanye West [aka Ye] affectionately referred to him back in 2012 on the jam "Clique").
Also, the two cinema that I had previously seen were essentially just as brand new to me, almost a full two decades later, as the one that I hadn't seen prior. This most def is reminiscent of the fact that a fav high school teacher (and now a dear friend) advised some of his students, "Movies are among the absolute worst convo topics."
In any event, I wanna start off by saying that I know pride month is over and all, but cot d***! Do they still make physiques like Smith's and Cruise's from right after the turn of the century?
I guess that's essentially TBD (To Be Determined), what with the new fitness for all craze and such. I'm pretty sure that Smith actually sparked (another) global CTA (Call To Action) by posting his "quarantine fifteen", and his self-declared determination/intention to get back into "fighting shape".
Not for nothing, I randomly remembered my own goals to chisel my post-pandemic pounds into a marvelous masterpiece, immediately as I was prepping to pop the third and final classic into my portable DVD player. That was a grueling four miles, and the brief planking on my yoga mat was almost just as bad.
At any rate, according to Apple's Pages app, I'm approx halfway to my baseline, as far as word counts go, and I'm of the opinion that I oughta actually commence with the critique. Without further ado:
As far as casting goes, it was a welcome respite seeing so many familiar, and extremely talented individuals in these three "oldie but goodies". Besides Cruise and Smith, there's Ving Rhames; of Quentin Tarantino's iconic Pulp Fiction ('94).
In addition, we were graced with the outstanding performance of Laurence Fishburne; of the also famed Matrix trilogy, John Wick 2-4, and John Singleton's Boyz N the Hood ('91). Needless to say, I'm quite certainly glad that I decided to cop the set of DVDs that contained two out of the three superb plays which I'm presently reviewing.
Seeing as the last sentence put me at almost exactly 520 words (at least on my rough draft) and the fact that the only "Big Army" unit I served with was 5/20 INF, I have to mention that I was thoroughly impressed with the camaraderie of the teams which worked with Cruise's character, Ethan Hunt. And of course, I'm only just now recollecting that I neglected to include a spoiler alert at the start of this story.
"Such is life!" For those who don't follow literature and what have you at all, the immediately preceding quote is usually stated in French.
That reminds me: How in the world did the actors switch up between English, Italian, Spanish, and Mandarin(?) so effortlessly? I humbly aspire!
Either which way, it's after 0230 and I'm getting my hair did in less than seven hours or so. Still gotta proofread and submit this piece prior to my much needed shower that I'm actively procrastinating on.
TL;DR- Will Smith is currently molding his body back to a magnificent and more enviable peak, while Tom Cruise is "one of the highest-paid actors in the world", according to Wiki. In the meantime between time, we got a precarious position before us all "should [we] choose to accept it."
Regardless of how you look at it, if Cruise can bounce back from Scientology and being a self-described "functional illiterate"... In a similar vein, if Smith can go from an unknown person from Philly, to a renowned philosopher/influencer who won the very first Hip Hop Grammy...
Be glorious in your own right until you're holding it down for all those that held you up in your lowest and darkest days. Because why not hope to be in circles similar to those of Smith's and Cruise's?
Five out of five stars for all three phenomenal films. Strongly recommend them.
***
Prayerfully, someone somewhere gets something pertinent (re: useful) from this post. If that somebody's you, then please think about considering a Like/Tip/Share, and/or checking out some of my other posts.
TIA (Thx In Advance). Peaceful Tidings.
***
About the Creator
I'm a Grunt who's been stuck in traffic for the past few decades or so. From DC to Seattle & Iraq, to back in "The Swamp". Also, I Love my Progeny more than life. Born Day: 4/20. Lastly, my apparel brand, War 'N' Tees is live! One Love.
***
Reader insights
Be the first to share your insights about this piece.
Add your insights