Thor: Love and Thunder Review
Starring: Chris Hemsworth, Natalie Portman and Christian Bale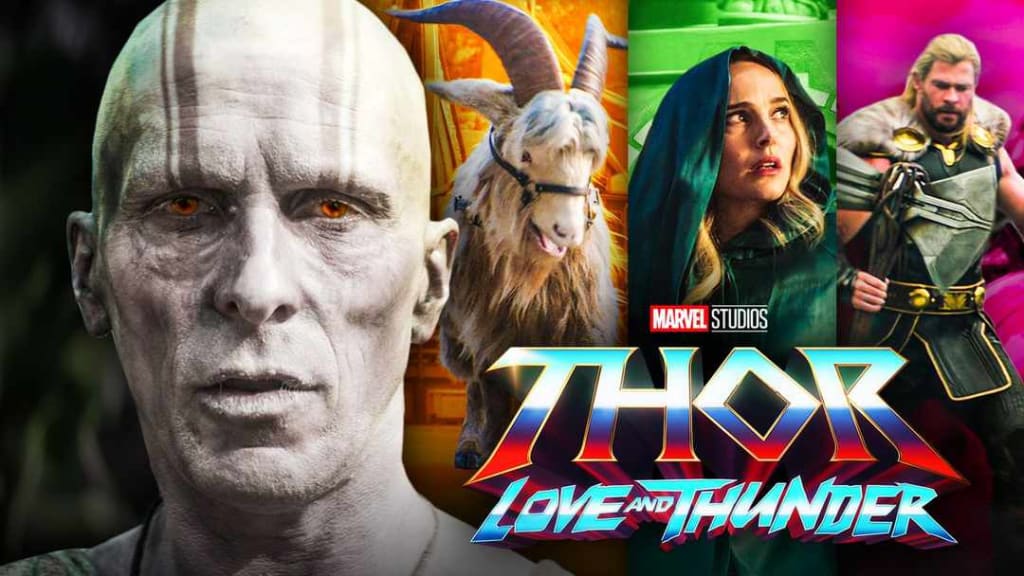 Thor Love and Thunder is the latest big budget production from Marvel Studios. This film sees Taika Waititi returning to the directors chair for a second time around. This time we see the God of Thunder face off against Gorr the God Butcher, a man determined to prove Gods are not what we see them as.
This movie starts off strongly placing Christian Bales Gorr at the centre of the opening scene. We see the pain he suffers through as his daughter dies in his arms and the gods don't help him. We fully see his transformation in this scene. After this amazing opening sequence the pacing slows down a bit and we get reacquainted with Thor and his MCU history through a narration from Korg. Most of this first act is slow and comedic which really didnt hit me. One good joke was the screaming goats but that even got old very fast.
It was a full circle moment to see Natalie Portman back as Jane Foster and have her become The Mighty Thor. Natalie was great in the role but the comedic elements definitely took away from the emotional aspect that should have surrounded her return and her cancer diagnosis. It felt like such an odd tone to be making jokes while she was dealing with cancer and the treatment that comes along with that. It felt rushed to do that all across one movie when for the most part her scenes were filled with comedy.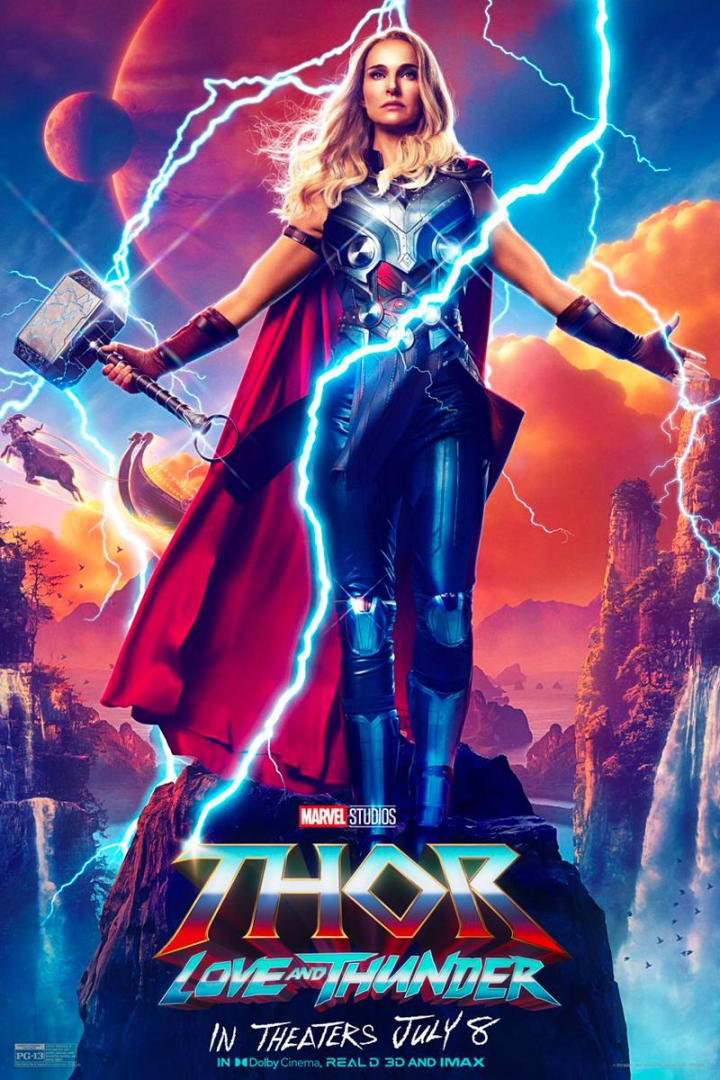 Absolutely the best part of the movie without a doubt is Christian Bale as Gorr the God Butcher. Bale is lost amidst the make up and the scars that make up Gorrs look. He commands every scene he is in as Bale tends to do and has shown us on multiple occasions he is capable of doing. Gorr is the best and most menacing villain Thor has been put up against to date. He forced Thor to bring out the full range of his power and the third act of the film was brilliant because of that. Bale may have just entered the discussion about the best Villains in comic book movies. Not just the MCU.
Thor Love and Thunder works for the most part. I do want to see them step away from the comedic tones a bit and into more dramatic tones but I do realize what audiences these are aimed for. Going too dark would alienate a large portion of their audience. However that style of comedy and drama blended often leads to a movie feeling more predictable. One because it usually starts off comedic before turning dramatic and two it does not set up the stakes well. It leaves the film feeling a bit empty because where the comedy bits are could have been used to connect the larger world.
One thing I do want to address and it is not about the quality of the film but about the man who made it. Taika Waititi and Tessa Thompson poking fun at the VFX amidst reports that Marvel has overworked and underpaid them is tasteless. Taika should have held himself accountable and vowed to make sure he will do everything to make the process better for those people. Instead he turned into a joke and it was very out of place. I would love to say it was out of character but Taika seems to be very full of himself lately and that is a bad look for Marvel.
Overall as an MCU entry Thor Love and Thunder is a middle of the pack entry which is what I fully expected from it. It has great visuals on par with the rest of the MCU. It had a top notch villain in Christian Bale and a mediocre presentation of the story thanks to some very bland jokes that missed the mark. At Least for me anyway. Everyone can feel differently if they desire. It will definitely be interesting to see where Thor goes next and we have been given a tease as to what that might look like.
About the Creator
All things pop culture. Movies, TV, Music,Comics as well as some dabbling into the Sports world. If you can record it, watch it and play it back. I have an opinion.
Reader insights
Be the first to share your insights about this piece.
Add your insights