There's a Clusterf*** of Superheroes on TV
But I don't really mind.
I'm no journalist so I'll try to get straight to the point. Please excuse any errors.
I've recently come to the realization that TV networks seem to be running out of original material which is proven by the multiple television reboots. (This deserves an article on its own). With this conundrum where could tv creatives get inspiration for more original-ish material? Yup, you guessed it, superheroes.
With it making complete sense with both leading superhero universes (DC & Marvel) making live-action/animated films based on their comic material, this article solely focuses on the television side of both comic creators.
Networks need to fill their time slots with something. They see the success the films are having so they've decided to jump on the bandwagon. Obviously, not all of their attempts are great. Within the current decade Marvel/DC have shown the world that there can be films based on their characters that aren't rushed and cheesy (excluding Suicide Squad… SMH). Within the past five years television has become plagued with comic book hero projects. It could be a pain to see superhero shows on every time you change the channel, especially if you're not a fan of them. Or it also could be annoying to superhero fans like myself because it's almost impossible to watch all the shows.
Below is a list (of 30+ currently) in no particular order of every television project within the current decade that has either ended, is ongoing, upcoming, cancelled, or has eventually renewed (that I'm aware of). Each will be accompanied by a short plot description and my personal opinion from watching (if applicable).
**THIS ARTICLE WAS ORIGINALLY WRITTEN IN 10/17. SOME STATUSES MIGHT HAVE CHANGED OR SOME SHOWS NOT ADDED YET.
'Powerless' (NBC) 2017 | Cancelled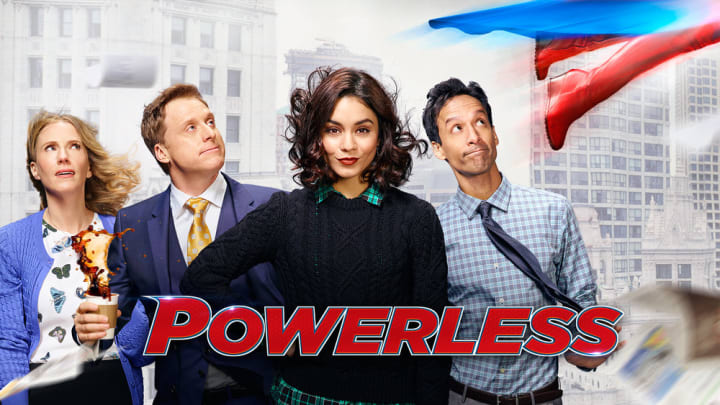 From DC: 'Follow the staff of an insurance company, specializing in products to protect defenseless bystanders from the collateral damage of Superheroes and Supervillains.' (all descriptions by imdb)
I watched maybe one or two episodes. I watched the Comic-Con trailer prior to the show's premiere. It looked like it could've been a decent show. I didn't realize until the end of the first episode that the network completely scrapped the original plot which was shown in the CC trailer. The show was rewritten and given a new creative lead. I think all of that truly hurt the show's chance of survival. Except for a few mentions of Bruce Wayne being on the phone, you didn't miss anything spectacular. Adam West did make a cameo in a un-aired episode. :(
'Legion' (FX) 2017- | Ongoing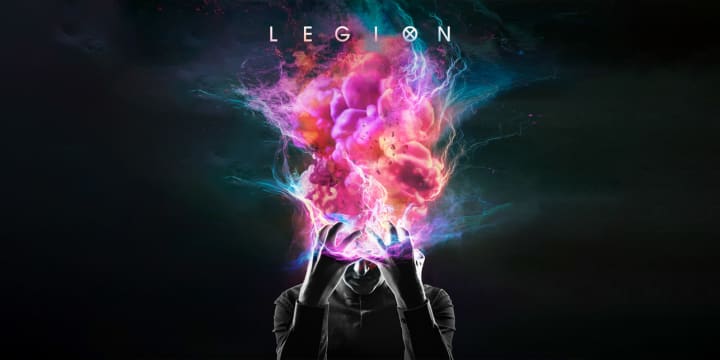 From Marvel. David Haller AKA Legion is a troubled young man diagnosed as schizophrenic, but after a strange encounter, he discovers special powers that will change his life forever.
*This is hands down the ABSOLUTE BEST superhero based television series to date! (Yes, even better than Daredevil)
THIS SHOW IS A MUST WATCH! Legion is #1 in my book. It has everything: unexpected twists and turns, mind-bending plot/storytelling, great acting, stellar action sequences, and unique tone. Truly one-of-a-kind!
Legion will have you wanting more and more after every episode! You have to pay attention to every moment/detail of every episode or you'll miss out. I'm BEGGING you all as a fan of this show to please give it a watch! You will NOT regret it.
(FYI, David is considered one of the worlds most powerful mutants and is the illegitimate son of Professor Xavier.) :)
'Gotham' (FOX) 2014- | Ongoing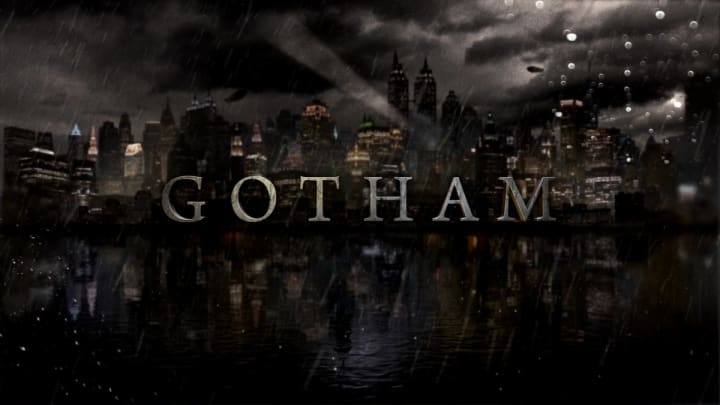 From DC. The story behind Detective James Gordon's rise to prominence in Gotham City in the years before Batman's arrival.
I've watched this on a weekly basis until around halfway through season 3. It was a pretty good show up till then. The story just seemed to lose steam for me. The characters are pretty good. If you know your Batman villains you won't be disappointed. They do a decent job with them. They do well with balancing Bruce and Gordon's stories in each episode. In the grand scheme of things, it's actually a good show but I've been on the edge with continuing with the series or not. :(
'Black Lightning' (CW) | Coming Soon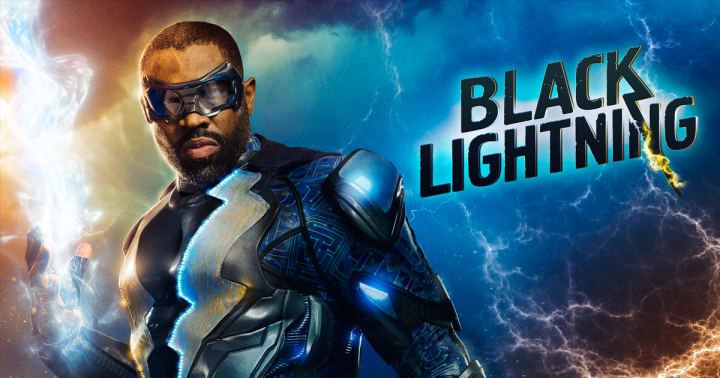 From DC. Jefferson Pierce has made his choice. He hung up the suit and his secret identity years ago, but with a daughter hell-bent on justice and a star student being recruited by a local gang, he'll be pulled back into the fight as the wanted vigilante and DC legend: Black Lightning.
The show looks promising. I might give it a chance. There is a trailer available. Producer Greg Berlanti stated that the show, for at least its first season, will not take place in the Arrow-verse. There is a short part of the trailer that shows Jefferson in the CCPD lab where Barry Allen works in present day.
Netflix's Marvel-verse
All the shows up to this point seem to be (very loosely) set in the theatrical MCU with the occasional nod to the Battle of NY and playing the pronoun game with Avenger names.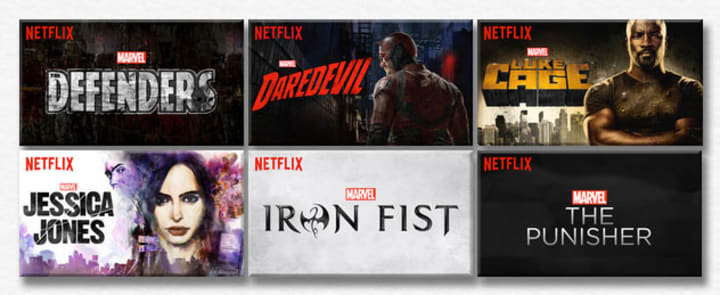 'Iron Fist' 2017- | Ongoing
Danny Rand returns to New York City after being missing for years, trying to reconnect with his past and his family legacy. He fights against the criminal element corrupting his world around him with his incredible kung-fu mastery and ability to summon the awesome power of the fiery Iron Fist.
I could NOT bring myself to watch episode 2. I'm dubbing this the worst Marvel product ever. Acting/action was bad across the board. He was pretty decent in the Defenders. :(
'Daredevil' 2015- | Ongoing
Matt Murdock, with his other senses superhumanly enhanced, fights crime as a blind lawyer by day, and vigilante by night.
DD serves as the beginning of Netflix's MCU. When this show first premiered it was the first of its kind. DD was received with high praise and ratings for most episodes are around 9/10. To me this superhero television show felt like the first to be cemented in actual reality. Kingpin is portrayed wonderfully by Vincent. Since the show isn't coming from network tv but instead Netflix, it gets to push the envelope and become entertainingly dark, gritty and adult. From the first episode you'll be addicted. It's kind of hard for me to have said Legion is better than this. Don't get me started on the action scenes or the intro sequence… f***n stellar!! :)
'The Punisher' 2017- | Coming Soon
After the murder of his family, Marine veteran Frank Castle becomes a vigilante known as "the Punisher" who aims to fight crime by any means necessary.
'Jessica Jones' 2015- | Ongoing
Following the tragic end of her brief superhero career, Jessica Jones tries to rebuild her life as a private investigator, dealing with cases involving people with remarkable abilities in New York City.
I just have to say one thing… DAVID flipp'n TENNANT as the Purple Man!! The intensity of the show is something else. You should definitely stick around till the last episode!!!!! I really dig the show. Strong story and acting. :)
'Luke Cage' 2016- | Ongoing
When a sabotaged experiment gives him super strength and unbreakable skin, Luke Cage becomes a fugitive attempting to rebuild his life in Harlem and must soon confront his past and fight a battle for the heart of his city.
Don't mess with Cotton-mouth! I really like the gritty urban tone LC has. I will admit some parts made feel a bit uncomfortable. You'll definitely be binge-watching this show too! :)
'The Defenders' 2017- | Ongoing
Daredevil, Jessica Jones, Luke Cage, and Iron Fist team up to fight a common foe in New York City.
Nice team-up show. I had no choice but to tolerate Iron Fist just to get through the series. The writing was great along with the acting. The action scenes were amazing! Sigourney Weaver plays a baddie that's not to be f'd with. You have to give this a watch (having watched the individual series first). :)
'Krypton' (SYFY) | Coming Soon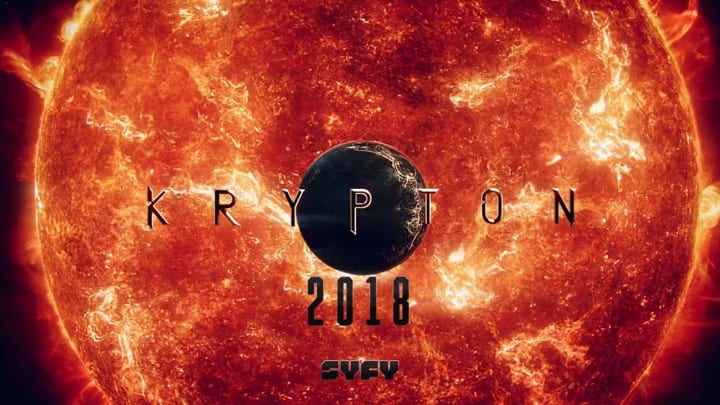 From DC. The untold story of Superman's grandfather as he fights for justice on his home planet.
Yeah, the Kryptonians ALL DIE. I'm not gonna watch a series if I know the end is near...
'Constantine' (NBC) 2014–15 | Cancelled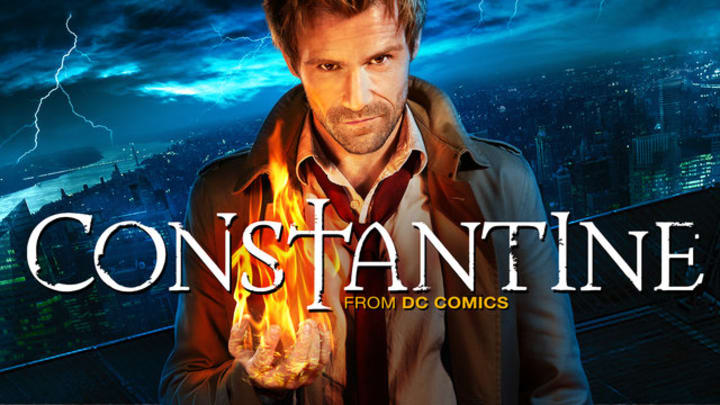 From DC. A man struggling with his faith who is haunted by the sins of his past is suddenly thrust into the role of defending humanity from the gathering forces of darkness.
Have you seen Justice League: Dark? If not, watch it ASAP!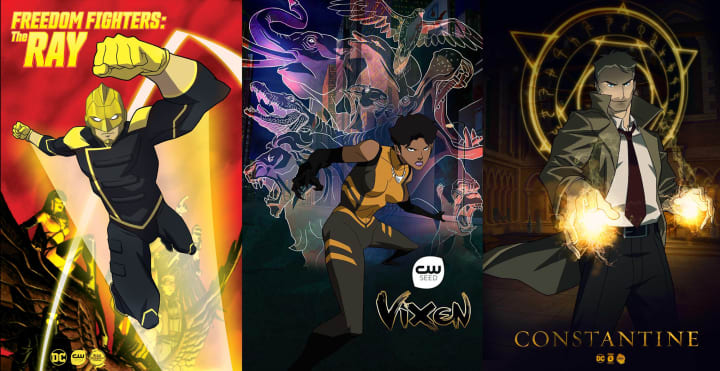 **CONTANTINE is however being rebooted as an animated series on the CW Seed along with Freedom Fighters: The Ray and the already established and must watch Vixen (whose character is set in an alternative-ish Arrow-verse. The actress who plays her voice actually appears as Vixen on the live-action Arrow-verse show Arrow and kinda makes a cameo-ish appearance on Legends of Tomorrow.)
'Ultimate Spider-man' (Disney Xd) 2012–17 | Ended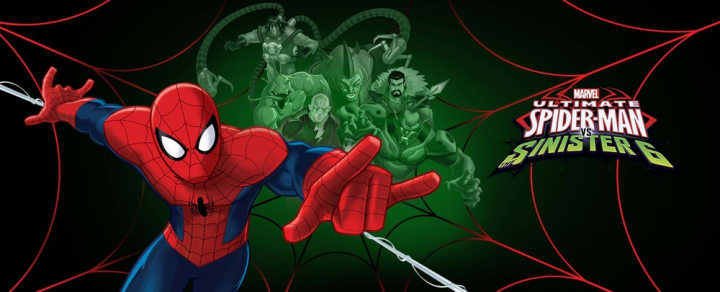 From Marvel. While being trained by S.H.I.E.L.D., Spider-Man battles evil with a new team of teen colleagues.
I ABSOLUTELY loved this show. It was aimed for kids but hey. There was so much that made this show great from Stan Lee, Clark Gregg (as Coulson) and J.K Simmons lending their voices on multiple occasions to the comedic fourth wall breaks to that one episode where Deadpool didn't like to say the "K" word. Spidey also has some occasional crossover with Avengers Assemble. Drake Bell was a solid choice for the voice of our web slinger.
I'll admit I did get really sappy when I realized I was watching the series finale. You will be truly missed Ultimate Spidey. :)
*Disney XD premiered a new Spidey series in Aug. '18 simply titled Spider-man.
'Teen Titans Go!' (Cartoon Network) 2013- | Ongoing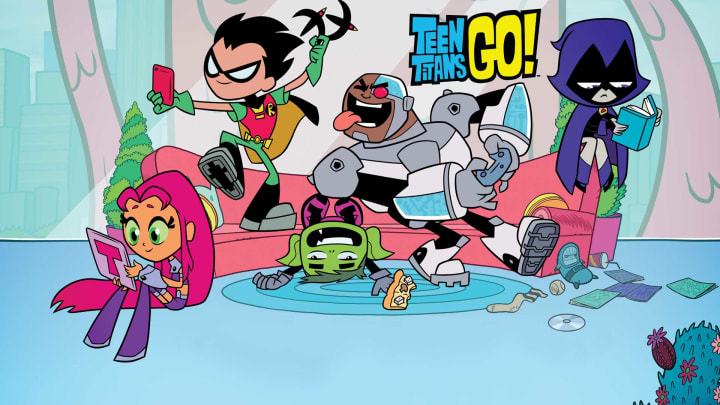 From DC. Superhero roommates Robin, Cyborg, Starfire, Raven and Beast Boy love saving the day, but what happens when they're done fighting crime?
This. This replaced Young Justice. WTF :(
'Young Justice' (Cartoon Network) 2010–13 | Cancelled/Renewed 2018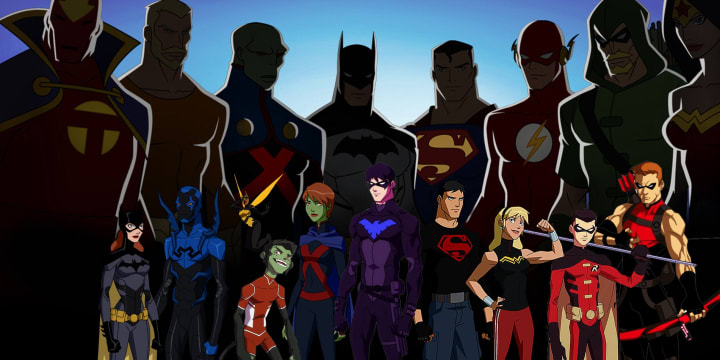 From DC. Teenage superheroes strive to prove themselves as members of the Justice League.
I LOVED YJ just as much as everyone else who watched. I was very disappointed and confused after finding out it got cancelled. Everything was flawless from story to animation to tone. Cartoon Network honestly screwed the pooch with this one. :)
**YOUNG JUSTICE, after about five years of fans waiting and petitioning for another season after its sudden cancellation due to merch sales, has finally been renewed for a season 3!
YOUNG JUSTICE: OUTSIDERS. It has been said that the tone will be a little more adult since the kids have gotten older. Netflix was gonna be its new home but now it seems like it'll unfortunately be on a DC streaming service.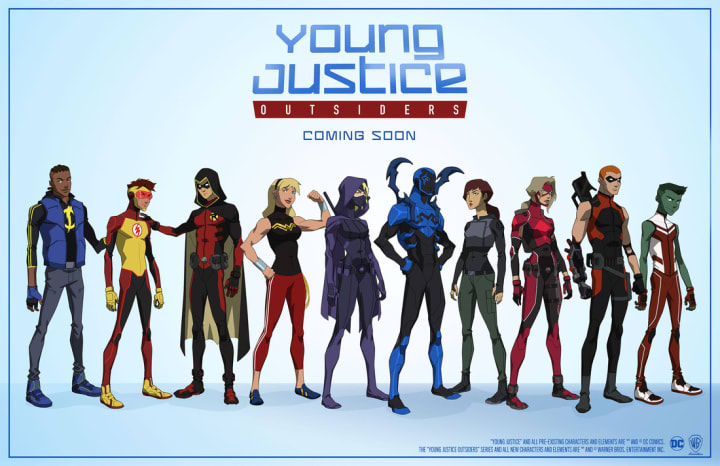 There's also a live-action TT project in production simply titled TITANS which looks promising. When first announced, the show was set to air on the CW with Greg Berlanti producing among others. It's actual home seems to also be on a DC streaming service.
'Agent Carter' (ABC) 2015–16 | Cancelled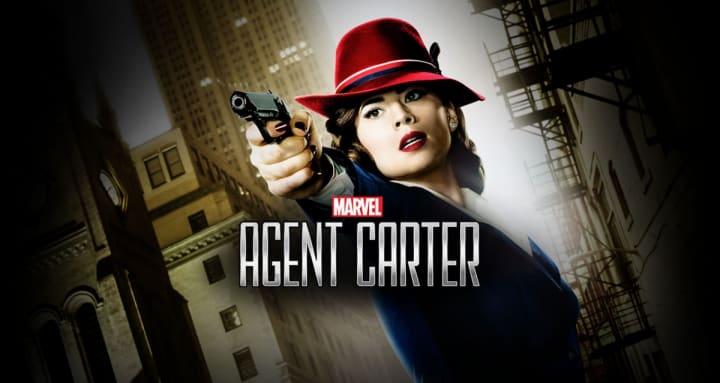 From Marvel. In 1946, Peggy Carter is relegated to secretarial duties in the Strategic Scientific Reserve (SSR). When Howard Stark is accused of treason, he secretly recruits Peggy to clear his name with the help of his butler, Edwin Jarvis.
AC was a amazing show that ended too soon (although, come on, we all know who the mystery person was at the end of s2). One nice touch was that the pilot episode opens with Captain America's death scene from the film.
I truly liked this show. ABC messed up by pulling the plug. But maybe they had to cancel it because of what Marvel producers had planned for Peggy in the then upcoming movie. MCU actors Hayley Atwell and Dominic Cooper reprise their characters in this well produced series. If a season three happened, I definitely would've tuned in. :)
DC's Arrow-verse (CW)

Supergirl (CBS S.1) 2015- | Ongoing
The adventures of Superman's cousin during her own superhero career in National City.
When the show premiered it originally aired on CBS (anyone with any sense would know that was a bad idea). Of the first season, I only watched The Flash crossover episode (which had pretty much 0 percent effect/references on The Flash episodes that followed. I'm assuming that's because SG was produced with CBS and The Flash with CW).
I watched a few of her episodes in later seasons. The show is kinda dull and cheesy for me. The show did finally get its proper home for its second season on the CW alongside her "super-friends." Since the show was completely separate from the Arrow-verse in its first season, when she transferred networks it was hard to find a place for her. The solution the creatives came up with is to have her be further proof that the multi-verse exist by placing her on Earth-38 (WTF) and whenever she's needed for the annual Arrow-verse crossover event Barry will most likely use the Tachyon Enhancer again to cross Earths to get her. :(
'Arrow' 2012- | Ongoing
Spoiled billionaire playboy Oliver Queen is missing and presumed dead when his yacht is lost at sea. He returns five years later a changed man, determined to clean up the city as a hooded vigilante armed with a bow.
My cousin keeps telling me to actually watch Arrow since all the other shows/characters stem from it in some way but I'm too far behind. If you like gritty and real this is your show. I still find ways to stay informed on what's happening each season. It is a good show and I know it's weird to some of you that I don't watch it but watch Flash and LoT. :)
'Flash' 2014- | Ongoing
After being struck by lightning, Barry Allen wakes up from his coma to discover he's been given the power of super speed, becoming the Flash, fighting crime in Central City with the help of his team at S.T.A.R Labs.
I LOOOOVVVE the heck out of The Flash! I've tuned in weekly since the pilot to follow Team Flash's adventures and troubles. If you haven't watched this yet, please do. Many episodes, especially the season 1 finale eps. will have you saying "OMFG!!!" and "WHAT THE F*** IS HAPPENING!" at every turn. The show is filled with so many awesome villians, easter eggs, twists and turns, and action scenes. If you're a fan of the Flash or great television you NEED to be watching this!!!! :)
'Legends of Tomorrow' 2016- | Ongoing
Time-traveling rogue Rip Hunter has to recruit a rag-tag team of heroes and villains to help prevent an apocalypse that could impact not only Earth, but all of time.
I also LOOOOVVVE this show! Each season the action and intensity gets better! Season 1 was A-to the-MAZING!! "Who are you to stand up against me, Vandal Savage?! Destroyer of empires!" (BTW, Savage is the big bad).
The intro in itself is a tiny adrenaline rush: a large choir chanting to rock instrumentals. In season 2, without any spoilers, sh*t gets real and escalates quickly! LoT's a real thrill ride! Especially for you history lovers. :)
Hulk and the Agents of S.M.A.S.H. (DISNEY XD) 2013–15 | Ended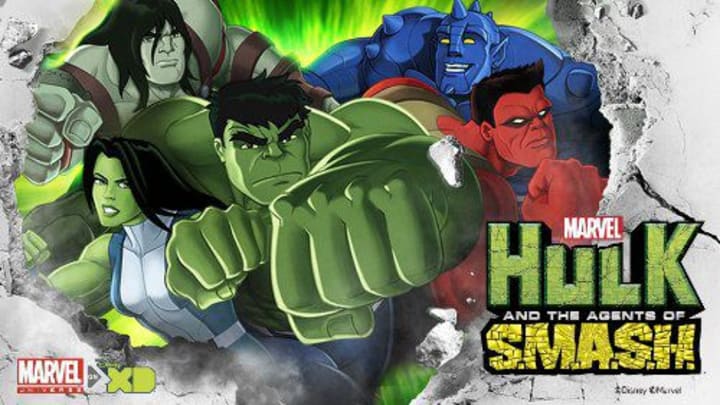 From Marvel. The Incredible Hulk teams up with Red Hulk, She-Hulk, Skaar, and Rick Jones aka A-Bomb to battle the forces of evil in front of cameras for Rick's web-based series to show the Hulk is more hero than monster.
I probably would enjoy this show. It'd be cool if they made the MCU's Gen. Ross the Red Hulk.
'Justice League: Action' (Cartoon Network) 2016- | Ongoing
From DC. Batman, Superman and Wonder Woman will lead the DC Super Heroes against their most infamous foes.
If you've never watched JL or JL: Unlimited please fix that.
'Guardians of the Galaxy' (Disney Xd) 2015- | Ongoing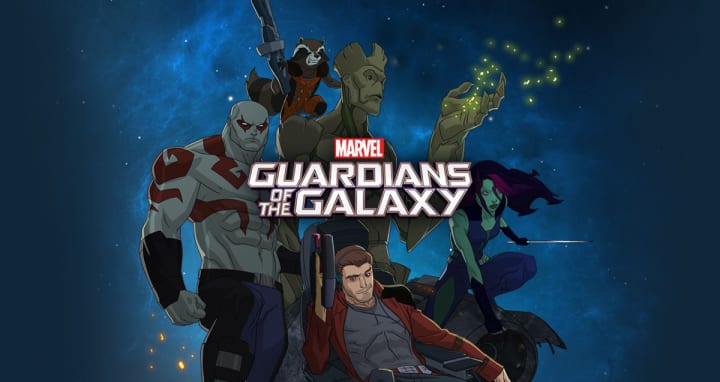 From Marvel. The adventures of a band of space warriors who work to protect the universe from the evil overlord Thanos.
Again, this show is aimed for kids but hey. I really like the show. It's produced well across the board. The show picks up with them already as a team. So you don't have to worry, they skip past the origin story already seen in the live-action film. Will Friedle as Starlord is hilariously perfect
'Cloak & Dagger' (Freeform) 2018- | Coming Soon

From Marvel. Two teenagers from very different backgrounds find themselves burdened and awakened to newly acquired superpowers while falling in love.
Knowing only the bare minimum of these characters and seeing them in other projects, I was thinking about giving the show a chance. After seeing the teaser trailer I'm not so sure. It doesn't look like it's gonna hold my interest at all. :(
'Runaways' (Hulu) 2017- | Coming Soon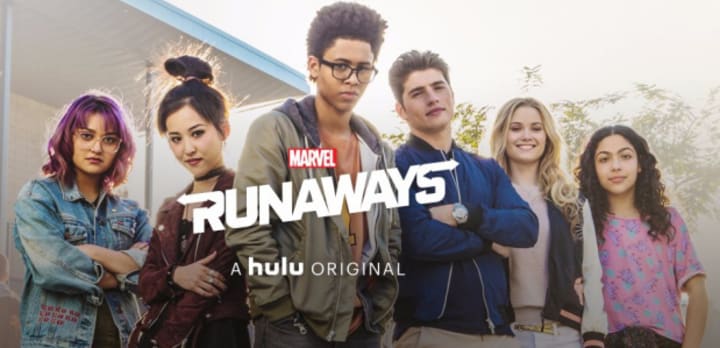 From Marvel. After discovering their parents are super-villains in disguise, a group of teenagers band together to run away from their homes in order to atone for their parents' actions and to discover the secrets of their origins.
Yes. I will be watching this. :)
'Avengers Assemble' (Disney Xd) 2013- | Ongoing

From Marvel. The further adventures of the Marvel Universe's mightiest general membership superhero team.
Another kids show that I really enjoy watching. The show is great across the board. Their Inhumans and Ultron story arcs were amazing. AA and Guardians had a crossover episode recently which is a nice nod to the live-action Avengers and Guardians who will meet for the first time in Avengers: IW part I next year. :)
'Inhumans' (ABC) 2017 | Ongoing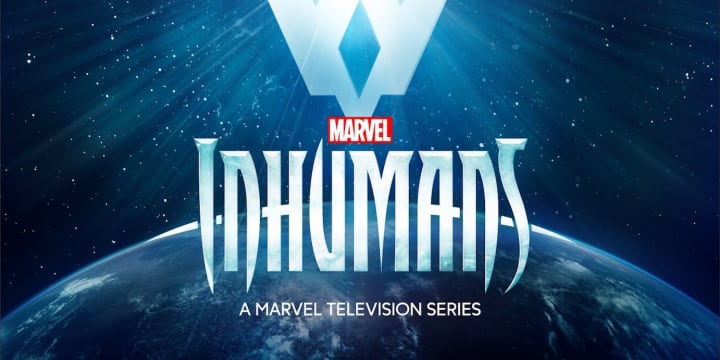 From Marvel. An isolated community of super-humans fight to protect themselves.
Originally announced to be part of Marvel's Cinematics Phase 3 slate, Inhumans is struggling and I think will eventually fail. Everything about this show makes me not want to watch. The trailers made me want to scream bloody murder. Premiering the first two episodes in IMAX theaters to give it the cinematic treatment it was meant to have still couldn't stop viewers from dismissing it. I REALLY wish Marvel kept this in the MCU and produced it the right way. It's a true and utter shame what became of this Inhumans project. :( I think they might add it to a future MCU slate seeing as this TV version was such a huge mistake.
'The Gifted' (Fox) 2017- | Ongoing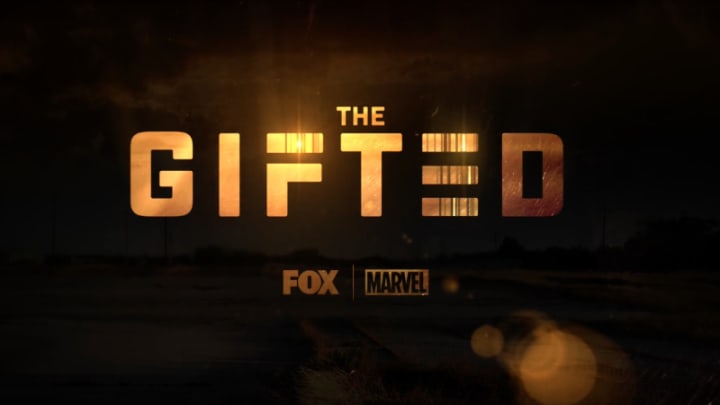 From Marvel. In a world where mutated humans are treated with distrust and fear, an institute for mutants battles to achieve peaceful co-existence with humanity.
I'm am honestly tired of Fox milking the X-men name. I've actually grown tired of them. The only exception is the television show Legion AKA "the gift from the entertainment gods." Maybe it's good but I won't be able to tell you. I'm probably not going to watch this series.
'Agents oF S.H.I.E.L.D' (ABC) 2013- | Ongoing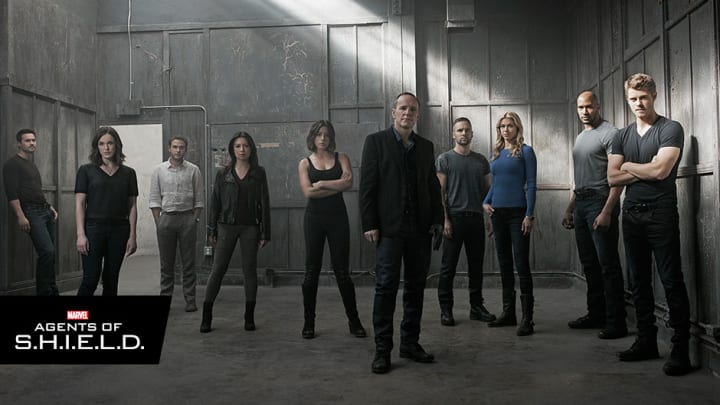 From Marvel. The missions of the Strategic Homeland Intervention, Enforcement and Logistics Division led by Phil Coulson.
FUUUUUUUUUUUU** YES! I've saved one of the best for last! (BTW, Coulson is alive. This IS set after the 2012 Avengers film. How? Watch the show to find out.) You need to watch this show if you deem yourself a Marvel fanatic.
I've been watching this since the pilot. They had me at hello (the promo for the pilot). This show is on a whole other level of jaw dropping insanity! AoS has everything from mind blowing stories filled with twists and turns to awesome action sequences to easter eggs to fantastic character development. Every season will leave you saying "WHAT AWESOMENESS DID I JUST WITNESS?" There are some actual name drops from time to time. None of this "pronoun game" the Netflix shows like to play.
Two other reasons I adore AoS is that multiple characters (who I consider to be A-listers) from the Marvel Cinematic Universe make cameos. Sometimes on multiple occasions. And it's the only Marvel television show that has had an impact on a MCU film (sorta) and the only Marvel television show that is directly impacted, sometimes harshly, by the events taking place in the MCU films. I can't wait to see what happens post Infinity War!
The story arcs each season are flipping fantastic on their own. *SPOILERish: some of the arcs that have aired are HYDRA, Secret Warriors, Inhumans, Ghost Rider, and LMD. Can I just say, the back half of season 4 had some of the BEST writing and acting in the show's and maybe television history!
And NO, after five years the Avengers STILL haven't been told Coulson is alive.
'Marvel's Most Wanted & Damage Control' | Never Picked Up
Marvel's Most Wanted was a planned spin-off of Agents of S.H.I.E.L.D. It got pretty far in the development process before getting the boot.
A major event that happened in preparation for the show (Agents of SHIELD spoiler): is that SHIELD agents Bobby and Hunter were written off the show in a seemingly quick fashion. In their final episode they get involved in a assassination plot in Russia which leads to them purposely getting disavowed from SHIELD in order to protect their team. The shows premise was that Bobbi and Hunter would be on the run with a long list of enemies looking to claim a bounty on their heads. They form an uneasy alliance with rogue adventurer Dominic Fortune who agrees to protect them so long as they help with his agenda. (via EW)
If this show made it to air, I would've tuned in. :)
Damage Control was a series in development with ABC based on the Marvel comic series of the same name which would follow the company as they follow up on the aftermath of battles.
Spoiler alert: I think Marvel pulled this would-be series because they might have bigger plans for them as they briefly appear in the 2017 Spider-Man film. I hope they appear more often.
-------------------------------
So… THAT'S IT!
Some Q's to ask yourself:
What are your thoughts?
Do watch any of these shows?
Do you agree with my commentary?
Have you discovered a new one to watch?
Do you think there are too many superhero tv shows?
About the Creator
Jasper Kelly. Part photographer. Part graphic artist. Part "filmmaker". Part superhero guy.
Visit me online at www.88thStreet.us
Reader insights
Be the first to share your insights about this piece.
Add your insights