The Yellow Flick Road
The Three Supermen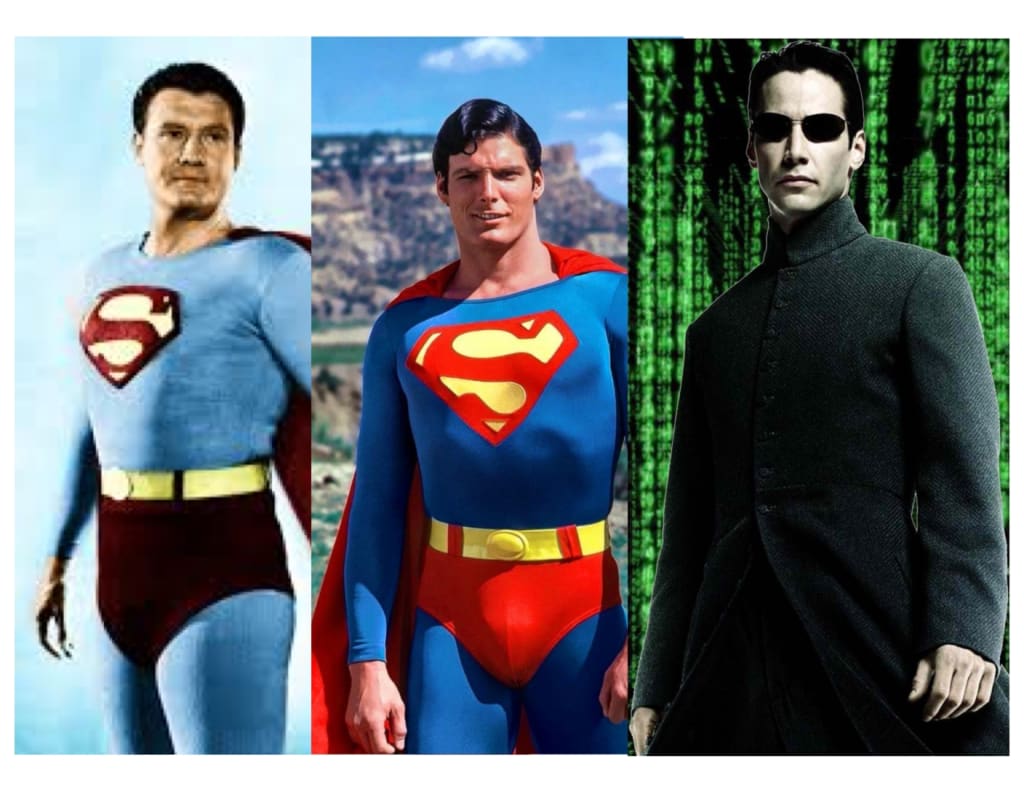 George Reeves, Christopher Reeve, Keanu Reeves
Reeves Incarnate: The making of Superman
George Reeves. Christopher Reeve. Keanu Reeves. The beginning, middle and end. All supermen in their own right. All representative of a certain era in American culture. The masculine Dorothy, given reign and rule over all with his peerless ability. Is it mere coincidence that the names of the Supermen would be Reeves?
George Reeves, our first Superman, represents the fifties, a time of innocence and prosperity for Americans. Evil was mortal; good was a supernatural force, capable of saving the free world. Superman was like a god, but most importantly, he was an American.
Born George Keefer Brewer in 1914 in Woolstock, Iowa, George never knew his biological father, who had separated with George's mother Helen after five months of marriage. His stepfather, Frank Bessolo, adopted George and was a presence in George's life until age fifteen, when Frank and Helen also decided to separate. Helen told George that Frank had committed suicide, and didn't discover the truth until several years later.
George appeared in Gone With the Wind, which was released in 1939, the same year as The Wizard of Oz. Reeves had an adequate movie career before deciding to enlist in the U.S. Army in 1943. There he continued to use his acting skills on Broadway and making training films for the Army Air Forces' First Motion Picture Unit. You know. Like Captain America.
After military service, Reeves struggled as an actor throughout the remainder of the 1940s, until a minor role in 1953's From Here To Eternity. Reeves could now claim credits in two Oscar winning films. Two years prior, Reeves reluctantly took on the role of Superman on the television series Adventures of Superman, more out of desperation than anything. Surprisingly, and much more surprising to Reeves was the show's success and Reeve's growing celebrity because of it.
An early example of typecasting, Reeves was unable to shake the Superman persona and move on to other roles, despite attempts at musical numbers and failed production of his own devising. In 1958, Reeves died of a gunshot wound to the head in an apparent suicide, although two other theories exist – one, Reeves was accidentally shot by his girlfriend, Leonore Lemmon; two, Reeves was killed by a contract hitman hired by Eddie Mannix, general manager of MGM after discovering that Reeves had had an affair with Mannix' wife, Toni. In addition to romance, Toni Mannix and George Reeve shared a passion for Myasthenia gravis research, a neurological autoimmune disease.
In 1977, Alexander Susskind produced Superman: The Motion Picture. This was a time when Disco was popular and it was time to party. Decadence and hedonism was the designated evil; The Superman of the Seventies represented traditional values preserved from the fifties. Nuclear war was the prevalent threat; therefore nuclear missiles became Superman's primary arch-nemesis. But what is that to one who can change the course of history? The George Reeves Superman could only change the course of mighty rivers. As Superman's legend grew, his abilities and strength grew as well. And yet, Superman could be stilled by a small rock of Kryptonite. Based on where it appears in the film, Kryptonite is symbolic of the poppy field placed by the Wicked Witch of the West on the Yellow Brick Road. Lex Luthor leaves Kryptonite in a place where Superman would stumble upon it – in a lead-lined case. Like poppies, Kryptonite incapacitates our protagonist, and delays her mission.
Born in New York City one year after George Reeves debut as Superman, Christopher D'Olier Reeve was born of means. Like his predecessor, Chris's parents divorced. His mother, Barbara, remarried well. Christopher received a fine education and excelled academically and athletically. He started acting at age 9 and by the time he was 15, Chris was an apprentice at the Williamstown Theatre Festival. He attended Cornell to heed the advice of his parents and was disciplined enough to avoid the temptation of acting. His senior year was spent at Juilliard, selected with Robin Williams for their Advanced Program.
Twenty years after George Reeves' death, Christopher Reeve was offered the role of Superman. The first two Superman films were commercial successes, received well by the critics, and iconic comicbook films. The success of the Superman films gave Reeve the flexibility to act in more quality films, such as Somewhere in Time, Deathtrap, The Bostonians, and later, The Remains of the Day. Alas, Chris Reeve received a fate as harrowing as George Reeve when he was injured in an equestrian accident in 1995. As a result, Reeve was paralyzed from the neck down, needing a respirator to breathe. In spite of this Reeve did not give up, although he did consider suicide. His rehabilitation after surgeries to reattach his skull to his spine are the stuff of legend. His own struggles as a paraplegic encouraged Reeve to delve heavily into stem cell research, spinal cord injury awareness, and improving quality of life for people with disabilities. In spite of his injury, Reeve continued to act and direct, wrote a New York Times best seller autobiography, and worked to preserve his health until his death in 2004.
Some irony: Christopher Reeve was never the picture of perfect health. Although an athlete and an equestrian, Chris suffered from asthma and allergies, and his alopecia eventually gave him the appearance of Superman's arch-nemesis Lex Luthor.
In the twenty-first century, we have the latest incarnation of the last Kryptonian in Neo. Born Keanu Charles Reeves in 1964 in the same month as Christopher Reeve in Beirut and raised in Toronto, Keanu brings Superman into an era periled with terrorism and computer hysteria. Like his predecessors, Keanu shares certain similarities: the product of divorced parents; involved in the theatre at age 9; he played hockey in school, just like Reeve; started acting in earnest at 15, just like Reeve; Their paths deviate as Keanu received his breakthrough role as Theodore 'Ted' Logan, Esq. in Bill & Ted's Excellent Adventure. Of all three, Keanu has had better successes with his acting and directing career, with highlights such as Point Break, My Own Private Idaho, Speed, and of course, John Wick. Keanu has also been a major advocate for leukemia fundraising, founding a cancer foundation.
Keanu is a virtual Superman, not needing to be physically imposing; with Neo it is a matter of faith. Once Neo believes in himself, his abilities increase exponentially. The inhabitants of Zion see Neo as a guardian angel, able to look after all members of a force that stands as a defense against the machines that threaten humanity. Morpheus is not unlike Pa Kent cum Perry White, a father figure who at first guides the fledgling superhero, thens stands back and observes in awe. Trinity is Lois Lane, the spunky, independent investigator, only in this incarnation, she hardly needs saving. Neo also has an alter ego, that of Thomas A. Anderson. However, an alter ego has lost its usefulness in an environment of imminent war. Besides, he has no one to protect.
He has all the unearthly powers of his predecessors: fast than a speeding bullet, more powerful than a locomotive, able to leap tall buildings in a single bound. Neo is doing his Superman thing.
In the comics, Superman has been man, alien, cyborg, energy being, even Shaq. Other actors, such as Dean Cain, and Tom Welling had interpreted the Kryptonian. Of course I stick by my theory. Superman is merely a male adult version of Dorothy. Their origins remain the same. They are both from Kansas, both are orphans, and both are prominent figures in 20th century American mythology.