'The Wrong Man'
The Right Musical.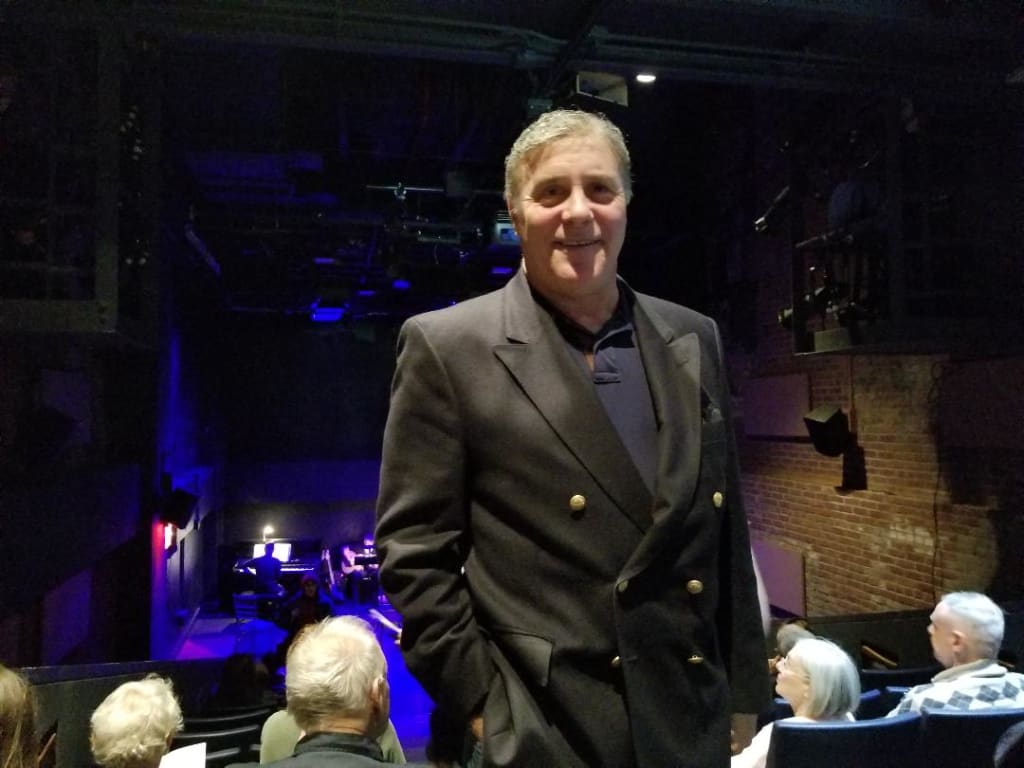 Robert Massimi.
The Wrong Man playing at MCC's new digs is a musical about a man who struggles in his life and gets accused of murder. Set with really good songs, choreography, lighting and costumes, this 90-minute intermission-less play glides through its plot. Both enjoyable and resonant, Joshua Henry and ensemble are terrific.
Set in Reno, NV, Duran (Joshua Henry) tries hard at feeding his young family. He takes on two jobs at times but just can't get ahead. When his wife leaves him, he is devastated. Lost and confused, he meets another woman at a club bar and really likes her. Unfortunately for Duran, his new girlfriend was married to a really bad man (Ryan Vasquez) who is both jealous and mentally unstable.
The show's underplot is that Duran is a man who tries to do the right thing. His luck has him looking at life and wondering why he ended up like this. Thankfully, the musical deals less about race and politics than it does with one particular man who is down on his luck and who society kicks around. The show's book is always in sync with the music, and that makes for an entertaining evening.
The Wrong Man is set to a three quarter in the round staging. The acoustics in MCC's new Newman Theater are fantastic. With the band on stage with the actors, lighting designer Betsy Adams splashed many different colors to this performance. A cross between poignant and a carnival at times, Adams is the backbeat to the mood effects in this performance. The costumes also enhance the mood and reality of this musical. From the club outfits to the jackets, what these costumes signify as the show goes on compliments this performance.
Thomas Kail directs this cast to move and interact with an edgy, sleek feel to it. The lights, costumes and direction all give this play a raw, smoky feel, and all three with Travis Wall's choreography make this deft performance one to remember.
Songs like "The Wrong Man," "How Do You Get Over a Broken Heart," "Bad Things" and the band rocking out to "That Don't Happen Here in Reno," as well as the showstopper "Beating In My Chest" were all excellent. Ryan Vasquez's "Where Evil Men Go On the Run" sounded like a James Bond tune. Vasquez had a great performance to note, an excellent acting performance with a voice to match; he was a standout.
The Wrong Man is a well-versed musical that has a Jazz feel to it as well as a Rhythm and Blues feeling. Its songs make it feel like a sophisticated concert and the lights bring forth its character. Well done on all levels, The Wrong Man is highly entertaining. Even though the audience knows how the show will end, the journey is much better than the result.
After moving uptown, The MCC is in a great new space with two theaters and a contemporary lobby. MCC is putting out some great shows as of late. The new digs were well thought out with superb acoustics and comfortable seating. More of modern theaters, MCC is able to mobilize the shows as it sees fit. MCC has allowed for directors to set up the stage in the most appropriate way to maximize performance value. High ceilings make for wonderful sound and staging.
The cast includes:
Anoop Desal
Tilly Evans-Krueger
Joshua Henry
Malik Kitchen
Libby Lloyd
Ciara Renee
Kyle Robinson
Debbie Christine Tjong
Ryan Vasquez
The Wrong Man
MCC Theater
Robert W. Wilson Theater Space
Robert Lupone, Bernard Telsey and William Cantler / Artistic Directors
Blake West / Executive Director
Book, music and lyrics by Ross Golan
About the Creator
I have been writing on theater since 1982. A graduate from Manhattan College B.S. A member of Alpha Sigma Lambda, which recognizes excellence in both English and Science. I have produced 12 shows on and off Broadway. I've seen over700 shows
Reader insights
Be the first to share your insights about this piece.
Add your insights