The Walking Dead vs. Game of Thrones: Which Trauma Porn Disappoints the Most
We knew what we were getting into but at what cost?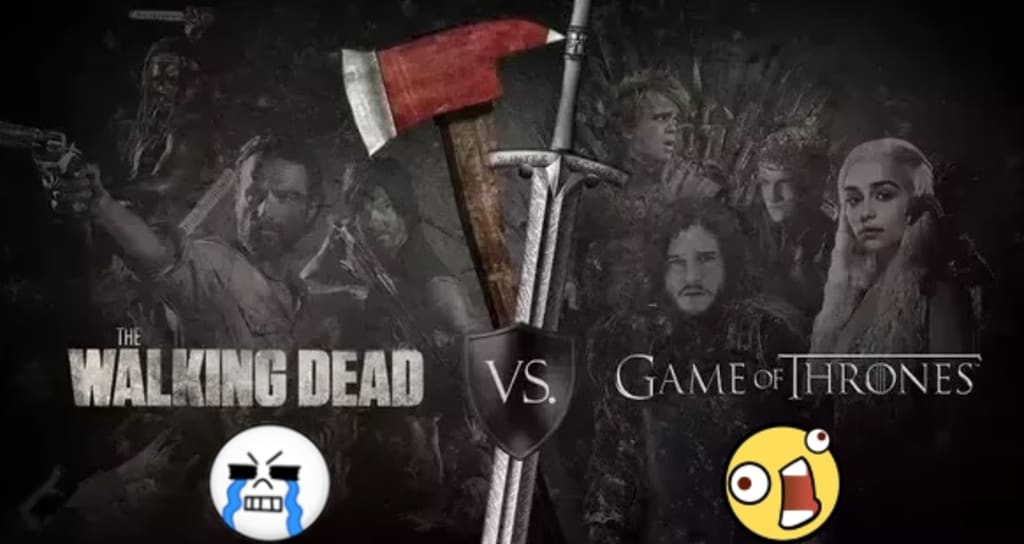 emojis from discord servers and online meme makers
Original art from: here where you could also subsequently compare how the shows rate against each other in views.
The judgement will be based on completely arbitrary reasonings mostly because I just want to complain about both shows. I was a fan of both for a time and though The Walking Dead (TWD) is still apparently going (much like its zombies it will not die) now that Game of Thrones (GOT) has finally died it is time to dissect these popular gloomy shows. This is full of spoilers so continue at your own risk.
Round 1: Failure in Following their own Storyline
Winner: Game of Thrones
Game of Thrones wins this failure by a landslide. Compared to The Walking Dead, whose storylines only hurt us GOT actively went against their own built-up trajectory simply to try to get one over on its fans. GOT showrunners David Benioff and D.B. Weiss had a closed writer's room, took no criticism from their far more experienced peers, and were proven rather terrible writers once their source material ran dry and they had to close the story on their own.
I don't know what we expected from a duo where one once famously said "Themes are for eighth-grade book reports". Though I commend them for their honesty about how they were ill-prepared to take on such a laborious project I also find that excuse to be so incredibly limp and dissatisfying.
They had already written the clear storylines and had built characters for certain arcs. The option to simply follow that logically as one does when telling any story was there. Also, an insane amount of fan theories online exist. They could have just looked at one and gotten inspiration. They were not left alone and helpless especially with that HBO budget and support.
Round 2: Deaths for Shock Value Rather than Story Progression
Winner: The Walking Dead
Though this was a much closer race than the last round, The Walking Dead wins simply because it never advertised itself as that kind of show. Game of Thrones certainly is overflowing with painful character deaths that still haunt us like Oberyn Martell, the entirety of House Tyrell and of course Daenerys Targaryen. Yet when Eddard Stark took a sword to the head at the finale for Season 1 I knew any likeable character would always be sacrificed for shock value.
That was their whole appeal to some fans, that no character was safe, and though Daenerys is more a disappointment in her character arc versus how she died most other deaths did not come as any shock for they were written into the original story.
Many of the worst deaths on The Walking Dead, however, were made worse because even if they were canon we were given false hope that they would not die. The worst deaths on that show, at least top five, are Carl, Glenn, Beth, Abraham, and Andrea. Let's start with the one that made me give up on the show officially, Carl. I was a huge fan of the show and the comic books.
Carl literally is the main character of the show and the driving force of the story. We have been saving him endlessly for season upon season because he represents the future of humanity in the story. He got shot in the eyeball and survived! As the show was gearing up to the storyline of the Whisperers, where Carl has a very important arc in the comic book timeline, no one expected him to die by the simplest way one can die in TWD world, a zombie bite.
I was devastated and weepily quit because what was the point anymore when the character that represents hope for the future is dead now. Many fans, especially comic book fans, couldn't understand why the show would go in this painful direction. It left the future story arc empty of a main player and it ended up being a very underwhelming plot point for it.
Andrea was similarly shocking for she continued to be a character in the comic book much farther than she was on the show. Yet as they rewrote a lot of the character's personalities this was more of a shocking death for original fans than for fans in general who loved to hate show Andrea for daring to have opinions and be a woman at the same time.
Glenn and Abraham both had their deaths in the comic books, close to each other even if I recall correctly. That did nothing to make fans feel better when the show deaths came. Abraham was killed in a different way than in the comic book but the gratuitous gory way he went out in the show really diminished how that death affected characters since Glenn's overshadowed him.
Glenn, sweet baby Glenn, was teased as almost dying earlier but was miraculously saved by a dumpster (don't ask you really don't want to know). So to allude to his death, then save him, only to kill him where he is supposed to die rubbed fans the wrong way.
Beth was a character in the comic books but she was hardly as important as she was in the show. Again, as she survived her comic book death and escaped near deaths in the season she did end up dying in people did not expect her end. It was sudden, and violent, and broke the fandom's heart to tiny little pieces.
Note to future projects: if you are working off source material just follow it. Don't give your fans hope only to take it away over and over. The gimmick has its limits and even the most die-hard trauma porn fans get over it rather quickly.
Round 3: Fan Anger
Winner: It is a Tie!
Fans of both shows are inherently crazy. Game of Thrones has their incest apologists and The Walking Dead has their psychopath apologists. So when I say the fan anger is justified for both shows it is not because these fans have some moral high ground to stand on.
These storylines had their limits. They had their clear ends. Whether it was because of bad writing like in GOT or the inability of a network to let a show die in peace like TWD fans suffered through the pain and received nothing for it. In GOT, no storyline closed in a sensible manner and in TWD the storylines of main characters that survived went off in directions that no longer make us care about them.
This is frustrating for any fan. Whether casual or die-hard you want a story to 1. make sense and 2. make you feel things other than annoyance. With trauma porn shows, one can expect a certain level of gory pain and frustration with difficult characters. The idea is that they are supposed to be morally complex stories to force the audience to think of the more cynical and realistically dark side of humanity.
Both shows ultimately started strong in this message, which is what garnered them the popularity they hold in the first place, but failed by their later seasons to drive the point home. Furthermore, when fans try to address these failures they are met with the whiny excuses that showrunners cannot please everyone. No one expects it to be that easy but pleasing most of your fans in any way at the end of a series or at the end of a story arc in general should not be this difficult.
In a way, both fans get to live out the stories in other mediums. As the A Song of Ice & Fire books are still being written perhaps there can be hope for a better ending that makes sense in them. For TWD, there is always the comic books. Both series also have spinoffs either already running as is the case for TWD or in the works as is the case for GOT.
For those that want to bring back to life (get it, since both shows have dead rising) and relive these traumas they will have the avenues for it. The question remains if fans will remain loyal if they see the same lazy patterns emerge.
tv
I love to write fiction stories of the supernatural, romance, high fantasy, or science fiction variety. A bit of a baby, a bit of a rolling stone, just doing my best to avoid getting arrested. @ziggyer5 on the instagram.
Receive stories by yanina maysonet in

your feed