The TCM 52 Essentials Challenge
I fall asleep watching black and white movies. Let's see if I can stay awake through 52 of them.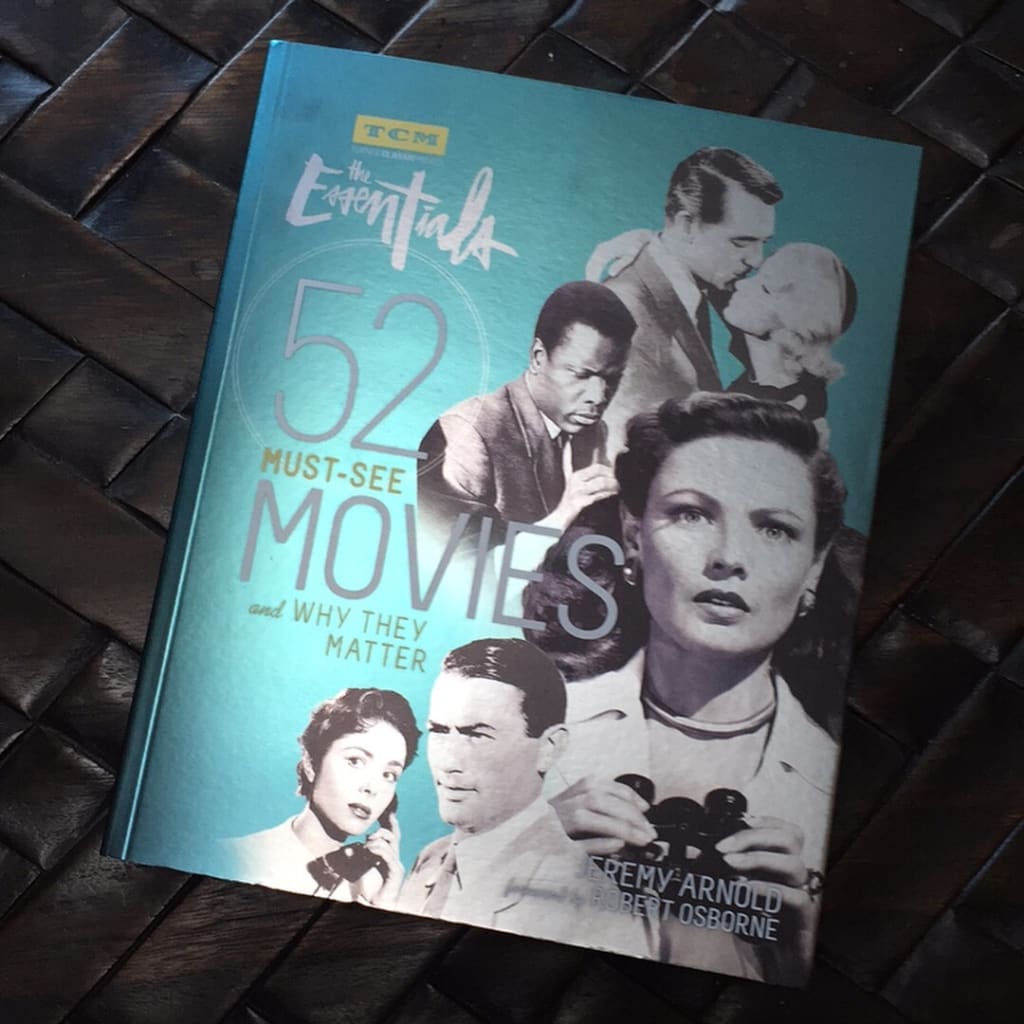 My best friend gave me this book over a year ago. I haven't cracked it open. Why? Because—as much as I love her and her pure intentions—black and white films booooore me. And I studied film!
Black and white films weren't essential to my film studies; they were mandatory. All the classics—Citizen Kane, Psycho, The Apartment—lulled me to sleep. I know these films had twisted stories. I know they had complicated characters. I know they were lauded by all major film critics. I know, I know, I know... because my professors told me so.
No one likes being told what to do especially when it comes to something as personal as film. There's nothing more thrilling than plucking the DVD you want off the Blockbuster wall (sidenote: I found my laminated Blockbuster rewards card in a drawer. I thought I was in the Upside Down), inserting it into your DVD player, and easing into your recliner. Films are my escape (*cringing at the cliché*) so don't tell me what movie to escape into, okay? It's personal stuff. Anyways, I only watched black and white films because it was required viewing. They were necessary to get the grade I wanted. They were means to an end (*still cringing*). I never pursued them on my own.
Outside of school, my cousins devoured TCM. They're around my age (early twenties) and love to talk about Gene Kelly, Fred Astaire, Jack Lemmon, and Shirley MacLaine. These actors are their comedic heroes. I've heard of them. Usually offhandedly in someone's conversation, a Jeopardy! clue, or a line or two in my film textbooks. I never had a curiosity to really appreciate these actors or the films they made. They're handsome and beautiful, sure, but why watch them when I can rewatch The Office for the fifth time?
"But Monicaaaaaa, these people inspired the actors who are on The Office! That's why!"
I like familiarity, and black and white films are foreign to me. I eat at the same restaurants. I re-read the same books. I binge watch the same shows. This is what I know and I love what I know.
"Then why this challenge? Why torture yourself if you know you're going to hate it so much?"
Because of Citizen Kane. Because of Psycho. Because of The Apartment. Yes, I fell asleep during the first viewing of these films. I could blame the warm weather. The dark lecture hall. The squishy chairs. Could you blame me for getting so comfortable? However! Upon second viewing (ha HA!), I watched these films on my own. Just me, my laptop, and my earbuds. And you know what? I liked them. I really did.
I've been out of college two years. So let's see what all this fuss is about without the pressure of increasing my grade point average.
Why not fill the time between job applications and job interviews with finally engaging with this book? These films? These essentials? I'm Julie & Julia-ing it.
52 essential films. 6 months. I'll write a post for each film detailing my initial thoughts, favorite characters, favorite quotes, if I took a nap or not...
Any recommendations on where I should start? Below is the list of TCM's Essentials: 52 Must-See Movies. I'm thinking Adam's Rib and All About Eve...
Metropolis (1927)
All Quiet on the Western Front (1930)
City Lights (1931)
Grand Hotel (1932)
King Kong (1933)
Duck Soup (1933)
It Happened One Night (1934)
The Thin Man (1934)
Bride of Frankenstein (1935)
Swing Time (1936)
Mr. Smith Goes to Washington (1939)
Gone with the Wind (1939)
The Lady Eve (1941)
Citizen Kane (1941)
Now, Voyager (1942)
Casablanca (1942)
Double Indemnity (1944)
Meet Me in St. Louis (1944)
Leave Her to Heaven (1945)
The Best Years of Our Lives (1946)
Out of the Past (1947)
The Red Shoes (1948)
The Bicycle Thief (1948)
The Third Man (1949)
White Heat (1949)
Adam's Rib (1949)
Winchester '73 (1950)
Sunset Boulevard (1950)
Gun Crazy (1950)
All About Eve (1950)
Singin' in the Rain (1952)
Roman Holiday (1953)
Seven Samurai (1954)
On the Waterfront (1954)
Rear Window (1954)
Invasion of the Body Snatchers (1956)
The Searchers (1956)
Some Like it Hot (1959)
North By Northwest (1959)
Ben-Hur (1959)
Breathless (1960)
Lawrence of Arabia (1962)
To Kill a Mockingbird (1962)
Dr. Strangelove (1964)
Bonnie and Clyde (1967)
In the Heat of the Night (1967)
The Graduate (1967)
Once Upon a Time in the West (1968)
Jaws (1975)
Rocky (1976)
Annie Hall (1977)
This Is Spinal Tap (1984)
Reader insights
Be the first to share your insights about this piece.
Add your insights