The Sixth Sense Hit Me Hard
An honest reaction to watching the film, The Sixth Sense, for the first time.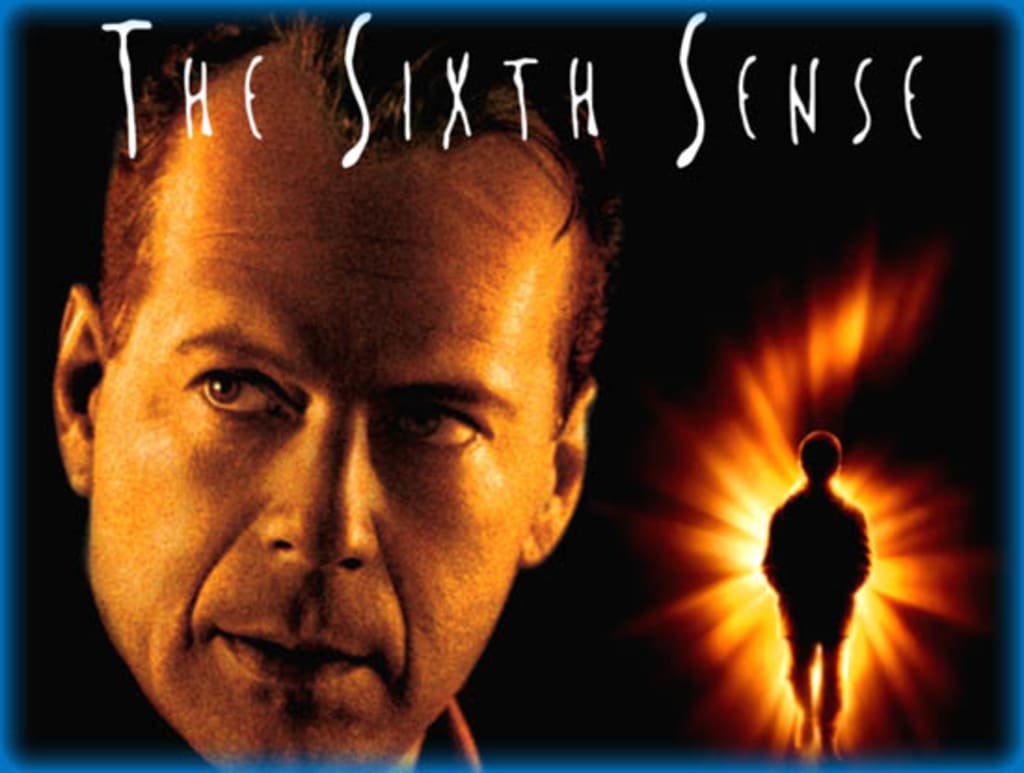 Almost a week ago, I watched The Sixth Sense for the first time in my life and I can't stop talking about it.
I know, I know. I'm extremely late to the game. I should have watched it ages ago but keep in mind I was only one year old when it was released and it's not exactly a children's movie.
By the time I was probably old enough to watch it, I'd discovered I hated scary movies. Watching anything remotely horror would give me nightmares for weeks and so, I avoided it. This also had to do with the fact I expected it to be a lot more horroresque. I knew it involved ghosts, gory ghosts, and that was enough to keep me at a distance. The trailer also wrongly increased the fear factor exponentially.
Obviously, I already knew one of the biggest plot twists and widespread spoiler in cinematic history. Because of this, I expected my watching experience to be subpar to someone who did not know anything.
I was so, so wrong.
Yes, The Sixth Sense has gory ghosts. Yes, I knew where the plot twist was going. Even so, I was hooked every minute of the way.
The Sixth Sense involves ghosts but its approach to the blurred line between life and death is much closer to the vision of Ghost than that of The Haunting. Death and ghosts are scary for the child. Certainly, seeing someone with the back of their head blown off by a shotgun is not a nice experience, but the key lies in understanding the ghosts. They are not there to hurt anyone, rather they want help. Suddenly, even if there are jump-scares, the point is not to terrify the viewer but to get them to empathize with the person who has passed under terrible circumstances.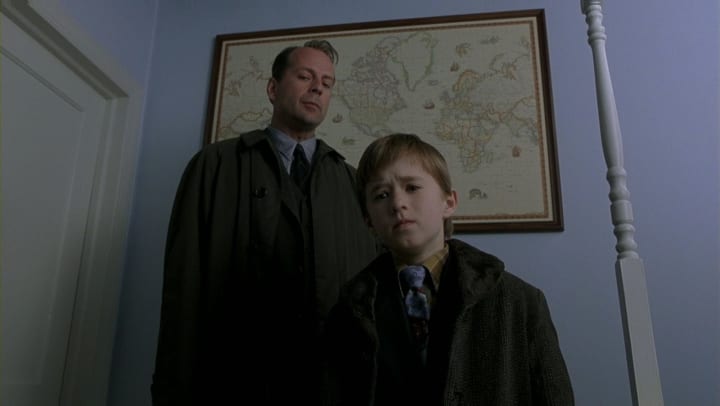 As I mentioned, this film's vision is closer to Ghost. What I mean by this, is that its focus lies on the love relationship that centers much of the plot. The protagonist's need to help a certain person also drives their motivation. They both cling onto making things better for someone. For The Sixth Sense's Malcolm Crowe, this someone is little Cole who is in need of a psychologist. Haley Joel Osment played Cole to perfection. This kid is both clearly a child who is crying out for help and one that knows a little too much. His performance draws you in, you want to help him and, as soon as he confesses his secret, you are thrown into the world of his fears. Everything makes sense.
Even so, Bruce Willis's emotional performance also plays a key role in hooking the audience into the story. His encounter with a patient he was unable to help back in the day provides a strong motivator for his obsessive attitude of helping Cole, in appearance even placing his relationship and marriage in the background of his own life. His eventual decision to leave Cole as he's better and recover his marriage is all that much meaningful. However, it is also why it becomes much more heart-wrenching and emotionally destructive when the audience discovers alongside him the real reason for his marriage problems. With the movie at its climax, and the remainder of its secrets unraveling, you are swept up in this avalanche of emotions that the protagonist is also experiencing.
I admit I shed a few tears along with them.
Overall, the movie is highly emotive. You end up with the bittersweet emotions that the combination of rom-com and ghost stories have to offer, while also having your mind blown with the creativeness of the storytelling. After 23 years since its premiere, it continues to be every bit as impactful as when it was first released.
If you have yet to see it, that better be fixed as soon as you can, even if you know where it's going.
Trust me on this one.
review
About the author
An asexual Costa Rican filmmaker and writer fumbling her way through words, hoping to make some sense to the netizens. You can follow me online @ang_lovestheday
Reader insights
Be the first to share your insights about this piece.
Add your insights