The Other Bounty Hunters (Who Aren't Called Boba Fett)
The Star Wars universe expands (again) - Coming soon to Disney +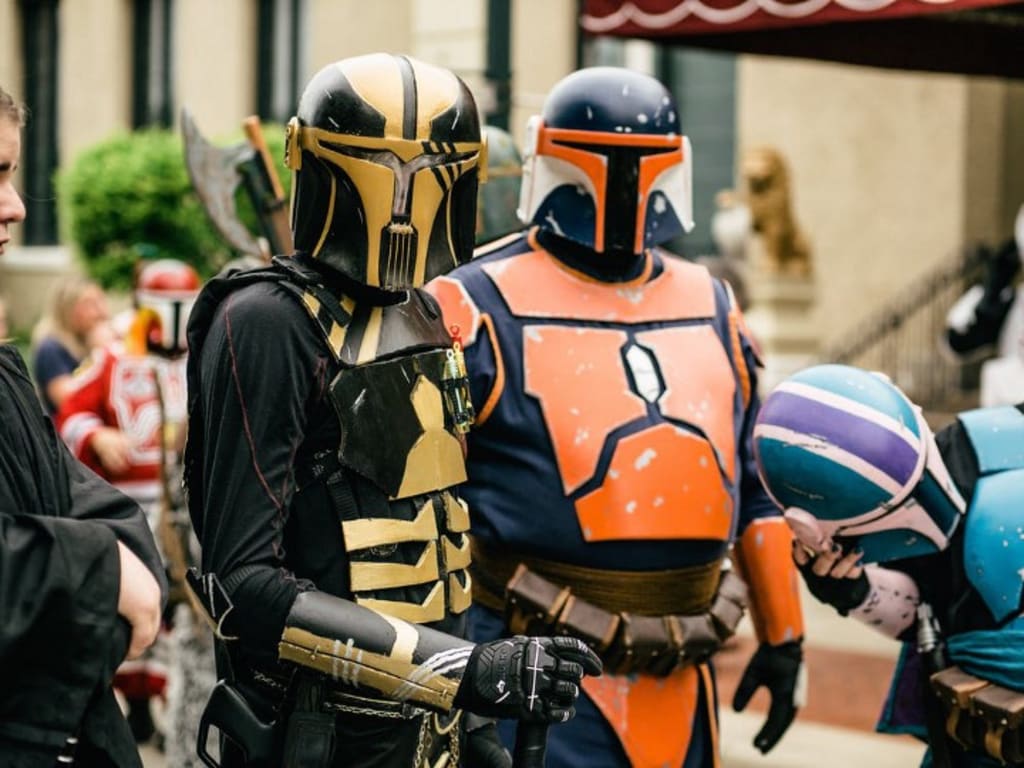 BLACK SCREEN -
(VOICE-OVER) Coming soon to Disney +
(DRAMATIC PAUSE)
A new chapter in the Star Wars universe.
WHITE PINPRICKS OF LIGHT BEGIN TO ILLUMINATE THE DARKNESS AS STARS EMERGE.
(VOICE-OVER): If you thought Boba Fett was the most exciting bounty hunter in the galaxy, it's time to think again -

Because you're about to meet —
THE STARS FLASH IN MULTICOLOURS.
THE THEME OF 'HAPPY DAYS' PLAYS — LOUDLY.
(VOICE-OVER): 'The Other Bounty Hunters — '

' — Who Aren't Called Boba Fett'
MONTAGE —
WRECKAGE OF VARIOUS IMPERIAL SHIPS AND DEAD STORMTROOPERS — THAT KIND OF STUFF.
THE THEME OF 'HAPPY DAYS' STILL PLAYS — VERY LOUDLY.
(VOICE-OVER): The Empire has fallen — again. Or, rather, The First Order has. Which is sort of the same thing.

Peace and harmony fill the galaxy.
MONTAGE —
A PLEASING MIX OF ETHICALLY DIVERSE HUMANOIDS AND ALIENS DOING HAPPY STUFF.
(VOICE-OVER): Which is bad news for the bounty hunters who used to make a living doing not very peaceful and harmonious things. They're creatures out of time. Out of place.

How will they adapt?

Over the next ten hilarious weeks, we're going to find out.
THE THEME OF 'HAPPY DAYS' CONTINUES TO PLAY.
SUPERIMPOSED ONTO THE MONTAGE OF HAPPY GALACTIC CITIZENS, A LARGE CIRCLE APPEARS IN THE FOREGROUND — OUR CHARACTERS WILL SHORTLY APPEAR IN THIS.
MID-SHOT —
A KHAKI-COLOURED, OCTOPUS-LIKE CREATURE WITH SIX EYES JAUNTILY TURNS TO THE CAMERA. HE IS COVERED IN ENTRAILS AND BLOOD. LOTS OF BLOOD.
HE IS WEARING A MINIATURE COWBOY HAT.
AT THE BOTTOM OF THE CIRCLE, RED LETTERING APPEARS — THIS IS THE CHARACTER'S NAME -
Darkharbinger Snufflewhistler
ALL FOUR OF HIS MOUTHS SMILE. CHEEKILY.
CUT TO -
MID-SHOT —
STARING AT US IS A TRANSLUCENT TRIANGLE — IT COULD BE MISTAKEN FOR A BLOB OF JELL-O IF NOT FOR ITS TINY, STICK-LIKE ARMS, RAPIDLY BLINKING EYE, AND HUGE MOUTH — BLOODY ENTRAILS DANGLE FROM IT.
HE IS WEARING A FEZ.
LETTERING -
Praxis Lawnmower
HE RAISES ONE OF HIS TINY ARMS AND GIVES A TINY THUMBS UP.
CUT TO —
MID-SHOT —
A HUMAN-ISH FIGURE SPINS TOWARDS THE CAMERA. HE PARTS HIS LONG, GREASY HAIR TO REVEAL A LARGE BIRD'S BEAK IN THE CENTRE OF HIS FOREHEAD — ENTRAILS HANG FROM IT. HE SMILES AND LIFTS UP HIS ARMS.
WE SEE THAT HE HAS TWO HUGE SLUGS WHERE HIS HANDS SHOULD BE. ATTACHED TO ONE OF THESE IS A PAIR OF SUNGLASSES; ON THE OTHER A WORLD WAR II-ERA, LEATHER PILOT'S HAT. HE TRIES TO PUT THESE BOTH ON BUT — DUE TO THE SLUGGY STICKINESS OF HIS FAUX-DIGITS —HE JUST ENDS UP WITH TWO GIANT SLUGS STUCK TO HIS FACE.
LETTERING -
Tableleg Bronte
HE GIGGLES AND ROLLS HIS EYES.
MID-SHOT —
AN ELDERLY COUPLE. GREY. VERY GREY. IN THAT THEY ARE 90% THICK SMOKE IN THE ROUGH SHAPE OF A HUMAN. THEY — SORT OF — HAVE FACIAL FEATURES BUT THESE WAX AND WANE AS THE SMOKE EDDIES AND SWIRLS.
HOWEVER, THEIR MOUTHS ARE VERY DISTINCT, AS ARE THE ENTRAILS THAT DANGLE FROM THEM.
LETTERING -
Aldershot Campingmug & Heineken Galaxy Warbler
ONE OF THE FIGURES IS WEARING A SOMBRERO; THE OTHER A DON DRAPER-ESQUE TRILBY — JON HAMM'S SEVERED HEAD IS STILL WEARING SAID HAT, SO — EFFECTIVELY — THE SMOKE MONSTER'S HEADWEAR IS BASICALLY JON HAMM'S DECAPITATED HAT-CLAD-HEAD.
THE COUPLE SMILE — JON HAMM DOES NOT.
DISSOLVE —
INT: RETRO DINER.
ALL 5 EX-BOUNTY HUNTERS SIT AROUND A LARGE TABLE, LAUGHING AND JOKING. SOMETIMES STABBING EACH OTHER. OCCASIONALLY TAKING A SMALL BITE OF THE CREATURE CLOSEST TO THEM.
STILL PERCHED ATOP HEINEKEN GALAXY WARBLER, JON HAMM IS NOW SMILING TOO.
(VOICE-OVER): ''The Other Bounty Hunters — '

'- Who Aren't Called Boba Fett.'

The only treasure they're looking for now is happiness.

Coming soon to Disney +.
FADE TO BLACK —
THE 'HAPPY DAYS' THEME TUNE CONTINUES TO PLAY.
------------------------------------------------------------------------------
If you've liked what you've read, please check out the rest of work my on Vocal including my Top Story -
And -
If you've really liked what you've read, please share it with your friends on social media.
If you've really, really liked what you've read, a small tip would be greatly appreciated.
Thank you!
tv
pop culture
movie
About the author
Hi!
Film, theatre, mental health, sport, politics, music, travel, and the occasional short story... it's a varied mix!
Tips greatly appreciated!!
Thank you!!
Reader insights
Be the first to share your insights about this piece.
Add your insights