The Magic of La La Land
La La Land was a la la land in itself.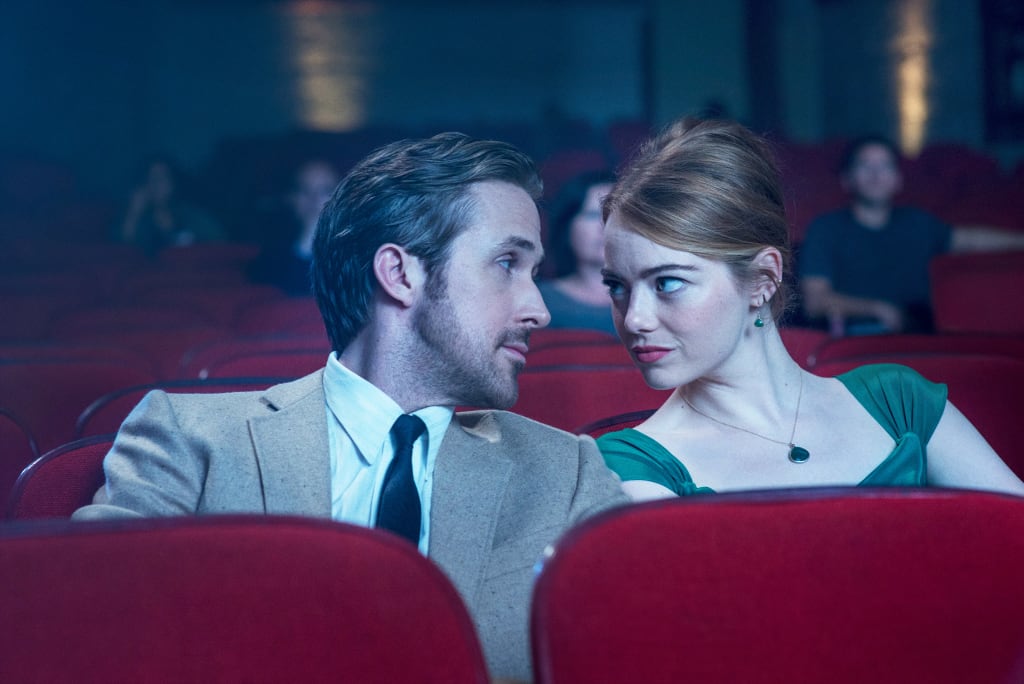 When The End became clear and the credits began to roll, I could feel a tremendous ache welling up in my heart. The afterglow of jumbled ideas, irrational emotions, and utter awe of masterful cinematic narrative rushed over me. La La Land had performed a magic trick unlike any other for me.
The film's plot writes as an enchanting musical love letter to the dreams we yearn for, and the choices and compromises we make to achieve them. Mia, played by the ever wonderful Emma Stone, is an aspiring actress in the land of filmy reveries, aka Hollywood. Sebastian, played by the ever poised Ryan Gosling, is a jazz pianist in Los Angeles who wants to open a restaurant (called Chicken-on-a-Stick) that would reverberate with the purest forms of jazz music. They are both, in one word, dreamers. Their paths iteratively intersect, and they inadvertently fall in love.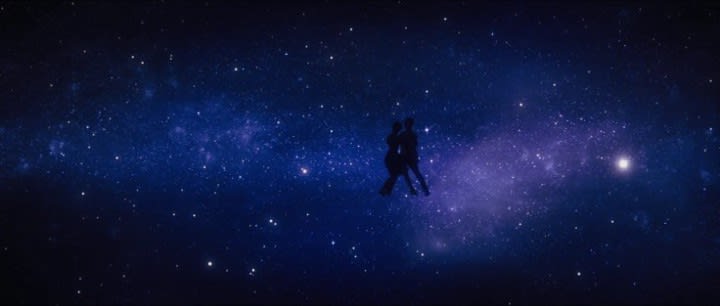 It quickly becomes clear that their ability to dream large is what draws them together more than anything else. Mia and Seb discovered in their relationship an incubation of assurance and support (or maybe it is the other way around? ), nurturing and challenging one other's abilities and grit, in between talk, song, and gorgeous skylight images. Of all, things do not always go as planned, even in our musical and fantastical la la lands. Mia, after a sequence of embarrassing auditions and staging an underappreciated one-woman show, beautifully aces an audition and bags the lead role in a film set in the city of her childhood fluff dreams, Paris. Seb joins a pseudo-jazz band that forces him to stay back and tour the country for a few years. They part ways, and unintendedly meet after five years when fate intertwines their paths once more. Seb too has now achieved his dream of opening a jazzy restaurant (called Seb's, at Mia's behest) and Mia, now married, finds herself in the midst of Seb's — both the restaurant and the person. The meeting of their gaze reignites another certain dream within the two of them: what if they had not parted ways and chosen to remain with each other? The dream plays out in a good ten-minute epilogue, replaying the entire film as if this "alternate" reality were indeed the "true" one. (Yes, that moment when Seb kisses Mia in the replay instead of shrugging her away as had originally happened in their first encounter, broke my heart in anticipation of what was coming.) And when the replay finishes, we find Mia and Seb back from their reverie, smiling at each other for one last time. A smile of gratitude, for they had come to the climax of their professional dreams with the help of one another. A smile of bittersweetness, for they had had great times in their companionship while it lasted.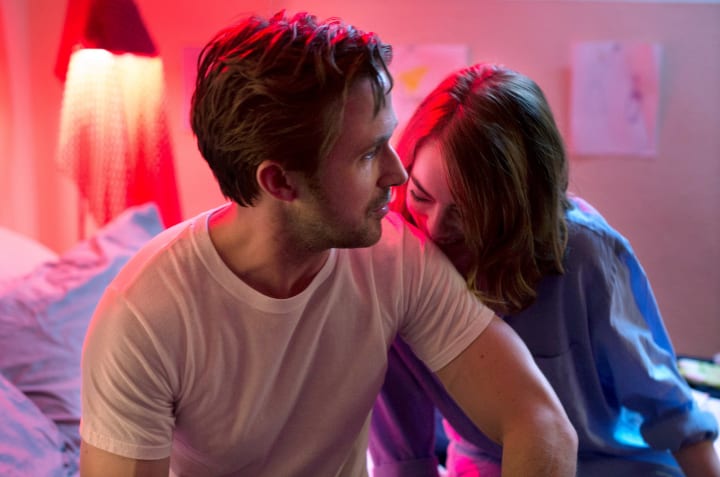 However, the movie's enchantment lasts far longer than the magic that appears on screen. Let's take a step back and review how La La Land draws us into its wonderful world to better comprehend how. The movie starts off as a lavish musical. It starts out with a complex, vibrant dance number that immediately fits in with what a musical moviegoer would expect. There is a lot of enjoyable music and dancing, which enhances the mood and advances the story. Intermittent with some creatively imagined ballady sequences, like the scene at the planetarium of Griffith Observatory, where Mia and Seb are seen elevating both metaphorically and literally into their whirling romance. Such imaginative episodes, however, are infused with a potent sensory drama that, by enlarging the gap between the two, subtly heightens our appreciation for familiar subtext. This approach, known as defamiliarization, is frequently used in theatre, especially in fantasy stories. Therefore, these scenes serve a purpose beyond simply being fantastical; they also serve to highlight the relationship's looming serious reality. (They also serve a third function; we'll get to that in a moment.)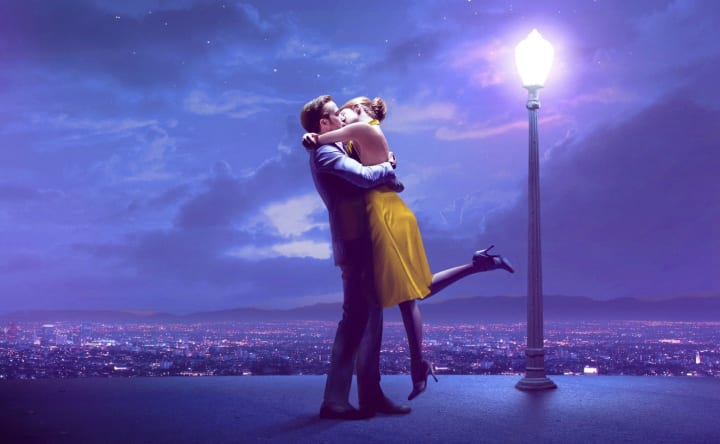 Even more importantly, the technique which La La Land covertly employs is of mise en abyme: a story-within-a-story. Unlike its more common usage, such as in Shakespearean theatre. La La Land is a film (an imaginative work of art) that portrays a character Mia, who is an actress herself. We see her giving auditions within the film, inducing an inner bubble of imaginative artistry (acting) within the universe of the film. This induction serves the same role of defamiliarisation, making the movie universe appear somehow "more real" than the inner bubble of Mia's acting.
More explicitly in Mia and Seb's date at the Rialto Theatre in Los Angeles, where they watch Rebel Without a Cause, these metatheatrics are continued in more than one scene. When Rebel Without A Cause is included in La La Land, the distance between the two films is shortened, bringing us closer to the La La universe as a viewer. The aesthetic distance refers to the separation between the viewer's conscious reality and the fictitious reality depicted in a work of art.
All of this builds to the dinner conversation between Mia and Seb, where they have a very serious falling-out, which is one of the most powerful scenes in the film and is made even more intense by defamiliarization. This scene comes on pretty suddenly, taking us completely by surprise. Which causes us to subtly doubt the veracity of the happy chain of events that have taken place up to this point in the narrative.
It was their respective ambitious selves which their relationship was built on, so seeing Seb give up on his dream and join a clowny jazz troupe exposed this tender realisation to the both of them.
Towards the film's climax, as it's made more and more clear that they will part ways for the benefit of their respective ambitions, the film whispers very faintly a very strong remark on the rather mysterious nature of human love. The film distills out the vapour of a common "given" in romantic love: if two people love each other dearly, they must wind up together. Leaving behind a rare elixir in its purest form — Mia and Seb had respected their love for each other by sacrificing their companionship for each individual's ambition, which is what their love was founded upon in the first place. This is where the fantastical mask of La La Land fulfills its third purpose, of producing the balm that can soothe our love bites.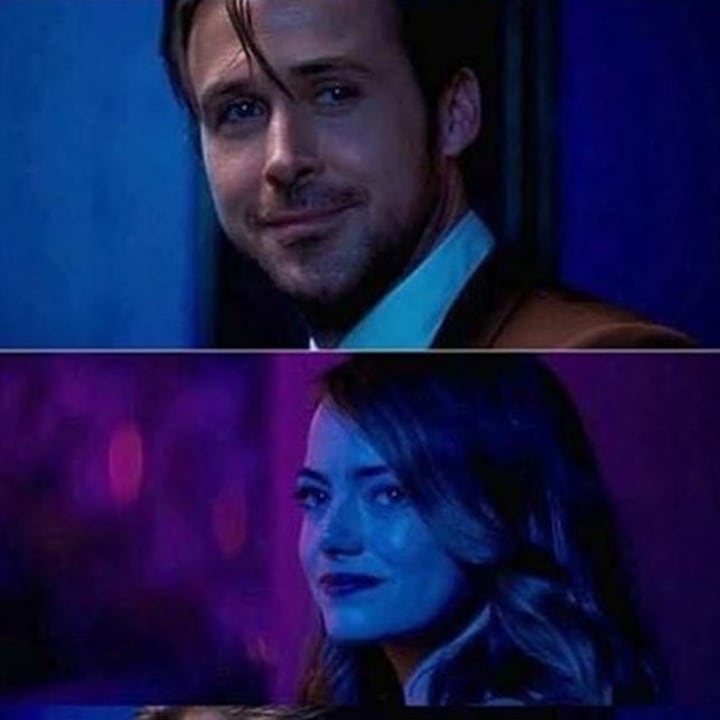 The epilogue of the film marks the final, and perhaps most crucial epoch in our realisations of love, life, and really everything. Mia's dream replay sequence, the alternate reality, comes down as an emotional rerun of what could have been. This wrenches us, the viewer, very deeply for obvious reasons: haven't all of us asked ourselves this question, and fantasised about such what-ifs, feeling crushed by not fulfilling those fantasies for real? What could have happened if I had applied for that job? What could have happened if I had said "yes" to her? What if I had met him at the "right time"? What if I had not left my loved ones behind to pursue a career halfway around the world? These fantasies plague us, and as Mia lives through her own, we reach a point of minimum aesthetic distance with this La La Land of la la lands, engulfing us in tangible, genuine grief.
La La Land was a la la land in itself.
The film was a dream cast by Damien Chazelle onto the canvas of our minds, which left us with a bittersweet smile. Not quite different from the smiles exchanged by Mia and Seb at the end of the epilogue. And through that diagnosis, the movie had supplanted a rare treatment of our what-ifs. That they needed no treatment.
*Please feel free to leave a heart and comment if you enjoyed my poem. I'd like to get some engagement going on for my work. Thank you!*
About the Creator
Writer focused on film, media, fandom, music, comic, and all things geeky. Here you'll find Breakdowns, Analysis, Easter Eggs of Movies and series. Every universe comes together at this place. So just sit back, relax and enjoy the ride.
Reader insights
Be the first to share your insights about this piece.
Add your insights