'The Lovebirds': A Romcom Murder Mystery All in One Night
A review of the Netflix film starring Kumail Nanjiani and Issa Rae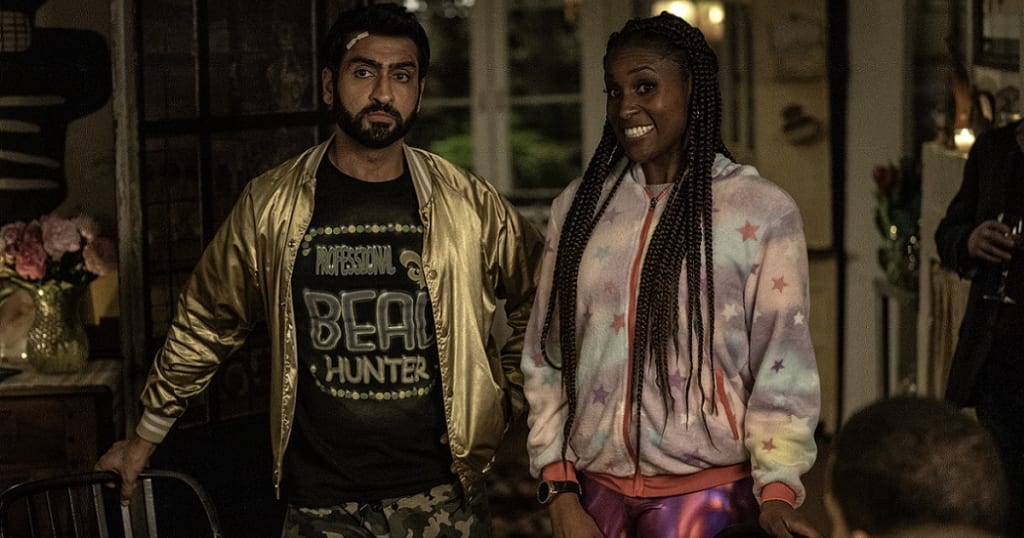 Netflix
The last time I was physically in a movie theater (for Impractical Jokers: The Movie), I saw The Lovebirds' trailer. I thought it looked cute, and figured I'd see it once it came to streaming services. As fate would have it, The Lovebirds came to Netflix sooner than expected, due to COVID-19 restrictions preventing the theatrical release.
The movie, starring Issa Rae and Kumail Nanjiani, is a somewhat unique mashup: romcom, crime, slapstick, and farce. It reminded me a bit of Once Upon a Crime, or Manhattan Murder Mystery, which also merged those genres effectively.
These lead actors are kind of "it" people right now, so pairing them up was somewhat inevitable. They largely carry this film on their shoulders, so it's a good thing they're capable of doing so. The movie isn't perfect, but there is fun to be had here.
The Premise
Leilani (Rae) and Jibran (Nanjiani) are unintentionally embroiled in a murder mystery when their car is jacked by a killer. After said killer flees, the first people on the scene assume our leads are to blame, and they end up on the run. After some discussion (and arguments), they decide they want to solve the murder themselves to clear their names. The rest of the movie is spent trying to accomplish that, all while bickering with each other, and trying to avoid death. As they inch unexpectedly close to the truth, that latter part becomes more challenging.
The Good
The opening scenes of the movie highlight the differences between first dates, and being in a long-established relationship. This was a strong start, and brought several chuckles. The dialogue in the "been dating a while" portion was impressively realistic. Especially the petty Amazing Race argument, which branches off into mini-arguments about restaurants, social media, and orgies. You know, the usual topics.
The chemistry is largely believable between Rae and Nanjiani throughout. They are called upon to convey starry-eyed newness, bickering, awkward silences, fear, concern, and astonishment as a unit. And they pull it off. Yes, the movie has weak moments here and there, but none due solely to their performances.
Side Character Highlights
While this movie leans heavily on its two leads, it should be noted that the actors taking on the smaller roles also shine. Andrene Ward-Hammond (The Hate U Give, Instant Family) as Detective Mary Martin is particularly good, and I would have enjoyed having her role extended. Her chemistry with Rae and Nanjiani is fun, albeit brief. I look forward to seeing more of her work.
Paul Sparks, whose character is only known as Mustache, is perfectly cast. Mustache is a mysterious type of character with unclear motives. The character really does keep the viewer (and other characters) guessing, and the story moving. He's essentially a third lead, but doesn't get quite enough screen time to gain the title.
Film and TV mainstay Anna Camp also shows up here, as a disarmingly dark character, who is still somehow charming. Edie has the speech pattern of a southern belle Sunday school teacher, even while discussing methods of torture. It's like taking Forrest Gump's mama, and dropping her into a Saw movie. It's quite the blend, and it's jarring. She's somehow more terrifying, because she doesn't appear so at first glance. It's a great character, who also succeeds in knitting elements of the plot together.
The Surprising
Here's something shocking for you: The Lovebirds is refreshingly restrained for a Netflix release. It seems most movies and series take full advantage of the "unrated" nature of the streaming service, and run with it. Not so here. To be fair, this movie was originally intended for a theatrical release, so that could be why.
Admittedly, there is a fair amount of profanity, but sexual or violent things are approached carefully, to avoid being overly graphic. The aforementioned profanity is used in a more natural way than in some films. It sounds like what real people would say in the given situation, rather than stringing profanity together for the sake of doing so.
...
READ THE REST OF THE REVIEW ON OUR WEBSITE: https://moviebabble.com/2020/06/02/film-review-the-lovebirds-2020/
review
The Casual Way to Discuss Movies! Head over to moviebabble.com to see all our content!